In an upcoming series of posts we will be canvassing some of the legal (constitutional) issues in New Zealand's seriously flawed Gwaze trial, to start:
Brent Stanaway and the Christchurch police (CIB) have obviously been up to their old tricks in the Gwaze case. Its not the first time that Mr Stanaway has strayed from his role as a prosecutor, that of simply putting the facts. Stanaway has made a very bad habit throughout his career of fucking innocent people, walking all over their right to a fair trial and concealing police misfeasance.
The Gwaze case is but a text book example of Mr Stanaway's skulduggery, oh and that of some of his legal mates over at the law section of Christchurch's central police station.
Mr Stanaway is of course infamous for his "standard issue" abuse of process, as are the local judges and their tolerance of his behaviour (at least that's the way we see it here in Australia ).
In our honest opinion it appears that Mr Stanaway can't help himself. Had he done anything other than cheat  in his career he obviously ran the risk of being relegated to a suburban conveyancing practice in Pages Road, Wainoni; where like his prospective neighbours, following the earth quake, he'd now be up to his thighs in mud. Or worse, like his lecturer, Andrew Alston, at Canterbury University become a low rent academic in Adelaide, South Australia
Not that Stanaway already isn't (metaphorically speaking);  for anyone who has heard this excuse for a prosecutor get up and speak in open court (video available below)  "the minute he opens his mouth theres a  sucking sound", not a good look for a barrister. In any place other than the one-eyed town called Christchurch, New Zealand Mr Stanaway would (rightly) be pumping gas at a servo. We believe that Mr Stanaway's chickens will come home to roost some-time very soon, but we'll leave that for another post.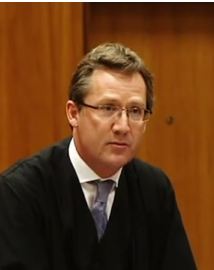 So back to the George Gwaze case, the infamous Mr Brent Stanaway and Christchurch police tactics. In a report on Wednesday, May 23, 2012 a Zimbabwean online media outlet  reported that the Christchurch police had in fact placed recording devices in Mr Gwaze's home (whilst their forensic units were still present at the intitial crime scene) before returning the house to the family, now we would like our readers to pay attention because this is very important, when we fast forward and the mens rea behind the police's and in particular Stanaway's (Crown law's) behaviour over the five years that Gwaze was vilified and the Governments (men responsible) explanation for it:
Wednesday, May 23, 2012

Police bugged George Gwaze's Christchurch house and phone after the death of his niece, a court has heard.

 

The High Court in Christchurch was hearing evidence today in the trial of Gwaze, 60, a former vet in Zimbabwe, who is charged with violating and murdering 10-year-old Charlene Makaza, his niece, in her bed in the family home in Bryndwr, Christchurch.

 

The Crown contends Charlene died from organ damage caused by suffocation.

 

Gwaze, who, with his wife, had adopted Charlene and her sister Charmaine when their parents died in Zimbabwe, allegedly injured Charlene in a violent sexual attack on January 5-6, 2007. She died on January 7 in Christchurch Hospital.

 

The defence says Charlene was not attacked but died from an overwhelming HIV-infection that caused toxic shock.

 

The trial finished hearing evidence today, and closing submissions will be heard tomorrow.

 

In cross-examination by defence counsel Jonathan Eaton, Detective Paul Johannsen said interception warrants had been obtained for the Gwaze home, and phone bugs and audio devices were in place when the house was returned to the family after forensic examination.

 

The devices were in place for several weeks, but nothing from the recordings was put in evidence.

 

The family spoke in their native tongue and a problem with translation occurred. Police had examined the family's cellphones, text messages and computer. Nothing from the examinations was put in evidence in the trial.

 

Johannsen said police had interviewed Gwaze's workmates and people who knew other members of the family. Inquiries had also been made at DVD outlets.

 

The jury today continued watching a recording of interviews conducted by Johannsen with Gwaze. In an interview on February 2, Johannsen told Gwaze that DNA from his semen had been found on Charlene's underpants.

 

Asked if he had caused the injuries to Charlene, Gwaze said: "I tell you a million times, never."

"How do you explain that [the DNA] George," Johannsen said. "It's a lie," Gwaze said.

 

Johannsen told Gwaze: "Now it the time to talk about it. Now is the time to tell the truth. This is your opportunity George." Gwaze, whose lawyer was present at the interview, did not respond but later said: "It's lies."

 

In other evidence, Nathaniel Cary, a British Home Office forensic pathologist, giving evidence from London via video link, said he had reviewed the case notes on Charlene's case and slides from samples taken from Charlene's body.

 

Cary said he was sympathetic to the view Charlene was directly or indirectly the victim of trauma and he could see why clinicians had reached that view.

 

However, in the light of the case seen as a whole and with the benefit of the analysis of samples, the diagnosis was erroneous. The analysis of samples from Charlene by his colleague, Professor Sebastian Lucas, an international HIV expert, was like a biopsy and put him in the best position to say what was going on.

 

After testy exchanges in cross-examination by  Crown counsel Brent Stanaway, he said neither he nor Lucas had seen or knew of any case where a HIV-positive child presented with Charlene's anal-rectal abnormalities.

 

He agreed he was not an expert on HIV and was not setting himself up against specialists who concluded trauma had caused Charlene's injuries, but "I would humbly point out that in retrospect it appears that the early clinicians who looked at this case got it completely wrong".

 

Cary said he could see no evidence of Charlene's airway being interfered with, and little bleeds in the lining of her eyes were not unusual in people who had received intensive care.

 

No injuries could be seen around her mouth and nose, he said. The proposition that Charlene had died of asphyxia in some sort of sexual assault was "wholly speculative", he said, and it was doubtful a sexual assault had occurred in the first place.

 

Charlene was in an advanced stage of HIV, as evidenced by the encephalitis in her brain, and the HIV in her lung was sufficient to compromise lung function.

 

Cary said he believed Charlene had a serious infection that progressed to fatal septic shock and alternatively toxic shock.

 

If Charlene had been the victim of a penetrative injury, he would have expected to see more bleeding than present in this case. It was "quite untenable" that damage caused by penetration would not result in significant bleeding.

 

Blood in diarrhoea could have come from the bowel. Her anal area would have been vulnerable to further bleeding by continual touching and cleaning and no such bleeding occurred, he said.

 

If forcible penetrative injury had taken place, he would have expected to see bruising in the subcutaneous fat, and none could be seen.

 

An observation by a Christchurch Hospital doctor describing Charlene's injury as a seven-centimetre tear was a "grave misdiagnosis".

 

He was sympathetic to the view Charlene's anal abnormalities were due to trauma, but the samples taken from the area were like a biopsy and showed HIV-driven damage to tissues was present under the fissures seen around her anus.

 

The damage was present throughout her body, he said. The apparent stretching of the anus, leaving floppy tissue, was not unusual in a brain-dead patient.

 

Normal muscle tone in the sphincter muscle was lost in these cases and was well described in medical literature.

 

Samples showed no tearing or significant bruising of the muscle, he said.
To be continued……..
Related articles