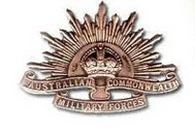 Halt! Thy tread is on a hero's grave, Australian lads lie sleeping below
Just rough wooden crosses at their heads, to let their comrades know.
They'd sleep no better for marble ones, or monuments so grand,
They sleep in tranquil contentment, in that far off Turkish land.
The wildflowers are growing o'er them, the white heath blooms nearby,
The crickets chirp around, above, the wild birds fly.
Wild popies thrive beside, their bloom is scarlet born,
Scarlet poppies – symmetrical emblems, of that blood red april morn.
The blue Mediterranean sighs, in the morning air so clear,
Grieving o'er the fallen brave, who knew no fear.
A lonesome pine stands just beside, a grim sentinal it stands,
Guarding the last resting place, of that gallant little band.
I've often passed those little mounds, where the deadly bullets meow,
And the air is full of shrapnel, 'tis called Shrapnel Gully nw.
Whilst coming from the trenches, and glancing over there,
I've oft seen many a khaki form, kneeling in silent prayer.
Kneeling o'er their fallen comrades, perhaps a boyood chum,
Felled by the shrieking shrapnel, or the deadly snipers gun.
They were only rough Australians, fiends in the bayonet charge,
But there with their fallen comrades, their hearts were very large.
Their back is to the fireing line, the only time they've shown it to the foe,
Their heads were bent in stricken grief, sown their cheeks the salt tears flow
Hoarsly they murmer a broken prayer, what's in their hearts, why, who can tell,
They lay their hand upon the grave in fond caress, and say their last farewell.
There's many a loving mother, home in Australia dear,
Who's weeping brokenhearted, o'er their loved son's lonely bier,
There's many a true Australian girl, stricken with sudden pain,
Mourning for her fallen sweetheart, who she'll ne'er nore see again.
They know not were he lies, or how he fell,
That's why I'm writing these few lines, the simple truth to tell.
Their graves are on Gallipoli, up onthe very heights,
Above the first great landing place, scene of the first great fights.
Shrapnel Gully on their right, Courtney's Post is to their head,
The wide Mediterranean at their feet, and the bluse sky overhead.
Their burial march was the big guns roar, their greatcoat their winding sheet,
Their head is to the firing line and the ocean to their feet.
Officers and privates who fell, in that first great rush of fame,
They lie there side by side now, their rank is now the same.
The city boy who left the pen, the country boy the plough,
They trained together in Egypt, they sleep together now.
Sleep on, fallen comrades, you'll ne'er be forgotten by
The boys who fought with you, and the boys who saw you die.
Your graves may neglected be, but fond memory will remain,
The story of your gallant charge will eas the grief and pain,
That we know your Kin are feeling, over there across the foam,
And we'll tell the story of your fall, sould we e'er reach Home Sweet Home.
Sig. T. Skeyhill
8th Batt. A.I.F.
Related articles