We here at Lauda Finem have been investigating an ACC case that dates back over eight years (some aspects and players even further to 1997). The ACC employee at the centre of this breaking scandal is one Janet Tinson.
We have mentioned Ms Tinson in some of our posts before. Janet Tinson is the Accident Compensation Corporations (ACC) area manager for New Plymouth and the Taranaki district.
Janet May Tinson (nee Gilbert) and her husband Stuart Victor Tinson originally hail from the United Kingdom. Prior to landing her job at ACC Janet and hubby Stuart set up and operated Paradise Abalone Ltd at Okato in the Taranaki coastal hinterland just south of New Plymouth.
The couple got into some serious financial difficulties when Paradise Abalone Ltd went belly up with the company being struck of the New Zealand Companies list on the 31st March 2009. Long before that happened however Janet needed to get a job that paid well to cover for their Abalone cock-up and so joined ACC. That however was not the end of their financial problems. They then went on to purchase a block of land oposite the Kaitaki golf course, just south of the hamlet of Oakura, Taranaki; approx 14 kilometers south of New Plymouth.
They then built a home, but were obviously still, at the time, struggling with financial problems as the house in 2010 was placed on the market with both a private and agency for sale sign in their front yard, they still currently reside there.
Once ensconced at ACC Janet started to be rewarded for her dedication to the new ACC paradigm (increasing profits) with much needed bonus's, primarily for finding dirty ways of dis-entitling clients with a long term injury/disability. Janet, obviously, with time became addicted to the additional income, as she trained her loyal lieutenants in the ways to dump clients and increase ACC profits; it was a win win situation for everyone, except anyone with a serious injury entitled to support.
One man however, a volunteer with ACC Union, a seasoned investigator of fraudsters,  had cottoned on to Janet Tinson's slight of hand methods; methods that included, but where not limited too, conspiracy to pervert justice, defamation, suborning perjury and conspiring to solicit false medical reports from willing well paid consultants.
Dermot Nottingham, the advocate behind the exposing of a 2 Billion dollar car import fraud, had witnessed first hand the skulduggery that Tinson was employing and had commenced a series of challenges. Back in 2004 this well known justice crusader had what was to become the first in many successful appeals against Tinson's corruptly obtained adverse decisions. One of Nottingham's first land mark victories rocked ACC and its senior management, At the time Nottingham was scathing of ACC's behaviour:
"Clearly, a precedent has now been set which will enable hundreds, if not thousands, of claimants to be able to reclaim or claim for rehabilitation aids that will enable them to lead more able lives,"

Mr Nottingham savaged ACC which he described as a multi-billion dollar bully for attempting to renege on an agreement to supply Mr Bonner with a chair suitable for pain relief.

"Mr Bonner's family is distraught at the lack of empathy and assistance from the corporation and are literally ill as a result of the stress."
The potential for ACC to suffer a financial haemorrhage must have been chilling for the men responsible for the corporations bottom line.
Clearly threatened by Nottingham and his success ACC decided that they needed to get rid of him as an advocate and fast. After all, the risk that a growing number of ACC clients, the ones that Tinson and others had been wrongly dis-entitling, would turn to Nottingham was increasing with each and every press release announcing his successes. ACC could not afford to have disgruntled clients seeking redress using Nottingham's exceptional nose for corruption and misfeasance.
The question for ACC was how to go about it, not so easy you would have thought…….well you thought wrong. All Janet Tinson had to do was falsely allege that Nottingham was dangerous, a threat to staff and the "rehabilitation" of ACC clients; which is exactly what she did.
ACC has the power to do this, in whats termed an administrative decision, and amazingly the Advocate has absolutely no right of appeal or reply, in fact under ordinary circumstances they are not even allowed access to the purported accusation or any documents that ACC relies on when making these clearly spurious decisions.
At last, Tinson and ACC senior management thought that they had it in the bag, they had managed to thwart Nottingham and the clients he had been representing, but they thought wrong. Sure Nottingham was no longer able to engage with ACC on a day to day basis on behalf of his clients but he was still able to represent them in the appellant jurisdiction, and there was, much to her chagrin, little Tinson could do about that.
Then in 2006 yet another opportunity appeared for Tinson to further disrupt Nottingham's growing list of successful appeals. ACC was contacted by a so called journalist who worked for a TVNZ production called Fair Go, a wannabe by the name of Simon Mercep. For TVNZ and Mercep, like Tinson, Nottingham had long been a thorn in their side, and so they too had an axe to grind.
During Nottingham's investigation into the used car industry, the aforementioned 2 billion dollar fraud, he had crossed swords with the Government, its wholly owned broadcaster TVNZ , a number of their producers, journalists and senior management. Nottingham had discovered that TVNZ staff had in fact been working to corruptly disrupt the gathering of evidence and had also attempted to destroy invaluable film footage of Car dealers such as Giltrap City Toyota actively engaging in criminal odometer winding.
One such TVNZ staffer was a cameraman, attached to the 60 minutes franchise, a man by the name of Mark Chamberlain. New Zealand is a small country and its national broadcaster TVNZ even smaller……. Chamberlain was of course a close associate of Simon Mercep and his Fair Go co-host Kevin Milne.
Almost a decade earlier Mark Chamberlain, so as to avoid a court order requiring him to give evidence in the trial of 5 employees of Giltrap Toyota for odometer fraud, had falsely alleged that Nottingham had threatened him, we're not sure who had got to Chamberlain but he had certainly been gotten to by someone high up in the political food chain.
TVNZ (Who for some mysterious reason had been asked to pay Chamberlains personal legal expenses) or one of their staffers then arranged for yet another journalist and colleague, Fairfaxs Cameron Bates, to write a piece in the Sunday Star times…..One in the same article that was to underpin Tinson's idea of cooking up her own set of remarkably similar spurious allegations against Nottingham, its such a small world, but as you read on it will begin feel even smaller.
When ACC fielded the call from Mercep in 2006 Tinson must have thought all her Christmases had come at once. If Fair Go were doing a segment on Nottingham it was a fantstic opportunity for ACC to really put the boot in; hoping that it would be the end of both Nottingham and ACC Union and their fast growing reputation for getting to the bottom of ACC and its employees devious and fraudulent practices.
This is where it gets even more interesting, Fair Go's founder Dr Brian Edwards might even be given to say "Kafkaesque". Whether or not either Tinson or Mercep/Milne were aware of it, or in fact had disclosed it to each other, they had both been conspiring with a third party, a covert little group that had and still does delight in reeking havoc.
It has been disclosed by a former member of this group, a Mr David Butler, that the Fair Go program that aired in February 2006 was in fact the work of a number of conspirators, a group that had been working covertly with both Tinson and Fair Go to undermine both ACC Union and Dermot Nottingham.
The ring leaders of this group were convicted fraudsters who had hoped to step into the advocacy void once he had dealt with the competition. Fair Go and their alleged victim, Evonne Puru, was not alone when she had approached Fair Go, Puru had been standing side by side with other members of the aforementioned cabal and other than the fact that they were all convicted fraudsters they had one other important thing in common.
They were all members of the online forum "www.accforum.org" a website they had set up and that has had a history of attracting extremists and criminal behaviour. It had been the ring leaders idea to approach Fair Go with the false allegations against Nottingham. The man responsible now goes by the name of Kenneth Miller, although he has used many more alias, each time he's been released from prison, thoughout his life as a career criminal.
Kenneth Miller and his group of on-line bandits, David Butler, Evonne Puru, Mark Davis, Douglas James Weal, Tony Lowe, Colleen Limmer, Helen Miken,  Claire Avon Rae Hollis, Angela McCutcheon and the Takapuna Bomber Alan Thomas had long been out to bring down anyone that they perceived to be an obstruction to their plans for world domination in the ACC sphere.
Not only had this group been chatting with Fair Go, they had also held secret discussions with Janet Tinson and her managerial colleague Sandra McMurdo amongst various other high ranking ACC executives with the intention of harming various advocates including ACC Union and Nottingham.
Had Mercep done any real investigating whatsoever he would have established that not all was right with Evonne Puru's story and the false claims he advanced on air at the behest of both Puru and, behind the scenes, Kenneth Miller.
Mercep/Milne had no intention of investigating the veracity of Puru's false allegations, remember Mercep/Milne had been blinded by the sparks flying off the axe they had been busy grinding. Only a matter of months prior Mercep/Milne had twice been gazumped by Nottingham; humiliated when Nottingham had been successful, on behalf of those he had represented, in having Fair Go's producer pull their so called stories under the very real threat of court injunction and defamation proceedings being issued against TVNZ.
Once ACC and Tinson had tasted a degree of success in curbing the growth of Nottingham and ACC Union's market share with the black Op style use of Fair Go, ACC management clearly decided that Janet Tinson's strategies were effective and so adopted them at a corporate level, one can see the exact same tactics being employed in the Bronwyn Pullar case today (Our New Zealand readers can see more on the Pullar case on Sunday, 60 Minutes, channel three).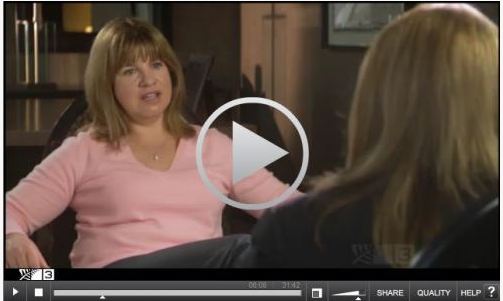 The Black Ops unit at ACC and its agents continue to harass Nottingham, by deliberately and covertly posting defamatory material (including the now ancient fair go transcript) on the web using various online forums and websites, the perpetrator of the latest effort having recently been sprung in the act by our own team of investigators…..whilst researching this series of stories
Janet May Tinson and her staff have continued to engage in corrupt practices, we'll be bringing you some of the ACC clients stories in up coming posts……We'll leave readers with the question, were was/is Fair Go when the the victims of state sanctioned rips off's and abuse need help? A little gutless perhaps, more interested in looking after their state owned TVNZ careers and pay packets? To busy primping and preening, desperately trying to look attractive for their naive fans?
From what we have managed to unearth, Fair Go journalists have never really been interested in getting to the bottom of anything other than a friday night bottle or six of Chardonnay, nor have they ever been capable of anything remotely resembling an investigation, for that you need to be sober, not drunk on power.
They definitely however had the skills,  using their post- production editing suite,  to have made Mother Teresa look like a dodgey con-artist who had spent years flogging wound back Bajaj's on the streets of Calcutta!
We note that Dr Edwards might find our post just smidgen intemperate, hey we've been accused of that before now, but aren't all hard nosed investigators and good barristers like that, you know intemperate to varying degrees……….that's what most would hope for, especially if they're paying for it and or when it comes to those that genuinely set out to establish the truth….and whats more have the ability to prove it without the need to tweak the fucking video footage or tapes.
PS:  We Noted "Dermots comment"  didn't really worry Dr Edwards. Unlike Fair Go, we to are not at all concerned about the tort of defamation, those that stick to the truth never are!
We here at Lauda Finem have spent a number of  years collecting evidence. We had even emailed Ms Janet Tinsonsome months back now, with a few hard questions (following her threat to sue Dermot Nottingham having falsely accused him of being responsible for the Lauda Finem blog).
Ms Tinson , however declined to repspond, obviously realising that we were already on to her and had the answers, and the all important evidence. Instead Tinson set about blocking our email address on the ACC system, the law of inference speaks volumes……go figure?
Dear oh dear; whats the world coming to when no one is capable of telling "the truth, the whole truth and nothing but the truth, so help me God"?
Related articles