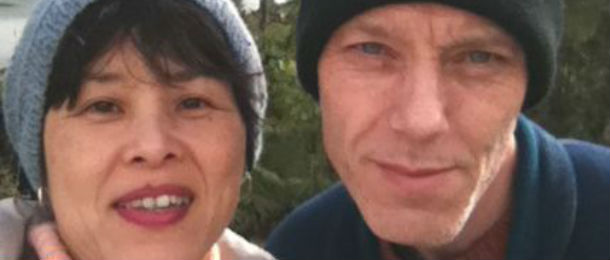 An article in the NZ Herald this morning has pointed to police involvement in the suicide of a prominent Medicinal Cannabis advocate, Mr Stephen McIntyre (photograph above with his wife Reiko Yanai). Of course the NZ Herald can't report it as suicide (just as a sudden death) because of a coroners recent instructions to the media.
However the popular Tumeke blog pulls no punches and details what  really occurred! There are always ways around the commands of half-wit judicial officials who "oh so obviously" had a hidden police agenda:
Blogger Martyn 'Bomber' Bradbury will today publish a letter on his Tumeke blog written by McIntyre immediately after the police visit on July 16.

"In retrospect, his friends now all see that the police turning up at his home at night and demanding to know what he was going to plead while threatening further charges had a terrible impact on Stephen," Bradbury said.

Source: Gentle activist found dead (NZ Herald)
Tumeke's Martyn 'Bomber' Bradbury in his post, the first in a series yet to be published, asks some very good questions. We suspect that this story has a long way to go and it may well end with the New Zealand police yet again being in the middle of another political shit-storm:
I have questions:

Why were the Police at Stephen's home on the 16th of July 'checking bail conditions' when Stephen had no bail conditions?

Why did the Police threaten and intimidate Stephen with further charges?

Is it normal to appear at a person's home when their lawyer is not informed and able to be present? and then to threaten further charges if a person doesn't plead guilty?

Why did the Police want to know how he would plead? Why was this information sought at night, at his home?

Why did the Police claim they could 'sm(e)ll cannabis'? And if they could, why did they not conduct a search of his house ?

Are these bullying tactics supported by Police leaders?

Source: Did NZ Police tactics kill my friend Stephen McIntyre? PART 1 (Tumeke)
Wait for it, we are certain that the Police Association's Gobshite Greg O'Connor will be sticking his ugly fucking head up very soon, with a little more bullshit and spin!
We extend our sincere heart felt condolences to Mr McIntyres distressed and grieving wife Reiko Yanai and the family; and please rest assured that your late husbands untimely death has not gone noticed.
Related articles