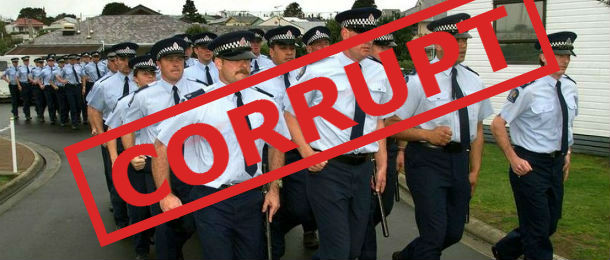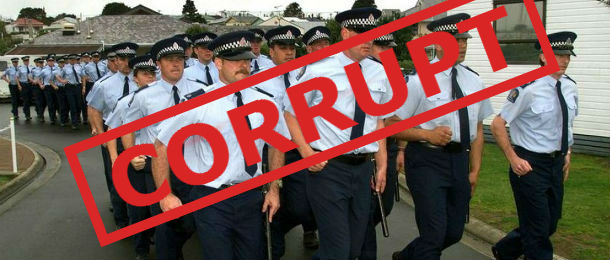 The New Zealand Herald has yet again produced a Claytons investigative article that gets to the bottom of absolutely sweet F.A. and leaves readers with more questions than answers; providing little  more than the slop the corrupt Christchurch police have been willing to serve up to the public.
New Zealand's reinvented tabloid shite sheets have really gone to the dogs. In this case the best that the Heralds intrepid Christchurch reporter Kurt Bayer and the papers editorial team could come up with is to be found in the articles opening paragraph:
A police officer charged with assault has had his identity protected by the courts before his first appearance, prompting questions over preferential treatment.

Source: Suppression for cop even before he goes to court (NZ Herald 11/01/2013)
Kurt Bayer obviously believes that his readers are not entitled to know who in fact is asking the questions surrounding this cops so called "preferential treatment". Kurt also seems to be implying that this particular cops dodgy, but successful, application for name suppression is some how unique; but strangely he stops well short of outrage and a demand  for transparency.
Kurt is indeed right the issue of police, charged with serious criminal offenses, being granted name suppression by default does warrant concern especially when it appears to be occurring in almost every case where cops have recently been charged with crimes; an important fact that Kurt Bayer appears to have missed. There is a pattern to this police behaviour and like all patterns it undoubtedly owes its existence to someones design.
Three days ago the Dominion post ran another similar story;
A Lower Hutt police officer has been charged with assault after allegedly using his baton to protect himself from attackers, The New Zealand Herald has reported.

The incident, before Christmas, was believed to have happened when the officer attended an incident alone and was set upon by a group at the scene.

Extensive suppression orders mean the officer cannot be identified, but police spokesman Nick Bohm confirmed the assault charge had been laid.

Source: Police officer on assault charges (Fairfax 09/01/2013)
In fact one of Kurts colleagues at the herald,  Anna Leask, wrote yet another piece on the Wellington cops charges and yes you guessed it name suppression orders were imposed:
The officer has appeared before the courts, but strict suppression orders are in place, preventing publication of the officer's name, age, rank and any further details about the incident.

Source: Policeman charged with baton assault (NZ Herald 09/01/2013)
What has happened to the journalistic principle that if the protagonist, in this case the police, have withheld information or been misleading in a case that's clearly in the public interest then you start digging elsewhere until you have the good oil on why the bastards are concealing the truth, a genuine story that can then be published.
Bayer's tripe is anything but a genuine story. He simply rehashes the cops standard bullshit media response the type of spin that can be pulled from the pages of the Herald in any number of cases that involve cops that have been charged with criminal offenses. For example in this case Kurt states:
Canterbury district commander Superintendent Gary Knowles refused to say whether the officer had been suspended or stood down from frontline duties while he awaits court proceedings.

Source: Suppression for cop even before he goes to court (NZ Herald 11/01/2013)
A very similar statement to that quoted by Kurt's NZ Herald newsroom buddy Anna Leask:
Wellington police district spokesman Nick Bohm confirmed the Lower Hutt-based officer had been charged with assault.

He refused to comment further on the specifics of the incident because the matter was before the courts.

Source: Policeman charged with baton assault (NZ Herald 09/01/2013)
So what is it with these so called Journos and their editors in that they are all apparently incapable of seeing the big picture, a picture that's as obvious as the balls on a short haired dog; that being that cops have been granted an almost automated path-way to name suppression in almost every recent case.
Is it simply a matter of incompetence or is there more to this behaviour than meets the eye. It is indeed interesting that Greg O'Connor popped up only a few days earlier with yet another of his well timed cuckoo-clock like appearances:
New Zealand Police Association President Greg "pigshit" O'Connor (photo above) obviously really does believe that New Zealander's are as thick as he is with his latest "set your watch" "dump"  being provided by New Zealand's leading tabloid shite sheet the "New Zealand Herald".

Source: More "pigshit" dumped on Kiwi's by NZ Herald tabloid (Lauda Finem 10/1/2013)
We here at Lauda Finem believe that there is indeed more to the name suppression issue than meets the eye, we also believe that the New Zealand Herald may well be playing on the same team so to speak, assisting police HQ and O'Connor in playing down the issue.
Regular readers will recall our story on the country's state owned broadcaster, Television New Zealand, and its behaviour surrounding the conveniently timed broadcasting of a story "The Third Juror". The piece, far removed from journalism, was nothing more than a blatant cynical attempt to turn public opinion against David Bain's compensation bid and a precursor to Judith Collins very nasty and ill-advised attack on the credibility of Justice Binnie.
In that post we also introduced readers to Edward Bernays. Bernays was a pioneer in the use of public relations and propaganda, he was in fact the father of spin. Bernays described spin as:
 "the intelligent manipulation of the public with "false realities" which a compliant media would dispense".

Source: TVNZ, Rogue Jurors Campaign Exposed (Lauda Finem)
If the media are not guilty in this case of manipulating the public with spin then why haven't they pursued the real story which is ,on the face of it, most certainly in the public interest.
The angles in which one could look at what the police have been up to with these "carte blanche" name suppression's are numerous. One being that both officers may in fact have a long history of assault complaints being made against them and in being named in the media past complainants might have just cause, and more than a little inspiration, to again come forward and if ignored then approach the third estate. Does that scenario sound plausible as good reason for the cops to want to conceal the alleged offending officers names? Well of course it does, in fact we here at Lauda Finem know that its exactly the way in which the police and Greg O'Connor's police association operate. If there has in fact been a legitimate case for the suppression orders why weren't they argued in open court?
Principles applied to applications in criminal cases that require consideration of such fundamental tenets of commonwealth law as the right of the public to know who has been accused of what, especially if it is a serious matter of public concern, are well settled.
Publish, publish, publish, unless the Court, having heard argument from both sides, in open Court, believes that the discretion to suppress publication, is so obviously made out by the extraordinarily serious ramifications of publishing, not just against the accused, but more often than not, likely others.
However there are so many instances where the Courts have considered such "ramifications" in relation to name suppression, and the Court has stated that they are simply not "sufficient", nor necessarily made out on the 'evidence'.
Now back to Kurt Bayer and the mystery party that had been "prompting questions over preferential treatment" of the Christchurch Cops name suppression order. Why didn't Bayer name the person/s who had prompted the question of preferential treatment? After-all it is almost certainly the victim of the alleged assault or someone closely connected that would have approached the Herald and complained.
This name suppression order stinks, it has a unique smell about it, the hallmark stench that is more often than not to be found wafting from creatures who inhabit the corrupt Christchurch crown law offices of Raymond Donnelly & Co, the same men and women that were behind the skulduggery and prosecutorial abuses in the Peter Ellis and Gwaze cases amongst others.
The rhetoric being pumped out by the spin doctors at PNHQ and academic supporters such as the dipshit at the University of Waikato,  Matiu Dickson, is just that rhetoric, fanciful fairy-tales told with the intention of fooling the public:
"Police are pretty hard on their own who face criminal charges, because they want to protect the respect of the public and usually go pretty hard out in pursuing a matter."

Source: Suppression for cop even before he goes to court (NZ Herald 11/01/2013)
We're not sure why Bayer bothered contacting some obscure law lecturer at the university of Waikato for comment we can only assume that he had been shopping around for an alternative opinion to that of the University of Auckland's media junkie, Associate professor Bill Hodge who Bayer attributes as saying:
"We're all concerned that there shouldn't be special rules for somebody simply because of their profession," 

"Would it have been given to a carpenter if he'd been involved in a fight with builder's mates or somebody?

"If a good lawyer could have got it [interim name suppression] for a blue-collar worker, then okay, that's the way the criminal justice system works for everyone.

"But if a blue-collar worker could not have got it, then we do have the concern that [there is] special law, special treatment in the courts for special people," 

Source: Suppression for cop even before he goes to court (NZ Herald 11/01/2013)
Of course Billy boy Hodge is 100% correct. The dipshit from the University of Waikato, Matiu Dickson, was however way off the mark; Bayer attributes Dickson as saying:
"If anything, the suppression order was a disadvantage to all other officers, who will come "under suspicion" while it remains in place," 

Source: Suppression for cop even before he goes to court (NZ Herald 11/01/2013)
So the other 500 or so Christchurch cops are going to be worried that the big finger of blame will be pointed at each and everyone of them? We think not, they would be well aware that they do not enjoy the public's confidence, especially in Christchurch.
We here at Lauda Finem feel that Bayer probably wasted a telephone call when he got hold of Dickson and the Perls of wisdom that dripped from his lips but we also suspect that Bayer had little choice given that he had no luck finding another other legal professional or half-witt academic to counter the words of media darling Bill Hodge.
Lets face it Matiu Dickson's response was pathetic, it is however understandable as he was probably still in nappies or licking Margaret Wilson's arse when booze-hound Greg O'Connor and his plaything, the Police Association, launched a bid in 2001 to have Steven Wallace's killer Police Constable Keith Abbott's name suppressed:
A website naming the constable who shot Steven Wallace has prompted Justice Minister Phil Goff to consider legislating to protect the identity of police officers.

Mr Goff told the Herald that publication of the Waitara officer's name and photograph was "utterly inappropriate," and the fact it could be done legally was something the Government had to examine urgently.

He planned to meet a Ministry of Justice team this week to discuss guidelines for legislative protection of officers involved in serious situations when acting in the line of duty.

Source: Waitara shooter's naming provokes backlash (NZ Herald, Monday May 7, 2001)
Whilst public opinion has radically shifted and support for the police dramatically fallen, neither the Police nor its members Association, headed up by O'Connor have ever countenanced transparency when it comes to one of their mates facing criminal prosecution. Their stock standard response has always been "Move along, keep moving, nothing to see here"
Greg  O'Connor during the Waitara fallout used members money to "take a shot" at veteran justice campaigner Dermot Nottingham, and the National Business Review, with an application for an injunction and failed in the High Court at Auckland before a full bench.
The Court decided that it was not a unique situation that a Police Officer could kill a member of the public using the last resort first.  Nottingham argued that a police officers identity should be known especially where he was likely to have used the last option first.  Nottingham then went on to to publish his report "one law for all" on an internet site "advantage Advocacy". the report and photograph received over 700,000 hits from curious New Zealander's who obviously wanted to know who the alleged killer was. Nottingham received a number of death threats from a few bent cop loving nut-jobs and un-remarkably the police failed to prosecute those responsible.
Nottingham set up the website so that the reader of his report had to decide whether they wanted to know the killers identity.  On the first day that his report was published Nottingham stated on the Holmes program (view below) that only a few readers had not availed themselves of the option to see a picture of Constable Keith Abbott.
We suggest that all New Zealander's should read the report as it, despite being controversial at the time, altered history and ultimately  led to Elias CJ finding a case to answer against Constable Abbott; forcing the police to be held to account for the first time. The report itself drew international attention and has since been translated into numerous languages including Japanese, Russian, Dutch, and Dari, one of the two major dialects of Afghanistan.
Labour Party house painter, fiscal and social wrecker, Phil Goff, argued that the law on suppression should be changed relating to Police Officers alleging that they were a special group of our society. Goff was also the arse-hole that refused a royal commission of inquiry in the Peter Ellis case.
Well Phil got it wrong and most New Zealander's disagreed with his moronic view on the Police Services integrity, and the silly twat didn't last long as the leader of the opposition.
So, if  a filthy cop that was later charged with murder and manslaughter did not get name suppression when he hadn't yet been charged, how the hell does a Christchurch District Court Judge consent to a suppression order for a corrupt cop charged with assault in a secret "in chambers" meeting with the Crown law Office and defence counsel.
Now for the real truth of how corrupt the District Court Judge must have been.  When charged by the New Zealand Police force with a Crimes Act offence of assault, the Crown Law office becomes involved.
The Crown would be aware that any application for name suppression would be made by a written application by defence counsel to the District Courts Criminal Registry, and such application served on the Crown once a contemporaneous date had been set for the charges first call in open Court where the arguments are "weighed, and found wanting, or not" by the media.
The Crown would file a notice of opposition to the order being made, and file submissions in advance of the hearing so that the Court is aware of the competing arguments.
Normally such arguments are short before the judge in open Court unless the grounds for suppression are clearly forceful.  Such arguments would be where say a sex offenders names publication would have a clearly adverse affect on his or her victims not in keeping with the need to publicize a warning to the public about the offenders identity given that the offender is in custody.   Where suppression orders are argued, it is trite that the grounds proposed by the defence team are pathetic, and are easily deposed of, unless corruption is present.
One of the reasons for non-suppression is where it would be unfair on say all other Police Officers, that the alleged offender not be identified.
This cops identity has been secreted at the order of a complicit corrupt District Court Judge in a "wink wink" meeting between the Crown Prosecutor, defence counsel, and the Judge, where the violent cops name is suppressed because the "trial" will be as big a farce.   The other important reason for giving an unlawful name suppression order would be that this scumbag is a serial offender and once identified would led to evidence of recidivist offending ignored by police hierarchy such as Regional Commander Gary Knowles.   If this is not the case Superintendent Knowles, why not give us the scumbags name.
Lauda Finem suggests that the defendant should be tested for anabolic steroids, the use of which has become endemic amongst New Zealand Police Officers; that story to come later this year as we finalise the editing of our covert filming of drug using and dealing police officers.
Knowles is set to go down in history as the most corrupt Police Regional Commander given the stories that we have in store.  However his power is considerable when he can get a corrupt District Court Judge to grant a suppression order "in chambers" when such an order would have to be by consent of the Crown Law Office (AKA the cops that allegedly believed that their violent police associate assaulted an innocent man).
As for the mediocre New Zealand Law experts saying that it was fair to ask if the violent cop got preferential treatment; This cop, an absolute nobody got to get a name suppression order, normally argued and granted in open Court, and which remember is normally incredibly difficult to obtain, granted "in a cosy little meeting in chambers" with a clearly corrupt District Court Judge; an order which is and always will remain a cozy little secret.
Related articles