Recently many "tech savvy" New Zealanders have borne witness to the power of social media and the Blogosphere in the legal realm with two individuals commanding that country's mainstream media's attention:
A witness to the attack on Jesse Ryder has breached a court suppression order by uploading a video identifying the two alleged attackers.

The man filmed the accused leaving court on Thursday on his cellphone and uploaded it to YouTube and Facebook. He also published their names online.

He told One News last night he had no intention of removing the video.

Source: http://www.stuff.co.nz/the-press/news/8516468/Witness-puts-video-of-Ryders-attackers-online
AND
The blogger holding the leaked Earthquake Commission (EQC) email with information on 83,000 Christchurch claimants says he is preparing to defy a court order stopping disclosure.

The High Court in Wellington yesterday extended an order prohibiting any release of information from the email, accidentally leaked last week to Christchurch businessman Bryan Staples, of Earthquake Services.

The blogger told The Press last night he was upset about not getting a hearing in court and believed he should have been given time to prepare his case.

Source: http://www.stuff.co.nz/the-press/news/8530073/Blogger-plans-to-defy-EQC-injunction
One of the individuals, a YouTube account holder, who until a matter of days ago used the nom de guerre "italianplayboy5" (YouTube account deleted) is about to face a district court judge today as we go to press with this piece:

The reasons that he is now facing court are two-fold, the first was that he used a "YouTube" account to post video footage identifying the two defendants charged with assaulting renowned New Zealand cricketer Jesse Ryder whilst they were leaving court (having just been granted name suppression).
The name suppression, however, is not at the heart of italianplayboy5's  mistake (we believe that he was justified in his actions, remember he allegedly witnessed the attack) its the fact that he used YouTube and that he posted the footage in New Zealand.
We here a Lauda Finem have posted a number of pieces in the recent months detailing the perils of Kiwis using Youtube to post material that may offend New Zealand's corrupt civil service, or for that matter anyone who is politically well connected.
New Zealand is one of only three countries that has a "very special" relationship with YouTube, in that those in power have access to any information that is posted on the site via the state owned broadcaster Television New Zealand (TVNZ)
This was the whistle-blowers first mistake in that he would have been quickly identified by the Police. The second, far more obvious, mistake was that he allowed himself to be filmed by rival television broadcaster TV3, not only was he filmed he also admitted, "on camera", to having been responsible for the YouTube video; whilst defiantly extolling the fact that for his "own reasons" he would not be taking the video down.
That serious misjudgement, despite his obvious good intentions, will likely mean that he will now be made a scapegoat by an obviously pissed off  judiciary who feel that their power, authority and reputation is under attack by bloggers, individuals using social media and the powerful interconnections that can almost instantly develop if the offending video or information becomes publicly known or far worse "goes viral".
Of course this judicial fear of attack is not at all rational. So what is under attack? Well its simple really; the way in which New Zealand's police force, its courts and Government refuse to be held accountable to the countries citizens and their expectations of what commonly called natural justice and or fair play. That and the fact that these public servants seem to be of the misguided belief that their "delegated power" is be used for their own benefit and that of family, their close associates and whatever "pet" agenda they wish to serve.
Now whilst on the subject of "pet" agendas, and in the same breath our aforementioned support for  "italianplayboy5's" actions, Lauda Finem posted material on our Facebook page that should cause the average kiwi some serious disquiet, that being that presiding judge Gary MacAskill has publicly stated that he has a proclivity to ease the legal burden whenever anyone with a certificate in building is unfortunate enough to have to appear as a defendant in his court, or at least at sentencing, Lauda Finems reseachers found this little ditty, which appeared in the Christchurch Press newspaper (another in a Canterbury lawyers online journal, which we are keeping up our sleeves):
A judge has called for an innovative approach to offenders working on the Christchurch rebuild.

Judge Gary MacAskill said rebuild workers were having to take time off work to serve their community work sentences, which was "costing the community".

MacAskill voiced his views at a Christchurch District Court session this morning as he sentenced a man for a community work breach.

The judge said he would prefer to see workers continue with the rebuild on days when they should be doing community work, but make some payment to the taxpayer instead.

"It would take a law change for what I have in mind," he said.

He was dealing with the case of a worker coming to Christchurch and taking up a job on the rebuild, but finding that he fell behind with a community work sentence because of the long hours and job requirements.

Community Probation then charged him with breaching his sentence and he pleaded guilty today.

MacAskill imposed an extra 40 hours of community work, the minimum term for that type of sentence.

Source: http://www.stuff.co.nz/the-press/news/8334272/Community-sentences-hinder-rebuild-judge

Secondary source:
Whats of interest to us, however, is whether or not Jonathan Eaton, the elder defendants barrister, was aware that Gary MacAskill DCJ would likely tread softly when it came to a defendant who was gainfully employed rebuilding quake stricken Christchurch before he made his application for name suppression, undoubtedly citing his clients role in that industry; as reported in the mainstream media:
The older of the men, a builder, faced a charge of injuring Ryder with reckless disregard in the incident outside a bar in suburban Merivale last Thursday, and a joint charge of assaulting Ryder with the younger man.

Source: http://www.news.com.au/breaking-news/world/ryder-accused-granted-name-suppression/story-e6frfkui-1226612295494#ixzz2QUYBt3JL
Perhaps the good judge felt that in allowing the defendant to be named he would make the man a social pariah, and thus unemployable as a builder, given the victims (Jessy Ryder) international renown?
So was Craig O'Neill really a self employed builder bailed by Gary MacAskill DCJ (only wankers have profiles on linked in and if you are a district court judge that makes you a complete and utter fucktard), bob the builders friend, to an address in Shirley, Christchurch, New Zealand, we certainly think so: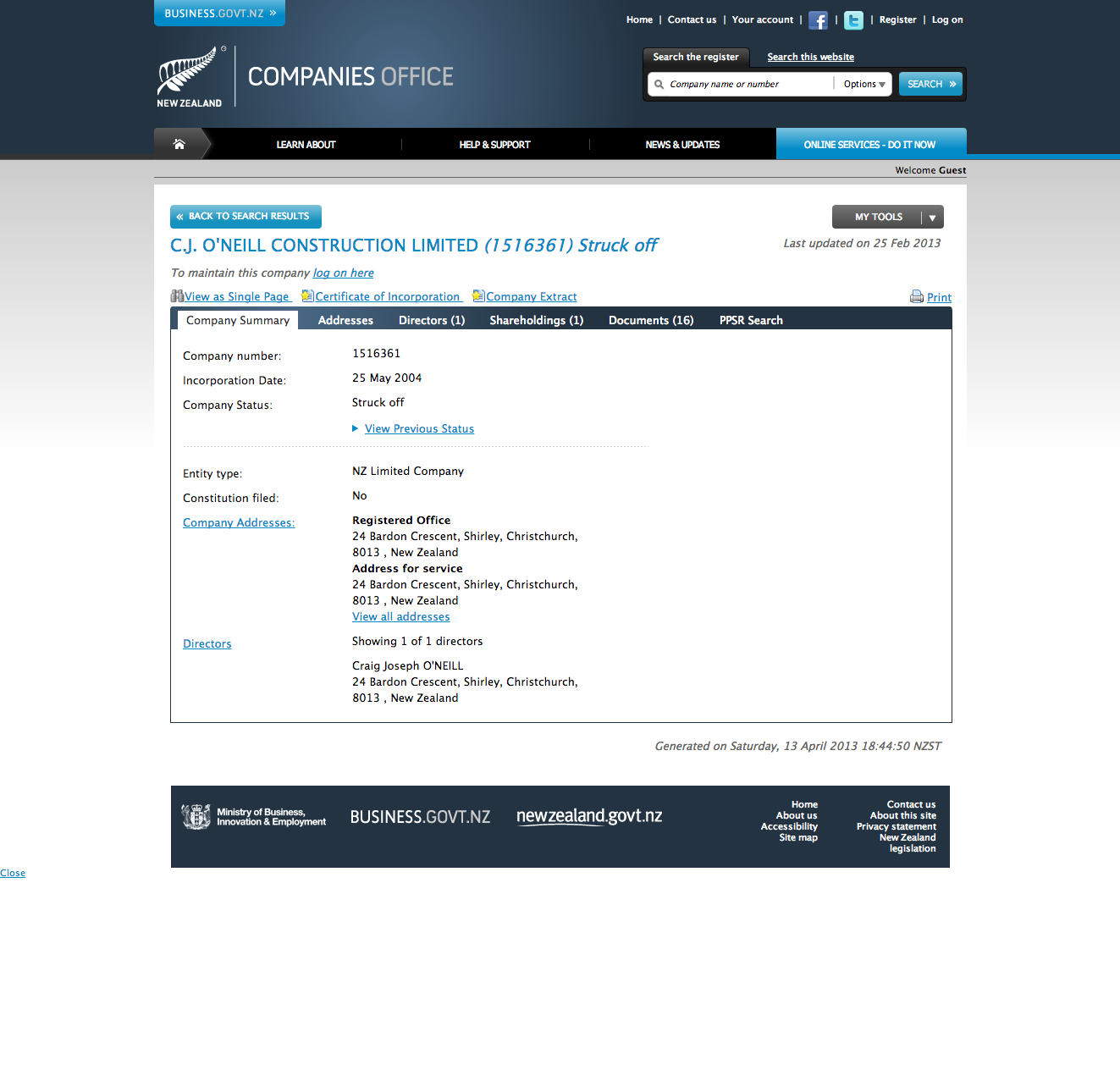 The second case is also very interesting. Its that of an as yet anonymous Kiwi blogger  "publiuskiwi", who set up the site www.eqctruths.wordpress.com and has since November 2012 been intent on exposing alleged corruption in and around New Zealand's Earthquake Commission (EQC).
A taxpayer funded national insurance scheme, and the National party Governments dubious, tardy and, seemingly, very unpopular response to the Christchurch earthquake in 2010. In these two case's the latin maxim very much applies, we know that some wannabe bloggers and fucktarded politicians  despise latin, and we intend to hurt them even more with that ancient language using the truth:
Legatus non caeditur neque violatur
That post coming up next!
Related articles