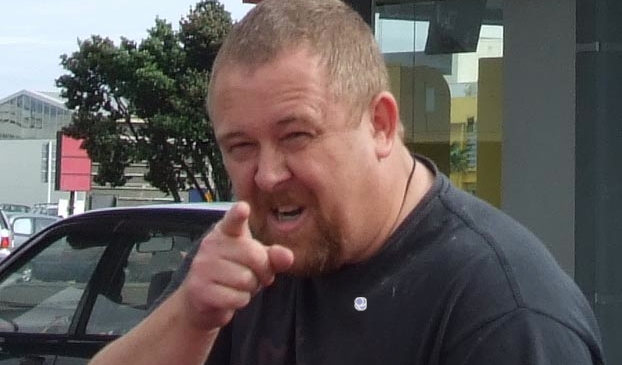 Lauda Finem has previously posted a story on this claimant rights killer.  But it seems that the Corporation's top management know no boundaries when it comes to unprofessional, intimidatory, and confrontational behaviour and have given Registered Nurse Brian Athol Smith [AKA "Nurse Athol"] the green light to do his "work" in public in front of stunned witnesses.
An ACC Earnings related claimant that has severe incapacity from multiple serious TBI's, permanently damaged hip, shortened leg, and serious impediment from medical misadventure as a result of surgery [after having gone through  the windscreen and roof of a truck when the truck decelerated from 110 kmph to zero making the claimant exit into a power-pole], happened to be purchasing gasoline at the same time as Nurse Athol.
As the claimant quickly passed the surly and aggressive Nurse Athol to return to his car, Nurse Athol "grunted" and gave the claimant the fingers before opening his door and alighting from his $2,500.00 [NZD] 1996 four cylinder 2.2L shit-box green Honda Odyssey.
On previous occasions Nurse Athol had stalked the claimant taking photographs of the claimants very attractive 26 year old daughter with his mobile phone while the claimants daughter sought refuge in the claimants vehicle.  The claimant and his daughter had to leave the supermarket as Nurse Athol seemingly made his intentions clear regarding his "liking" for the claimant's daughter.
On three other occasions Nurse Athol seemed to just to "pop up" out of no where when the claimant was in town. On one particular occasion Nurse Athol crossed the road and hid behind the claimants vehicle as if waiting to accost the claimant if the claimant attempted to get out of his vehicle.  The claimant fears for his personal safety, and the safety of his daughter, and has complained repetitively to the deaf ears of ACC Senior Management who seem to "get their jollies" on the claimants level of fear and despair.  This is a communication between the despairing and fearful claimant and Kent "egregious" Eglinton, propbably one of the worst liars we have come across; (excepting of course John "no memory" Key);
"Date: Mon, 28 Jan 2013 15:32:34 +1300

From:Kent.Eglinton@acc.co.nz

XXXXXXXXXX

Dear Mr XXXXXXX,

Thank you for your email.  As you say, it is highly likely that clients will see ACC staff in the community, outside of the work environment especially in smaller regions.  In the absence of additional supporting information for either party this is not something I can comment on further……..

 

Regards

 

Kent Eglinton"
That email was in response to the claimants email dated 27 January 2013 which conveyed;
"From: XXXXXXXXXX

Sent: Sunday, 27 January 2013 17:40

To: Kent Eglinton

Subject: XXXXXXXX

  

Dear Kent,

I again had the misfortune of bumping into Brian Smith at the Supermarket on Friday 25th January. I initially avoided him by going down an aisle as not to cross paths. I decided to cut short my shopping and go to the checkout. Whilst at the checkout Brian approached the checkout directly opposite me. He was grinning, smirking and simulated jovial laughing.

I understand that it is inevitable to cross paths in a smallish town like New Plymouth. What I don't expect (sic) to be subjected to behaviour that Brian displayed. This is the second time he has acted unprofessionally whilst I have been at the supermarket. The first was witnessed by my daughter, unfortunately I have no witness to the latest event.

Taking everything into consideration I would still request that you advise Brian Smith that his actions on Friday 25th January had a harmful affect on me.

I am aware that if you bring this matter up with Brian It will possibly bring him satisfaction in knowing he is getting to me"

 
The previous incident involving Nurse Athol and the despairing and fearful claimant, and his daughter, in the Supermarket, was reported on 27 October 2012 at 1.47pm by the claimants professional advocates in the following manner to ACC New Plymouth Manager Janet "no prisoners" Tinson in the following manner;
Hi Janet

I am not copying Mr Smith in as I am really worried that the guy may attempt to hurt Mr XXXXXXX or one of the XXXXXXXX family.  Brian has now stepped over the mark and an official complaint will be made against Mr Smith to the Police.   Beneath is the statement of Mr XXXXXXXX daughter XXXX as to what she witnessed Mr Smith do relating to intimidating her father.    Mr XXXXXXX believes that he saw a man fitting Mr Smiths description following him.  It is inconceivable that Mr Smith just suddenly "bumps" into Mr XXXXXXX when Mr XXXXXXX has historically never had this happen previous to Mr Smith apparently "losing the plot" wrongfully disentitling Mr XXXXXXXX.   It would seemthat you are giving the instructions to Mr Smith to "up the anti".  The complaint will take a week to get up with all of the material in support.

 

Cheers 

 

XXXXXXXXXXX B.Com [Auck]

 

"Wednesday 26th October. 4:35pm approx.

At the Countdown Supermarket waiting in the queue with Dad

Brian Smith joins the line next to us. I try not to look but out the corner of my eye I can see him obviously staring at us and almost smirking.

We pay for our groceries and go to the car parked in the disabled park right outside the supermarket.

Smith is at the end of the queue getting ready to leave when he stops and stares at us sitting in the parked car and holds up his phone like he is taking a photo of us.

I'm amazed to why he is glaring, but astonished that it looks like he is photographing us.

When we go to drive out of the car park he is now by his car and just glaring at us and I mean obviously trying to intimidate us.

I find his behaviour un-professional and disturbing that a person in Senior Management of a big Corporation such as ACC can act so inappropriately

XXXXXXXXXXXX"
These photographs disclose the instructions that Mr Eglinton has given to Janice Tinson and "Nurse Athol" to "do what its takes" to cause the claimant distress and despair where suicide is a likelihood rather than a possibility.  The claimant's daughter, a semi professional photographer, had given the claimant one of her camera's to carry with him at all times in case the erratic stalking behaviour, they feared, occurred again.
It would appear that their fears as to Nurse Athols propensity for violence and criminal harassment were a real and present danger and that her foresight, and the presence of witnesses,  protected her father from a probable beating. (Note: the images and what was said by "Nurse Athol" are in time-line sequence ).
Image one:
Image two:
Importantly from the second photograph you can see how far Nurse Athol has chased the fearful claimant across the forecourt from Nurse Athols metallic Green Odyssey shit-box registered number CSC983.  You will also note an elderly woman clearly witnessing the attack.  Below are two photographs where Nurse Athol advances towards the elderly woman and she makes a hastily retreat behind the protection of her car having witnessed what was said to the claimant by the burly and surly ACC attack dog;
Image  three:
Allegedly Nurse Athol intimidated the claimant to the extent that the claimant feared for his safety whilst escaping Nurse Athols verbal onslaught as he returned to his vehicle and filmed Nurse Athol verbally attacking and threatening him.  It would clearly appear from the pictures that his attack scared the elderly woman as well.   Who the fuck are they going to employ next?.  Maybe they should do job interviews of violent offenders awaiting parole.  We hope that Kent Eglinton does not take that suggestion seriously.
The following is the claimants recorded account of the discourse that took place; [as an aside Nurse Athol has a strangely high pitched voice when acting aggressively, confrontationally and unprofessionally];
"you taking fucking photos of me XXXXXX..
You keep your distance Mr Smith…there are witnesses
Fuck you XXXXXXX, you should see what photos we have of you…

 

Walk away, I know that you have Eglinton's and Tinsons Ok for this behaviour..

 

They have given me the go ahead to get you XXXXXX…so lets see what happens… …you are going down XXXXX"
We now believe that Nurse Athol must be sacked and that Kent Eglinton must go as well as we have been given documents by the claimant indicating that Kent is a well practiced liar when it comes to protecting the criminal actions of the likes of Nurse Athol and Tinson.
As for that useless fucktard Janet Tinson, she needs to be prosecuted for being in charge of a persecution unit of ACC where she controls the attacks on a group of disabled New Zealanders in a similar fashion to the manner in which the Nazi's singled out the jewish community.
But wait we have so much more on Nurse Athol, Kent Eglington, and Janet Tinson, but that is for another time…..more photographs that tell the story are making their way across the Tasman via the internet.
But for now the claimant has the proof that ACC is targeting him with verbal abuse, physical intimidation, actual violence, [as the claimant hurt his hip evading Nurse Athols pursuit of the claimant with the claimant fearing that he would be beaten on the ground being defenceless due to his injuries].
KENT EGLINTON…YOU COWARD, ARE YOU GOING TO ACT AGAINST NURSE ATHOL, OR APPROVE FURTHER VICIOUS ATTACKS.
Related articles