ACC forum member Antony Garrick Duncan 44 aka "your rights" of Greymouth, was convicted this week in the Greymouth District Court of 3 charges of misleading ACC by willful omission, 3 charges of failing to advise of earnings and 5 charges of dishonestly using a document.
Greymouth seems to be full of ACC Fraudsters whom are advanced members of New Zealand's most notorious hate and cyber-stalking site, www.accforum.org which site is owned and operated by business partners and bomb plotters Arrin Wislang and Alan Thomas.
Thomas and Wislang, dreamt of the destruction of ACC Takapuna and the death by murder of all of its occupants Thomas was convicted, but Wislang went to work for the Ballarat District Health Board under the protection of  Andrew Rowe.
On Thursday 11 April 2013 advanced ACCForum member Nigel Ross Hipson, 38, aka, "FUCK YOU", Of Ruanga, Greymouth, was sentenced to 400 hours of community service in the Greymouth District Court on Tuesday for defrauding ACC.ACCForum member "FUCK YOU" was also ordered by Judge Garland to repay the $19,161.92 he obtained fraudulently from ACC, by claiming weekly compensation while he was in employment.
"FUCK YOU" pleaded guilty to two representative charges of misusing a document under the Crimes Act, and four charges of willful omission and failing to provide earnings information under the Accident Compensation Act.
"FUCK YOU'S" offending related to two separate periods when he worked while receiving weekly compensation. The entitlement, paid for injury-related loss of earnings, was originally granted after FUCK YOU suffered a light hernia in October 2000, and continued after FUCK YOU injured his arm in February 2001.
Between November 2006 and July 2007, FUCK YOU was in continuous employment as a labourer with a construction company. He worked intermittently for the same company again later in 2007 and early in 2008.
From May 2010, FUCK YOU commenced new employment as a labourer with a manufacturing company. After ACC received information that FUCK YOU was working in this role, his weekly compensation was stopped in December 2010.
Throughout various periods of employment, FUCK YOU did not tell ACC that he was working, despite signing numerous declarations that he was aware of his obligation to do so.
What is interesting about [now convicted ACC fraudster] "FUCK YOU", is that he rejoiced in the conviction of ACC medical assessor Dr Jonathon Wright. In his last post "FUCK YOU" said this about Dr Wright;

Source: http://accforum.org/forums/index.php?/topic/13918-dr-jonathan-wright-convicted-fraudster/
The ACCForum profile shows that "FUCK YOU" posts every second day and likes to defame ACC medical assessors as his only hobby, given his strenuous work commitments laboring all day 7 days a week.
ACC's General Manager of Claims Management, Sid "sux at his job" Miller, says it is always disappointing when people choose to abuse the ACC Scheme for financial gain.
"ACC collects levies to help people with genuine injury-related needs. Mr Hipson's offending therefore amounts to theft from honest, hard-working New Zealanders."
Mr Miller, a complete fucktard, alleged that:
"ACC has a dedicated Investigations Unit, which follows up all tip-offs received about possible fraud. The unit is committed to ensuring appropriate action is taken when anyone is found to be defrauding ACC"
What is amazing to Lauda Finem is that Duncan aka "Your rights", like most of the ACC Forum members we have identified, was able to work through the pain and work 3 jobs whilst receiving almost $ 23,000-00 of levy payers contributions.
A true testament to this "your rights" true grit was that he worked as a diary farm worker, labourer, and pond operator. Duncan was sucking on the teat of the average New Zealand worker and counting their money every week….He is reported as saying
"and that makes twenty two thousand two hundred and ninety five dollars and nine cents…….yippey!"
According to the New Zealand Herald (dated 9th May 2013) ACC spokesman Sid Miller, general manager of claims management commented:
"At the end of the day, Kiwi's pay ACC levies to help people with genuine injury related needs-not so people can misuse ACC for their own personal gain."
Fuck you are a bright spark Miller – that comment put our suspicious minds to rest – NOT.
We have attempted to get comment from the key fraudsters behind the ACC fraudsters support site www.accforum.org but Arrin Wislang, Alan Thomas, Evonne Puru, Mr and Mrs Sharma, Fran and Henk Van Helmond, Marakita Moeroa Mehmet, Janice Karaka Clarke, Mark McNicholl, David Butler, and Douglas Weal, were busy with work commitments.
Readers will remember Evonne has a substantial number of criminal convictions for ACC fraud herself. Evonne Puru, like the Sharmas, using the fraudulent profits of her crimes to invest in residential property development.
The ACCForum webmaster Alan Thomas was convicted of $238,000.00 of ACC Fraud whilst running numerous computer orientated companies.  Mark McNicholl aka "netcoachnz" is yet another ACCForum ACC fraudster that ACC needs to gets it dicktard investigators to have a close look at.  This fuckthug and fuckknuckle lives with his elderly mother, whom we assume he has not eaten yet.
In what seems to be the norm for the hate site ACCForum, Mark McNicholl loves to post the criminal behavior of others involving ACC Fraud.  Our psych researches confirm that this behavior is a norm for the likes of McNicholl, and all of the other ACCForum members that are committing fraud themselves.  Our most senior researcher sent the LF editorial team this email.
"I, and XXXXX, have identified a common thread amongst the membership of ACCForum.  

 

That being that all advanced members have a gripe against ACC that is fuelled by their belief that all ACC assessors are corruptly conspiring with ACC staff to have them cut from their compensation. 

 

For this belief to exist there must have been numerous events where they have been informed, in somewhat professional terms, that they are malingerers, and thus fraudsters.   

 

It follows that, in joining ACCForum, they believe they have joined a "pack" and a "pact" where like-minded individuals seek to advise each other using "monikers" how to avoid prosecution for fraud.  

 

The use of up to 100 "monikers" for 1 individual discloses a predilection to create a false perception as to how many people are in the same boat.   This deception seems to be a key element to how they all wish to deceive ACC, and any browser to the site, that the site has a large number of members, when in fact it has been admitted by 5 members, inclusive of the informants David Butler, and XXXXXX, that the core membership is probably not above 10 to 15 members which most have been identified by LFSR, and then posted on LF.  We conclude that those that post material about others use this to infer that they are beyond reproach when in fact it has been clearly proven that these people are more likely than not large scale ACC fraudsters.   The number of convicted ACC Fraudsters, that make up the membership of ACCForum, can only be described as "saturation of a sponge".   We cannot identify a similar level of criminality in any other body of persons in the western world that allege that they are the ones being defrauded.   The low level of intellect, and the presence of various psychosis indicators in its small core membership, would provide substance to our belief that the Takapuna bomb plot will not prove to be an isolated event, and a similar serious crime will inevitably eventuate with the loss of life to members and non members."

 

XXXXX, XXXXXX, XXXXXXXX and XXXXXX agree with our findings and XXXXXX has sent further information relating to particularly Mark McNicholl, and XXXXXX, and XXXXXX from ACC Forum.  I will be traveling to XXXXX on Friday and will be back the following Tuesday with further information on XXXXXX.   
True to our researchers diagnosis this is what ACC Fraudster and hypocrite Mark McNicholl posts on ACC Forum as "netcoachnz";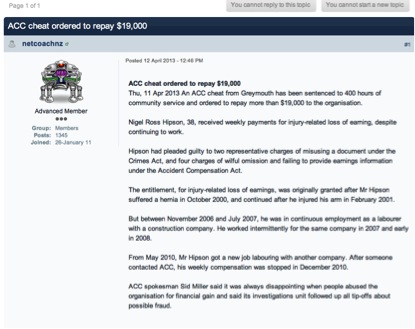 Source: http://accforum.org/forums/index.php?/topic/14842-acc-cheat-ordered-to-repay-19000/
LF understands Mr Duncan aka "your rights" also suffers from being an absolute fucktard fraudster as he was nabbed by the content of his own doctors files when he made another ACC claim whilst working and claiming ACC.  Again "Your rights" now another convicted ACCForum member posted on 31 March 2013 the following comments about ACC paid assessors.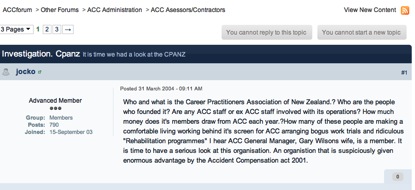 Source:  http://accforum.org/forums/index.php?/topic/666-investigation-cpanz/
What is it about these fraudsters that are all advanced members of ACCForum that they do not understand the concept of hypocrisy?.
"your rights" and "FUCK YOU" are hardly great catches by ACC, who should be visiting the sunny Fiji Islands and grabbing the Sharma's.
Lauda Finem knows that at least 5 constant visitors to our site are senior ACC staff, and likely investigators, due to their respective search terms relating to ACCForum members, and "others" that Lauda Finem has identified are currently in receipt of ERC and are suspects of ACC Fraud.
We are following their search terms with interest to see what and who we can uncover about the few remaining members, not yet identified in our series "profiling nutjobs".
Related articles