LF obtained the services of probably Australasia's greatest investigative asset over the weekend for free…well somebody paid for his services, but it was not LF!!.
The funder is from Canterbury and wants Janice Karaka Clarke, MS sufferer, and old whahini cunt, brought to justice…and LF is of the mind that nothing could be sweeter as this would be the end of ACCForum.
Apparently the funder had to paint a shit load of houses to pay the asset in cash and confirm instructions when the asset ate cray and chips with the funder on the east coast of the South island of New Zealand whilst the surf broke on black sands;
LF's instructions to the Butler funded asset– find Janice Karaka Clarke and prove that she is Hukilaspida….and guess what…the asset came through.  Butler was fucked off that he had put New Zealand Justice Campaigner Dermot Nottingham wrong when stating that "Hukilaspida" was a blonde called Helen Miken.
LF now has "Jan" on film and will, when the time is right, show the horrible footage.   We always wait while the fucktards embarrass themselves…heheheheheheheheheLOLOLOLOLOLOLOL
Jan is unmarried and has no kids….wait until our readership sees the latest pictures…..fuck she is one ugly old brown cunt who will not be missed when right is done.
The story of the Karaka Clarkes of Peria is not a good one.  Lots of crims, and pretenders.  Not an honest Whanau, or a courageous one…hides behind silly old cunts like Janice.
Janices dad Ken would be turning in his grave.
Then there's Aunt Rona whose about to kick the bucket.  Uncle Bert was where Dave Butler started. Janice's uncle Selwyn is quite the source of information, as was the Swister Elderly Care Home in Kaitaia.
And as for Robert Clarke – such a lovely guy ……. ALL ON TAPE.
BUT GET THIS….the real test set up by our asset was this….make it obvious and see if ACCforum reacts…and guess what….the stupid cunts took the bait …hook, line….and fucking SINKER;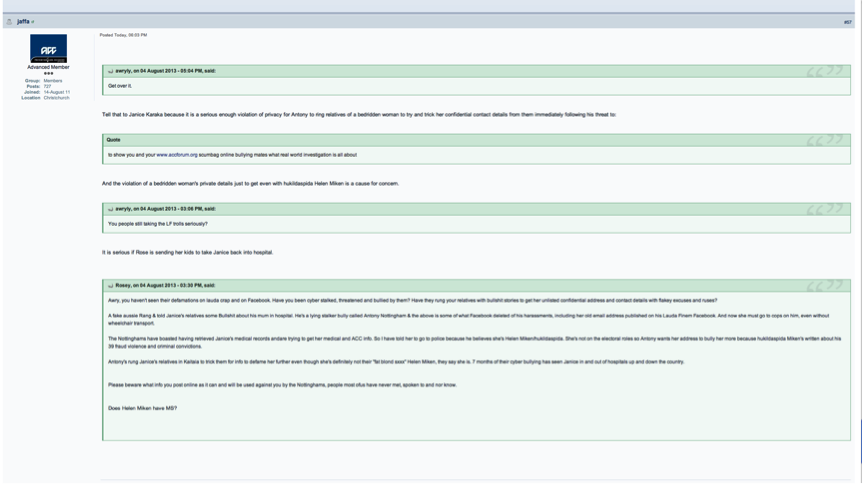 Wait until  Janice recognises just how long we have been on to her…it will make her realise just how much of an idiot she really is.  Well, even her care givers don't think much of her….its all on film…..and its amazing – and we have the taped convo's with Uncle Selwyn Clarke – that call placed by yet another of our assets – watch out John Key.
LF has spoken to nieces, nephews, uncles, aunts, cousins, and brothers, and all of that material is being processed to be placed on the internet Janice.  They all agree that you are a bit of an "internet obsessed" fucking idiot that spends an inordinate amount of time online trashing people, oh and that you are also one of life's tragic failures – should we Fuck-start your head?
You are a sad old Maori cunt……not our opinion…the audio and AV's say it all "chook" you are a leaky fucking minge box!
Hehehehehehehehehehehehehelolololololololololol
Love your place JANICE…what a fucking shithole.
Related articles