Update: see comments section
Regular readers will recall an investigative story we ran back in June this year "The murder of Stephen Dudley at Kelston High Auckland New Zealand – an LF investigation".
It would seem that following LF's investigation and the subsequent story the New Zealand police have had a change of heart and quickly reviewed their June decision not to appropriately charge the two youths LF believe were responsible for the death of Steven Dudley at Kelston Boys High School and let a jury decide.
Now normally LF would have brought our readers an update on this story much sooner but we've quietly been investigating further, just waiting and in this case it appears that most of New Zealands mainstream media, despite the story originally being the days headline grabber, have failed to report on the police's upgrading of the charges to the far more appropriate and serious charge of manslaughter – Vested interests in the NZ Rugby Unions media licences and handouts perhaps? Or was it political intervention?
Not a peep, no headlines just a few mentions tucked away in some very very obscure places – including the very small piece by Radio New Zealand (below).
Granted for some reason the judge hearing the various applications by the boys defence counsel had granted name suppression and somewhat strangely suppression of the school name. This is a decision that given the schools known history of bullying, harassment and extraordinary rugby violence, we believe, was not at all in the public interest.
Interestingly soon after our piece one amongst New Zealand's bull-shiting mainstream media and New Zealand's Rugby Union went into damage control attempting to pour cold water on the schools record of violence on and off the "rugby field" – yet more exculpating spin
In LF's view the judges decision, not to name this school, yet again calls into question the judgement of New Zealand's judiciary and in this case the behaviour of New Zealand Police in and around a very news worthy case that should be reported in the public interest – especially in the interest of the parents of Stephen Dudley's fellow students.
We can perhaps understand that the boys identities should remain undisclosed in the interests of a fair trial ( the media, LF included, having already of their own cognisance obliged) but we are at a loss to understand why the judge would, in all good conscience, want to conceal the identity of a school that clearly has major issues with bullying, violence and discipline. All of which are clearly systemic and continue to pose a serious threat to other vulnerable students.
Whilst the Radio New Zealand piece (below) makes no mention of whether it was the prosecution or the defence that had made the applications for suppression it could, given the circumstance and the polices earlier behaviour, be deduced that both sides were symbiotically complicit in obtaining the three gag orders.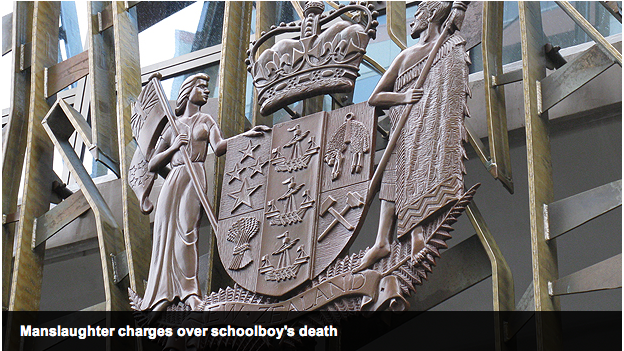 Manslaughter charges over schoolboy's death

By: Natasha Jojoa Burling, | Latest Crime News | Tuesday July 2 2013 11:38
Two teenagers have been charged with manslaughter following the death of an Auckland schoolboy.

The boy died following a fight after rugby practice last month.

The 17-year-old and 15-year-old were supported by a full court of family members as initial charges of assault were replaced with those of manslaughter.

The Waitakere Youth Court has suppressed other details including the name of school attended by the all three boys.

They've both been remanded till later this month.

Photo: Edward Swift

Source: http://www.newstalkzb.co.nz/auckland/news/nbcri/1524505058-manslaughter-charges-over-schoolboy-s-death