After running our story The Stephen Dudley Case; LF gets it right yet again we received a comment from Sonja de Friez, the Director of Community Engagement at District Court NZ
LF has decided on an OPEN REPLY ON OUR SITE so as to help Sonja de Friez out, as it seemed to us that she was talking shit
Tena koe I tenei ata [1:44 AM, (CET)]

Thank you for communicating your opinion on our position relating to the Kelston School thugs who brutally attacked and killed a son, a brother, a nephew, a cousin, a friend – Stephen Dudley. 

It would have helped if you had referred to the Act by name:- the Children, Young Persons, and their Families Act 1989. In the future this may assist those that you give incorrect advice too.

Our understanding is that the two cowardly killers are charged pursuant to the indictable Crimes Act 1961 offence of culpable homicide – manslaughter.  LF disagrees with this prosecutorial option given the age of the offenders.

The Act you refer to relates (largely) to proceedings in the Family Court and the District Court –ss150-151. 

Section 273 specifically provides that the crimes of murder and manslaughter are excluded.

Section 275 stipulates that the first appearance in manslaughter cases must be in the Youth Court to enable the transfer to the High Court pursuant to section 36(2) of the Criminal Procedure Act 2011.

Subsection (3) of section 275 does not stipulate any process of the Act you refer to that covers the High Court.  LF understands that the boys appeared in the High Court and therefore were no longer under the auspices of the Act that you failed to name, but referred us to a section.  In fact it was reported so in the APN shite sheet The New Zealand Herald;

Fuck us sideways – who the fuck doesn't know which school is involved here.  It's Kelston "thug factory" boys? Just google "Stephen Dudley" Sonja!!!

It is therefore respectfully submitted that your advice is, in error, ill informed, misguided, and inept, or you simply intended to misinform.

Given the above proclivity we cannot see why we would want to contact you for such similar advice in the future, and we will not be taking any content down from our website.  All of our opinions stand.

Your powers of observation are equal to your research abilities – substandard.

We comment so because you obviously sought to influence a blog outside New Zealand jurisdiction to remove content at your whim – an ex Kiwi hack journo whose career's highlight to date is working for the dysfunctional and corrupt New Zealand Justice Department.

We can't understand why that journo mate of yours (Anna Leask), who undoubtedly brought this to your attention, would think that we would be in the least impressed.  In finishing our response to your communication – we'll ask you to solve a little riddle – Who the fuck do you think you are you silly bitch?

to waha

The Team @ Lauda Finem
LF certainly had the feeling that the whole trial will be a complete sham and will be held before a corrupt Judge who will find the killers did not act negligently in the application of force, and that they did not expect Stephen Dudley to be killed as a result of their actions. That gut feeling has just become stronger!
Hindsight is a wonderful thing when you are being held accountable.  If Stephen had not been knocked out how long would the beating have gone on?  If it were before a jury another outcome would likely occur.  WATCH THIS SPACE.
As an aside it would seem that Sonja de Friez is very well connected when it comes to New Zealands seriously inbreed mainstream media scene, a little to well connected if you get our drift – as in the old "6 degrees of separation" raises its ugly head yet again.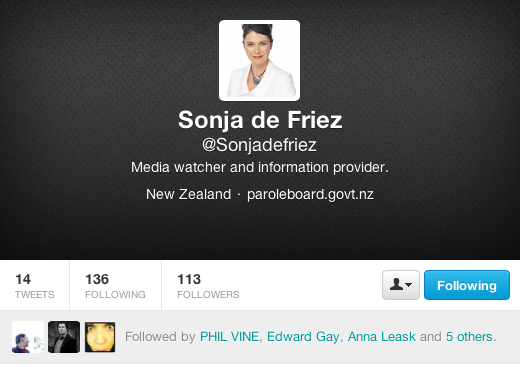 Sonja, as well as being a chardy guzzling bestest gurlfriend of the NZ Heralds Anna Leask, is also married to none other than "Fair Go" dirtbag Phil Vine, that was until he had a very nasty accident with a TVNZ chair. Phil now works on New Zealands TV3 programme 3rd Degree. New Zealands "fairGo" programme, as with that country's Police, Courts and Department of Justice, was everything but a "fair go" as eloquently pointed out by Dr Brian Edwards in his blog piece a few months back:
In fact Brian Edwards choice of title for his story on the Machiavellian workings of TVNZ's FAIRGO staffers could well be applied to whats happening within New Zealands police force and justice system – a very Kafkaesque story indeed. A story that should horrify all New Zealanders as its definitely set in "GODZONE" country. New Zealand is such an incestuous little shithole 
Related articles