We read with interest this morning a little piece written by Fairfax's Maria Slade. Slade like most other commentators in the Slater v Blomfield defamation debacle used her position as a journalist to twist the knife thats currently wedged in Slaters back; put there by the incompetent Charles Blackie DCJ.
Fair enough we thought Slater dishes it out so he's bound to get a serve now and then. But as we read on we were gobsmacked at the degree of hubris and hypocrisy that Slade employed to justify her outrageous assertion that the 'fourth' estate aka New Zealands mainstream media outlets are in a class above mere bloggers, who according to Slade do little more, when it comes to breaking stories or reporting the news, than "interview their Key boards". Such hubris we believed it deserved a serve of its own, in the form of a counter punch that would knock the high and mighty Maria Slade and her Fairfax shite sheet into next week.
Maria is of course a good mates with another nasty journo in the Fairfax stable of hacks, Fiona Rotherham. When Slade was given the job of editor at Fairfax's 'Unlimited' back in August 2013, Rotherham, pissing in Slades pocket as they're prone to doing, opined;
"Maria is an excellent writer with first rate news judgement and well developed skills in all aspects of journalism," 
Now of course Rotherham is entitled to her opinion but she herself  is no stranger to writing one-eyed hate driven drivel disguised as news; but we digress. Maria Slades pretention that the mainstream media is somehow the highly principled guardian of fairplay and sound judgement is little more than a bold faced lie, even more so when it comes to the subject matter on which she had based her propaganda piece.
The mainstream media in New Zealand has always been rife with duplicitous characters, hidden agendas and outright sculduggery. Its a very small industry in a tiny country with an even smaller gene pool. That fact has always severely hampered new blood which makes for an excellent breeding ground for corrupt practice to flourish, and leaving aside the conspicuous knife in Slaters back, thats exactly what LF believe's has happened in the broader arena of the Slater v Blomfield case.
Whats more LF believes that the mainstream media may have played a much larger, behind the scene's, role in the Hell Pizza debacle than MSM glamour bunnies, such as Slade, would want their readership to know about.
Judge Blackies decision suits the likes of APN, Fairfax and the NBR, after all it fits in extremely well with their business model to see Kiwi bloggers such as Slater, who have slowly been attracting a wider audience, hobbled and reigned in by a Court.
Slades view of bloggers is obviously an embittered one, a position where she feigns a belief that mainstream media has a moral superiority;
Bloggers and those defending their right to hold forth appear to want all the protections of professional journalism without any of the responsibilities. It's really very clear: blogging is not objective news reporting. If it were it wouldn't be a blog, it would be a news story.

Source: Navigating the new media landscape (Fairfax)
Now thats where Slade begins to stretch the bounds of credibility, and as we have already said, especially in this case. Whilst Cameron Slater may be one-eyed, self opinionated, and have a political agenda, he does little, if anything, to conceal that fact.
On the other hand Slade and her MSM colleagues spend hours working and reworking stories, twisting facts, whilst all the time concealing their hidden agenda's, and arguably the Slater v Blomfield case is a perfect example of that very same putrid hypocrisy. Slade is attempting the impossible in trying to paint the MSM as being independent, and at arms length and objective, unlike bloggers such as Slater, for anyone who is in possession of all the facts.
Slade introduces her readers to the notion of a "New Media Standards Authority", as was suggested by the law commission in their final report 'The News Media Meets New Media"; Slade then opines:
Members would be bound by industry standards, and in return would receive all current legal protections, a complaints resolution service, access to relevant public funding, and brand advantage.

Source: Navigating the new media landscape (Fairfax)
What exactly is Slade referring to when she cites "industry standards", perhaps she's referring to her own 'industry standards'  as presided over by the New Zealand Press Council, an arguably corrupt self interested policing body that does little more than to serve the interests of New Zealands major media players.
By pretending, for the sake of her more gullible readers,  that New Zealand's mainstream media are somehow beyond corrupt behaviour and exist only to present facts and truth, as she and other MSM commentators would have everyone believe, is only making matters worse given what has transpired in the UK with Murdoch's mob.
The truth in the Cameron Slater case appears, to us at least, to be relatively simple. Slater received, as we have, a cache of emails and other documents that shed new light on what had been happening behind the scenes in the Hells Pizza debacle back in 2009 through 2011, a side of the story that for some strange reason the mainstream media had failed to present. The information Slater received, assuming its the same as ours, also sheds light on another story involving Matthew Blomfield; one that was arguably just as newsworthy, and yet never touched by the mainstream media. We suspect that it may have been that more complicated story that fuelled Slaters desire to nut Blomfield.
For anyone who has read Slaters blog 'Whale Oil', its apparent that for what ever reason, Slater is not particularly good at presenting minutiae in his exposés or stories. Perhaps its because much of it is above his head or he has simply failed to entirely comprehend the information supplied by his source's, who knows. But whatever the reason Slater appears to have missed an important part of the Blomfield story and his relationships with the likes of Fairfax's Tim Hunter, and Greg Niness, APN's Beven Hurley, Errol Kiong, and of course Maria Slade herself, and last, but by no means least, NBR's Allan Swann.
The point is that these so called independent journalists had concealed the extent of their relationships to the protagonist, and as far as we can see Slade and Hurley in particular, in gleefully slapping Slater around, are continuing what is fast beginning to look like the furtherance of a conspiracy to protect Blomfield. But there is however a down side for both the journos involved and Blomfield.  They're beginning to piss off other bloggers, such as LF, who have always taken a particularly perceptive interest in matters of injustice, conspiracy and criminal fraud.
Maria Slade in her piece this morning further opined:
Thing is, while Cameron Slater and some of his fellow bloggers are busy interviewing their keyboards, the rest of the Fourth Estate is striving to produce objective, informative and insightful coverage of current affairs.  
Now in our opinion, as one of Slater's "fellow bloggers", this is where Maria Slade shows herself to be little more than a self serving contemptuous mongrel deserving of derision and ridicule. Slater may, like LF, be considered an arsehole by many. The world is a diverse place with many very different types of individual who, for a variety of reasons, hold differing opinions and views on all number of subjects; all viewed through the prism of their own personal or collective life experience.
Slade's particular reality for example is that 'the rest of the Fourth Estate is striving to produce objective, informative and insightful coverage of current affairs', whereas LF's reality would hold that Slades reality was little more than pure self serving fantastical fabrication, or rather that she has blatantly attempted to paint a reality for her readers that is so far removed from the truth that it falls into the category similar to that of a serious drug induced hallucination.
Lets take a closer look behind the Blomfield v Slater case. In fact lets go back a few years and take a very close look at Mr Matthew Blomfield and the aforementioned relationships he, as a public relations media consultant, had fostered. Just how those same relationships with Maria Slades hard working 'objective' and 'insightful' journalists enabled Blomfield to work with those same 'objective' and 'insightful' journos to manipulate the fortunes, monetary worth, and reputation of not only the Hells Pizza franchise, there is also the story of Blomfields involvement in a land grab and a failed property development north of Auckland.
We'll start with an email exchange between the worlds worst hypocrite and charlatan journo Maria Slade and Matthew John Blomfield, where the lovely Maria Slade, whilst employed at APN, forwarded a copy of her article, due to be published in the Herald on Sunday, to Matthew Blomfield for his approval: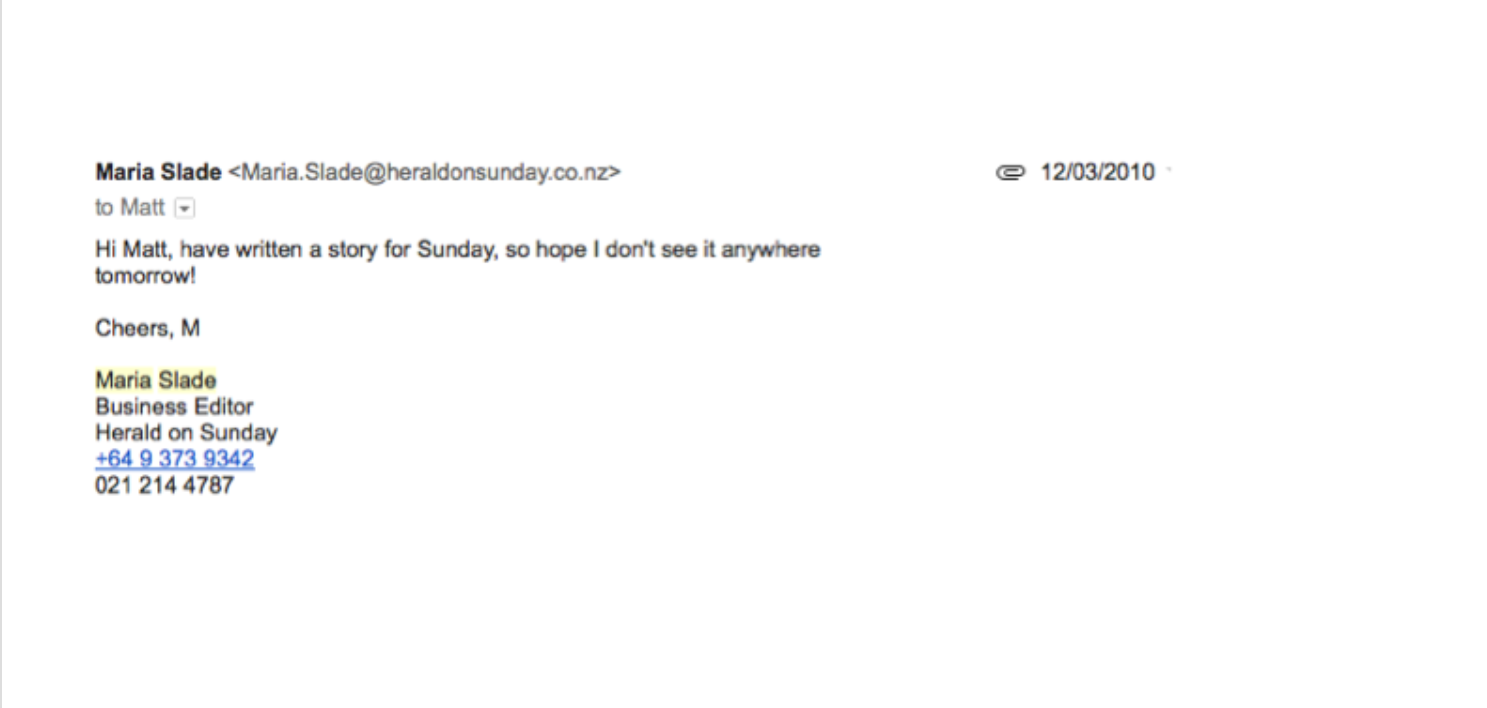 The article that Maria Slade had written at Matthew Blomfield's instigation appeared in the Herald On Sunday on the 14th March 2010, as planned, two days later:
Big slice of trouble

By Maria Slade, Alice Neville

4:00 AM Sunday Mar 14, 2010

The menu at Hell Pizza contains dishes named Nemesis, Trouble and Wrath.

But such words could equally be applied to an ugly legal battle over the fast food giant.

The company's former owners are suing the chain's founders and current owners over claims of staff harassment and bogus complaints.

Mark Backhaus and Dennis Jones say their attempts to sell their last remaining franchise store in Albany has been blocked by Hell's original owners.

Their company Flame has filed court papers accusing the men behind the Hell brand of bullying and getting associates to make fake customer complaints.

But the founders hit back, arguing Flame had run "that franchise into the ground" and launching a counter-suit claiming damage to the Hell brand.

The ugly stoush erupted after Flame sold back Hell to its founders Warren Powell, Callum Davies and Stu McMullin last May.

 

Under the agreement, Flame kept the Albany franchise and was given six months to sell it.

Flame received an offer of $350,000 from a company called Kai Wen Enterprises, but the bid was rejected by Hell who said that the manager could not speak good enough English or even make pizza dough.

Court documents accuse Powell of conducting "an oppressive campaign of harassment" against the Albany staff. It alleges that Powell and a business associate spent evenings "monitoring" the store and "verbally harassed the staff to the point that one duty manager resigned".

During peak trading one day last July they insisted that "all orders stop while a special six-pizza order was made with each ingredient weighed before being placed on the pizza".

Staff were allegedly told to leave pizzas to go cold before being delivered, and were once told to throw out all pizza bases in stock for not being fresh – even though the dough had been made that day.

But last night Powell denied he had harassed staff at the Albany franchise: "It's completely untrue. I've been to that store twice and I've only dealt with the managers."

Powell said the proposed manager's English was so limited he came to meetings with a translator.

"When I asked him how long you cook pasta for, his response was for two months. They're trying to make us look like bad operators," said Powell, "but they ran that franchise into the ground. Our customers deserve better.

"We took photos of all pizzas coming out and they were of extremely poor standard," says Powell. "The manager refused to remake them. There's never been any harassment, that's just us protecting the brand. We take quality seriously."

Powell said their counterclaim was seeking the termination of Flame's franchise, compensation for damages to the Hell brand, reputation and business, costs and interest.

Source: Herald on Sunday
Again, of Slater, Slade in this mornings article opines:
That's if you can find it in between the rantings. I have personal experience of Slater's brand of alleged journalism (and after this column no doubt I'll have more). Fair, balanced and accurate reporting it is not.
Fair, balanced, and accurate, reporting? What planet is this bitch on? For Slade to now jump on her high horse, and deliberately manufacture a piece obviously designed to harm Slater, and thus in the process eschewing her involvement, and that of Blomfield, is contemptible; in fact her work and that of a few of her "Fourth Estate" mates  a few years back might just have been criminal, and that could well explain their concerted efforts now. Team LF are taking a close look at that very real issue.
Slade, in her piece, eludes to having had dealings with Slater, but fails to advise her readers of what exactly those dealing were. Slater himself, in his response piece earlier today, whilst not publishing the emails, refers to the emails and accuses Slade of being a hypocrite:
how about you declare your former associations with the plaintiff while you were the Senior Business Writer at the NZ Herald in 2009? And in 2010 when at Herald on Sunday? You want copies of the emails Maria?
This conspiratorial behaviour by Slade and a number of other APN journalists as far back as 2009, at the time under Slades control, is in our view corrupt and its a long way from being the "objective and insightful" work that Slade feigns support for whilst using the enormous charade to damage Slaters position and yet again advance Blomfield's, and behind the smoke and mirrors her own.
It's never been about Slaters style. This case has always been about concealing a rather nasty conspiracy to damage the Hell pizza brand, and secondly, the shafting of a middle aged farmer and his wife.  Its that latter story, as yet untold, that may eventually see Blomfield come unstuck.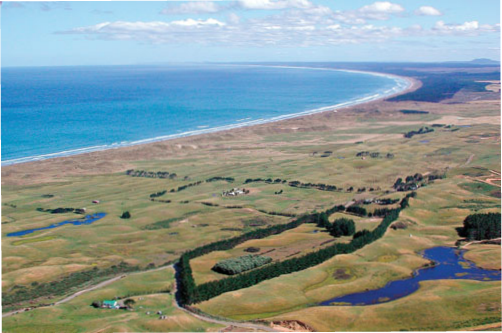 Its also our opinion that the alleged burglary that Blomfield reported to police in 2010 may never have occurred. Its conceivable that Blomfield could well have used a false complaint of Burglary for the very same reason that he's now going after Slater. That being that he desperately needs to know who it is that has evidence of his dodgy business, GST, and media, dealings. Perhaps even more importantly just how much evidence those covertly pursuing him have managed to collect.
If it was just a matter of the simple theft of a computer hard drive Blomfield would've already known what the alleged burglar had, and whilst that in itself might have been damaging, whats potentially far more damaging to Blomfield are a number of covert audio recordings of business meetings.
Now we're pretty certain none of that would have been found on Matthew Blomfields computer hard drive. Nor for that matter the emails and texts sent from/to devices other than his computer, otherwise the SFO might have been having a chat with with those involved in the aforementioned business meetings and communications.
Slade too is obviously a nasty piece of work, she's up to her neck in the Blomfield/hell Pizza conspiracy and if she's not careful she too might just get buried by it and Blomfield's other unscrupulous behaviour. Having said that she's no different to many other Kiwi hacks that have gone before her, journo's the likes of Fiona Rotherham, Phil Kitchen and Jenni McManus. All, to varying degrees, have been found to be lying scumsucking mainstream media dirtbags, who like Slade is now, hid behind their own vanity and the paper thin veneer of respectability; carefully crafted with media awards and the like. As the saying attributed to Julian Assange goes:
Vanity in a newspaper man is like perfume on a whore; they use it to fend off a dark whiff of themselves.

The Economist, 1st October 2011, p.89
Slade in writing todays piece has demonstrated her own peculiar form of vanity, in feeling that she had no need to tell the whole truth, believing that readers could be easily fooled; that intolerable arrogance has now exposed her as a complete and utter charlatan and media whore.
Related articles