On the back of the story reporting on the vicious unprovoked assault of a young German backpacking couple by a group of Maori youth New Zealands MSM is this morning running another very disturbing story on its out of control children and youth. This time it involves video footage taken by a concerned young man,  Bradley Goudie, 18, of a clearly well and truly inebriated eight year old child who Mr Gourdie had witnessed consuming bourbon and cola at a local skateboarding park in Hamilton, New Zealand.
Yet again its a story of New Zealands sick culture and the country's police force, doing anything but the right thing, preferring instead to intervene only in the preventing the continued publication of the video itself in an attempt to mitigate the trashing of the country and their own reputations internationally rather than looking after the welfare of the boy concerned.
Lets face it New Zealand is not at all deserving of the spin doctored reputation its tourism authority tries to ram down the rest of the planets throat, it sure as hell is not the "Godzone" it likes to push.
Following the polices attempts to have the video pulled the conscientious young man responsible for posting video and reporting the drunken child to the police has come out swinging, alleging that Police are involved in a coverup and that they failed to act as agreed, in fact it appears that they even failed to turn up at the park and investigate the mans complaint, or at least that they did not call him back to advise that that had.
Of course the Local Waikato police commander,  who like the drunken child also happens to be a local Maori has pulled a swifty, claiming that the presence of the video is re-victimising the alcoholic child. What a load of complete and utter horse shit.
So inspector Nicholls thinks that the whistleblower should have provided police or CYF's with the video footage? Perhaps the police should have phoned him back as agreed so as to get a statement, perhaps then they would have been given the footage. LF thinks that the young Mr Bradley Gaudie needs to be commended for exposing yet another in a long list of the New Zealand Polices systemic failure to do their jobs.
Inspector Nicholl's bullshit excuses don't stand up to close scrutiny. Perhaps thats why Fairfax later ran an additional story following up the earlier pro police spin piece, putting Bradley Gourdies, frankly, more believable version of events, something that Fairfax (NZ) wouldn't ordinarily do when it comes to the Kiwi cops and their appalling behaviour:
Police defend action over drunk boy

Police have refuted claims they failed to act fast enough and honour a complainant's request in the "appalling" case of a drunk nine-year-old at a Hamilton skate park.

The man who filmed the incident said he would not have released the video if police had acted hard and fast, and communicated that to him.

Bradley Goudie, 18, uploaded a video online which showed a nine-year-old boy at Fairfield Skate Park in Clarkin Rd on Tuesday afternoon with a can of Cody's Bourbon and Cola – 7 per cent alcohol.

The boy, who struggles to stand and slurs his speech, says "I've been drunk before". He also says he was given alcohol by his aunt*.

Goudie said he was so shocked by the apparent drunkenness of the boy that he turned his camera on him and exposed what he considered one of the biggest issues in New Zealand – underage drinking.

When he had stopped filming, he immediately rang the police.

"We indicated to them that it was serious, that there was an 8-year-old boy drunk at the skate park, no safety gear, no nothing."

Police told him they would go and investigate and call him back with an outcome. However, Waikato police spokesman Andrew McAlley said there was no mention of a call back in the exchange.

He said an officer was at the park ten minutes after receiving the call and the boy was found at his home nearby soon afterward.

Goudie said he didn't hear anything back from police.

"I would sort of expect a more urgent response because a child's life was in danger," he said.

"That's when we decided to put the video [online]."

McAlley said it was not police practice to make return calls after receiving an emergency call unless it was specifically requested or in relation to welfare matters.

Police also went to three different houses on Tuesday night looking for people in relation to the incident.

The first calls received from Goudie's YouTube video came in at 1.20pm on Wednesday.

The video had 408,000 views at 9.20am today.

Inspector Greg Nicholls, city commander for Hamilton police, said Goudie had further victimised the boy by posting the footage online.

"While police are grateful the cameraman rang 111, we feel the boy's interests would have been better served had he provided the footage to police or CYFS, rather than further victimise the child by publishing the footage."

Nicholls said police had contacted YouTube parent company Google to remove the footage but also made a plea with Goudie that he take it down himself.

"Early investigations suggest there is no culpability on his part . . . morally I plead with him to do the right thing."

But Goudie thinks that the issue needs exposure, and he meant no harm in posting it.

"It's hard to say really. What do you do? Do you take it down and hide the issue or do you leave it there so that more people see it and more people think about it?

"My intention was for someone in NZ to see it and do something beyond my power."

Even if he took his video down, the footage had gone viral.

The video has been described as "shocking and appalling" by a top alcohol and drug counsellor.

Alcohol and Drug Assessment and Counselling clinical manager Roger Brooking said authorities needed to take action over the incident.

He said whoever gave the boy alcohol should face criminal charges.

Police were still investigating who was responsible for supplying the liquor, Nicholls said. A brother and aunt mentioned in the video were not related to the boy.

In the video, the boy brags he has consumed 18 cans of the premixed Bourbon and Cola, however Nicholls said it was eight cans, along with two shots of liqueur.

"However many he drank is far too many . . . one is too many," Nicholls said.

"The young boy was very ill (on Tuesday) night; so much so that calling an ambulance was considered."

Under new liquor laws, the person who provided the alcohol can face a maximum fine of $2000.

"The spirit of the legislation around the supplying of alcohol to minors never envisaged an adult supplying alcohol to a 9-year-old child."

Child Matters founder Anthea Simcock said a crime had been committed and appropriate action should be taken.

The boy had been returned to his mother, who police said was "extremely distraught" to find her son in such a state.

But the boy's father said he wanted his son to live with him.

The man had been going through a custody battle with his former partner and hadn't seen the boy in six months.

He said it was "heart-wrenching" to see the video of his son online yesterday. "What I want to do is get my kids and pick them up."

It was the boy's birthday on Tuesday, he said.

"I was just shocked. Why wasn't the boy at home on his birthday with his family? It's got to be stopped, this kind of stuff."

He said he had contacted Child Youth and Family and a lawyer to help him.

Goudie said while he felt bad that the boy had been victimised, he had no regrets as the issue had finally got some attention.

"It had to be done, really…Someone's got to say, it if no-one says it it's just going to get worse and I'm only one person saying it, but look what it's done."

LF Note: the term aunt*, uncle, brother, bro or couzi-bro are colloquial terms often used by New Zealand Maori to denote anyone who is a close friend of the family, not necessarily a blood relative

Source: http://www.stuff.co.nz/national/9590389/Police-defend-action-over-drunk-boy
Clearly the "brother" in the photo below is drinking the same brand of booze (Cody's Bourbon & Cola). Not only that but the big mouth saw no problem with the child being on the piss with him. Was he therefore responsible for suppling this child with alcohol? If so why is he not now behind bars awaiting bail pending trial?
155 Sale or supply of liquor to minors

(2) Every person commits an offence and is liable on conviction to the penalty set out in subsection (2A) who, not being the licensee or a manager of any licensed premises, sells or supplies any liquor, on or from the licensed premises to any person who is under the age of 18 years.

(2A) The penalty is,

(c) in the case of a person (not being a licensee or manager), a fine not exceeding $2,000.

(3) Subsection (2) applies irrespective of any liability that may attach to the licensee or any manager in respect of the same offence.
The New Zealand police haven't got a hope in hell of shutting down this story, the story of their own gross incompetence and New Zealand's completely fucked up macho culture of alcohol and violence. Not only has the original video gone viral, meaning that its now well beyond Google's control, but international MSM have also pickup and run with the story, starting with this little beauty by Britain's Daily Mail, complete with a photo Essay of the "abusive" child in question:
'And I smoke weed': Disturbing footage emerges of drunk and abusive 9-year-old on a scooter claiming to have downed EIGHTEEN cans of 7% whisky and cola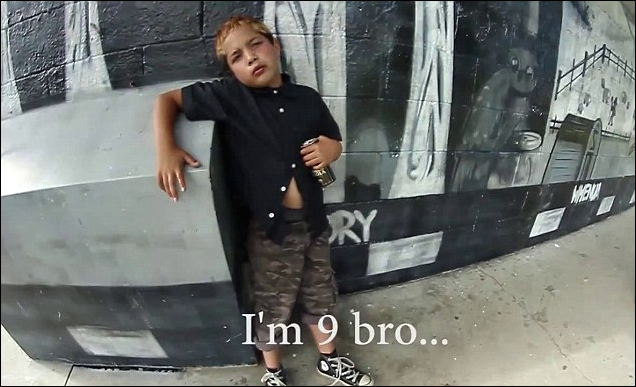 Having viewed the video and this particular kids belligerent attitude we also don't believe for one minute Inspector Greg "shit-for-brains" Nicholls assertion that this little bad mouthing leprechaun would be "further victimised" by the releasing of the video. Even the Kid father wanted the footage to remain online until police spin doctors asked him to collude with them in covering up police inaction:
The boy's father initially said he did not want the video taken down because he wanted action to be taken.

But late yesterday he echoed police's call for the video to be removed from YouTube. He said it had "gone too big" and he was really hurt by some of the comments on the video.

"I don't want my son going through that, you know."

Source: Uncensored video of drunk boy removed from YouTube (NZ Herald, retrieved 5:22 PM Thursday Jan 9, 2014)
The fact is had the video not been release no one would have been any the wiser – especially CYF's who have only now apparently launched and urgent inquiry, although they've subsequently falsely claimed otherwise:
Child Youth and Family (CYF) has launched an urgent investigation following the release of a video of a drunk nine-year-old at a Hamilton skate park.
Better late than never? No the likely reality this case is that the cops had received a complaint, attended and thought in the absence of any third party evidence, that they would get away with ignoring or putting the complaint on the back-burner. After all the officers who attended the incident where more than likely "Couzi-bro's" of those involved in supplying the the child with the booze in the first place.
The only party at risk of being "further victimised" in this case are the cops that fucked up, thinking that it could be swept under the carpet, and inspector Greg Nicholl's fucking well knows it!! Good luck with getting the video pulled down Greg.
Related Articles