In the deep south of New Zealand they have a problem, a serious problem. Police and prosecutors keep stuffing up, or at least that's what New Zealand's mainstream media would have you believe. In the latest case it again involves a sexual abuse trial.
New Zealand Herald reporter Jared Savage has published a so-called "exclusive", but in reality there's nothing particularly unique about this story. The fact is that crown lawyers are every day of the week pulling stunts exactly like those reported on today;
Child, Youth and Family bungle halts sex-abuse trial

5:00 AM Friday Feb 13, 2015

A High Court child-abuse trial was aborted when it was revealed Child, Youth and Family had failed to hand over 300 pages of documents to the police investigation.

Justice Paul Heath apologised to the jurors when he discharged them – after the case had been running for three days – following inquiries by the defendant's lawyer that brought the existence of the files to light.

A second trial for the 61-year-old man, who has been charged with 42 counts of physical and sexual abuse of two girls in his care between 1994 and 2003, is unlikely to be heard this year.

The delay will be "heinous" for the two complainants, says a sex abuse advocate, and the discovery of new documents means the police will need to interview more witnesses.

Justice Heath has ordered lawyers for Child, Youth and Family to explain by today the failure to disclose relevant material and in particular whether any documents were deliberately withheld.

In discharging the jurors on Wednesday, the judge said the 12 men and women deserved an explanation.

"It became apparent that the disclosure was incomplete to the extent that there was something in the order of 300 relevant documents that came to light," said Justice Heath.

"I can tell you that there are quite a few documents that are very relevant to fair-trial considerations, and that arises not only from the point of view of the defence but also from the point of view of the Crown."

For those reasons, Justice Heath said, the trial could not go ahead safely.

"You will appreciate that I have made some rather pointed comments about what has happened and the reasons for the delay. I am going to follow those up further," Justice Heath told the jury.

"But that has all meant that your time has been wasted in terms of coming along. I am very sorry for that. That should not happen."

Suppression orders mean the defendant cannot be identified and the new evidence found in the documents cannot be reported yet.

There will be a disclosure hearing in the High Court next week. Justice Heath "emphasised the need for candour" by Child, Youth and Family in disclosing all relevant information and to respond properly to questions from police and defence counsel.

The defendant's lawyer, Matthew Goodwin, said the disclosure failure became apparent only once the Child, Youth and Family witnesses attended the trial in answer to the summonses served on them by the defence.

"Justice delayed is upsetting to the parties involved and squanders precious legal and juror resources."

Rupert Ablett-Hampson, chief legal adviser to Child, Youth and Family's parent agency, the Ministry of Social Development, said the circumstances that led to "some relevant information inadvertently not being provided to the police" will be provided to the court as requested.

"The ministry is committed to providing all relevant information as requested by police and the courts and we are looking into why this did not happen in this instance.

"As the matter is still ongoing before the court, it would be inappropriate for us to comment further."

Louise Nicholas, an advocate for sexual abuse survivors, said the likely year-long delay would be "heinous" for the complainants.

"The courage it's taken for those women to come forward, go through the police investigation, then the start of the court process, is huge," said Mrs Nicholas, whose own complaint of sex abuse led to a commission of inquiry into police sexual conduct.

"Now they've been told to stop the trial, put their lives on hold again, all because someone didn't do their job. Once again, it's a system failure."

Social Development Minister Anne Tolley declined to comment on the issue because it was an operational matter.

Source: http://www.nzherald.co.nz/nz/news/article.cfm?c_id=1&objectid=11401141
The Minister responsible for Child Youth and Family Services (CYF's – MSD), the National Party's Ann Tolley, has yet again declined comment. This time she's used a different excuse, claiming it was an "operational matter" that prevented her from saying anything. Of course this excuse was a load of bollocks as she has been less forthcoming on just how is it that an "operational matter" prevented her from informing the voting public on the issues surrounding what appears to have been an attempted deliberate abuse of process, with a view to precipitating yet another potential serious miscarriage of justice.
New Zealand's citizens and residents need to informed of these issues, they have a right to know, exactly why it was that a seriously expensive High Court jury trial was derailed with this discovery and had to be aborted, all because the prosecution had apparently, yet again, failed to disclose as is required over 300 hundred CYF's file documents, many of which, it would seem, were highly exculpatory in their nature and content.
Now Jared's article, whilst reporting what is akin to an acid bathed skeleton of the case, fails to present any meat, any real detail beyond the fact that over three hundred documents had not been disclosed to the accused's defence team. In fact Jared's New Zealand Herald article reads as if the Crown solicitors prosecuting the case had somehow not even seen these documents, frankly a highly implausible proposition; even more so considering the trial's Christchurch venue.
This case is being heard in the Christchurch High Court by Justice Paul Health and a jury of twelve citizens. Heath however is an old hand at dealing with difficult and sometimes volatile cases, having presided over a number of high-profile South Island trials over the years including the South Canterbury Finance matter. Heath J would also have been well aware of the serious implications of this mid-trial discovery by counsel for the defence.
Reading between the lines it's more than likely that the prosecution has deliberately withheld the documents. We certainly suspect that Heath is also of that opinion:
Justice Heath has ordered lawyers for Child, Youth and Family to explain by today the failure to disclose relevant material and in particular whether any documents were deliberately withheld.
Heath has extremely good reason to suspect this to be the case given the circumstances and what disappointing about Jared's  and the New Zealand Heralds "Exclusive" is their abject failure to name the so called  "lawyers" representing Child Youth and Family, not the head office twats, but those who were present in court, those who were actually culpable of the egregious misconduct, those caught red-handed trying to pervert justice, those who have just cost the tax payer thousands of dollars and wasted more than four days of valuable time for the jurors that had been empaneled.
This is a sexual abuse case and would not have involved "Child Youth and Family" alone, they are not criminal investigators or prosecutors. It would also have involved, at some point, an extensive police investigation undertaken by the Christchurch CIB. If the Ministry had failed to provide the 300 exculpatory documents to anyone it would have been the police in the first instance, so why not withdraw the charges? No the police had always had these documents, they were just too well aware of their content and the likely impact on the jury deliberations.
Whats more this article raises another question – Was Jared Savage trying to be cute with his description of the prosecutors as "lawyers for Child youth and family"? The fact is that "Child Youth and Family" is a government department overseen by a Minister of the Crown and as such the so-called lawyers for the department (those presenting the prosecution case) will more than likely be the local crown warrant holder, Raymond Donnelly and Co, headed up by none other than the now notorious Brent Stanaway, so why not call it as it was?
Exactly why is it that Jared Savage failed to name the prosecutor, instead preferring "lawyers for Child Youth and Family". It does seem to us to have been a somewhat deliberate omission. In fact it's Jared's questionable failure to name the barristers in court that day, or rather prosecutors, responsible for this serious failure, the withholding of over 300 clearly exculpatory documents, evidence that the defense was legally entitled to long before the trial had even been listed for hearing, that provides good reason to smell a very large Rat.
Savage does however, more than obviously belatedly, obtain a comment from  the Ministry of Social Developments Wellington based chief legal adviser, Rupert Ablett-Hampson. Of course Ablett-Hampson, like any other in-house government departmental solicitor is low rent and very likely had little if anything to do with the decision to conceal and withold the 300 additional documents. He may in fact, more likely than not, been completely unaware of the decisions the prosecutor had taken on behalf of the department and the alleged victims. Those decisions simply reflecting the prosecutors fuck justice it's "victory at any cost" attitude
The fact that the New Zealand Herald was referred to Ablett-Hampson further advances, in our opinion, the proposition that both the Chrstchurch police and the Crown prosecutor had always had the missing evidential documents, in fact they no doubt had the entire CYF's file, but had counted on, as always, an under resourced defence counsel being so overwhelmed that their deliberate omission would have slipped through unnoticed.  Again, this is certainly Brent Stanaway's style, he's real got form in this behaviour, and it also just happens to be the personal style of the man who often liaise's with the Christchurch crown solicitor in criminal cases, the head of Christchurch police legal section, Ian McArthur.
Christchurch crown prosecutor Brent Stanaway has a long and very sordid reputation for exactly this sort of prosecutorial misconduct. In fact one could rightly argue that the withholding of evidence, often highly exculpatory material, is a hallmark of Brent Stanaway, Raymond Donnelly and Co, it's partners and junior staffers – it's the firms inherent prosecutorial style, their default strategy.
Stanaway in particular has been investigated for it in the past, although not widely known, inexplicably escaping by the skin of his teeth – criminal trials have been fucked up before because of it and it's highly likely that there are literally dozens of innocent men and women who have served jail time in cases where Stanaway and or his juniors at Raymond Donnelly and Co have gotten away with the tactic, abuse of process that, if deliberate, is criminal;
BRENT STANAWAY – Crown Solicitor for Christchurch and Greymouth
Brent has been in practice for over 35 years and has held the Crown warrant for Canterbury and Greymouth since 1992. He has conducted numerous significant and complex cases on behalf of the Crown in the District Court, High Court, Court of Appeal and Privy Council. Brent's practice extends to public law, general litigation, and advising central Government on proposed legislation and policy. He has specialist regulatory enforcement knowledge and has provided advice at the highest levels. He appeared as counsel for the Police and Department of Labour at the Cave Creek Commission of Inquiry and recently provided prosecutorial advice and services to the Department of Labour/MBIE following the Pike River mining disaster. He is a long time member of the New Zealand Law Society Disciplinary Tribunal and is on the Serious Fraud Office prosecution panel. More recently he has undertaken civil work for private clients.

Source; http://raydon.co.nz/team.html
There's also another dimension to this latest aborted trial that Jared fails to disclose. Savage quotes one Rupert Ablett-Hampson, the so-called Ministry of Social Developments chief legal adviser.
LF is of the view that the decision to withhold the 300 hundred documents, much of it, at least according to the judge, Heath J, exculpatory and likely to impact on a 'fair trial', was a decision made by the Christchurch crown prosecutor and New Zealand police alone, they were after all alone responsible for the investigation and decision to charge the accused.
It's also our view that it was a decision that very likely had little if anything to do with the wider Department of Social Development, beyond Child, Youth and Family Services referring the matter to police and supplying whatever police had requested during their "thorough" investigation. The fact that they are now throwing Rupert Ablett-Hampson out front, possibly, just briefly under a bus at a later date (he'll no doubt get danger money for his participation in the scam), is little more than what is to be expected in this situation, especially in New Zealand – the political smoke and mirrors normally seen, all designed to take the heat of the real offenders – the investigating police officers and a crown prosecutor that have had a history, completely systemic, of performing in exactly the same malicious manner over many years.
The now infamous George Gwaze sexual abuse and murder trials (double jeopardy) immediately come to mind, that case being but one of the more notable examples of many, often unreported, instances involving Raymond Donnelly & Co and it senior partner Brent Stanaway. Its perhaps timely that a book, Murder that wasn't, covering that balls-up goes on sale this month.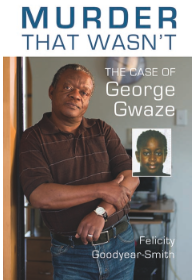 Justice Heath pointed to the fact that he too had his suspicions with respect to culpability in this case:
"You will appreciate that I have made some rather pointed comments about what has happened and the reasons for the delay. I am going to follow those up further," – NZ High Court Justice Paul Heath
What's also more than clear is the fact that the New Zealand Herald and Jared Savage did not see fit to report any of Justice Heaths "rather pointed comments" in any detail, a fact that leaves the reader only guessing what Heath had actually said and at whom he had pointed the judicial finger – Why is that?
The fact that the defence lawyers where able to eventually deduce that the exculpatory information had existed, was missing from disclosure and had in fact been withheld is in itself evidence that the prosecution too was more than likely always aware that these 300 hundred evidential documents not only existed but that they, the prosecution, had deliberately and maliciously withheld the evidence – undoubtedly because they knew that it would undoubtedly damage the prosecution case, and that may have resulted in the jury acquitting the accused.
LF have now taken an interest in this particular case, so if any readers have more information on the conduct of this trial to date, or are aware of someone who does, please get in touch with us – laudafinem@bigpond.com