Longer term readers of Lauda Finem will be aware that last year we ran a number of stories on the Central Otago district, its estate agents, the REAA and the local police and the degree of corruption that was to be found in a seemingly very small remote region of New Zealand.
Those stories covered two broad areas, the local police, which we suspected had become a dumping ground for the New Zealand police forces "problem" cops. The second area of interest was the Real Estate industry, at least some in that industry that were prepared to assist the REAA in covering up serious criminal offending.
It was at around this same time that Kiwi blogger Pete George began taking an interest in LF's investigations, although George later sought to pass off his new found interest as starting with and being related only to the Ben Rachinger allegations.
We here at LF have however had always suspected that Pete George's interest in LF may have been motivated by factors other than Rachinger, a likelihood that has grown with the advent of his increasingly antagonistic behavior and the many subsequent false allegations he has now made against LF.
Pete George himself is a bit of a mystery man, having run for local body elections there is surprisingly very little information publically available on the man, in particular his history. This fact is somewhat strange, as is his apparent failure to disclose any personal information during his election campaign.
This vacuum, at least as far as LF was concerned raised a red flag. In fact it was the recording of a speech given by Pete George during his tilt at the Dunedin Mayoralty that first pointed to the fact that Georges 2013 campaign was indeed strange, with the motive deserving questioning.
Not only did George have very little in the way of policy, unlike the other serious contenders George seemed very reluctant to share anything of a personal nature that would come close to reassuring voters that he was suitably qualified for the job, preferring instead to rant on about teen pregnancy and single mothers.
Looking at online resources George, unlike almost all of the other serious contenders for the position of Mayor, there is no information to be found on Pete George, his family and or his background. In fact anything that is available appears to have been contrived, a product born his involvement in that particular political race.
LF have mentioned this fact in previous reports on George, but he has sought to dodge concerns expressed in our reports by claiming on his own blog that he just likes his privacy and prefers to separate his personal and work life from his involvement in politics.
Of course that argument does not wash. Any serious political contender knows that one has to give the voter some idea of background even to be considered a serious contender in any political competition, particularly if one is half serious about running for Mayor of a reasonably sizable city, at least by Kiwi standards.
The fact is that either Pete George was completely deluded or he was trying to conceal information that the electorate might have found unpalatable or just plain suspicious.
In any event Pete George did not even get close to becoming a serious contender for political office but that still left the question of who Pete George was and, at least in team LF's mind, why he might want to conceal his past.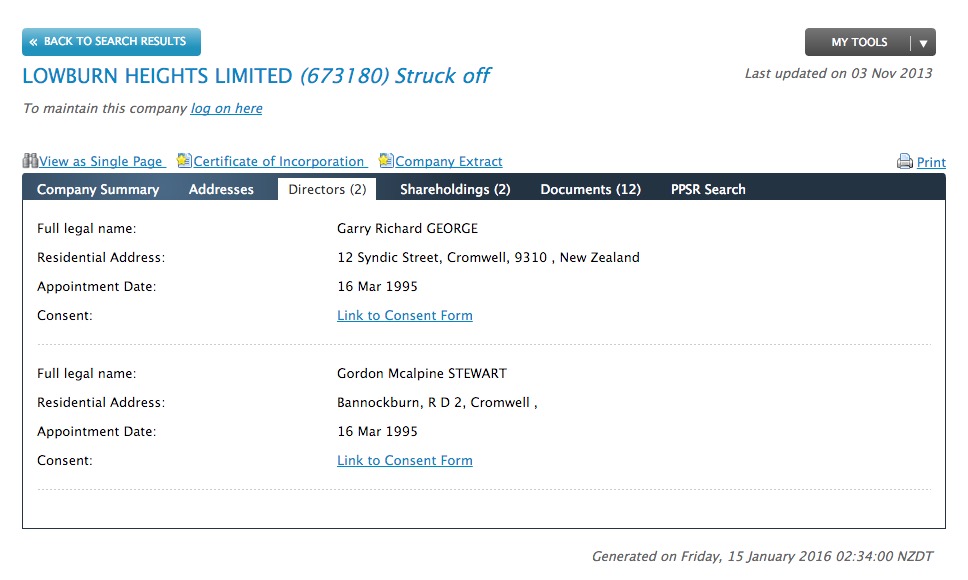 Whilst there is a distinct absence of anything obvious online, at least anything that a simple Google search will reveal, there are other ways of approaching an investigation, searches that require a little more effort.
Our starting point was to first identify when Pete George actually did start taking an interest in our investigations, that required ignoring anything that George may have variously claimed in his own blog posts.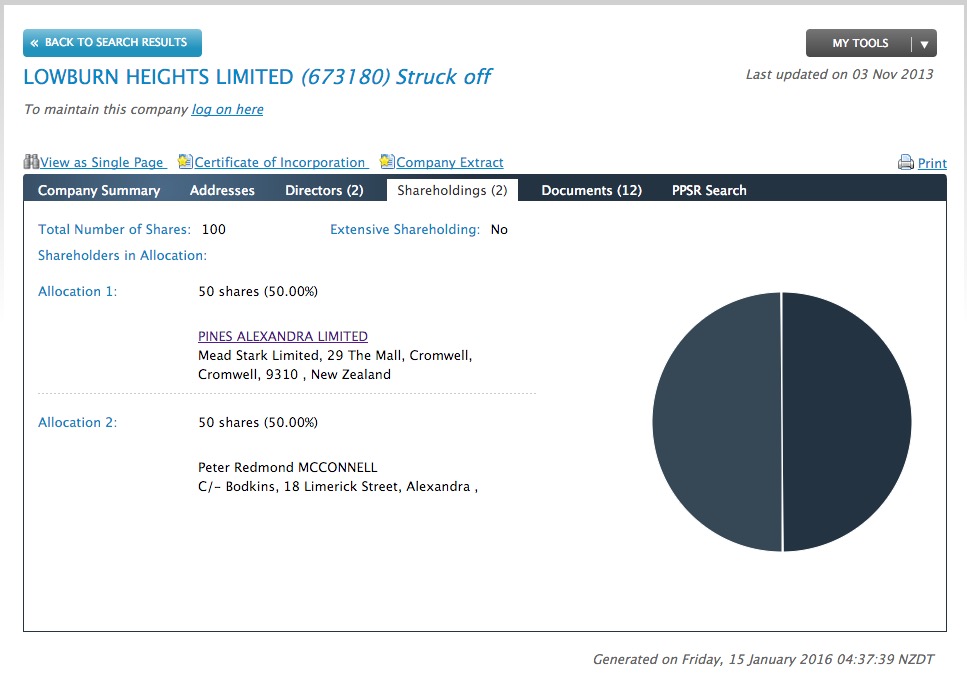 On reflection the fact that the aforementioned Central Otago cases seemed to have been the trigger suggested to us that we needed to look more closely at the likelihood of George being in anyway connected to those our investigations had exposed.
That then required that we start an investigation, but one that did not start with George but rather working backwards, starting with the movers and shakers in the Central Otago area, starting in the town of Cromwell, where the majority of the alleged police corruption and cover up had occurred.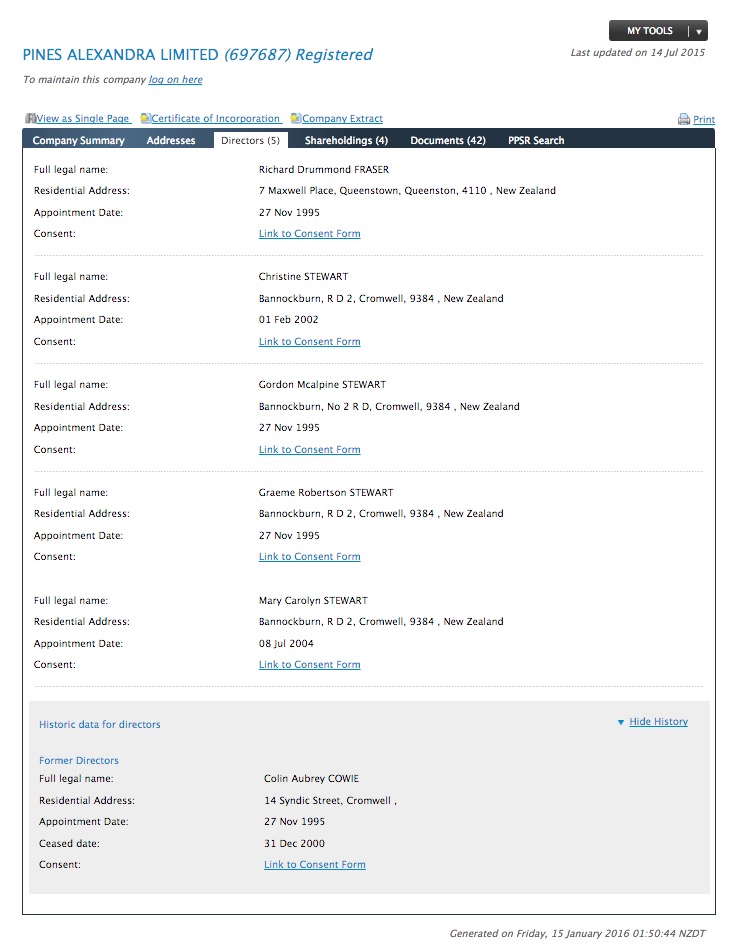 That then required looking closely at police officers, local body politicians and the media, particularly the smaller local media players.
This strategy has always paid off for LF, especially when investigating New Zealand corruption cases of this type.
Sure enough Central Otago was to have a second gold rush, although it was not the precious metal that would be unearthed, rather the insidious inbred relationships that one is almost always guaranteed to find in small town New Zealand. These relationships are almost always clandestine, concealed relationships that are not at all obvious, even to the locals, which have all too often been at the root of many serious miscarriages of justice.
We here at LF, as regular readers will be well aware, also subscribe to the six degrees of separation theory and will take the extra time required to fully inspect seemingly dead end rabbit holes.
It was down one of these abandoned rabbit holes that LF's fossicking managed to unearth a number of connections that were of interest, trails that would ultimately lead us straight to Pete George's back door.
We started by looking at the political leanings and business dealings of every real estate agent in the Central Otago area. This involved collecting the names and addresses of estate agents and police officers, checking those names against local council electoral records and New Zealand Company records. We also looked at local service and sporting clubs, and then finally we checked the ownership of all local media, including the smaller free advertising circulars.
Our comprehensive search paid dividends. We managed to isolate a number of individuals with connections to Pete George. For the purposes of this post however we intend to focus on just one of those connections.
The local real estate sales person in question is one Gordon McAlpine Stewart. Stewart is a local of Cromwell, an estate agent employed by Cromwell First National Ltd, a company owned by married couple Pamela and Henry van der Velden and one Neil Christopher MacDonald, all three of which have business dealings that are well and truly woven into the fabric of the local district and the REAA
Perhaps more importantly however Gordon McAlpine Stewart also happens to be an extremely well connected and long serving politician with some pretty serious connections to both the local corrupt constabulary, local business and the media.
Whilst it will come as no surprise that Stewart, having served as a local politician for decades, is well connected to both the local police hierarchy and the local media it's the no so obvious business relationships that the general public can not be expected to be aware of that should start to ring alarm bells.
The loudest bell began tolling whilst we were researching Stewart's business associations, in particular the many Companies Office registrations. During the search the focus our interest was however, for the purposes of this post, narrowed down to a company called Lowburn Heights Limited (No: 673180).
That company also listed one Garry Richard George as one of only two directors, the only other being Stewart. The share holding of that company in turn lead us to a web of other corporate entities the share holding of which appear to be a comprehensive list of the who's who of Central Otago's so-called local elite, including a number of Gordon Stewarts relatives, a raft of other local real estate agents, local body politicians and retired police officers.
Somewhat strangely neither Stewart nor George appeared to directly hold a pecuniary interest in Lowburn Heights Limited, rather Stewart did via another vehicle, George seems to have simply been a director of what appears to have been a property development company which has since been struck off.
Importantly and somewhat obviously however the surname "George" was of interest, ultimately leading us to a company called The Cromwell Printshop Limited (No: 533489), which has also since been struck off (probably with the disposal of the business which now trades as The Print Shop Cromwell Limited No:1717087).
That company in turn lead us to local rag, The Cromwell Bulletin, a local free home delivered newspaper that survived on advertising revenue generated from local businesses, including real estate adverts.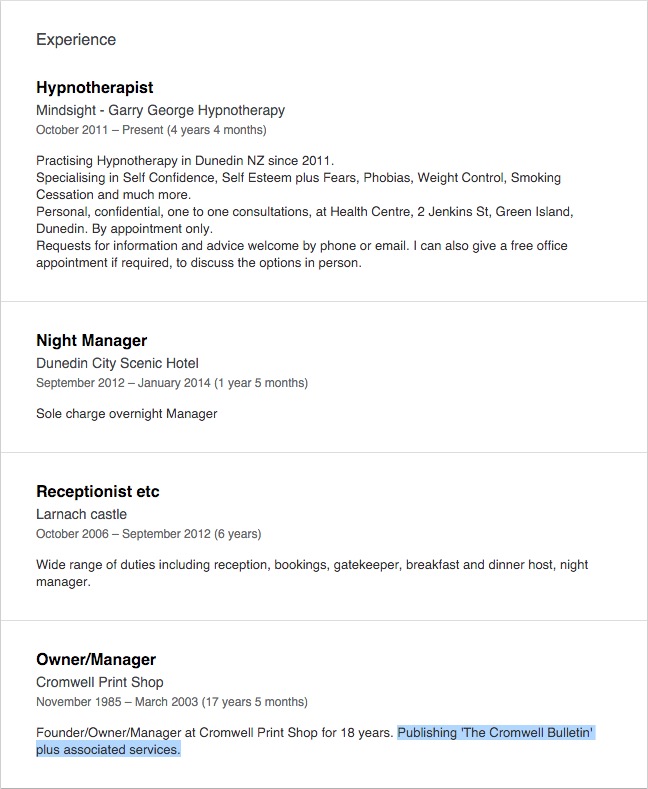 As suspected further investigation then enable us to establish a close familial relationship between Pete George and Garry George, both men grew up on an fruit farm in the Lowburn district, 4.4 kilometeres from the town of Cromwell; both attending Cromwell Primary School at around the same time.
Further inquiries made by LF have now provided evidence of the likely real motive for Pete George's attacks on LF and of course a handful of unrelated individuals that George & Co had wrongly been lead to believe controlled LF.
Peter George
Cromwell Primary School 1961-1968
Cromwell District High School 1969-1971
Whats more the relationships that Pete and Garry George have with Central Otago go well beyond their own family, a fact that Pete George has kept a very well hidden secret, we suspect for good reason.
I grew up in Lowburn (before it was split in two by Lake Dunstan). I was at Primary School during Cromwell's centenary in 1966 – Pete George
In fact we here at LF are of the view that the information Pete George obtained regarding the conviction and name suppression of Grahame Thorne was undoubtedly received from one of his Central Otago mates, likely one of the same corrupt individuals that has now had Pete George attempt to shit all over team LF.
Another little secret that George has managed to keep under wraps is the inside information that he has been covertly receiving from the Otago Daily Times newspaper, no doubt courtesy of his well connected mini media baron brother, shyte-sheet journo and bullshit artist turned hypnotherapist Garry George who it seems is even able to get his complaints about a telco's service's failures published by mates at the ODT.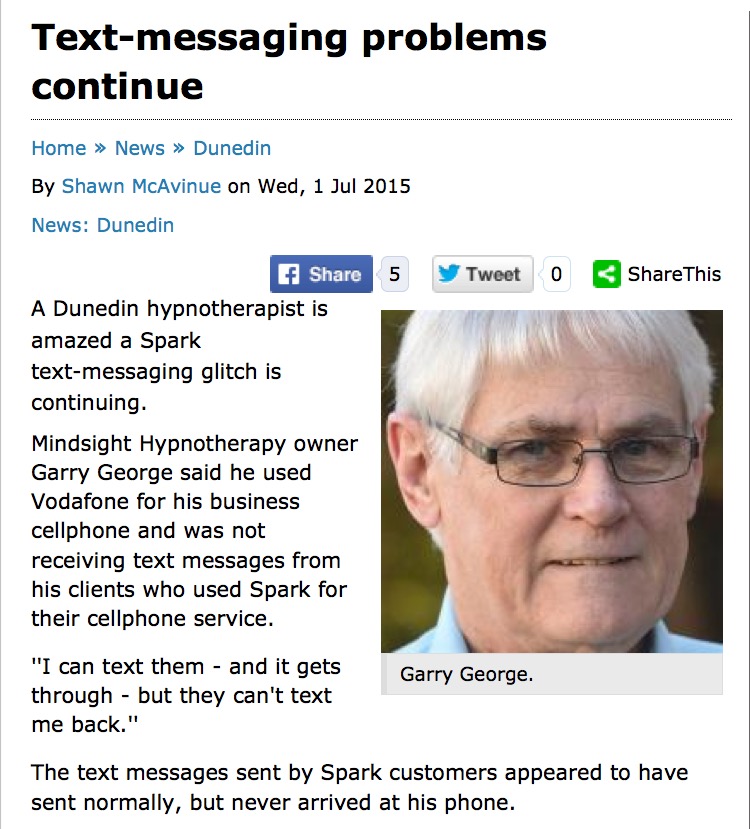 With that in mind, we also note that the Otago Daily Times has also fairly recently engaged with another "George", employing a young hack by the name of Damian (Damo) George, apparently as the newspapers police and court reporter.
Damian was formerly employed by another small town rag the Blenheim Sun as a "sports reporter", most likely doing an internship whilst completing a 12 month graduate diploma in print journalism at Wellington's Massey University.
However whilst most of Damian Georges experience has likely been obtained whilst working for small town shyte sheets, such as the Blenheim Sun, Damian is well and truly rooted in Dunedin, having attended the city's Kavanagh College and it seems now having commence his new job at the Otago Daily Times, a little over 8 months ago, mid 2015.
Damian George has also had material published in the New Zealand Herald and we are lead to believe by one source has a very close relationship with one of that publications police and court reporters
In light of Pete Georges recent behavior his strong and now obvious connections to Central Otago's corrupt police, business and political players might just see him fall very heavily in the not to distant future.
Of course what we have disclosed in this post is but the tip of a rather large iceberg and whilst we will not be making all information public we have however resolved to provide others, who Pete George has publicly vilified, with the fruits of team LF's investigative work.
No doubt there will be a growing number of extremely nervous Central Otago "wheelers and dealers", as the news of LF's interest spreads.
In the case of Grahame Thorne Pete George clearly had no noble intention in using coded language to breach his name suppression; for George it was little more than a game.
George knowingly and deliberately identified Thorne in breach of court suppression orders, and allowed his readers to further point to a corporate entity owned by Grahame Thorne and his brother Gareth with exactly the same purpose in mind, no doubt confident that everyone in his Central Otago circle of friends would have immediately identified Thorne as the "Prominent New Zealander" with name suppression, evidenced by the fact that the strategy was immediately successful.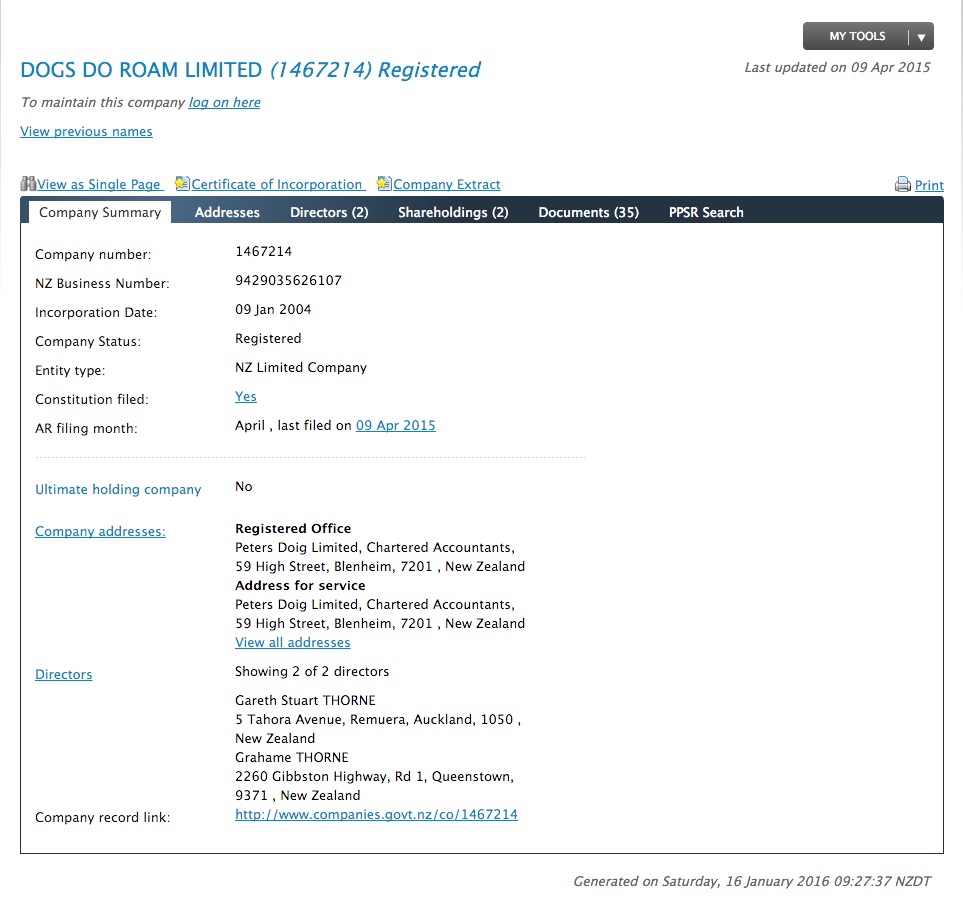 Most Australians call this type of behavior "white-anting" and that was clearly Pete George's intention, to "white-ant" Grahame Thorne and his brother, who Pete George and his Central Otago "friends" clearly viewed as an "outsider", and someone that they had wanted shot of.
This is typical behavior for small town New Zealand, in fact its probably behavior found in a particular type of very small-town anywhere, New Zealand just has more than its fair share of such places and the inbreeds that inhabit them!
Bibliography/Reference
http://www.odt.co.nz/history/58400
http://www.odt.co.nz/news/dunedin/124943/cost-damage-wind-not-yet-known
http://www.odt.co.nz/news/dunedin/347598/text-messaging-problems-continue
http://yournz.org/2014/10/27/grahame-thorne/
http://yournz.org/2014/11/18/why-was-cunliffethorne-meeting-not-reported/
http://yournz.org/2014/11/16/what-makes-a-new-zealander-prominent/
http://yournz.org/2014/10/27/grahame-thorne/
http://www.allmusic.com/artist/garry-george-mn0001782489
http://www.stuff.co.nz/southland-times/news/9046427/2013-local-body-elections-candidates
http://www.odt.co.nz/regions/south-otago/126672/pot-name-questioned
http://www.odt.co.nz/regions/central-otago/280895/new-board-rolls-sleeves
http://www.codc.govt.nz/your-council/community-boards/cromwell-community-board/Pages/default.aspx
http://www.stuff.co.nz/southland-times/archives/2007-election-results/10387/Election-results
http://www.odt.co.nz/news/dunedin/347598/text-messaging-problems-continue
http://www.allmusic.com/artist/garry-george-mn0001782489/biography
http://www.mindsight.co.nz/pages/3/About-Me
https://www.youtube.com/user/garrygeorge
http://www.nzherald.co.nz/nz/news/article.cfm?c_id=1&objectid=11517138
http://www.odt.co.nz/history/58400
http://www.odt.co.nz/news/dunedin/364020/detention-home-effective-deterrent
http://www.awslegal.com/alexandra-0
http://www.allmusic.com/artist/garry-george-mn0001782489