When it comes to social engineering New Zealand certainly punches above its weight, luckily this unfortunate reality, the work of a very small PC lobby, affects only the unfortunates who call New Zealand home.
Here at LF we have spent years pointing out the serious inadequacies and inequalities present in many of New Zealand's attitudes and policies. We are also acutely aware that many of the problems present in New Zealand society also present a clear threat to the Australian way of life.
One of the more obvious threats has of course been the free flow of Kiwi migrants, curbs to which the Australian government, starting with the Howard government have sought to implement.
The latest of these was an amendment to Australia's migration laws which ensured the deportation of individuals who had engaged in serious, recidivist or violent criminal offending.
When it became apparent that New Zealanders represented an inordinately high number of the offenders being repatriated to New Zealand it also served to remand both New Zealander and Australians that nothing should ever be taken for granted.
The Kiwi media however seemed to miss this fact and were at the forefront of fanning the flames of contempt and complaint, big on rhetoric and with very little if any fact they attempted to manipulate a debate that was raging in New Zealand but which had little coverage in the Australian media.
It's with this background in mind that we know take a close look at another of these Kiwi newspaper campaigns, again targeting Australian interests, this time a Queensland based multinational tourism business.
At first we here at LF thought nothing of the articles that had appeared in the Kiwi media, that was until we noticed a concerning pattern; that the campaign appeared to be largely driven by the APN owned New Zealand Herald.
We say worrying because we here at LF have over the past three years closely observed the New Zealand media landscape and have formed particular concerns with the New Zealand Herald.
Our concerns first developed when we witnessed the manipulation of several news stories, when we say manipulation we are actually alleging corrupt behavior and the publishing of outright falsehood that happened to benefit large corporate New Zealand Herald advertisers.
The first of these observations involved the Heralds use of reporting the judgments of New Zealand's Real Estate Agency Authority in conjunction with large and expensive Real Estate Franchise advertising; the various REAA judgment's of course naming and disadvantaging opposition businesses. In fact whenever it was a franchisee of a client the Herald worked hard to spin the story, often lying or failing to report it.
So what's behind the Heralds recent attack on the Australian owned Wicked Campers franchise?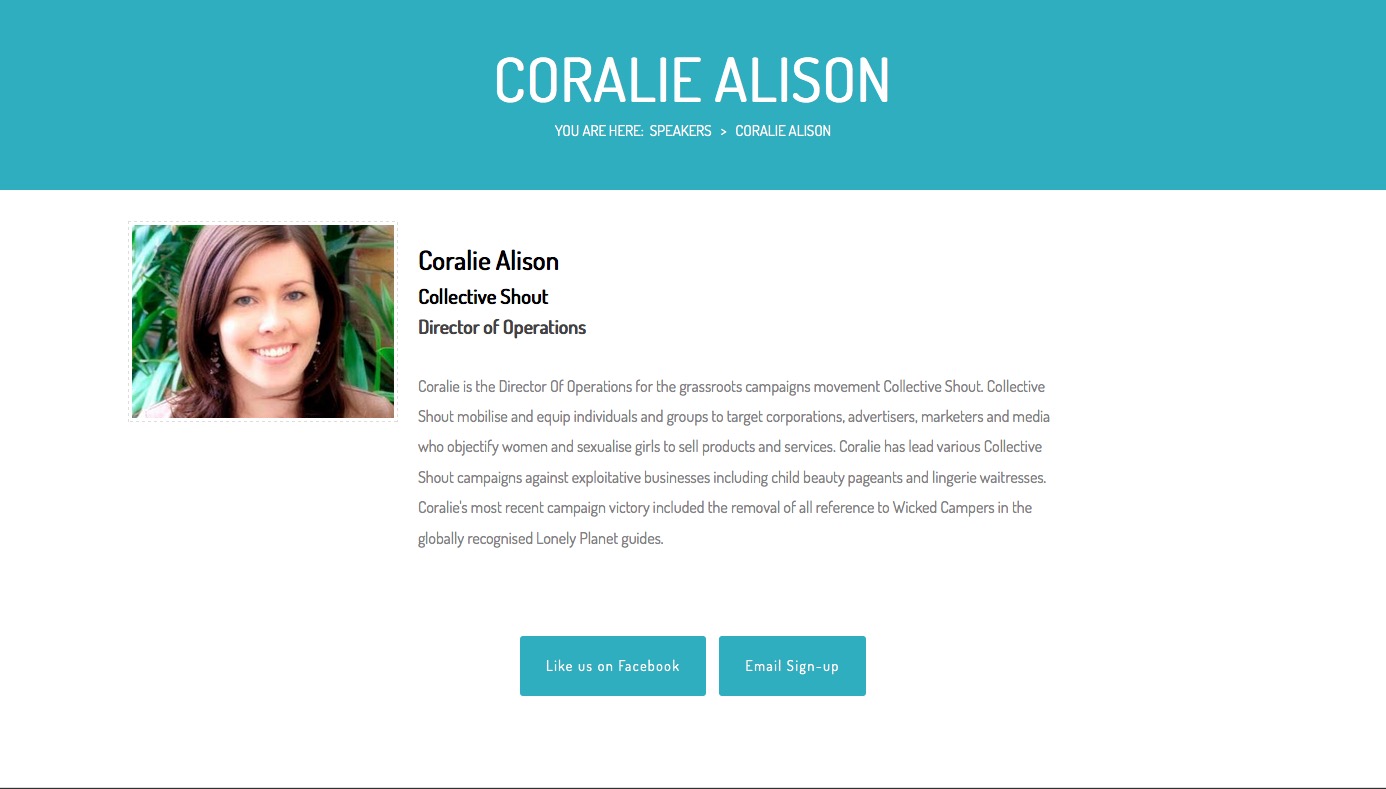 Wicked is of course a very successful business, which started in Queensland; targeting the backpacker or budget end of the market. As with any successful business model Wicked have achieved a growing market share and likewise recent rapid expansion, having spread across the Tasman to New Zealand and likewise into the United Kingdom, European, US, Canadian, Japanese, South Africa and South American markets.
The media attention the company has garnered however is much more recent. The so-called complaints against the company's strategy of signwriting its vehicles with provocative and often, arguably, distasteful humour started in Australia last year, the company's tangle with the Australian Advertising Standards Bureau.
That media coverage, far from damaging the brand, appeared to trigger more growth and popularity. The ABC reported:
11 April 2015

Wicked Campers' 'disgusting' slogans promote violence against women, say protesters

The controversial slogans on a Queensland-based company's campervans have sparked a protest in Brisbane.

A group called Wicked Pickets rallied in the CBD against some of the phrases on Wicked Campers' vans, saying they were sexist and promoted violence against women.

One of the protest's organisers, Liz Upham, said she did not want to have to explain to her daughter what the words meant, after seeing them on the side of a van on the street.

"Some people say 'well the slogans are funny, they are just about backpackers having fun in the sun'," Ms Upham said.

"But when you have slogans suggesting kidnapping women, gaffer-taping women… I think they are actually promoting sexual violence against women and general violence against women."

Wicked Pickets protester Cameron Goodwin said the slogans were disgusting.

"I think it is something we need to change as a country because we cannot let this stuff be on our roads for everyone to see," he said.

The rally called for legislation to be strengthened to force Wicked Campers to remove slogans deemed offensive.

"If this was on a billboard, there would be complaints and the company would be forced to take that billboard down," Ms Upham said.

"When we have been emailing these slogans to each other in preparation for this rally, our email providers block our emails as offensive.

"So there is a pretty big societal norm that says what these slogans say are unacceptable but there is just a loophole in the law that is allowing Wicked Campers to get away with putting these slogans on vans, which are in effect mobile billboards."

The rally's organisers want to meet Queensland's Attorney-General Yvette D'Ath to discuss the issue.

Civil libertarians agree the slogans are in bad taste, but do not think they should be banned.

The Council for Civil Liberties' Terry O'Gorman said it was a matter of free speech.

"In a free society offensive comments, bad taste comments, offensive speech is what defines us as a democracy," he said.

He also questioned whether such sayings encouraged violence against women.

"Most sensible adults… and even teenagers would look at these sayings on Wicked vans, would see them as a poor, low-grade attempt at juvenile humour and would see it in that light.

"I don't think there's a cause and effect between these particularly tasteless comments on vans and violence against women."

The Advertising Standards Board (ASB) has upheld 49 complaints against the company over the last five years and dismissed 25, according to its website.

Fiona Jolly, the CEO of the Advertising Standards Bureau, which administers the self-regulating board, said advertisers are required to modify or remove an advertisement if a complaint is upheld.

But there are no penalties if they fail to comply.

In some cases, Wicked Campers modified or removed slogans; in others, it did not respond.

Ms Jolly said the board was working with the former Queensland government to fine Wicked Campers if it did not comply with the ASB's decisions.

Wicked Campers was contacted for comment by the ABC.

Source: http://www.abc.net.au/news/2015-04-11/wicked-pickets-protest-vulgar-language-used-on-wicked-campers/6385958
Two or three other articles appeared in the Guardian and the UK's Daily Mail (see bibliography).
The matter was pretty quickly dropped as news and then ignored, largely we suspect, because of the public backlash against the media outlets for having run the stories in the first place.
We here at LF can understand this reaction because when looking at the articles it becomes more that obvious that the attack on Wicked was being largely, if not completely, driven by a very small group of so-called activists. Everyone of the media outlets acknowledged this fact at that time.
Fast-forward to March 2016 and the articles that have been for the most part appearing in the New Zealand Herald and the papers NZME syndicated associates, such as the regional rag The Northern Advocate.
LF tweeted on this obviously contrived Herald campaign, pointing out the real issue; freedom of speech and free expression.
This issue had also been pointed out in the ABC's limited reportage, with equal time and space given to it, but not a peep from New Zealand's newspapers and other media outlets.
Of course this is par for the course with the Kiwi MSM. But what was also absent from these New Zealand reports was just how this sudden crescendo of, previously very well concealed,  vocal public opinion had built to the point where the NZ Herald, in particular, had felt the pressing need to do what one editor described as "Special Reports", a special week-long feature; certainly we couldn't locate any sort of prior public outcry that would warrant such nasty press attention.
Frankly we though the story had done its dash, that it would die a slow death, just like the kiwi deportee issue had once John Key had been given his marching orders by Canberra.
Just another distraction from John Key's new flag debacle, thats what we thought, and we were probably half right, especially given the investment the New Zealand Herald had put into Keys plan being a success, only to ultimately be confronted with abject failure.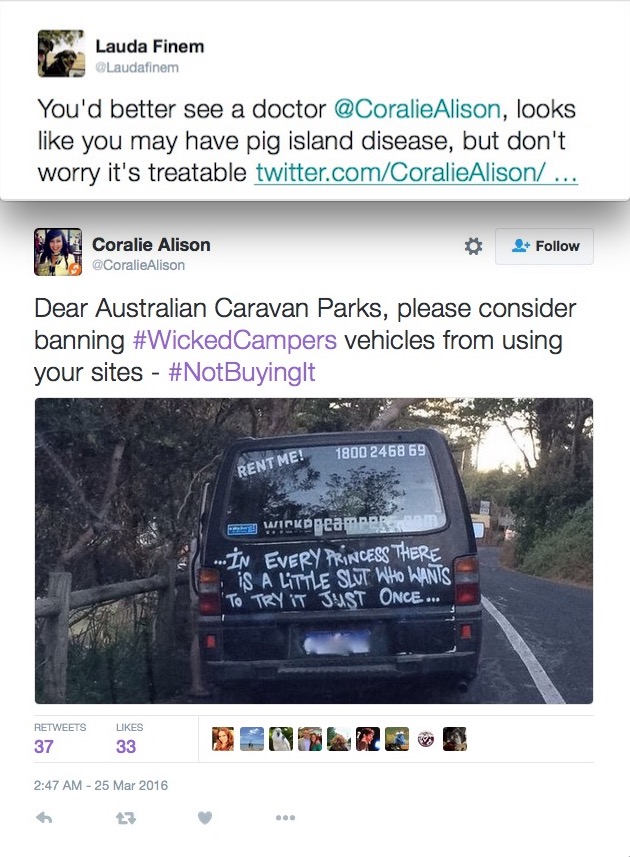 But that view changed slightly today when we commented on another tweet that was clearly attacking wicked campers and calling on campsite owners to ban their vehicles. The response to our unusually reasonable tweets, and the fact that we were then blocked, lead us to take a very close and hard look at the Kiwi Wicked campers campaign.
What we discovered was frankly shocking. It serves as a warning for anyone who is concerned with preserving democracy, protecting democratic rights, freedom of speech and expression.
It also serves as a warning for those who take for granted that which is so often presented by New Zealand's half-baked media as fact. If anything the New Zealand Heralds campaign against Wicked serves as yet another reminder of just how duplicitous the Kiwi MSM really are.
If one had been made aware of the history of the wicked Camper issue, the truth of the minor Australian incidents, then one might have just able to laughed it off as another micro group stunt, a grab for attention by a group who should largely be ignored.
On this occasion we are not going to laugh it off. The people behind this little stunt need to be exposed for what they are and ridiculed for toying with the thin end of a very dangerous wedge in pursuit of their own personal agendas and career development.
So who is driving this? Is it the New Zealand Herald, is it a whole raft of angry people, you know, a group of thousands that are prepared to march in the streets?
Well actually no, its none of those things in fact. This nasty little campaign is the work of just three or so women, a very small but vocal group, who in 2015 took it apon themselves to become yet another of the many unnecessary and uninvited moral compass's for millions of Australians.
Every one of the complaints received by the Australian Advertising Standards bureau can be traced back to these women and the very small collectives they are all involved in.
They are Ms Paula Orbea, a teacher from NSW Blue Mountains, the woman who lodged one of the first complaints, Ms Coralie Alison and Ms Liz Upham.
Whilst Upman was very active in the Brisbane area she seems to be less involved now, if at all, with the New Zealand stunt.
The two remaining woman however have taken to lying about the circumstances and events surrounding their involvement, the success of their complaints and the action the company has taken during what has now become a witch-hunt.
The company for its part has clearly figured out that its just noise, all free publicity, and has stopped trying to appease the media or the idiots running the witch-hunt.
It is important to remember that in all complaints to the Australian Advertising Standards Bureau, the complaint has to be very specific.
Obviously the "problem' that hundreds of individual vehicles pose, each with different sign-writing and site location, could never have been foreseen, nor was it likely intended.
Suffice to say that when the media claims that the "company" has had 49 complaints made against it and that each of those vehicles may have had one or more complaints, the numbers are hardly surprising. The fact that this group has also failed on 25 occasions is also telling and not unsurprising.
Now, as we said earlier, this groups efforts pretty much fell on deaf ears in Australia, they had even hoped to met with Queensland's Attorney-General Yvette D'Ath, but if the lack of media coverage of such an event is anything to go by, it would seem they weren't successful in that regard either; D'Arth is a lawyer, she is well placed to have an awareness of the important principles involved and at stake.
That fact is Wicked Campers have actually broken no laws and most observers, rightly, saw the campaign against Wicked as the thin end of the civil rights wedge, especially the freedoms of expression and speech.
As was noted in the Australian Broadcasting Corporations article;
"The Council for Civil Liberties' Terry O'Gorman said it was a matter of free speech.

"In a free society offensive comments, bad taste comments, offensive speech is what defines us as a democracy," he said.

He also questioned whether such sayings encouraged violence against women.

"Most sensible adults… and even teenagers would look at these sayings on Wicked vans, would see them as a poor, low-grade attempt at juvenile humour and would see it in that light.

"I don't think there's a cause and effect between these particularly tasteless comments on vans and violence against women."

Source: http://www.abc.net.au/news/2015-04-11/wicked-pickets-protest-vulgar-language-used-on-wicked-campers/6385958
Australian Human rights Commissioner Tim Wilson also lent his voice to the more sane argument:
Human Rights Commissioner, Tim Wilson, defended the right of the company to use offensive slogans on its vans. Despite the success of the online campaign, he said people who disapproved should protest by not using the business.

"Government shouldn't be going around telling people what they can and cannot say, unless it leads to direct and explicit harm," Wilson told the ABC.

"Just removing things that are offensive, while it may seem attractive, is a very dangerous precedent at least because people always have very different views about what is offensive and therefore should be limited."

Source: http://www.thebyte.com.au/wicked-campers-john-webb-apologises/
O'gorman, himself an accomplished and highly regarded criminal lawyer, and Wilson are of course 100% on the money. Any reasonable person would recognize these as bad taste jokes, seeing them for what they are, distasteful but harmless, nothing more, nothing less.
The additional hysteria baiting claims these woman made were that the words on Wicked vans lead to violence, sexual abuse and rapes. This clearly irrational and unsupported drivel was soon debunked as pure unadulterated horse shit and very likely to trivialize the very real issues surrounding sexual assault, rape and abuse.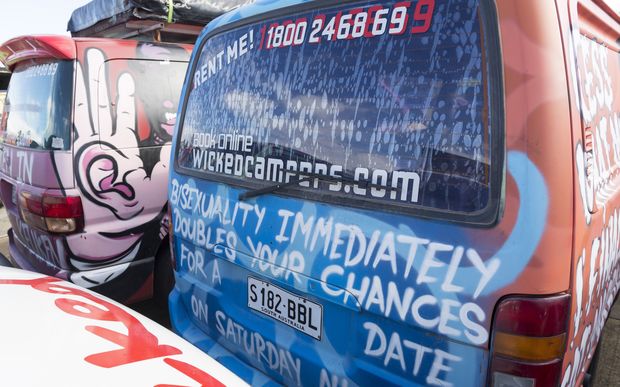 Of course that did not stop these women from starting an online petition with the getup.org website; which in a country of over 24 million residents only collected a little over 100'000. The Greens paid the obligatory lip service to it, and made a suitably brief noise in the Senate.
So all the 2015 noise in Australia died a horrible death in pretty quick time, anyone with at least half a brain saw Orbea and Alison et al pretty much for what they all really were, be that self described activists, nut-jobs or just plain dangerous fuckwits.
The Campaigns Migration to New Zealand
The New Zealand Herald on the other hand, they have taken a far more dangerous route. Not only have they been promoting a whole raft of falsehoods, whilst relying on the defense of truth. They seem to have been using their provincial hacks to run around the countryside harassing mainly Australian tourists and quite possibly causing them financial loss.
We say this because all this intense Kiwi media attention is likely responsible for the more timid campers to cover up some of the signwriting, with what looks like spray paint and Gaffa tape. This will of course result in a rather large bill at the end of their trips, for the damage caused to the vehicle.
If the New Zealand Herald was not aware of this they should have been as Wicked Campers made their position very clear in a media statement dated 24th March 2015.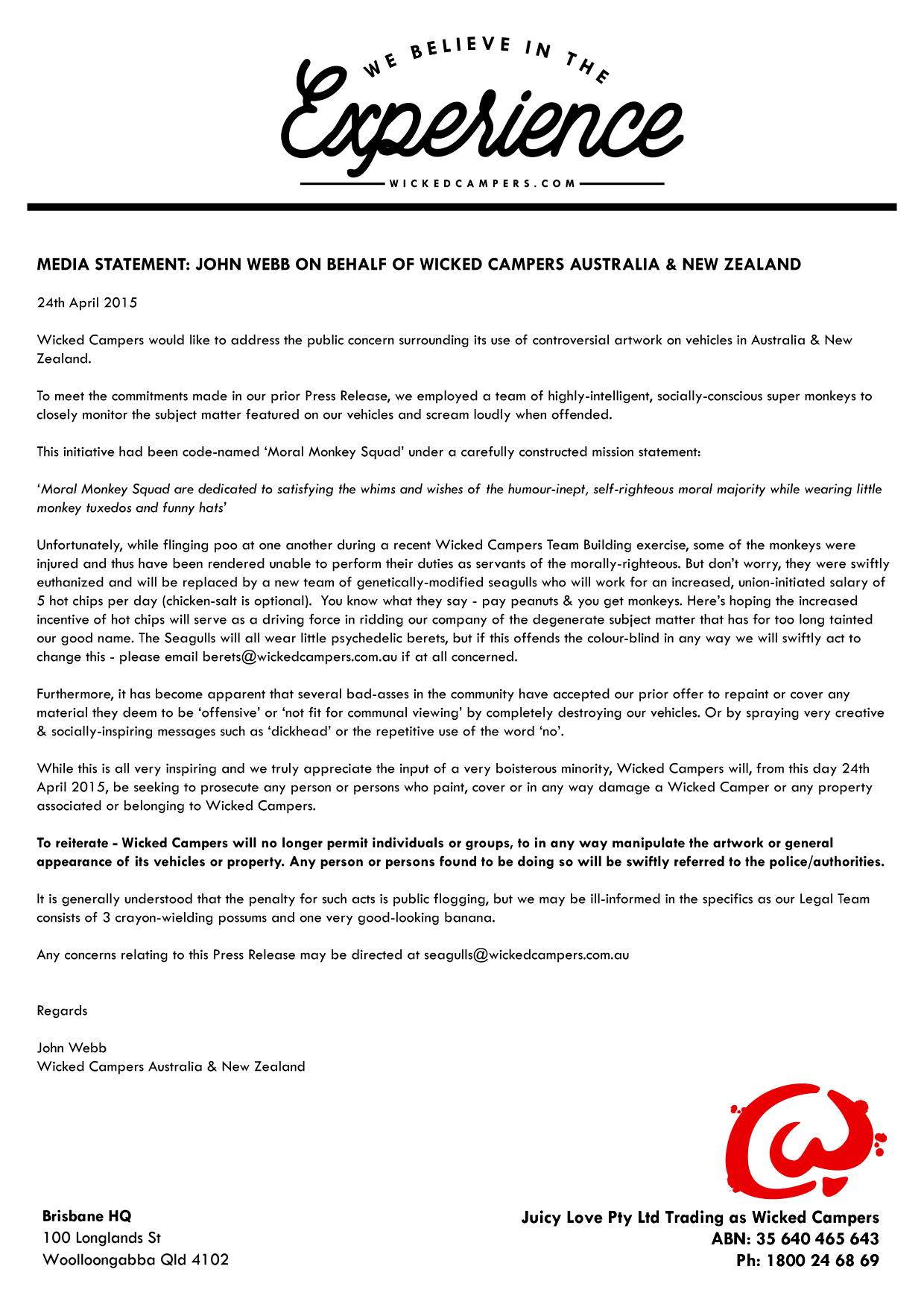 Whilst the document does contain the expected humour, the applicable warning, lacking humorous innuendo, is to be found at paragraph 8:
To reiterate – Wicked Campers will no longer permit individuals, or groups, to in any way manipulate the artwork or general appearance of its vehicles or property. Any person or persons found to be doing so will be swiftly referred to the police/authorities.
It is our view that if Wicked find that there has been a sudden spate of vehicles damaged by spray painting and or the use of strong adhesive tapes they should send the repair bills to Mr Shayne Currie, Editor The New Zealand Herald, NZME Private Bag 92198, Victoria St West, Auckland 1142, New Zealand – After all it was the New Zealand Herald which saw fit to harass these poor tourists and the company.
There is a very big difference between encouraging customers to boycott a product or service and actively engaging in the sabotaging of commercial and contractual relationships that a company may have with suppliers or related industries with which the company has an existing business relationship or dependency, otherwise known as goodwill.
It is our view that the New Zealand Herald was not merely reporting on events, but that NZME staff crossed the line and actively engaged in incitement and harassment, both of the company's suppliers and its customers by means of threatening bad publicity, real, implied or otherwise.
We have a number of questions for Shayne Currie the editor in chief.
What prompted the Heralds sudden interest in Wicked Campers?
Don't bother bullshitting us with claims that you'd been inundated with complaints, that sort of crap won't fool anyone.
Did the Herald contact any of the women named above or did they contact NZME first?
Do you have advertising key accounts that are struggling because of Wicked Camper's entry into the New Zealand market?
Did any one of those advertisers approach the NZ Herald and offer to increase their advertising budget, purchase and or pay their bills on time if NZME hacks would go after the competition?
Because to us Shayne Currie this smells awfully like that is exactly what might have transpired.
Did the Herald invite comment from Paula Bennett, or did Paula, a woman, who has overseen the burial of real historic sexual abuse cases, see the "Herald special report" and think it would be a good idea to climb on board, just to collect a few extra votes?
What about the idiot national MP up north, a bloke that is undoubtedly aware of the name of a fellow national party MP, who resigned his seat in a neighboring electorate, stands accused of child abuse, did he contact the NZ Herald?
What about all of the allegedly angry local councilors, did the Herald contact them? Was it the Herald who suggested trying anything at all to have Wicked Campers banned from DOC campsites, or was that Paula Bennett's own idea?
It would certainly not be the first time that the New Zealand Herald has engaged in such unconscionable behavior, and undoubtedly it will not be the last, not until, that is, someone with the cash or legal skill goes after them.
This bullshit two man witch hunt died a natural death in the more mature democracy that is Australia, but for some reason the decomposing corpse of this tragic fucking agenda was shipped to New Zealand where it has been hastily resuscitated and put on Life support, all funded by NZME, the New Zealand Herald and an unidentified competitor.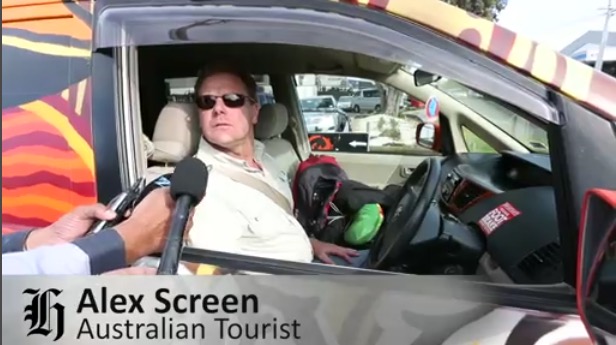 What really made us laugh was the obvious disbelief and disappointment in the NZME journo's voice when he was basically told by a Wicked Camper Australian customer Alex Screen to get a life, that says it all really:
Alex: I knew about these, I'd seen these in Australia. I shopped around and this was the best value I could find. I'm hiring this for about a week and traveling around the North Island.

NZME Journo: So So you don't feel offended at all by any of this?

Alex: Not at all No! No! No! And I think people that are offended need to get a life, basically,

I think people need to have a sense of humour.

Vroom….. enough said Alex drives away from the obviously surprised Kiwi journo's
LF also suspects that one of the two protagonists driving this anti Wicked campers campaign is a New Zealander living in Australia.
This is another of the dangers posed to Australia with mass migration from New Zealand, For a country that is poles apart from Australian values, it's far too close for comfort.
Its impossible to vet or screen out their PC mob or the other complete fuckwits. The same ones that, having wrecked New Zealand, then migrate to Australia and pose a serious risk to Australian society and our democracy.
As for the women involved, it will be obvious to anyone who bothers to take a closer look at their lack of qualification, their careers to date, interests and choices that they are angling to chalk this one up to successful campaign management. A job well done, attracting a career advancement, complete with a larger salary – cut away the feigned human rights bullshit and for them it all boils down to the money
LF will also be contacting Wicked Campers Australia and sharing our experience of the New Zealand Heralds staff, its nefarious tactics and just how it is they attract and retain major advertising accounts.
Reference/Bibliography
http://questionsforus.com/2014/07/11/from-little-things-big-things-grow/
http://melindatankardreist.com/tag/paula-orbea/
http://www.stuff.co.nz/travel/news/68114503/Lonely-Planet-to-remove-Wicked-Campers-from-New-Zealand-guidebook
http://www.abc.net.au/news/2014-07-16/pringle-wicked-slogans-arent-just-harmless-fun/5598858
http://www.nzherald.co.nz/lifestyle/news/article.cfm?c_id=6&objectid=11602419
https://au.linkedin.com/in/coraliealison
https://www.immersion.org.au/Speakers/Coralie-Alison
http://www.nzherald.co.nz/nz/news/article.cfm?c_id=1&objectid=11609523
http://www.nzherald.co.nz/nz/news/article.cfm?c_id=1&objectid=11608638
http://www.nzherald.co.nz/nz/news/article.cfm?c_id=1&objectid=11609387
http://www.curvemag.com/News/Why-Do-Hundreds-of-Men-Want-to-Rape-and-Kill-Coralie-Alison-630/
http://www.dailymail.co.uk/news/article-2698090/Wicked-Campers-apologises-sexist-slogans-promises-remove-six-months.html
http://www.stuff.co.nz/travel/76764018/whangarei-district-council-threatens-wicked-campervans-with-prosecution
http://www.abc.net.au/news/2014-07-13/wicked-campers-under-fire-for-sexist-slogans/5592984
http://www.theguardian.com/australia-news/2015/apr/12/activists-demand-wicked-campers-remove-misogynist-slogans-from-fleet