National MP's Paula Bennett and Shane Reti have been hard at it over the past week or so on twitter. So have the New Zealand Herald, who have published a bullshit article for just about every tweet and facebook post this pair have created, dissing Wicked Campers.
Wicked campervan slogan is a rude comment too far for MP

Outrage after Paula Bennett told a 'bit of sexual violence never hurt anyone'
Of course this activity no doubt suits the New Zealand Herald's agenda, and of course the politicians who are undoubtedly pulling their own political stunts with reason.
The smoke blowing and moralizing by this pair of political idiots is so obvious that it would be hilarious where it not for the obvious contempt they both hold the electorate in, that and the truly nauseating display of hypocrisy.

Just coincidentally the Mike Sabin case is due for a court mention, so given the sudden spate of "moral" grandstanding by Bennett and Reti one could be forgiven for suspecting that their agenda is to create a "high ground" diversion, thick smoke, a little something to take voters eyes of the ball, and off Dr Reti in particular.
The Herald of course is looking around for absolutely anything that might help justify their half-baked attack on Wicked Campers. One such attempt occurred over the weekend when the Herald tried to make it look like they were going after any onewho dared to allow comments such as those found on the back of Wicked's vans, even toilet walls apparently:
One really has to wonder about just how stupid these manipulators think the average Kiwi is, more especially now that the punters are actually advertising the fact that they have cottoned on to the Heralds tactics; in particular the behavior of some of the papers key players – David Fisher, Matt Nippert, Nicholas Jones and of course no list would be complete without Rob Kidd.
In most political arenas around the globe there is an element of "you scratch my back and I'll scratch yours" between the media and politicians. In New Zealand however it seems to go one or two steps further in the direction of degrading, with politicians and elements in the media prone to pleasuring each other orally; although it's not immediately obvious whether they use their own digits, other physical extremities or in fact readily available adult appliances, to do each other.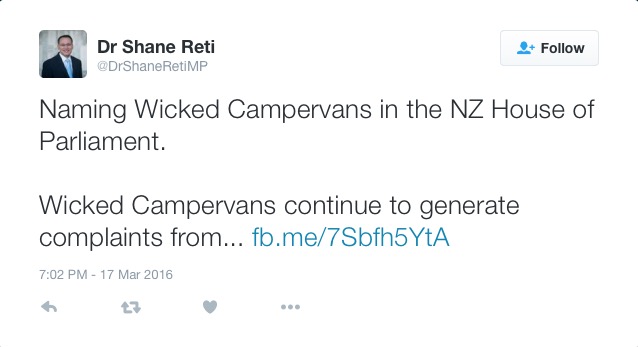 What is obvious however is that they are on this occasion so hard at it that they are actually bouncing off each other. The latest example of this foreplay being the Herald story claiming that Paula Bennett's life had been threatened – No mention of a police complaint of course, principally because an actual threat had never existed.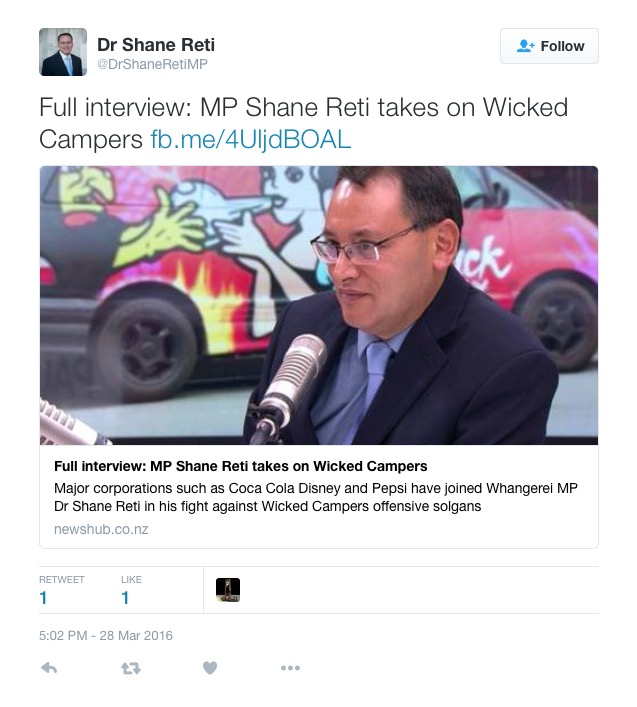 Although, one is given to wonder whether it would be worthwhile suggesting that Wicked campers start sign-writing this crap on the back of their campers.
Of course Dr Reti, who according to the National party website had a "successful candidacy" because he has a "strong record of community involvement", must be worried, and feeling the need to assert his high moral standing.
Reti's electorate is of course Whangarei, which is just next door to Mike Sabin's old stomping ground of Northland and having such a "strong record of community involvement" Dr Reti would have known all about what was happening at the Whangarei High Court.
So what better way, with a potentially damaging trial on his door-step and a shit load of angry locals, to create a little "product differentiation", than to climb on board the Heralds "Trash Wicked" campaign, and hog the headlines and local attention.
The latest that Reti has been foolish enough to associate himself with is an attempt to harm the Wicked brand by contacting unrelated companies, and then claiming breaches which of course simply don't exist, and never have….all designed to keep the "wicked" political spin rolling:
We know the companies contacted by the Herald are not interested, even ex journo Neil Waka admitted on behalf of CocaCola:
Coca-Cola NZ spokesman Neil Waka said the company would not be taking legal action at this point but were "keeping an eye" on Wicked Campers.

"The reality is we don't want to be associated with Wicked Campers and their inappropriate messages and imagery," he told the Herald.

A spokeswoman for Disney said the company did not want to comment.

"We are aware of the issue and are looking into it; however, we generally do not comment on possible or pending investigations or actions."
The truth is Wicked have not breached any copyright, nor are Disney or Coca-cola really that interested in the Herald's hate campaign against Wicked, for the simple reason that it is very likely going to end up in court, with the Herald being on the receiving end of a bloody nose.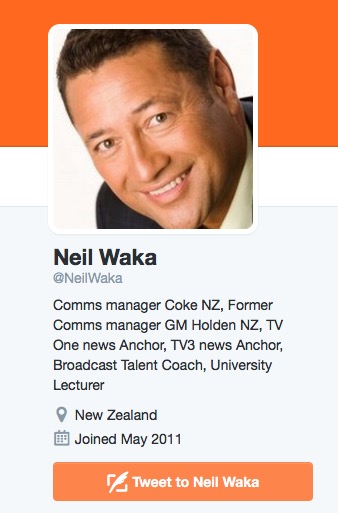 The Herald for it's part was obviously worried that their objective looked a little too much like what it really was an unreasonable attack on a company and its income, so they also created a little diversion of their own over the weekend; they deliberately mislead readers and trashed a local Auckland bars good will, just so that Shayne Currie could point to that article, should Wicked Campers eventually decide to sue the New Zealand Herald just for kicks.
The story was so obviously a construct:
Auckland restaurant Miss Moonshine's under fire for 'misogynistic' toilet slogans
The Herald even organized for the competition to run that particular story, just to make it look like "misogyny" had fast become the hot topic in New Zealand, and that it wasn't just all about Wicked Campers:
Auckland restaurant's toilet slogans slammed as 'misogynistic' and 'degrading'
Of course Shayne was being seriously silly if he honestly believed that a quick phone call to ex herald staffer turned Fairfax editor, Jonathan Milne, would create enough cover.
It certainly wasn't anywhere near enough to convince us here at LF that Shayne and his dynamic crew hadn't just trashed the Wicked Campers brand as part and parcel of a bigger advertising strategy, in the lead up to one of their expensive marketing campaigns; paid for by one of Wicked Campers Kiwi competitors. There was also another issue that was a perfect fit for the National party.
In fact the Herald carefully crafted their reporting to avoid telling the real "Toilet door Misogyny" story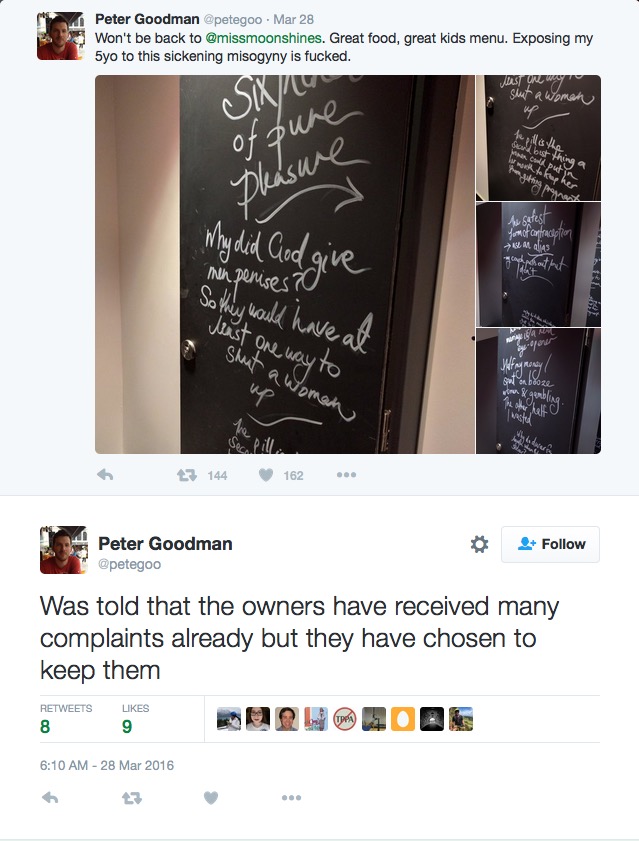 Fair enough, but the problem with both the complaint and the Herald story is that everyone forgot to mention the obvious, everyone that is except Shayne McLean, who was very likely the source for the Herald story in the first place. That aside Shayne McLean, at the time, was the only person to ask a very obvious question: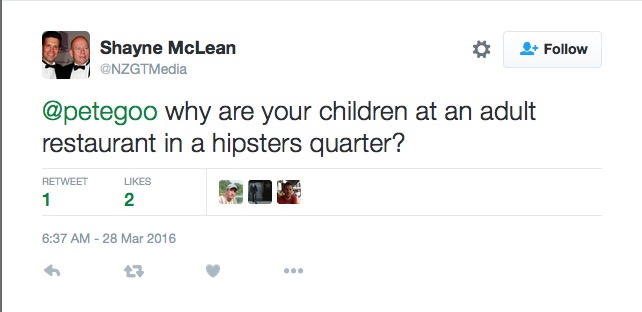 So there you have it, another bullshit story from the New Zealand Herald. Whilst it was obvious to us that the story had more holes in it than the titanic, the inexperienced bar manager however walked head first into the scam, a stunt pulled by Shayne Currie and Co.
Frankly the Manager of Miss Moonshines Bar should have told the Herald and the twitter feminazi brigade to get fucked, truth is they are certainly not the bars customers.
Although, with all of this Machiavellian crap going on, one is given to ponder whether it would be worthwhile suggesting to Juicy Love limited's CEO that Wicked campers start sign-writing Paula Bennett and Shane Reti's social media graffiti on the back of their campers, hey how about the slogan that appeared in the latest "Herald stalks Facebook" piece:
"People own guns out there I dare any to shoot the bitch dead at next public appearance"
Or the date of Mike Sabin's next court appearance, now that is an idea worth considering!
The icing on this particular cake though is Kiwi politician, leader of the NZ labour party opposition and johnny-come-lately, Andrew Little, who, as always, seems to have been last to climb on this wagon:
Little says 'vicious' online commentary contributes to threats against Govt
A real captain "could be", Andrew Little, without any evidence, is given to reason:
 "well-paid PR operatives" are part of the "vicious" online commentary which he said could be contributing to threats against Government ministers.
The only well-paid political "PR operatives" working on any of these stories have been those employed by the New Zealand National party.
It obviously has not dawned on Andrew Little, or any of these stupid pricks, that the public is sick to death of their political stunts, PR strategies and diversions.
MP Shane Reti has a bad habit of creating political diversions, especially when his own political neck is at risk. In fact Reti has been called on this behavior in the past, especially around the problem that Mike Sabin's electorate posed:
Whangarei MP Shane Reti denies bullying group

March 19, 2015

A National MP has denied bullying a Northland group after he told it to stop protesting about dusty roads until after the by-election, or risk not getting the roads sealed.

In a phone call to Alex Wright, the spokeswoman for the Pipiwai residents group, Whangarei MP Dr Shane Reti told her to "hold her breath" until after the crucial Northland by-election on March 28.

Read more: http://www.stuff.co.nz/national/politics/67441372/Whangarei-MP-Shane-Reti-denies-bullying-group
We feel that LF readers should also be made aware, if they are not already, that New Zealand prime Minister John Key paid a visit to Whangarei, in fact at around the same time as all this shit started; which Shane Reti tweeted on the 10th March.
This was just a matter of days before the Wicked Campers scam took off, was John Key in Whangarei to do a little more than slap Shane Reti on the back for a job well done?: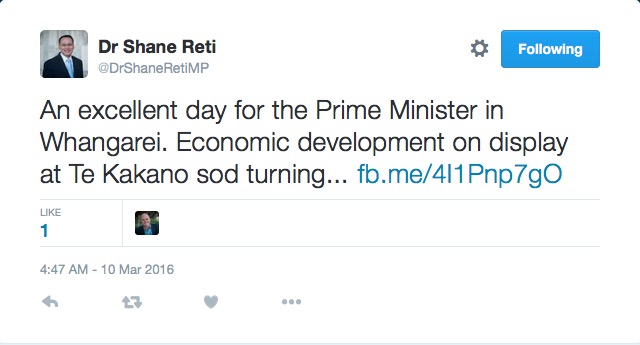 Obviously another Mike Sabin supporter, the mayor of Whanagrei Sheryl Mai, was also busy fanning the flames against Wicked Campers, Radio New Zealand aired this interview on the issue;
Whangarei turns legal guns on Wicked Campers' lurid livery

Wicked Campers and the provocative slogans spray painted on their vehicles are again under fire and Whangarei District Council is training its legal guns on the company.
For those who bothered to listen to the radio interview with Sheryl Mai, the report is another obvious distraction, with Meyers all but admitting that she and her council were trying to push shit up hill.
LF suspects that the real purpose of John Key's little whistle-stop tour was to catch up with an old mate, a friend That John Key and National party spin-doctors have been keeping well hidden from the public gaze since just after the last election. No doubt Key and his buddy played a round of golf together: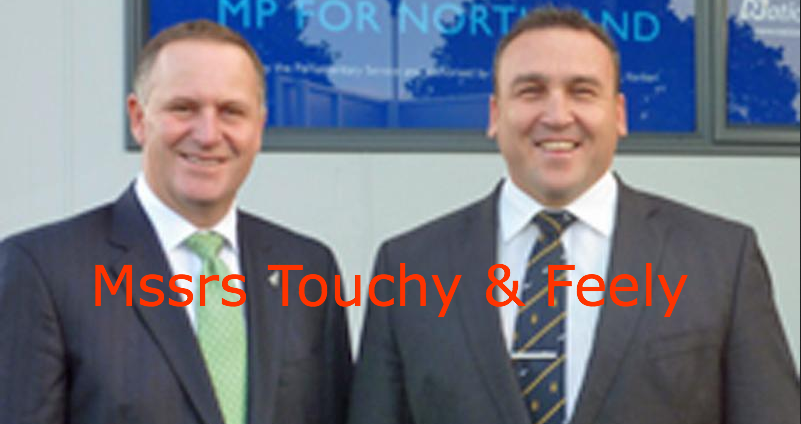 The voting public is on to them, they know when they are being manipulated, politicians and media often using innocent third parties to do so, and this is very much one of those occasions. So if anyone out there does have their eye on the ball, the Sabin case, be sure to let us know what happened.
Face it, politics everywhere is a Circus, but only in New Zealand is the justice system center ring
Fucking hypocrites, the whole lot of them.
References/Bibliography
http://www.nzherald.co.nz/nz/news/article.cfm?c_id=1&objectid=11613375
http://www.nzherald.co.nz/northern-advocate/news/article.cfm?c_id=1503450&objectid=11591564
http://www.nzherald.co.nz/nz/news/video.cfm?c_id=1&gal_objectid=11610472&gallery_id=158874
http://www.nzherald.co.nz/lifestyle/news/article.cfm?c_id=6&objectid=11602419
http://www.nzherald.co.nz/nz/news/article.cfm?c_id=1&objectid=11610019
http://www.nzherald.co.nz/nz/news/article.cfm?c_id=1&objectid=11588874
http://www.nzherald.co.nz/nz/news/article.cfm?c_id=1&objectid=11609224
http://www.nzherald.co.nz/nz/news/article.cfm?c_id=1&objectid=11609523
http://www.nzherald.co.nz/nz/news/article.cfm?c_id=1&objectid=11608638
http://www.nzherald.co.nz/nz/news/article.cfm?c_id=1&objectid=11612265
http://www.nzherald.co.nz/nz/news/article.cfm?c_id=1&objectid=11445299
http://www.nzherald.co.nz/nz/news/article.cfm?c_id=1&objectid=11612923
http://www.stuff.co.nz/business/better-business/78318278/auckland-restaurants-toilet-slogans-slammed-as-misogynistic-and-degrading
http://www.laudafinem.org/2015/04/22/sabin-sexual-assault-case-the-shroud-of-political-corruption-and-coverup-moves-to-new-zealands-high-court/
http://www.nzherald.co.nz/nz/news/article.cfm?c_id=1&objectid=11612923
http://www.radionz.co.nz/national/programmes/morningreport/audio/201789969/whangarei-turns-legal-guns-on-wicked-campers'-lurid-livery