Regular LF readers will remember a story we posted back in Aril 2015 on Ben Rachinger. In that story we postulated what had really gone on in a conspiracy that was being promoted by Ben Rachinger, supported by the MSM and a variety of political bloggers, in particular the Standard, operated by Lynn Prentice and Greg Presland.
The Rachinger Identity – Espionage thriller or just another bad outbreak of Streisand effect?
We also noted that Rachinger had made a number of attempts at manufacturing problems for team LF, amongst those stunts, connecting up with known anti LF fraudsters, at least four attempts to entrap LF volunteers on twitter, and at least one attempt to hack the site.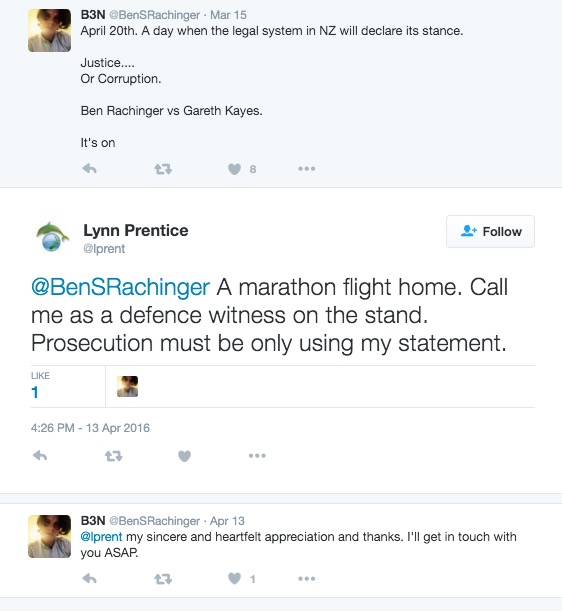 Naturally we immediately recognized Rachingers extremely amateur attempts for what they were, hence the reason why we continued to monitor him in the months prior to his breakup with Slater and contacting the standard.
This story is now about to come full circle, with both Rachinger and Slater having been charged with a variety of offences by the New Zealand police.
Slater, for his part, has apparently determined to accept a police offer of diversion, acknowledging his wrong doing and performing the required court assigned penance, for which no conviction is entered.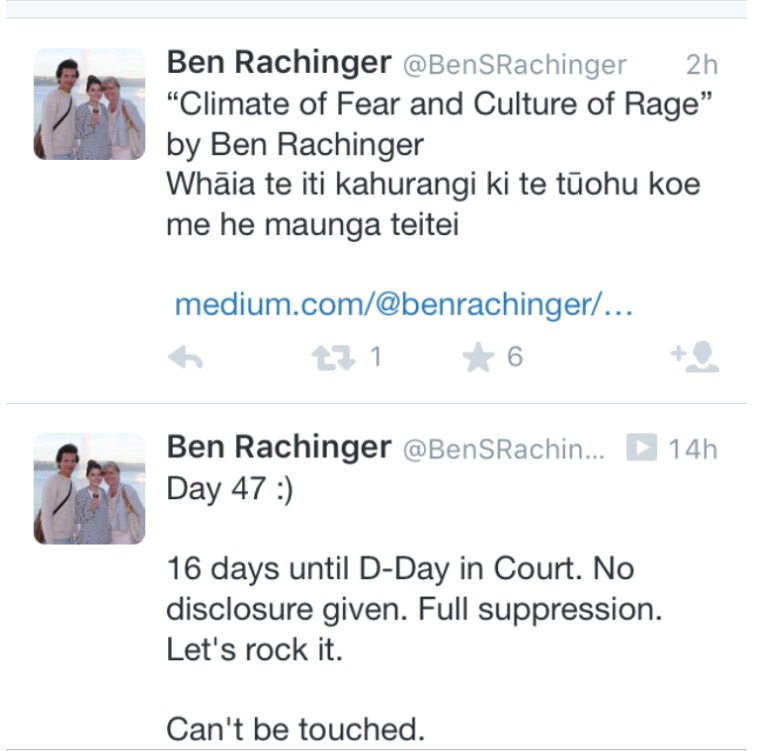 Now Rachinger on the other hand has decided to defend the criminal informations the police have laid against him. Those informations stemming from Rachinger having allegedly solicited and taken payment from Slater for an attempted hacking of the Standard, via Lynn Prentice's computer.
Up until last Wednesday these issues were concealed by suppression orders, which the New Zealand Police had applied for and obtained during the pairs first appearance.
In addition to Rachinger deciding, unlike Slater, to decline the police offer of diversion, Rachinger, along with the New Zealand MSM, have applied to have all suppression orders lifted.
Slater on the other hand,  applied to have the orders made permanent.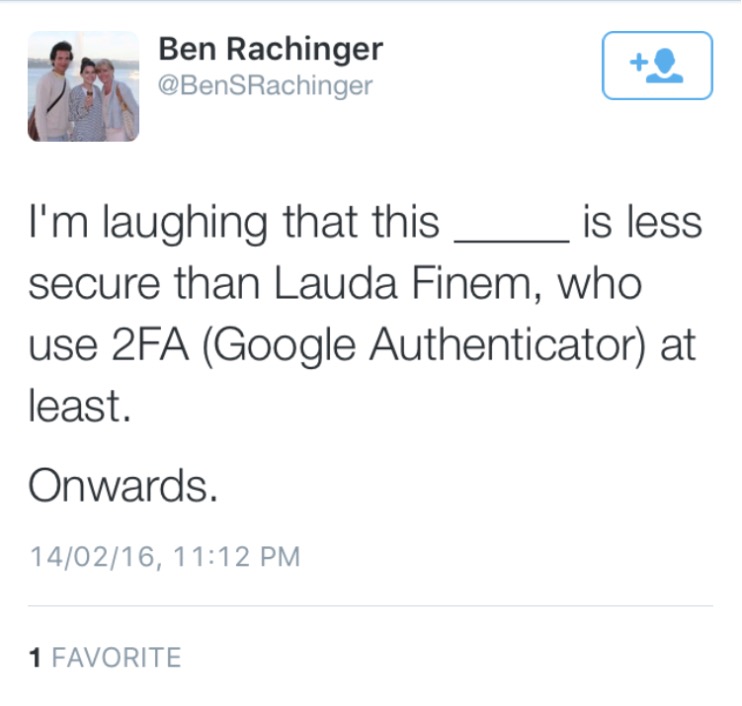 Now Rachinger's reasons for wanting the suppression orders lifted, by his own admission, is so that he can humiliate Slater, but more importantly, so the he can also take on the New Zealand police force, for what he is currently alleging was a conspiracy involving himself, Slater and the New Zealand police to engage in skulduggery.
Now from our perspective we are of the view that the judge's decision to lift these suppression orders was the right decision.
The reasons canvassed by the judge in his decision, which is embargoed in New Zealand until the 10th May 2016 (incorrectly noted by the judge as next Thursday), are all completely valid; as is the judges belief that the damage to Slater's reputation will not be such that it warrants extraordinary protection.  This in particular given that Slater has already admitted his part in the attempted offending and, if we are to believe Slater, his contrition and penance.
So that LF readers are fully abreast of the judges reasons we have included the his written decision, released to all parties, including media, last Wednesday the 5th May. As aforesaid the judgment is embargoed within the New Zealand jurisdiction until the 1oth May 2016.
Of particular interest in his decision are a number of pleadings put forward by the Kiwi mainstream media, which on the face of it, bring into serious question the continuation of Mike Sabin's name suppression and the Kiwi media's absolute failure to appeal those particular suppression orders.
In particular, the submissions of a Ms Wilson, who appeared on behalf of MediaWorks TV Limited, NZME Publications Limited, Fairfax New Zealand Limited and Television New Zealand Limited.
On the basis of Ms Wilson's submissions in this case it raises serious questions around the New Zealand mainstream medias complicity in the Sabin case, their failure to challenge those suppression orders.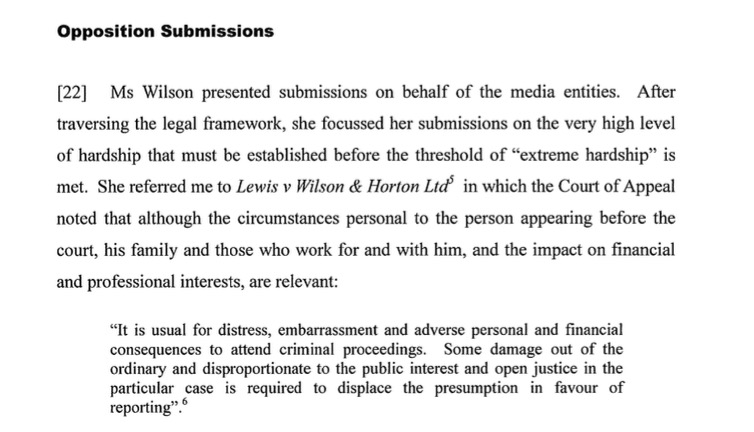 This aside as at the hearing, which occurred last week, LF are somewhat amused at the lengths the Kiwi MSM went to so as to ensure that these particular suppression orders, requested by police, were overturned.
These stunts included MediaWorks employees breaching the suppression orders whilst in court. It became apparent during these proceedings that someone on the MediaWorks payroll, who was present in Court, was deliberately feeding information to a MediaWorks producer outside the District Court precinct.
That producer, Tim Watkin, was then posting the material to his Pundit blog, which is, legally speaking, located within the New Zealand's jurisdiction, thus deliberately breaching the suppression orders that had continued to be in place.
This behavior was brought to the attention of the presiding judge, Richard McIlraith DCJ, who adjourned the proceedings, retiring to chambers with those representing the parties involved, where evidence of the alleged antics was presented to the judge.
After reconvening the hearing, the journalists present were advised in no uncertain terms that their behavior would not be tolerated, that the suppression orders were still in effect and subject to severe penalty if breached. LF is aware that a police complaint has since been made and an investigation in progress.
Now this is where the strange behaviour of the Media Works staffers got even more interesting. Despite the McIlraigh's clear warning and directions, those responsible for the suppression breaches, far from giving up, decided to up the anti by attempting to interview Slater, concealing themselves in bushes outside the court so as to ambush their target as he left the courthouse.
The three individuals involved in these stunts were journo Lisa Owen, producer Tim Watkin & the now infamous "teapot tapes" cameraman Bradley Ambrose.
Of course Bradley Ambrose himself, like Tim Watkin, has a bit of a shady past and connections to the police:
(Ambrose) is a former police constable who was suspended from the force while connections with a militia leader were investigated.

Bradley Ambrose, formerly known as Brad White, was investigated by police in 2000 for his connection with Kelvyn Alp, an ex-soldier who was reportedly trying to recruit a private army to oppose the government. Ambrose returned to police work after the investigation but subsequently left the force.

Source: Teacup cameraman's police past
This behavior was of course easily anticipated given that the Kiwi MSM, in particular the NZ Herald and TV3 have engaged in what seems to us to be a serious case of stalking, and having done so since the lead up to Nicky Hagers book Dirty Politics.
Now of course many of the journos now stalking Slater are the very same Journo's that Hager refused to name and shame for their part in the political skullduggery Dirty Politics purports to expose.
Now we know that MediaWorks producer Tim Watkin is far from clean when it comes to criminal behavior.
There are of course serious allegations floating around that Watkin actually left Television New Zealand under a cloud of suspicion, the allegation being that serious amounts of cash were unaccounted for prior to his departure, Watkin having allegedly made claims for payments to television personalities that hadn't actually been paid.
Television New Zealand apparently then having to pay out a second time to satisfy those same creditors; Watkin having allegedly pocketed the money himself.
The vociferous way in which Watkin and his underlings have behaved leads to the inevitable conclusion that this is personal, that all involved have a deep hatred of Slater.
The blog that was being used to breach suppression during the hearing was in fact Watkin's Pundit blog. When we checked the offending pages had been removed midway through the hearing, following the judges warning.
Of course this hatred or professional jealousy, if one wants to be kind, is evident in New Zealand political circles outside the National party; also be seen in some factions of National. No one seems to be able to, or even want to, look at Cameron Slater objectively.
The political intrigue surrounding Slater, and the game of cat and mouse the MSM seem to be playing around this bloke is however dangerous for at leastr a couple of reasons. The first is the lack of objectivity that's been bought to bare on any case that Slater has supported, in at least one case the victims of a serial fraudster having also become fair game.
The other obvious casualty has been the Kiwi MSM disregarding the justice system, although this degradation has in part been the joint work of Slater himself, working in conjunction with unnamed MSM journo's.
Slater in this regard is somewhat a reformed character, having seen the damage such antic's inflict on innocent people.
Now we hare at LF have made one thing very clear from the outset, we know there is more to the Rachinger case than has so far been exposed.
We know that Rachinger has so far only told his story in half-truths. We are therefore supportive of Rachingers already publically proclaimed intention to "bring the bastards down", or as we would say expose the New Zealand police as corrupt.
Now unlike the Kiwi media outlets we here at LF like the whole truth, nothing censored, no holding back. We have already made clear what we believe has occurred; that a conspiracy did in fact exist between Rachinger and the New Zealand police, and that Slater may also have been a party to that conspiracy.
Rachinger himself alludes to a police interest in matters other than "Rawshark" in one of his court filings:
1.6 I was a Police informant from September 2014 until February 2015. I was directed by DS Hayward to garner information relating to both the Police investigation into the hacker "Rawshark" and on Mr Slater and his associates. These associates include but are not limited to: Tomasz Grygoruk (Convicted hacker) and Tony Lentino (Financier of Mr Slater and employer of Mr Grygoruk). I have proof for this statement.
We are firmly of the view that team Lauda Finem was on the polices shopping list, that is was in part, an objective of the police conspiracy Rachinger entered into, one in which his job was to attempt to befriend, isolate and identify, the members of team LF and attempt to prove that the LF website was actually New Zealand based – An endeavor, destined to failure even before Rachinger had been set to work because the police had already been supplied false information.
Now, other than the Kiwi medias desire to see Slater further harmed we are not quite sure what this particular group of hacks objectives actually are.
We know that it is unlikely that they are too keen on exposing the New Zealand police, that's never been their agenda in the past, there's far to much to lose
So in effect they are therefore unlikely to be genuinely supporting Rachinger.
So far Rachinger has named three officers in court documents, alleging that they are all somehow corrupt. The officers in question are Detective Sergeant Mike Hayward, Detective (Constable) Mark Jamieson. Rachinger alleges that both of these officers were from Manukau, Auckland South.
We are given to wonder about Rachinger's account and the police antics, especially if the "Detective Mark Jamieson" who allegedly charged Rachinger, is the same officer in the photograph above.
If Rachinger is however telling the truth we surmise that these officers were likely under the command of the now infamous Detective Senior Sergeant "Forgetfull" Mark McHattie, the head of the Auckland CIB's serious crimes squad, a police officer whose integrity has been in question more than once;
'Forgotten files' investigation broadens

Jun 14, 2015

An investigation into a top police officer who allegedly forgot files in a cupboard has been widened to include seven years of his work at Auckland Central police station.

The officer at the centre of the investigation is Detective Senior Sergeant Mark McHattie, the head of the CIB's serious crimes squad.

McHattie was stood down in January but is back at work on restricted duties.

A source confirmed that the internal investigation into how the files were forgotten has been broadened.

It is understood the investigation initially only looked into the forgotten files, but it will now include all the files he has managed in the past seven years.

Part of McHattie's role as the head of the serious crime unit was to allocate files to other detectives.

The name of the case file is assigned to detectives on a computer system, but the physical file has to be handed to them.

We have our own hypothesis, based on evidence and the events that have come to light so far, some of yet we will not disclose.

Source: NZ HERALD
That said however we are looking forward to Rachinger's trial, unfortunately for Ben, not because it will do him any good, he will likely be convicted, but because his viva voce evidence, in the coming months, may prove to be the missing pieces of a puzzle we here at LF have been working on for a much longer period than just 2 years.
In fact Rachinger's single biggest mistake may prove to be that he wasn't one of us, an LF team member. Instead he foolishly attempted to spin a story, to rewrite history using deceit.
Team LF have been around a long time, working on corruption since well before the internet was even a reality; much longer that Benjamin Rachinger has even been on the fucking planet, whatever planet that is.
Over the coming week we'll be publishing a few posts that further shed light on what has bee going on behind the scenes and piecing it all together for our readers.
References/Bibliography
http://www.nzherald.co.nz/nz/news/article.cfm?c_id=1&objectid=11464855
http://www.stuff.co.nz/national/crime/8402925/Decision-outrageous-says-sex-abuse-victim
http://www.policeassn.org.nz/newsroom/publications/featured-articles/where-eagle-dares
http://www.laudafinem.org/2015/04/21/whale-oil-hack-dirty-politics-new-zealand-police-arrest-cyber-activist-with-strong-labour-party-connections/
http://www.laudafinem.org/2015/05/04/the-rachinger-identity-espionage-thriller-or-just-another-bad-outbreak-of-the-streisand-effect/
http://www.laudafinem.org/2015/05/09/the-rachinger-conspiracy-what-was-in-it-for-matthew-blomfield-and-crew-fraud/
http://pundit.co.nz/content/slater-slams-history-at-least-the-discussion-of-it
http://www.laudafinem.org/2015/06/08/the-rachinger-conspiracy-is-it-really-dirty-politics-or-just-plain-dirty-press-gallery-journalists/
http://liberation.typepad.com/files/nz-politics-daily—7-june-2015—rachinger.pdf
http://all-embracing.episto.org/tag/ben-rachinger/
http://all-embracing.episto.org/2015/05/11/the-b3nraching3r-allegations-part-three/
http://all-embracing.episto.org/2015/06/08/the-b3nraching3r-allegations-part-four/
http://all-embracing.episto.org/2015/05/04/the-b3nraching3r-allegations-part-one/
http://all-embracing.episto.org/2015/06/14/the-b3nraching3r-allegations-part-five/