Matthew John Blomfield went public a few days back, this time however he did not use Lynn Prentice's online toilet paper to do it, On this occasion Blomfield's so-called statements were made via Pete George's blog www.yournz.co.nz.
Since Lauda Finem exposed the connection between the Rachinger attack on Slater and the likelihood that Blomfield was behind it there have been all sorts of repercussions, some of them behind the scenes, some less concerning on social media.
First we had a little twitter fuck fest with the two boys from Scoop, their Journo mate Matt Nippert and some wacky purveyor of conspiracy theories, a bloke by the name of Matt Denteth who likes being addressed by the apparently fashionable title of "professor" and was seemingly so interested in Lauda Finem's take on Rachinger that he carried his tweet shit-fight over to his own blog.
The three so-called journo's, Alastair Thompson, Matt Nippert and David Ng, attempted to shoo Lauda Finem away as they all continued to fan the flames, whilst attempting mouth to mouth on their cash-cow Rachinger after Team LF had killed it. All unfortunately to no avail, both the cow and it's story were dead. Not that Rachinger's account really had much life in it to begin with, manufactured distractions never do.
So why is it that this distraction was required, in fact critical to Matthew Blomfield? funnily enough the answer is to be found in yet another of Matt Nippert's "business" stories, although strangely enough this time, despite the inordinate amount of time Matthew John Blomfield had spent with Nippert, ensuring he got it right, Blomfield didn't even rate a mention. Of course that's just part of the story, the other part involves Matthew Blomfield attempting to thwart a police investigation, with some help from the police it would seem.
Now all of this we wouldn't ordinarily mind, it's all in a day's work, save the fact that Matt Nippert and the New Zealand Herald have been warned about their own association with Matthew Blomfield and of course their role in facilitating Blomfield's corporate frauds, both past and it would now seem present.
Team LF did however take more exception though to three "journalists", Ng, Thompson an Nippert's very obvious attempts to ridicule LF's work  and then attempt to manufacture the existence of a rumour that Lauda Finem was owned and operated by Cameron Slater. Whilst somewhat unfortunately for all three men this failed to get any real traction, with the exception of course of a few anonymous trolls "professor" Matt Denteth who ensured the falsehood was immediately restated in material posted to his own blog (LF has collected a great deal of information on Denteth that is very concerning, especially his connections in Hamilton, New Zealand).
Almost everyone with any credibility would laugh at the notion that LF was Slater's plaything, or as Denteth so eloquently put it "a vassal blog of Slater's"
The fact that at around the same time LF had made the observations of the three so-called journalists strange behaviour publicly Blomfield had also moved to file a memorandum in the High Court making exactly the same spurious allegation, At paragraph 11. of the aforemention memorandum Blomfield falsely declares;
It all makes sense if you have the facts in their entirety, unlike the "journalists' whose true agenda has yet to be established. An agenda which will no doubt be tested soon enough in legal proceedings.
Under these circumstances there can be no doubt whatsoever that these events were not merely a random coincidence. That Blomfield had, as is his modus operandi, engineered the Rachinger allegations, then ensured that they became public knowledge and quickly.
The plan being that Blomfield could then rely on citing those same tweets, the various statements attributed to "credible" journalists to yet again attempt to mislead another High Court justice, pretty bold strategy really, but it did rely heavily on the element of surprise and of course the police conducting the fraud investigation into Blomfield on behalf of the liquidator of plan Z not getting wind of the scheme.
On that score LF would advise the liquidator of Plan Z and any other interested party to make inquiries of the police themselves. Just why has it taken police so long to investigate both the plan Z fraud and the theft of 100K, both crimes committed by Blomfield with lawyer Mike Alexander's assistance?
A third significant likely component to this memorandum is that Mike Alexander and his parter, Hemsaith, are currently being investigated by the Law society for their role in facilitating a number of offences, including a purjury committed by Blomfield in evidence submitted during Slater's High Court appeal.
With the above in mind there is also absolutely no coincidence in Blomfield's choice of Lauda Finem story to present to the High Court contained in his memorandum; hoping to falsely attribute the story to Cameron Slater.
The article cited deals with Blomfield's serious criminal offending around amongst other things the theft of circa $100'000 from a business partner, the involvement of Thompson and Toresen investigations and issues with Plan Z and the aforementioned liquidators lodging of a formal complaint with the New Zealand police.
The story can be read here, The House of Cards that Matt Built. That article was followed by another, Matthew John Blomfield: The A – Z of Plan Fraud, the post contained links to the liquidators report. At the time there was another complaint lodged with police against Blomfield which also related to the theft, and the additional allegation of converting a cheque
The liquidators complaints of fraud and theft for example have not been withdrawn as far as team LF are aware and by rights should have been investigated by now. However it is somewhat surprising, to say the least, that the complaint does not seem to have made any progress in police hands".
Given Blomfield's history with the New Zealand police we here at Lauda Finem have serious concerns that the police complaint may have been improperly dealt with by police. LF suspects that Blomfield's High Court manoeuvring has been specifically designed as an attempt to avoid that police investigation, an investigation that by rights should now have been well and truly done and dusted.
The New Zealand police have serious form in the area of loosing police files, in the process delaying investigations, so has the investigation into Matthew Blomfield's alleged fraud simply been dropped into a cupboard and conveniently forgotten, or is there some other explanation for the delay?;
As aforesaid team LF have had ongoing concerns around the police's preferential treatment of Blomfield in the past. The failure of police, the Serious Fraud Office and the Office of the official assignee to investigate his offending properly. This incompetence however is not limited to Blomfield. LF have received a number of complaints from readers detailing police failure to investigate crime, – alleged frauds in particular rank high on that list.
Only a matter of hours after the Rachinger twitter exchange the New Zealand Herald published Matt Nippert's latest Blomfield inspired con-job;
Matt Nippert has covered this particular story almost exclusively, all bar two articles (reference/bibliography available below). Team LF intentionally noted via a tweet, the strangely co-incidental publishing of Nippert's article and we did so for a seriously good reason: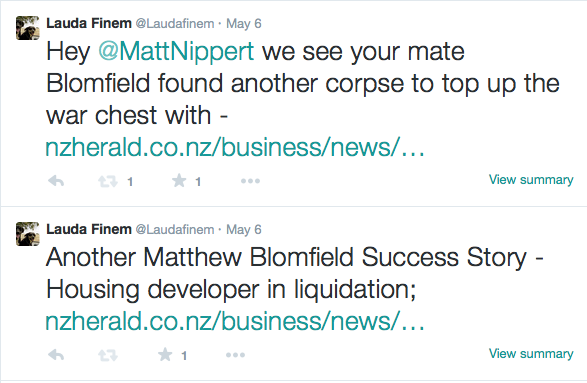 LF has been supplied an open letter that was circulated among the home owners that had been affected by the difficulties Tribeca Homes had experienced. We have also received, over a period of some months, more information from creditors, also affected by the companies difficulties and the strange goings on. You can't begin to imagine our surprise when Matthew John Blomfield's name kept cropping up again and again.
LF suspects that the collapse of Tribeca homes is another case for New Zealand's Serious Fraud Office. Over the coming weeks team LF will be putting the finishing touches on a comprehensive report into the failure of Tribeca Homes and the associated entities.
The letter was written by one Roy Arthur Giddens, who it would seem is also the CEO of Oryan ltd . Team LF have reviewed Mr Gidden's conclusions and we tend to agree with a lot of what he has said. However LF does suspect that Mr Giddens may have placed just a little too much faith in two players in particular – Mark Richards being one.
Mr Roy Arthur Giddens, in letter sent to the homeowners who have likely now lost everything, opines;
An open and honest letter from the office of Roy Arthur Giddens 

Dear Homeowners,

The following letter maybe the last in regards to the correspondence and my efforts to offer my help and opinions in regards to the unfortunate experience and debacle you have all gone through with your investments with Tribeca and associated companies. As you or at least some of you know and hopefully realise I have been instrumental in helping you all and trying to sort this problem and unravel the truth for the greater good. The feedback towards in me and despite the time of have given to help you all I felt has not been appreciated by the majority. I have been accused of been of some sort of conman, feeding snake oil and just accused of been downright dishonest with bad intentions. I have been threaten with legal action and told I am a lying and deceitful.   Even been accused of trying to extort more funds from you all. In all cases this is not at all true and the fact of the matter, my time and the fact I have held meetings and spent much time trying to help you all out has actually cost me money. However I am not a type of person to give up and am known to follow through on everything I set out to achieve. My intentions are and always have been to expose those who you had all put your trust in many months or years ago to give you security and a solid investment. As the perpetrators had all promised you to give you total security for your future should it be for your retirement, family or simply a home for yourselves. You all have been let down, and I had recognised this. The questions has always been and you all must still be asking yourselves this "why he would do it". Simple really, because I had recognised that someone needed to do it, someone who can act as independent, have no capital investment or interests in any of the effected parties or companies. As you know, I started out as wanting to give advice simply to a friend. I recognised there were a number of innocent people who are been badly hurt. As I looked more closely at what has been going on I started to unravel a scheme that has been going on for quiet sometime. (As some of you may researched my back ground you will see over the years I have helped out many people in some way or another). Believe it or not there are some good people who do help others for no gain or motive. I believe in justice and I also believe in transparency. Been involved in the resource sector I need to be completely open and transparent at all times. This explanation I have given you can be taken any way you like. Nevertheless this is not about me, and how I feel, I am a big boy and at the end of the day I will simply move on and carry on, no matter the outcome. If you would like my opinion and what I see is the best way out please read on. If you feel I have nothing to offer please disregard this letter and email and push delete, but warning I will be upfront with you all.

What has happened?

The initial idea of Tribeca was most likely conceived to service the market place, to take a position for opportunities where people can invest in an expanding and growing real estate market. Auckland was experiencing huge capital growth and vast amounts of immigration into the area. Homes were and still are in short supply and the capital value of homes were on a dramatic increase. The idea is and still is a very sound investment opportunity. No question about it. A number of companies and financial advising companies were set up to take advantage of these opportunities and some are very successful. (Blue Chip was not one of those). However these successful companies are all been managed by people who are well versed and have a great knowledge of this industry sector and knows how to operate a business that would become successful.   New players do not have the experience or knowledge they never had, the detail knowledge on how to operate and how to manage a company that handles large sums of investment funds or how to manage a growing property portfolio or project manage a "building Company" is not something you can learn overnight or conceive when sitting around thinking your "ego" can do anything. . Any person all group that enters into an industry really does need experience and expertise no matter what industry you enter into. (Common sense)

"It is a known fact that if you come up with what you believe to be a great idea does not make you an expert or professional until you have proven success".

Unfortunately in Tribeca's case and by their own submission they did not have the professional ability or experience. This fact and the fact that one of the key players was also bankrupt and had failed on two other occasions had shown it was not a good idea in reality. The company was always doomed to fail. As the company started to fail the directors and the key players thought they could trade their way out by encouraging more investment, spending more funds and creating an ill conceive façade. In all cases when this happens with any company the lies get bigger the deception increases and all those involved try to cover up the deception only to hope that something will happen to put them on the right track to success. (Never will happen) Like any scam or pyramid scheme it never happens ask 'the wolf of wall street". Tribeca was doomed to failure form the start. No matter how the good the façade looks at the end of the day it was only a façade.

The Network.

The companies who were involved to create the façade worked together believing the main company Tribeca was able produce the product initially. They looked at the idea and the market place. On face value the "network" all must have agreed by working together collectively they all saw this as money making business where all the various expertise good take their own separate cut (pound of flesh) and make their own profits. They would have seen rapid growth in the sector, a great way for people to invest and secure their future. They had seen themselves as a service industry that offer sound advice and great investment opportunities. Legal opinions and financial opinions was the specialty form some and good accounting practices from others. All good stuff when offering investment schemes in this industry. But was this advice which was genuine and offered to everyone with complete honesty, integrity, and transparency. Most likely at first it was, and probably the intentions were genuine. Nonetheless as the product provider started to fail then the façade was created. (a disguise to cover the bullshit). The demise of the product provider (Tribeca) was known to all. This is a fact, or was it complete deception from the start. Evidence shows that it could have been implemented to lie and deceive when the Tribeca web site was created, when the directors and operators of all the companies were not truthful to the clients and when the company became to the point of not completing homes. Resulting to the point of been deceitful to people and asking for funds for work that had not been completed or even started. (False invoicing was submitted) Evidence shows this could have started as far back as 3 years earlier from when the exposure of the company was actually uncovered. The façade had been created and many more clients were pulled into the investment scheme while all this was going on. No client was ever told of the true nature of what was happening. The main player who was Bankrupt at the time never informed any client of his position (by law he is legally obliged to) Instead cups off coffee were supplied and the client was "crunched" to sign on the dotted line. None of the other companies, management or directors who were recommending and promoting the product provider (Tribeca) were informing the clients of the actual position of Tribeca. These companies were still happy to take fees and commissions from all the clients leaving them completely exposed to the failure of the company. The "experts" who claim to have industry knowledge in there various rolls still worked with the product provider and happily provided the services. All these "experts" claimed the product provider was a stable and successful company and were one of the best in the country. ("Yeah right" does anyone feel like tuis yet?) The website that promoted Tribeca had made claims off "success" offered various products and made promises that were outright lies or ill conceived. Collectively the whole network of expertise conspired to create the façade to take funds from clients knowingly in a way to be illegal and providing bad advice.

Who is the network?

Product Provider: Tribeca.

Director Mark Richards. As the sole known Director as the company stands presently Mark as the accountant representing the company and 10% shareholder. Mark should have been responsible for the funds and disbursement off. However from my understanding the work Mark had undertaken was done in good faith. Mark had worked and had given sound advice to the senior management of the Company. The previous project management company was invoicing Tribeca. However the invoices were not questioned and we believe more money was taken from the company by the project management company throughout the contract time. Mark as small shareholder had no responsibility to question the invoices and paid what was due. The experience of the managers of Tribeca was least to say terrible. The lack of experience and lack of understanding was amateur. What's more the main person who was bankrupt only was interested in selling product and taking commissions. My belief was Mark Richards was a puppet he simply did his job as instructed.

Ratish Mani – Sell Manager (actual management)

Ratish Mani, was the senior "sales manager". Although we have evidence he was involved in all aspects of running the company and making senior management decisions whilst still bankrupt, it is evident he was operating illegally and making bad decisions, not keeping a close eye on the "project Management Company". A great deal of funds was taken out from the company to service Ratish lifestyle needs. This was used to pay for expensive rental properties, supply a large salary, pay leases on expensive vehicle, and to pay for overseas trips all which of could have been illegal if the Official Assignee had not been informed or permission had not been sought. In other word it is evident Ratish was living beyond his means and operating illegally if the OA was not aware. Later on when it became obvious that Ratish was becoming more involved in the company he made decisions and arrangements to employ people and contract trades to work with for Tribeca without informing the Trades he was a bankrupt. Once again this practice is completely illegal without the knowledge of the OA. Evidence showed Ratish had deliberately lied and was deceptive to clients and trade creditors on many occasions. When trade creditors and clients attempted to contact him because of problems that were occurring he became elusive and un-contactable. Ratish Mani encouraged new clients to invest with them whilst ignoring other clients who waiting on homes to be started or finished. He promoted Tribeca as a good sound investment whilst knowingly having the knowledge the company was failing, and will falter. Ratish Mani conducted meeting with contractors, negotiated contracts and lied to contractors all the while he was a bankrupt. Once again an illegal practice. Ratish Mani is the one of the main "culprits" behind the promotion, marketing and failure of Tribeca and the demise of both clients, contractors and sub-contractors. He is completely accountable to answer questions on his performance, salaries and lifestyle.

The project Management Company

Although the project Management Company is, I believe are also involved in this and other managers who hightailed from the company in December 2013. The project management company was certainly part of the appalling management of the company. I am unable to prove anything against them. I have not been able to talk with them or them wanting to talk with me. I believe they actually used Tribeca as a cash cow and when they had seen the writing on the wall they were gone. "It was a matter of taking the money and running". Yes they went off and started their own company and are now operating. I also believe in time and on investigation we will find this company and the management are responsible for the loss of funds and over charging of work undertaken as well as employing bad contractors to deliver inferior work.

I note to all owners it is highly important a complaint is made to the SFO so this company can be investigated and if found to be misleading and false invoicing there will be some sort of claw back from this company. 

The Mani Family.

The Mani family who are the main shareholders of the company had invested money into the Business. It is not clear how much money they had invested. It was only at the later stages of the downfall of the company that Mani senior had been bought in to help manage the company. By this time the company was in "dire straits" (not the band) and there was nothing the Mani senior could have done to save the company, except investing more funds. The question was, were they obliged to invest more funds. At this stage the shareholders do have a choice to invest more funds or stop the funding completely. I cannot answer that questions. Personally given the state of the company and the bad decisions, I would not do so. However at this stage the shareholders and ex director should of come to the party way before this stage, declared the company insolvent and stopped the business when it was obvious there was no profit to be made. The shareholders and directors should have pulled the pin on the company. The Mani family had an obligation to stop any more funding and cease trading many months or years beforehand. In my opinion they had an ill-conceived view of their son and thought he may be able to work his way through the problem, despite the fact he had been bankrupt at least twice before, he was operating the company, making bad decisions and living beyond his means. Are the Main family responsible for the demise of Tribeca? The answer- most likely not financially, but morally yes.

Goodlife financial –Daniel Carney

Goodlife had been involved in interviewing and giving advice to many of Tribeca clients. The client list was provided by a subsidiary of Tribeca. As a financial adviser Goodlife is responsible for giving sound advice which they knowingly will be a safe and secure investment for clients. In return Goodlife will receive a consulting fee from the clients. However they also received a commission from Tribeca. Although Tribeca subsidiary had provided the client list. (Not a good look boys) Daniel had admitted this commission in a recent herald article. This practice is "questionable" to say the least, whether they should receive commissions from a firm they are solely promoting and knowingly realising that the company is not in a good financial positon. Goodlife also received other commissions from Sovereign finance. They could have also received commissions from prudential law and Gareth (Epsom Tax), but this has not been substantiated. Goodlife had much to gain by recommending Tribeca as a "good stable" company to clients. They had known of Ratishs bankruptcy all along and should have informed clients as well. As financial adviser they do have obligation to inform clients of these facts. Daniel had knowingly promoted Tribeca as a sound investment for a long time whilst knowing that Tribeca was in financial trouble. This can been proven because he knew of delay tactics, Tribeca was using while houses had been started and never finished. This was obvious because a home should take approximately 3 months to build from start to finish, and yet homes had taken up to 3 years and most well over 12 months. Daniel was also aware of the fact drawdowns were been paid to Tribeca knowing these invoices were false and the invoices were submitted before the work was completed or in some cases were not even started.

Goodlife has also accused myself off demanding $25,000 from complete homes if I passed contracts onto them from Tribeca clients. This is an outright lie something I had made very clear at the recent meeting. At no time had I done this. They had stated this a letter from there legal advisers and also in a letter to you all. The fact of the matter is, exactly the opposite happened. SDCON ltd (Shane Campbell) who Goodlife has been promoting as a building company to you all had sent me a Text which I still have a copy of, asking me to pay him $15,000 per contract of which he stated he had 20 contracts from the Tribeca clients provided by Daniel Carney. Joseph Christopher from complete homes who was my accuser. He had actually viewed this text, of which I have witnesses he had. His comment at the time was Shane was an "Idiot" and should not have sent it to me. Needless to say I did not or would never accept such an offer. My conclusion that Daniel, Joseph and Shane openly lied to you all of which I can reveal the evidence. What's more Daniel, Joseph and Shane are working hand in hand to organise more funding what future projects, once gain this is a fact which was told to us by Joseph himself. (Yes they are in bed together)

As some of you who was at my office on the 15th of January you would have witnessed a person who was deliberately sent in by both Daniel Carney and Shane Campbell to upset the meeting. It was not long before we realised this person was sent in to tell lies and to make false accusations. Once again is this good practice for a person like Daniel to be involved in such bad behaviour and slander. Again I was personally attacked and lies were told which this person did actually admit to be lies. He gave a false name and refused to identify himself. He was like a loose cannon who actually backfired. What's more one of Daniel client was used to allow this to happen. This person came up and told me what happened and was very upset. The question really needs to be asked would you all or any of you work or go on further recommendations from a person who has lied to you and has and still is purposely deceitful.

Daniel Carney really needs to answer some serious questions on his actions and motives.

Prundetia Law. Andrew Kennedy

Andrew Kennedy was recommended by Goodlife to act on behalf of all the clients. He would have had deep inside knowledge of what was going on with Tribeca. Instead Andrew still promoted and stood by knowing the company will fail. From my discussions with many clients Andrew did not provide the service clients expected. He did not advise the clients on the internal working or the potential failure of Tribeca.   When clients asked for sound advice many clients are upset that Andrew never gave them what they wanted. This has been reported to me on many occasions, many clients feel they over paid, got put off to get out of contracts or taking action to move forward, questions were never answered when asked and they now realised that Andrew knew of Ratish been judged a Bankrupt. Andrew has never answered specific question when put to him. Andrew and Daniel was asked on many occasions from clients for them to bring a meeting together for all the clients so they can act collectively. He had refused to this, because he wanted to treat each case individually.

Andrew and Daniel have formally formed a Company together Called Healthy Wealthy and Wise. The question is are they planning on working together to create a company that will mislead people on their services again.

Gareth Collard.

Gareth Collard has not been directly implicated in this conspiracy. Although he was and still is working closely with Daniel Carney from Goodlife. It should have been the duty of Daniel to inform Gareth of the problems with Tribeca and Ratish bankruptcy. As a professional person if he had known of these problem he should have informed all who was dealing with him. The question will be asked in future investigation was he aware of the façade, and was he informed of the problems.

Let the SFO ask these question directly to Gareth

SDCON LTD. Shane Campbell.

My personal dealings with Shane Campbell has not been conducive with good business practices. I have known Shane for over 14 months now, we entered the business arena under the idea of working together as part of a Group of skilled individuals to provide a service to build affordable housing and to provide homes to Iwi throughout New Zealand.   In brief, we departed company because Shane was dishonest and worked behind our backs and did not pay his way. He refused and considered himself to be the leader although the formation of the group was bought together by myself. I have found Shane to be not only dishonest but extremely deceptive. In this case Shane had sent me the text asking for the $15,000 per contract of which he claimed he had 20. Sara Fleming had asked him about this he did admit to her he in fact did send the text and his excuse was "I did to see if Roy would tell others". ( Is this guy stupid or what) I find this to be completely unprofessional and proves the man and company cannot be trusted.

I highly recommend not to work with Shane Campbell.

Complete Homes-Joseph Christopher

My dealings with Joseph was least to say very brief. At no time was I going to work with the developer. He has no building experience and has been involved in developments in the past where considerable amounts of money has been lost. In researching Joseph, I realised the homes he has shown on his web site are mostly homes he has been involved in or built. (yeah the site looks great but really) Joseph was invited to a number of meeting all of which were confidential, and stated as such. Despite the agreement to keep shared information confidential he shared it with others who we asked specifically not to. Joseph also lied when he stated I asked him for the $25,000 for him to take up contracts we maybe undertaking in regards to any Tribeca contracts. Since I was and never have been involved in determining who was going to take contracts it was obvious I never had any say, who I could give them to. Joseph had re-laid this miss information to Daniel who then in turn re-laid it back to his lawyer. In the Goodlife lawyers letter to me this was bought up. In a recent correspondence to yourselves it was also bought up. Daniel Carney and joseph Christopher had known this to be completely an invention and misleading and yet they pursue it as if it is true.

My recommendation is not to work complete homes. They are purely developers and you will never know who the builder will be. 

Way Forward.

Matt Blomfield and I had a meeting on the afternoon of the 24/01/2015. In this meeting we discussed the way forward. Matt and I have always got on very well although he has acted on behalf of Tribeca. His role is to find solutions so all will turn out better than it is for the owners and creditors. Matt and I have always agreed on certain solutions to make things better. We agreed the first most concern for the owners is to complete all homes that have started and to build all homes that have not yet begun.

The second solutions was to investigate and find any funds that could be available. Then disperse back to creditors including owners who have paid deposits, been overcharged for invoices and then trade creditors. If we are able to achieve these two things all is not lost and end of the day everyone will better off than what you all are presently.

However to achieve this, it needs to managed in a pragmatic and strategic way. This should be done by assuring the homeowners can have the homes finished to a high quality, which has been promised, completed in an acceptable time frame and on time, and lastly completed at a fixed affordable price with a certified builders guarantee.

Our conclusion is, as I have always recommended it to be under taken. For the owners to achieve this it should be taken on by a building company that is national established, has been in the market place for a long time and will guarantee the build to finish in the time frame. Matt and I believe the company who I suggested and elected and who gave a presentation at my last meeting in the office was Golden Homes. This company will give you the best price to build your homes from start to finish using high quality materials. As you know I recommended this company because it builds all its homes in Steel frame. The reason I emphasis and encourage you to use this building method because I know and believe it is the most suitable product to build a home. When the home is finished you cannot tell the home is actually steel frame as opposed to wooden frame. But I can tell you all this, the home will not rot or have any problems like timber frame have suffered from in the past. Steel frame is a much more stable product than timber and its lasting qualities are much longer than any timber frame home. I personally would not recommend wood frame.   In saying that, many homes have been built with timber frame and the home that have already started needs to be completed using this building method. I therefore can only recommend you do complete your homes using timber. Once again you are not able to tell the difference. If you choose to disregard my recommendation then I suggest you use Rok Build. Rok build has a lot of experience in building homes and come highly recommended by the Auckland city council to fix leaking buildings. They are conducive and will assure you that with their experience are able to guarantee your build and assure you home will be weather tight. Rok Build are also certified builders. Many of you may not know but a certified builders guarantee is a stronger guarantee than a Masters builders Guarantee. I say this because anyone can become a master builder (even complete Homes) should they have a certificate in building or not.

A certified builder does have to be fully qualified.

Recovering any losses.

Matt Blomfield and I discussed how we can recover any funds. We know for a fact that there are funds which are recoverable by using a number methods. At this stage I cannot give you detail but our plan is to meet with Mark Richards to sit down and have a positive discussion. I will be requesting Mark to supply me account details and the complete books and will also be working with the company Grant Thornton who will act as liquidators. We know for a fact there are funds which are able to recover from certain agencies and claw back methods from commissions. Money that is still legally owed to the company and salaries from certain people who have been over paid.   In due course I will be able to inform all creditors exactly how much funds are available for disbursement.

At this stage the funds will total in the hundreds of thousands. However I will only undertake to do this with the consensus of a large majority of the creditors meaning yourselves and trade creditors.

Complaints.

I encourage you all who have not done it yet to write to the SFO and the FMA to lay complaints if you feel you have a genuine complaint of those all involved in this fiasco. I am very much aware that some of you blame only certain people and not others. If this is so then write a complaint to the necessary authority. In the previous emails I have stated the email addresses. Additionally if you choose to write to the FMA the contact there is Stephen Brunton. I also encourage you to write a complaint to the Ministry of business, insolvency division about Ratish. This guy needs to stopped in his tracks. The sooner you can do this the better, as I believe Ratish is on the move and maybe running away overseas. This should be done tonight to have him stopped from leaving the country. If you choose to do nothing these guys are going to do it again.

If you do nothing to stop Ratish, then I suggest send him a "Bon Voyage card" and wish him all the best in his next career move. 

Where I stand.

Hopefully you all would have read this letter to the end. I apologise for it to be long and drawn out. I have tried to make it as brief as possible but something's just have to be said. My next move really depends on all of you. If you or anyone think I am just "Shit Stirring" then maybe I am. But I can tell you this, I do this because sometimes the truth has to be said. I have open myself up for all sorts of litigation by those who I accuse. However I don't mind this because if I am up for litigation then the positive publicity I feel will be in my favour. The negative publicity will come back on those who take an action against me. I am also sending this letter onto the media to give them a good insight on how things have transpired from the initial news item. My objective is to show these people up for who they are and to act as a warning that there are people who are determined to see justice is served and we in New Zealand are honest and not corrupt. It is a duty of us all to stop injustices happening to good people and letting those who are greedy and dishonest to be stopped in their tracks. I certainly hope you have all recognised this and will come together as group to tell your stories work together as a team. None of you are known to each other but do have a commonality which is been placed in position you never thought you would be in when all you wanted to do was secure a future for yourselves and family.

Ask yourselves this question are you deserving of what you been through and would you like others to go through the same experience.   I know the answer to the question.

Lastly

If you do not agree with anything I say then please just keep it to yourselves. My intentions is to help and not hinder any of you. I know there are people out there who agree with some if not most of the things I state. So please do not bring those people down for they are innocent. If you are supporters of any of those who I accuse then good on you. If you wish to attack me then I invite you to come to my office which is on the 27th floor of the PWC Building 188 Quay Street city. Maybe you can bring these other "friends" along to answer some hard honest questions. Or maybe you would like to organise a meeting where I am happy to attend and make sure you ask Ratish, Daniel, and Andrew along to it as well. I am sure there are many of others who would like ask them very simple and honest questions. But please do not attack those who only want to seek the truth and want real answers.

For all those who supported me and my motives I wish you all the very best for the coming year. I certainly hope good fortune goes your way and please just put this all down to life experience when it is all over. God speed in resolving your glitches of life.

Please remember this my own personal quote- "only fate knows the future and time will Tell"

Kind regards to you all and your families,

Roy Arthur Giddens.
As already stated team LF are not in agreement with absolutely everything that Mr Roy Giddens has to say, we suspect much more dirt and the involvement of Mark Richards (photo above) and team Blomfield in the executing of documents without authority – in this case we have absolutely no doubt that we will eventually nail it.
People who have been harmed by the collapse of these companies, be they creditors, house buyers or their legal advisors, should feel free contact Lauda Finem. Whilst we do hold an extensive list of names there is of course the possibility that our list is not complete. Contact can be made in the first instance by using the comments section at the bottom of this article, leave contact details and a member of team LF will then be in touch.
Team LF are also interested in investigating further the role that New Zealand Herald reporter Matt Nippert may have played in facilitating the cover-up of this likely significant fraud against Tribeca Homes, it's associated entities and stake holders.
Such is the case that the effort expended by Blomfield and Co to manufacture a diversion, using Benjiman Rachinger's so-called expose, to muddy the waters and further by, we believe deliberately, erroneously attempting to place in the public domain for the consumption of the High Court alone a connection between Cameron Slater and Lauda Finem.
No doubt in the fulness of time Lauda Finem will get to the bottom of it all, including the involvement if any of the three aforementioned journalists and one so-called Waikato University professor, Mr conspiracy theory himself, Matt Denteth.
The results of Team Lauda Finem's investigation will be published on the website in the fullness of time, once all stakeholders have had enough time to digest the contents of our report. LF understands that Blomfield has already threatened a number of people with defamation, should they speak publicly or go to the media, our advice is to ignore any threat made by Blomfield or any of his known associates.
Not that going to the New Zealand Herald would have been such a good idea in any event, with criminals such as Matt Nippert stalking the corridors of the once venerable institution!
This case undoubtedly has all the hallmarks of a Blomfield fraud and cover-up, including the audacity and scale and may actually be the one that brings Blomfield and his pack of dogs unstuck, including lawyers, Mike Alexander, Bruce Johnson and the very young Miles Beresford.
Get some rest Matt, you're looking tired!
References/ Bibliography
Tribeca Homes scam
http://www.nzherald.co.nz/business/news/article.cfm?c_id=3&objectid=11443777
http://www.nzherald.co.nz/business/news/article.cfm?c_id=3&objectid=11420054
http://www.nzherald.co.nz/business/news/article.cfm?c_id=3&objectid=11402997
http://www.nzherald.co.nz/business/news/article.cfm?c_id=3&objectid=11397223
http://www.nzherald.co.nz/business/news/article.cfm?c_id=3&objectid=11389886
http://www.nzherald.co.nz/nz/news/article.cfm?c_id=1&objectid=11387725
http://www.nzherald.co.nz/nz/news/article.cfm?c_id=1&objectid=11421129
http://www.3news.co.nz/nznews/builders-down-tools-over-180k-pay-dispute-2014103118
Ruawai property scam
http://laudafinem.com/2013/12/17/tvnz-john-hudson-matthew-blomfield-and-the-ruawai-property-scam-part-one/
http://laudafinem.com/2013/12/20/tvnz-john-hudson-matthew-blomfield-and-the-ruawai-property-scam-part-two/
http://laudafinem.com/2014/01/15/tvnz-john-hudson-matthew-blomfield-and-the-ruawhai-property-scam-part-3/