Regular readers will remember our last post on the Ben Rachinger story and the allegations he'd levelled against Kiwi blogger Cameron Slater. It would seem that a most unlikely mainstream media outlet decided to pick the story up and run with it. We say unlikely because New Zealands TV3 had shown no particular interest in the story when the wild-eyed Rachinger had first appeared on twitter spinning his yarns.
In fact back then it was a story that no mainstream player seemed interested in, at least to the extent that they were prepared to run with Rachinger. All were quite happy to sit back and run complimentary stories supporting the main players which at up until recently had been Rachinger himself and the clowns at the labour party's online propaganda toilet roll, the Standard – heavily promoted by both administrator Lynn Prentice and his Neanderthal side kick the toxic lawyer Greg Presland.
In fact its because of the role that these two clowns had played, the absence of any serious MSM player and our prior suspicions around Ratchingers contact with LF that we suspected the hand of serial fraudster Matthew John Blomfield. Those suspicions still remain as the latest fiasco produced and broadcast by the Media works owned TV3 has done little to add to or substantially alter the facts as they stood, and of course the available inferences.
However as it turns out there are some very important facts that TV3's "The Nation" omitted to include in their account, as featured in last weeks edition, which aired on both Saturday and Sunday mornings, which do dramatically alter both the credibility of Rachingers account and of course the programs own somewhat sudden decision to get involved.
Team LF has received a substantial volume of what we would term ancillary information, evidence that shed light on what is in our view a very concerning aspect of Media works decision to get involved.
Otago university academic Bryce Edwards recapped the events of the past week earlier today in a peice that he penned for the New Zealand Herald, who again despite the Standards claimed involvement well over a month ago, seemed to remain happy to sit on the side lines and take pot shots at Slater from a legally safe distance. LF suspects for very good reason, that they too were well aware of what it is that we are about to disclose. Bryce Edwards opined:
Dirty Politics Done Dirt Cheap

2:56 PM Monday Jun 8, 2015Add a comment

Political cyber crimes are going to be a big part of our future. The information age makes that so. With so much political activity occurring digitally, we can expect that hacking, privacy and surveillance issues are going to be central to the way the political system works. And policing such crimes is also going to be crucial. That's why the latest allegations of Dirty Politics, aired in the weekend, are worth taking seriously.

The latest mini-scandal over blogger Cameron Slater was broadcast on Saturday in The Nation's 14-minute investigative story More Dirty Politics?. For a shorter version of this, see Lisa Owen's four-minute TV3 News item, Slater accused of offering blog hack payment.

The allegations are made by IT professional, Ben Rachinger, who was formerly close to Whaleoil blogger Cameron Slater. Rachinger claims to be a whistleblower on the nefarious Dirty Politics-style cyber activities of Slater. Rachinger says that he took money from Slater but never undertook the activities that were expected of him. Instead he turned on Slater and started collecting evidence against him.

One of the activities allegedly paid for by Slater was a request to break into The Standard blog site in order to find out the identities of the anonymous authors, in the belief that they would be revealed as Labour MPs or parliamentary staff. For more on this see Patrice Dougan's Herald article, Right-wing blogger accused of paying off hacker, which is the most comprehensive written report to come out of The Nation's investigation.

It's hard to see whether the story has legs or not.
Unsurprisingly, opposition politicians are pushing the issue in the media. For example, Andrew Little has been attempting to connect the controversy with the National Government: "Cameron Slater is probably the most toxic influence on New Zealand politics that we've ever had, and a most unwelcome one… It beggars belief any politician – like John Key and Judith Collins – wants to have anything to do with him – see TV3's Andrew Little: 'Toxic' Cameron Slater not wanted in NZ politics.

Cameron Slater's response

Cameron Slater has essentially gone to ground on the allegations, putting out a rather unusual media release. His statement was merely tweeted as a picture of text, but the full text has been transcribed, and is available on Greg Presland's blog post on The Standard – see: Cameron Slater's statement on Ben Rachinger.

Despite the statement's insistence that Slater would not talk to the media about the allegations, further responses from the blogger are reported in Laura Walters' news report, Cameron Slater denies hacking allegations. Slater is quoted as saying the allegations are "total and utter bulls***".

In terms of the money he gave to Rachinger, Slater says: "It would be $500 here and $500 there… I'm a generous person, I help people out when they're in trouble but sometimes people bite the hand that helps them out". He told the reporter that the loans "had been taken out of context".

Interestingly, Slater has not posted his statement on his blog, and any related comments being made on the blog appear to quickly get deleted.

Reaction to Slater

The reaction to Slater's statement has been entirely sceptical. Rival blogger Martyn Bradbury of the Daily Blog is incredulous: "So, while Slater was publicly pleading poverty and asking his readers to donate money on Whaleoil, he was 'donating' $9100 to Ben Rachinger, but the text messages between the two of them where Slater appears to be procuring a cyber crime aren't real and Cam is actually quite worried for dear Ben?" – see: Slater's bizarre response to the allegations of hacking.

Bradbury has four questions for Slater: "1: Did Cam pay Ben $9100? 2: If he did, why? 3: Are the messages from Slater? 4: Who were the funders?"

Blogger Pete George analyses Slater's response, drawing attention to what he sees as Slater's use of deflection to avoid the allegations: "Slater has made this all about Rachinger. He has not addressed any of the claims, not any of the communications that have been revealed, nor any of the payments made to Rachinger. Slater has not denied any specifics about trying to solicit hacking of The Standard. He refuses to respond, while trying to dump all of the attention on Rachinger" – see: Rachinger tweets Slater statement on his claims.

See also George's blog post, Slater's statement on Rachinger looks dirty, which goes through Slater's statement and points to various inconsistencies and apparent contradictions, and The Standard's 'not Labour' problem, which discusses the connection between The Standard and the Labour Party.

Many of the claims in Slater's statements do appear rather implausible – especially the idea that his financial loans and personal guidance were given altruistically. Journalist Beck Eleven (@beckeleven) expressed her sarcasm on Twitter: "What? So we can ask Slater for loans and mental health support now? And he's happy to do that for people? Totally misjudged the guy".

Policing of cyber crimes

The most revealing new information about the Dirty Politics story is the news that the police are actually investigating Cameron Slater over the claims. The outcome of this could be significant. As Martyn Bradbury says, "The magnitude of criminal offending alleged in the hacking scandal enveloping Cameron Slater could well spell the end of Whaleoil" – see: Could this really be the end of Cameron Slater?.

Bradbury argues that a conviction – and possibly a prison sentence – would depend on "whether Cameron paid Ben, what the $9100 was paid for, and whether it is Cameron who sent the text messages".

Yet, there's scepticism about whether the police are taking the allegations seriously enough. Nicky Hager's barrister, Felix Geiringer ?(@BarristerNZ) tweeted: "So, the NZ Police have been sitting on the Rachinger case for about 4 months. #DirtyPolitics #DirtyPolice".

The beef is that Nicky Hager had his house raided soon after Slater's complaint to police about the publication of Dirty Politics. Martyn Bradbury has elaborated on what appears to be an inconsistent approach from authorities: "Slater, who has been outed for dirty politics get his complaint against an investigative reporter actioned within 36 days that sees that investigative reporter's house searched and evidence of police corruption seized, yet a complaint where evidence is available that clearly suggests a crime being plotted and paid for and it's taken 3 months with no end in sight? In other countries this is called out right political corruption of the Police force. In NZ it will probably get ignored" – see: Compare how long Slater's complaint gets investigated to investigations against him.

Existing material about the Rachinger allegations

The Nation has served to get Ben Rachinger's Dirty Politics story out to the wider public. But the material was already out in the open, mainly though Rachinger blogging about it all in April. His incredibly comprehensive blog posts have since been deleted. But others have attempted to make sense of his information.

Possibly the most intelligent and in depth analysis of Rachinger's claims can be found on the blog site of academic Matthew Dentith, who specialises in "conspiracy theories" – see: The @B3nRaching3r Allegations – Part One, Part Two, Part Three, and Part Four – the last, of which, is particularly recommended.

You can also listen to Dentith's 54-minute podcast discussion: Episode 49 – The @B3nRaching3r Allegations

On the Scoop site, Alastair Thompson has tried to make sense of it all – see: "I Am Rawshark" – Ben Rachinger's sequel to Dirty Politics.

And blogger Carrie Stoddart-Smith has written two very good posts: The Rachinger posts, and The follow-up: The Rachinger posts.

So is Ben Rachinger's story credible? According to The Nation producer Tim Watkin: "Rachinger is not without fault, but we found him credible in this story and the proof he offered compelling" – see: Dirty Politics 2.0.

This latest Slater controversy might appear rather irrelevant, "beltway", too convoluted, or even crazy. Some might simply dismiss it as "old news". But it is a serious topic that deserves proper attention. As with Nicky Hager's Dirty Politics publication, it relates to the health of democracy, the media and the blogosphere.

Finally, if none of the above is of concern to you, or you just want to hear the other side of the story, you've got your chance to join Cameron Slater in his own Decade of Dirt party on Wednesday night, which celebrates his blog's tenth birthday. Tickets are available for $150. According to Whaleoil, "Certain MPs, media and B and C-list celebs will be having their spot in the sun that evening", with a suggestion that John Banks and Maurice Williamson will be in attendance – see: We're throwing a party: Whaleoil's "Decade of Dirt".

Source NZ Herald
Now to be fair when we realised the significance of what we had been handed we did ask a few questions, both of ourselves and the mainstream journo's who had been implicated, in the journalists case via twitter, of those who through their own choice had become key players in backing Rachinger's story.
The first approached was Alasdair Thompson of New Zealand website Scoop.co.nz. Alasdair was approached in the first instance simply because during the first round of Rachingers half-arsed attack Alasdair had at the eleventh hour made the decision to support and promote the veracity of Rachinger's so called expose.
In addition, Thompson had tried extremely hard to discredit anything and everything that team LF had brought to the debate with a few of his own manufactured falsehoods. In fact Thompsons disdain for LF has pretty much continued unabated during the hiatus between Rachingers two online "exposes".
In the end however, Alasdair Thompson, rather than giving us a straight forward yes or no answer to the questions we posed, resorted to name calling, claiming that team LF were liars and malevolent trolls, who should not be believed or feed.
Of course this type of response might work when its a troll that you're actually dealing with. A fact that Thompson was only given to realise when he attacked one of his own followers who had had the audacity to point out the obvious inferences that had developed – along with Thompsons failure to give a straight answer, of course all the available inferences have now been set in stone and Mr Thompson, parliamentary journalist, has no one but himself to blame for his predicament: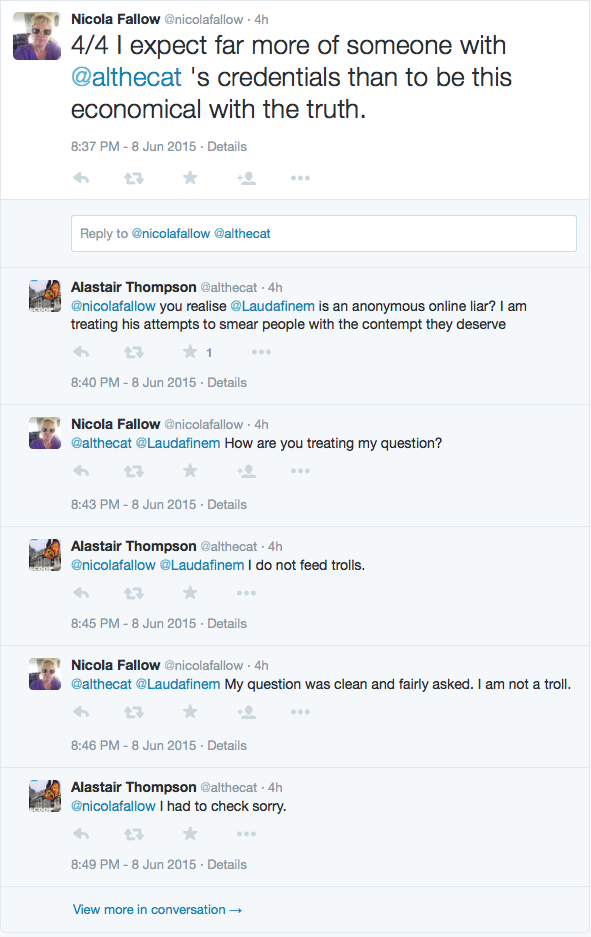 So why did Alasdair Thompson, aka @althecat, need to check? What had materially changed to bring about his apology? The fact is the tweeter, @nicolafallow, had made four very good points, without needing regard to who she might be (see image above) – all of which we had hoped our own followers would have picked up on: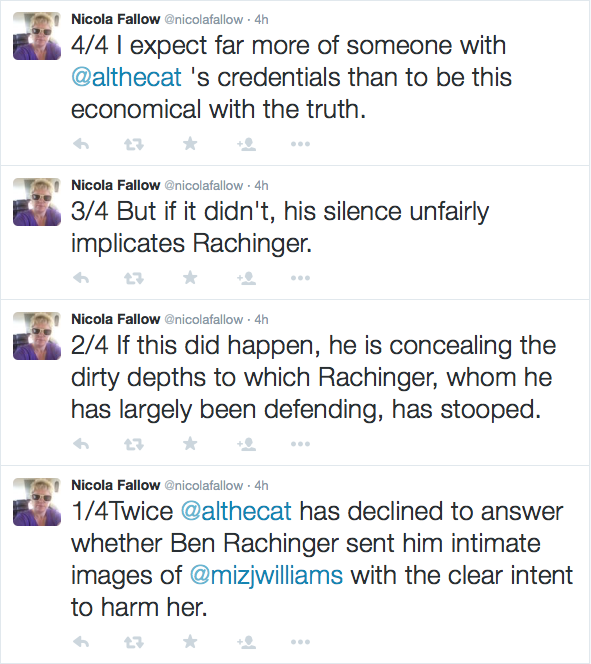 The disgusting part of this is that Thompson did not publicly acknowledge his receipt of this mysterious anonymous tweet, we suspect however that he may well have given Nicola Fallow a little more info in a private message after he had figured out that far from a being the troll he had accused her of she was in fact a very well-connected freelance journalist.
Thompson, as did many other journalists, not only allegedly received the photos, but was also allegedly then approached by the victim, Jessica Williams,(aka @mizjwilliams) and asked to ignore Rachinger and the images as he was attempting to blackmail her – having allegedly threatened to destroy her career and get her the sack.
Of course there is no such thing as a completely "anonymous tweet" and Alasdair Thompson knows it……what was the name of the account used? Why didn't Alasdair retweet his alleged anonymous twitter informant to Nicola Fallow as evidence of his claim, the bullshit explanation he had given Fallow?: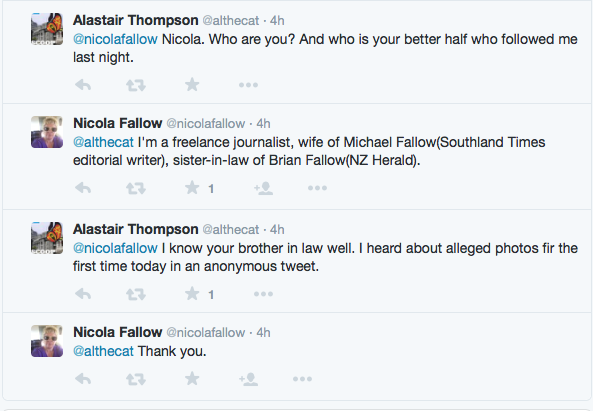 Of course the fact that Thompson had allegedly received this so-called tweet had nevertheless not dampened his enthusiasm for calling team LF liars and scumbags.
So do the photos exist? Of course they do. Are they genuine, yes they are, at least in that we here at LF believe the images were made available to other journalists by Rachinger in what appears to have been an attempt to publically embarrass  and or in some other way harm Jessica Williams and her career.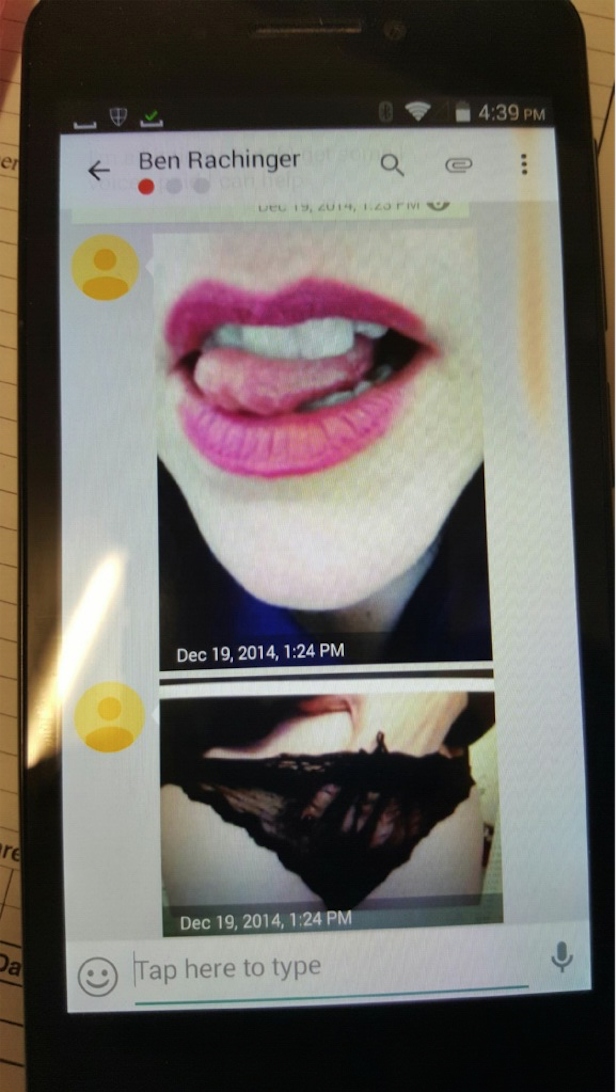 So what was Rachingers motive? This is where it arguably gets a little confusing. The allegation is that Rachinger had been having a sexual relationship with Williams. An affair that had for some reason turned sour. That he had then attempted to extort her using intimate images that she had sent to Rachingers mobile. Now all of this could very well be true, however there are other available explanations that don't necessarily involve Williams being in a genuine relationship with Rachinger.
There is no doubting that the face shots are of Williams, you do not need facial recongition software to arrive at that conclusion. But the groin area shots are another matter, obviously there are no visual queues that enable the viewer to ascertain whether they are of Williams or not. Perhaps an ex boyfriend might be able to recognise her from that detail, but not the average citizen. LF are working on various other information we have received that could yield extra results.
Suffice to say the allegation is that mainstream media journos (the entire parliamentary press gallery in fact) had been sent these images. Further, that Williams herself had then approached those same journalists requesting that they ignore Rachinger.
Now when one adds to this allegation the fact that it was subsequently TV3's "The Nation" that ran Rachingers story and that Williams had in the past (2010) been the producer of that particular Media works programme then things start to get a little hairy, in fact far more hairy than Jessica Williams nether regions.
Then add to that the allegation that Rachinger had also been employed by Media works TV3 then things certainly start getting extremely fucking hairy and there is of course more than one feasible scenario if Slater had additionally been a recipient of these images.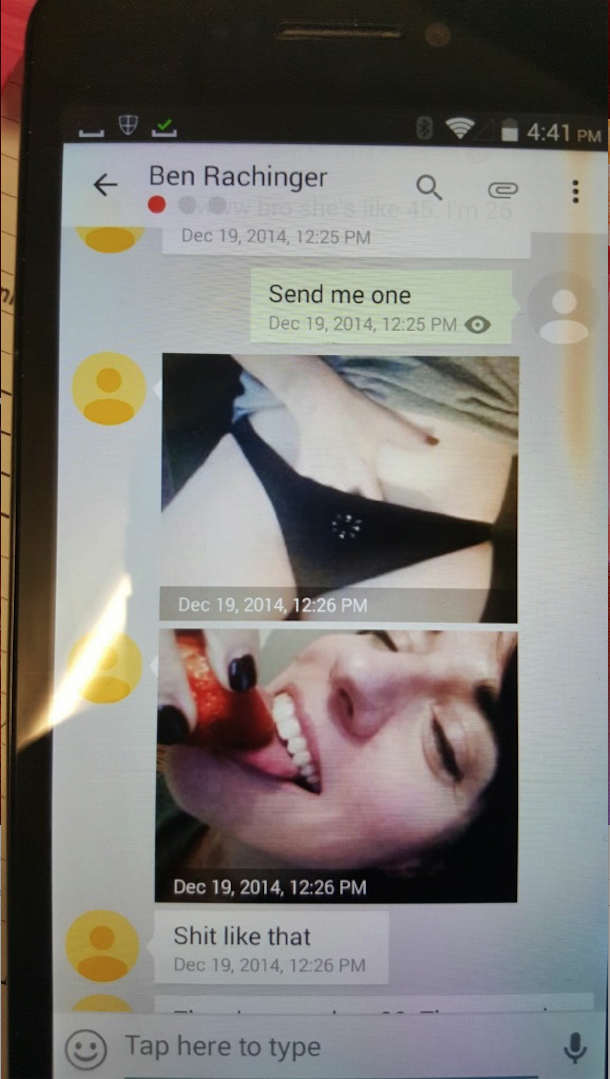 Of course the allegation is that the parliamentary press gallery then colluded to shut down the story that Rachinger had attempted to promote to fuck over Williams. All very feasible stuff when looked at in light of the above images. However as aforesaid there are other just as realistic possibilities.
They are however possibilities that come about only if other journalists had not received the above images. That the only person to have received them was perhaps Cameron Slater. If that was the case then a whole new set of possibilities are in play, not the least of which is that journalists, including Jessica Williams, had colluded in a conspiracy to set Cameron Slater up. After all we know that the face shots are definitely of Jessica Williams, it's only the images purporting to be of Williams groin area that are in question.
So if one works on the assumption that the groin images are not Williams and that Rachinger had sent these images only to Slater then was Williams complicit in supplying the authentic face shots? After all were the face shots available publically online somewhere? Given the tone of the images it does not seem at all likely. We will touch on a few of the other possibilities in later posts.
What now interests us however is the fact that Williams ex employer, Media Works and their current affairs programme "the Nation" then made the decision to take up Rachingers story, when quite obviously they had shown absolutely no interest in the matter beforehand.
To be honest, in the absence of an extremely plausible explanation, in these circumstances one would have to start asking a few very hard questions. Why the sudden interest? Was Rachinger employed by Media works? Did he have a sexual relationship with parliamentary Gallery Journalist Jessica Williams? Did the relationship end with a nasty bust up? Did Rachinger then in a fit of rage threaten to ruin Williams career? Did he at then send these images to Williams fellow parliamentary press gallery colleagues hoping to harm Williams? Knowing how erratic Rachinger is its certainly possible. Otherwise, if indeed genuine, how is it that these images are in public circulation, surely they would have been intended for Rachingers only?
If the answer to all of these questions is yes then the next question would be did Media Works and the producer of that programme then subsequently agree to a deal, to shut Rachinger up? To run a story that would attempt to fuck the credibility of Rachinger's latest victim and a man that they probably all hated anyway…..brownie points all round?
We know that Slater. unlike his lewd attack on a gay Kiwi politician, did not publish the images of Williams so did Slater in fact ever receive them? If so, given Slaters history, why did he not run the story Rachinger had allegedly wanted the other political Journo's to run?
There are so many questions  – why didn't Alasdair Thompson, if he had only yesterday heard of the images, say so? Why did he instead accuse LF of being liars and malevolent trolls? Surely any journalist worth their salt would have been curious, wanting to know about this recent development and establish if there was any truth behind it? Unless of course Alasdair Thompson already knew, having seen the images back in December last year.
Sorry but Scoop.co.nz editor Alasdair Thompson's piss week excuse, as supplied to Nicola Fallow, just does not ring true in the circumstances.
LF believes that Thompson knew exactly what Lauda Finem was talking about, he'd also seen the images, he became far too angry an almost immediate anger, which is of course completely understandable given that the stupid cunt believes LF to be Cameron Slater reincarnate.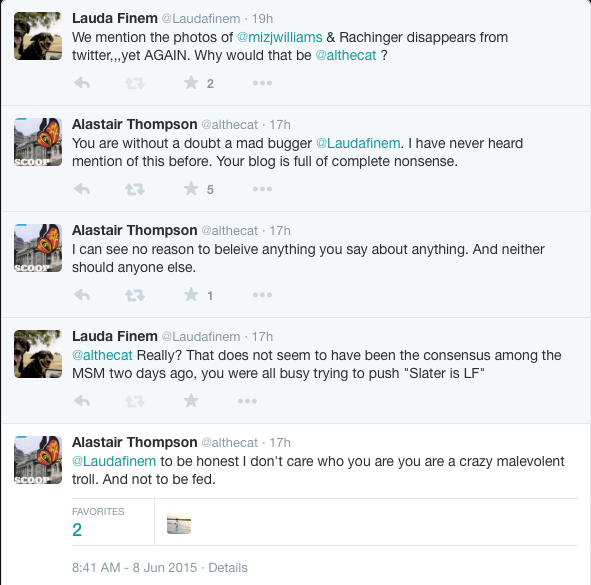 So given the fact that the photographs do exist, despite Alasdair Thompson best efforts to convince his followers that team LF were liars, the images are clearly, at least in part, of Jessica Williams that all appear on what seems to be Ben Rachingers cellphone. So who are the real liars? Alastair Thompson? The MSM perhaps?
Lets start again with Alasdair Thompson, he is most certainly a liar. He's accused Cameron Slater and others of being behind LF, going so far as to publicly claim that Slater was ghost writing or somehow owned Lauda Finem, doing so without providing one shred of evidence. Thompson has denied knowing anything about the images, then shifted ever so slightly to, oh I just found out via another anonymous tweet, when in fact all of the available circumstantial evidence points to Thompson having known all along.
Then we should look at a very close look at Media Works, in particular "The Nations" producer, Tim Watkin. After all what was it Watkin is purported to have said:
"Rachinger is not without fault, but we found him credible in this story and the proof he offered compelling" – Tim Watkin
What a load of Horse shit, although having said that it's undoubtedly very compelling when someones holding a gun to the head of a fellow journo Jessica Williams, or was it her career Rachinger had been intent on murdering?  Then again it could have been both Rachinger and Williams who had together attempted to set Slater up? Who knows? But it does not look good for any of them.
What we do know however is that at some point in this whole twisted convoluted conspiracy saga a very hungry Hyena entered the fray, Matthew John Blomfield, and boy is he wanting more than his fair share of what they all believe is Whale meat…..There is so much more to come on Blomfields involvement, but that's for another post.
So what about the star of Rachingers last failed broadway production, the ex producer of "The Nation", Jessica Williams? What has she had to say about it all on twitter? Surely if the photo were fakes she'd have been on to LF pretty quickly, even if it was to let us know that the images were a scam. She certainly knew where to find us, that much we're completely sure of.
It's sadly all rather simple really, despite LF warning Jessica of the situation and giving her the time required to contact us with the truth it seems that she had already been busy meeting with a few of Matt Blomfields online friends instead, almost a month ago she was busy doing a spot of research…..Why would that have been?: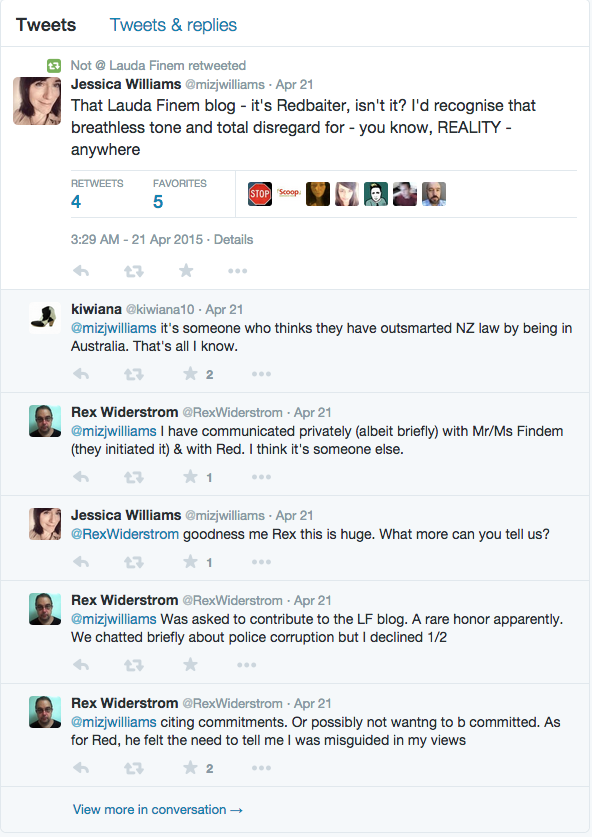 Jessica should have done the right thing, she should have contacted LF directly, we'd have been happy to have a chat. We had after all seen her as just another victim of Rachingers psychological disturbance in this the latest rumble that he's just shut down and appears to have walked away from, despite all the fucking bravado: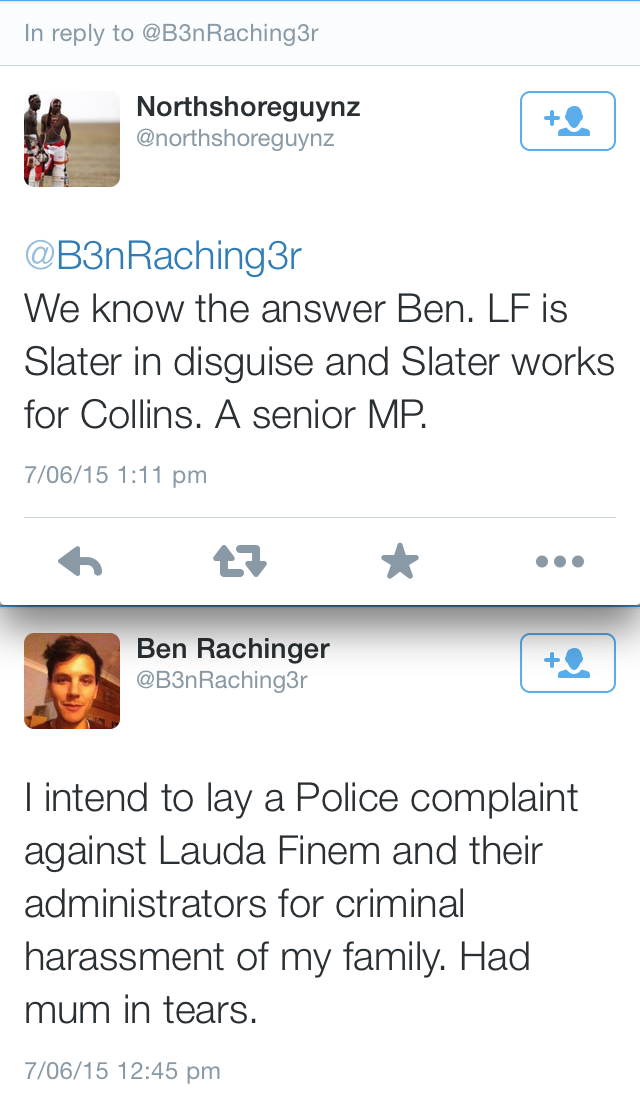 Poor old mum, perhaps Ben should have paid a little attention to the possible ramifications of his own actions before he started his campaign of lies and deceit, which in the end if not checked would have hurt a lot more Kiwi's than Ben and his family could even poke a stick at.
The truth is that again the circumstantial evidence points to Jessica Williams having played a role in researching the Media Works story and given the circumstances of her alleged sexual relationship and blackmailing by Rachinger that distinct possibility could have serious ramifications within the context of the current police investigation.- i.e. was this a setup from the start? Have the so-called facts the Rachinger has pulled out of his arse been deliberately misrepresented?
As most regular readers will realise Lauda Finem have collected evidence of serious criminal offending by New Zealand journalists, almost every one of them openly leftist and now it would seem all out to nail the country's largest right wing blogger – seemingly, even if it means breaking the law themselves to do so.
With what we have managed to collect so far it would seem that New Zealand's politicians are complete fucking amateurs when it comes to playing dirty, it would also appear that the country's journo's are running rings around them. There's another question that should also be asked – has Jessica Williams made a habit of sleeping with her informants, is that why Rachinger got so pissed off when jilted? We certainly don't by any means have all the pieces to this family sized jigsaw puzzle but we will get there in the end …we always do. The big question however is did any of these journalists, Williams included, report Rachingers alleged extortion attempt to the New Zealand police? Or did they deal with it themselves by giving Rachinger a little something to keep him happy?
So, who reckons Kiwi journo Jessica Williams will remain of the view that LF has a "total disregard for – you know, REALITY"?
As for Alasdair Thompson, we don't take kindly to being called "liars" and "malevolent trolls", especially by a two-faced corrupt cunt or a journalist who has spent the last decade or more hiding behind his so-called "credentials" and is now plainly desperate to grab headlines for his doomed paywall publication.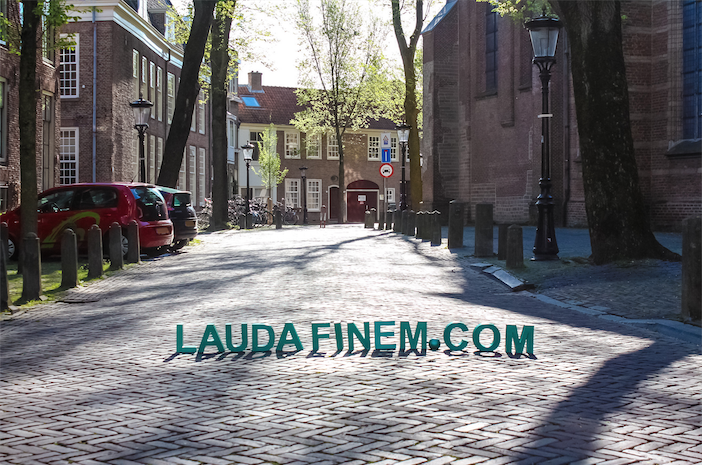 Footnote: Team LF have never communicated with Rex Widerstrom, if in fact he used his true identity. Kiwianna is in pretty much the same boat, in that she has provided Jessica Williams with yet more misinformation. LF is not located in Australia, a fact that we have reiterated only recently, we are certainly, for the most part, Australians – but of course one doesn't have to be living in Australia to be an Australian, as the above photo may well indicate. Australia or New Zealand? We suspect, as would anyone with half a brain, that its neither location!
Funnily enough back in 2010 Jessica Williams gave a little public lecture all about "online misinformation",and the mainstream medias role in this very bad habit.  We found it most enlightening, especially coming from an individual who holds membership in a group of MSM journo's that are, somewhat hypocritically, up to their fucking necks in the art of feeding the public spurious crap. Alastair Thompsons latest tweets are evidence enough!