Corrupt cover up supremo Dodgey Merv Derecourt has passed over to the other side. He's dead…pushing up daises. Which ever way you put it his subscription to Police corruption quarterly has been cancelled. Unofficially known amongst his copper mates as "Merv the perv" for his association with sexual offenders such as  Detective Jimmy "Baton Boy"  Cunningham, and practicing sexual pedophile predator "Lock your kids up Keith" Mitchellmore and the Christchurch Creche investigation.
Mervyn Edwin Derecourt  passed away on the 27th October 2007 at Nelson , sadly missed by all us here at Lauda Finem, and his corrupt buddies in the force. Merv loved a good laugh from what we have seen. And for that we have to say "good on you mate" .
Talking of laughs one of the best was covering up for the criminal conduct of Detective Cunningham of the ever infamous Gisborne CIB.
These criminal clowns made Detective Dewar ( Prisoner Dewar now) look like a choir boy.  Anyway back to Merv's coverup of Cunninghams conduct. Cunningham was a weedy little toe rag of a DC learning the ropes under the tutelage  of DC Malcolm "Turkey neck" Thomas aka the planter . Thomas had instructed Cunningham to bend the arm of a couple of brothers who owned two local Gisborne Resthomes. Thomas had arranged for both brothers to be falsely accused of bitch slapping ex-cop Brian "Basher"  McBreen, a surley retired old copper with a penchant for breaking into his clients business premises.
Cunningham didn't have the testicular fortitude to complete his assignment without the addition of some extra judicial weaponry and this clown of a cop turned up armed with a large baton to give the resthome owners the bash. He really was the dumbest of this cadre of bent Gisborne officers that made up the local CIB.
The Gisborne CIB included the likes of Hemi "cheap shot " Hikawai " known for bashing MOT officers and others and getting off with a $ 500 dollar fine. Hence his nickname. Other CIB officers, Naden, Thomas, Neilson and others had been arrested for the assault kidnapping and torture of  Dickie "Diesel" Maxwell. Maxwell would subsequently end up murdered. Detective "numb nuts" Naden was arrested for attempting to pervert the course of justice over the same matter.
Cunningham was ineptly assisted by a squad of uniformed police, whose role was to subdue the brothers should they attempt to resist arrest and that was Cunningham's instructions from DC "Turkey neck "  Thomas.
Denning in particular had too much street smarts to get caught out assaulting the brothers…sorry arresting them with extreme prejudice, especially when he did not know how many staff or witnesses could turn up. The youngest brother in a moment of genius picked up a camera and snapped Cunningham approaching him and threatening to assault him. Constable Denning intervened and restrained Cunningham,. escorting him from the rest home before witnesses turned up.
The police left and the brothers the subject of DC  Malcolm Thomas's conspiracy to falsely accuse met the crooked CIB officers at the safety of their lawyers offices and were arrested. Their lawyer Tony Chrisp was seriously intimidated by the presence of the Gisborne CIB officers ,to the point of telling the brothers, to get out of his office.
Cunningham however compounded his stupidity by turning up in the same cloths he had worn earlier in the morning and was promptly photographed again. The two brothers arrested were then driven through town in the police vehicle to cause as much embarrassment to them as possible.
Merv was heavily involved in attempting to explain the conduct of  Police pin up boy James Kenneth Cunningham. According to Derecourt Cunningham had a subconscious habit of carrying large pieces of wood and sexually assaulting junior members of Police civilian staff During police hours. Derecourt put that advice in writing to the victims, well the bit about the baton. Not even Merv was stupid enough to get caught with his paints that far down.
According to " Merv the Perv" Detective Cunningham was a well respected member of the Gisborne CIB. Given the reputation of the Gisborne CIB who were prosecuted for kidnap , assault, drugs, conspiring to defeat the course of justice and gun offences . Cunningham was a pin up boy adding serious sexual offences to this list of criminal charges. …."Respect"
Rumour has it Derecourt was at the airport when Detective James Cunningham fled New Zealand for England. The brothers made a formal complaint at the conduct of Cunningham, with Merv Derecourt . Derecourt had no where to go with the photographic evidence so wrote the dumbest exculpatory letter ever by a bent cop.
"Detective Cunningham has a habit of carrying items like the piece of dowel referred to subconsciously…"
"I have required that Detective Cunningham confine his habit  of carrying sticks to non police hours, in order to prevent any misunderstandings of his behavior."
Having covered up the Gisborne debacle for the NZ Police Force Derecourt was promoted to Christchurch to continue in the footsteps of well known Police coverup specialist John Jamieson.
Derecourt presided over such illustrious police investigative successes as the Christchurch crèche , Peter Ellis case. Derecourt had nothing to say at the time about the investigating officer shagging the mothers of the alleged victims.. Derecourt had nothing to say about the alleged big black penises, he had nothing to say when all the women accused of the offences were set free and he had nothing to say when the poor little gay guy was sent up the river to spend time with his mate pedophile Keith Mitchellmore.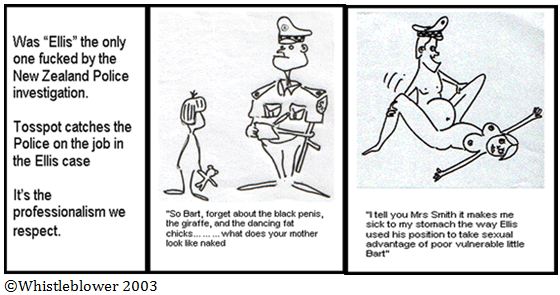 At the time that Merv was in charge of Christchurch Keith Mitchellmore the ex accountant for Hilite Industries was involved in committing horrendous sexual offences against local young boys. To his credit Mitchellmore plead guilty, his son was also heavily involved in the drug trade and convicted of growing and distributing drugs.
It was'nt until Merv the Perv retired that both the Mitchellmores were arrested charged and convicted of sexual and drugs offences. Keith Mitchellmore was a co-conspirator with Alex lee LLB, Steve Dimery, Brian "Big Bruise" McBreen and detectives Wilcox and Thomas  in attempting to fit up the brothers on a theft charge and stealing the lighting equipment from the brothers Restaurant. Rest in Peace Merv we really appreciated your impartial Policing may god have mercy on your soul.
©Whistleblower 2003
Related articles