The yellow tinted ex-cop Keith "chop chop" Manch REAA CEO and "hitman" for the National Party List MP  "Fixer" Jackie Blue, has done the inconceivable even for a yellow bellied prick. Keith Manch has alleged that good cop, then great private investigator, a man of justice and huge integrity, Bryan Rowe (now sadly deceased and greatly missed) mislead the District and High Courts when giving evidence in a criminal case involving Giltrap City Toyota.
The story is probably the worst case of systemic corruption that can be proven in New Zealand's history. In short Keith Manch has alleged that Mr Rowe perjured himself when he swore that he could clearly hear the covert recording of Giltrap staff admitting to winding cars in 1998.
Mr Manch relies on the findings of a High Court Justice that clearly, purposefully, ignored the criminal conduct of two QC's John Haigh and Michael Reed in interfering with witnesses and court staff and conspiring with District Court Judges (now retired  Bouchier and Lance QC).  The evidence that has been provided to Lauda Finem by numerous whistleblowers will seal the fate of the careers of all involved.
The businessman at the heart of Mr Manchs conspiracy to pervert and defeat the course of justice was but one of the men brave enough to bring the criminal conduct of the Giltrap Group and the two QC's to the attention of the High Court.  He is now being targeted for bringing the criminal conduct of Ray White Real Estate Agent, Mr Martin Honey to the attention of the REAA.
Mr Manch has clearly stated that he intends ignoring the evidence that proves the guilt of all of those involved inclusive of a personal friend of Mr Manch and Micheal Reed's side-kick, barrister Paul Mortens.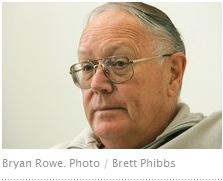 Never before released audio recordings will stun the populace of the "Dark Isles" and put the cowards; Keith Manch, Jackie Blue and Ray White's Martin Honey in the "spotlight" so to speak.  Perhaps, in a way they could never have imagined, but any publicity is good publicity –  "yeah right".
If you're a New Zealander, watch this space; you'll be outraged and just a little pissed off, knowing that many of you have doubtless been shafted by Giltrap Motors as the evidence that was subject to a secrecy order is released because the criminal side wanted blood from an innocent man brave enough to report more criminal offending by yet another "friend" of the National Party.
Soon enough, much to "chop chop" Manch's chagrin, the whole world will be able to judge for themselves whether or not the tapes were audible! Honest cop and justice crusader Brian Rowe a liar Mr Manch? We don't think so mate!
While you wait for the audiotapes to be uploaded check out a small sample of the video footage of Giltrap City Toyota's offending, another of the tapes that the corrupt Mr Keith Manch and list MP Ms Jackie Blue would rather you weren't able to view.
Note: The videos below were disabled by YouTube on  20 April 2012 after someone in power (we suspect via YouTube partner TVNZ) falsely alleged that what amounts to an evidential tape was defamatory. It is of course not defamatory, the truth never is, but the video does evidence Mr Honey's criminal offending and that must be embarrassing for Mr Honey and the REAA.
Lauda Finem have also taken the extraordinary step of closing our YouTube account (in protest) and will be working over the weekend to have the video evidence up and running again, this time under the complete control of www.laudafinem.org so that the likes of Martin Honey and his corrupt national party mates cant touch it………so pop back soon
We are leaving the above cut Youtube material alone , its all proof of NZ Govt/TVNZ corruption and we'll simply post these out of reach videos:
Related articles