ACC case: Minister wrote letter for friend, REAA case: Minister wrote letter for friend, REAA case two: chairwoman assists in obtaining high paying  job for bent cop mate.
Just how many other cases are out there? National Party Ministers have clearly sought to obtain preferential treatment for their mates, fuck buddies and other people they simply think are "lovely guy's".
Late last year we gave you the story of Jackie Blue MP and her letter (on parliamentary letterhead) to Minister Nathan Guy and his subsequent letter (also on Parliamentary letterhead) to Kieth Manch at the REAA; both letters having sought to obtain favours for their mate Martin Honey.
Both letters clearly seeking to influence a civil servant in the performance of his duty, both letters attempting to pervert justice. There is absolutely no lawful justification for the existence of these two blatant and corrupt attempts to save the arse of a National Party mate.
We now have another National Party Government Minister, Nick Smith, writing another of those perverted letters, again on Parliamentary letterhead, also seeking to obtain favours for a national party mate. This one even more damning because Smith lied about the fact that it was on Parliamentary letterhead and its now being alleged that Smith had been, at the time, shagging his pen pal, ACC claimant Bronwyn Pullar.
An allegation that, given Smith's pointed refusal to discuss his private life, one could legitimately be allowed to draw the negative inference and assume it's more than likely true:
During a snap debate in Parliament, NZ First leader Winston Peters called for Dr Smith to resign or be removed from Cabinet, describing the furore as "a shabby little case involving blackmail, sex, a minister with a conflict of interest".

Following Mr Peters' statement in Parliament, Dr Smith refused to comment on speculation about his past relationship with Ms Pullar. "I'm just not commenting on my private life," he said.
The behaviour of this Government, its Ministers  and the National Party in general is certainly on the nose, there is a very strong whiff, perhaps even a stench, and its the unmistakable the smell of corruption.
Nationals Michelle Boag has also been drawn into the scandal with the Accident Compensation Corporation (ACC) claiming that she was present at a meeting during which they also allege Bronwyn Pullar attempted to extort two years of Earnings Related Compensation (ERC) in exchange for the return of confidential client files that had been "mistakenly" sent to Pullar in an email.
ACC, however are certainly no victim , their belated complaint to the New Zealand police is nothing short of laughable, clearly its just another of their cover-up strategies.
On the first point Lauda Finem late last year obtained video footage of the admissions of a long time member of the website www.accforum.org admitting to the existence of a core group of individuals within the forum that had managed to infiltrate ACC at a very high level.
The whistle-blower also gave us an extensive account of the covert operations that these individuals had engaged in, both on line and in real time, with the full knowledge of ACC managers all the way up to the CEO Dr White.
Many of the black op's have resulted in crimes being committed. Those crimes include the provision of false allegations to ACC; allegations that we know ACC staff and management have acted on.
The whistle-blower, in addition to providing a detailed chronology of these events, more specifically provided detailed examples of a number of op's wherein he revealed just how out of control and corrupt the forums ring-leaders and some ACC middle management had become. In one instance they recount the way in which two members of the group and a third outside party, had requested access to ACC's internal data systems and the clients files contained therein.
He names those members as one Tony Lowe of Manakau, who in addition to being a forum member was also at the time a volunteer with the Brain Injury Association.
The second forum member named is Kenneth John Miller of Northland and the third is a car dealer Mr Rodney Milner also of Auckland, who apparently held a grudge against the forums targeted victim
In this account the whistle blower alleges the involvement of two of ACC's branch managers, Ms Janet Tinson of New Plymouth and Ms Sandra McMurdo of Manakau, Auckland.
The whistle-blowers accounts are backed up by a swath of emails and other documents, which he also provided at the time. His reasons for blowing the whistle are believable enough  in that he had been a party to a plot to falsely accuse another of the forums founders who had threatened to blow the whistle on those who had been involved in the black ops.
Two of those members are Kenneth Miller aka "Tomcat" and Mark Davis aka "Freefallnz" who both now control a competing site www.accfocus.org; Mark Davis aka "Freefallnz"  is the sites administrator: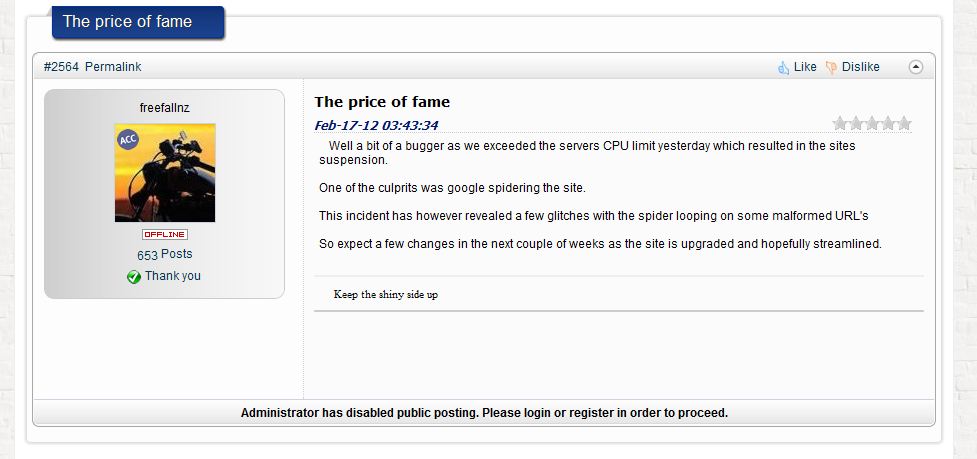 As recently as yesterday Mark Davis was heard (by one of our readers in New Zealand) using Radio New Zealand to call for the resignation of Nick Smith, the Minister involved in the latest scandal. Davis's radio debut occurred not long after his partner in crime Kenneth Miller had posted this: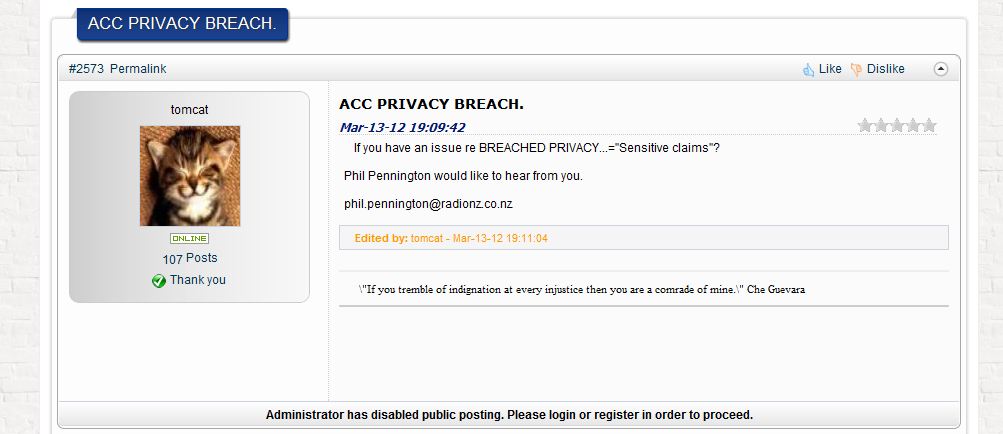 The website www.accfocus was born soon after Miller and Davis (then both administrators) were sprung attempting to steal www.accforum.org's back and front end data files so as to set up www.accfocus.org.  Since we first posted our stories outing their involvement with Bronwyn Pullar and despite having been behind and supporting this story the ring-leaders of both sites have now started attacking Pullar and anyone involved with her, including the Minister Nick Smith, we believe in conjunction with the ACC's spin-doctors who have long supported these criminals. We believe that this cabal were probably originally responsible for Phil Kitchins report as they have attempted identical stunts in the past. Soon after posting this story Kitchin's email address was posted on www.accfocus.org by none other than Mark Davis aka "Freefallnz":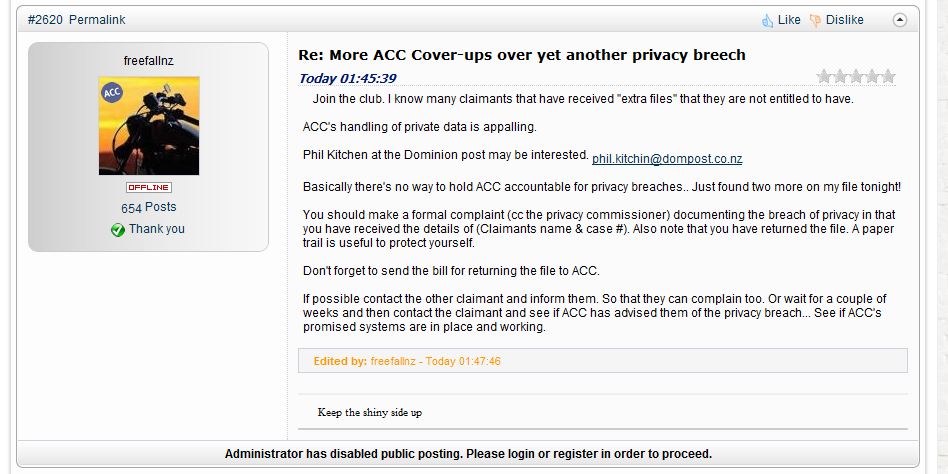 Mark Davis aka "freefallnz" also uses the moniker "mark" on competing site www.accforum.org:

Kenneth Miller aka a "Tomcat" also uses the competing site www.accforum.org: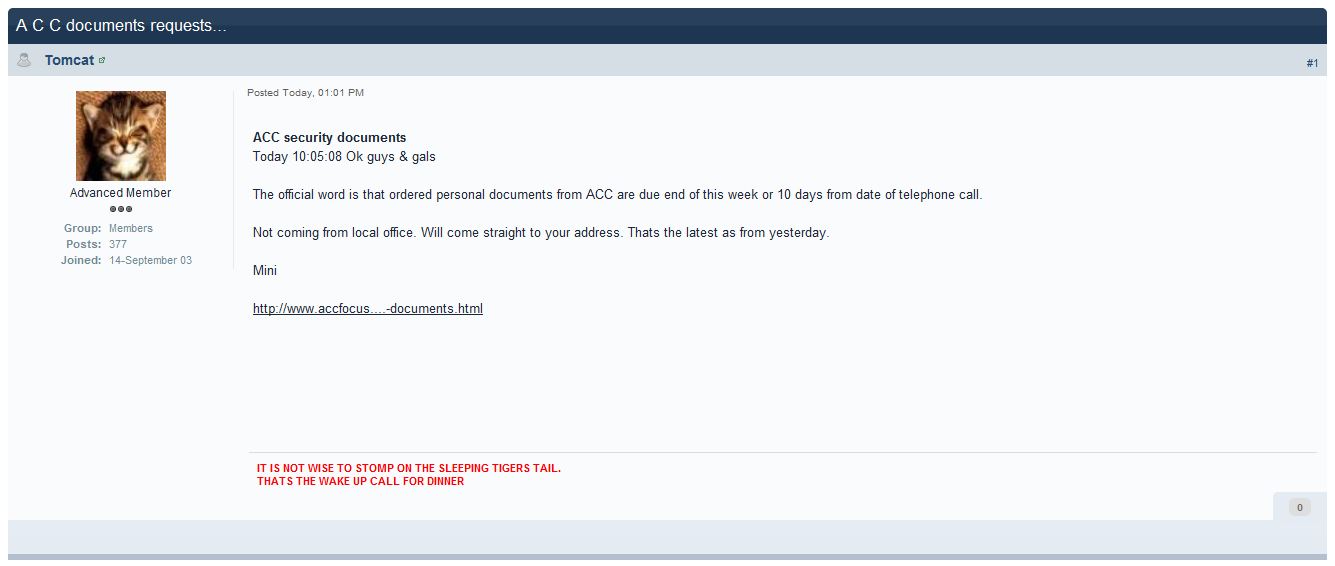 Miller has a long list of criminal offences, copies of which which can be found in our recent post here 
It is our belief that Michelle Boag is undoubtedly telling the truth when alleging that it was ACC staff who had first raised the offer of guaranteeing Pullar's ERC payments.
The reason we are given to believe Michelle Boag's account  over that of the ACC staff involved is two-fold. First and foremost the fact is that ACC has a history of dealing with people or groups that it perceives as powerful by using corrupt methods including CIA style black operations. The second reason, the sudden appearance of ACC's bullshit report and its equally sudden but  belated complaint against Pullar to the police.
Note: The video below was disabled by YouTube on  20 April 2012 after someone in power (we suspect via YouTube partner TVNZ) falsely alleged that what amounts to an evidential tape is "somehow" defamatory. It is of course not defamatory, the truth never is, but the video does evidence criminal offending and that must be embarrassing for the National Government and ACC
Lauda Finem have also taken the extraordinary step of closing our YouTube account (in protest) and will be working over the weekend to have the video evidence up and running again, this time under the complete control of www.laudafinem.org so that the material is beyond the reach of  a Pacific Island, Banana republic, government………so pop back soon!
Related articles