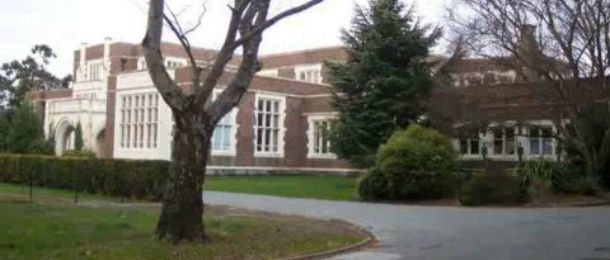 Update 9:57 14/11/2012:
We think that Paula Bennett may have been bullshitting the New Zealand electorate, but hey there's nothing surprising in that.  Unfortunately for the New Zealand National Party, its police and Paula Bennett they haven't managed to "sort it".  
A group that investigates church-related sexual abuse says clergymen from New Zealand are among those that Australian police want to interview. (Radio New Zealand)
Australian police may interview NZ clergy (NZ Herald)
As our New Zealand based readers will be aware, here in Australia we have had a major scandal erupt exposing the Catholic Churches covering up of systemic sexual abuse of children. It all started last week with a very senior police officer, Detective Chief Inspector Peter Fox blowing the whistle on the church cover-up and the NSW Police forces handling of multiple cases.  Chief Inspector Fox, as is always the case with whistle-blowers, is now under attack himself. Yesterday yet another ex-police officer turned Parliamentarian, Troy Grant, entered the frey in support of Chief Inspector Fox and the allegations leveled at the church. The Australian Commonwealth Government and the NSW Governments have subsequently announced two commissions of inquiry;  the Victorian Government had already commenced its own earlier this year.
One of the allegations that has been made is that the church had been using transfers between diocese as a method in which to conceal pedophile priests. Moving the perpetrator to another parish interstate and on occasion New Zealand. Detective Fox named a priest that the church had sent to New Zealand so as to avoid prosecution.
With this in mind Lauda Finem have been scanning our trans Tasman neighbours media for any sign that they would pick up on the story, but no not a peep, sure a couple of stories about the Australian situation but nothing on how New Zealand might have been impacted and or how the New Zealand church hierarchy may have been complicit in allowing pedophile priests to set up in New Zealand. We know for a fact that this was the case in the St John of God scandal, with the convicted brothers having been transferred between the two countries.
So what about the New Zealand National Party controlled Government, where do they stand on all of this, if you were relying on the New Zealand media for an answer you would still be waiting. Australia's channel Nine, however, was all over the story
The New Zealand government says it doesn't see a need to follow Australia's lead and launch an inquiry into historical child sex abuse.

Prime Minister Julia Gillard agreed on Monday to calls from federal Labor, Green and independent MPs for a royal commission into child sexual abuse in all religious institutions, state-based organisations, schools and not-for-profit groups such as scouts and sporting clubs.

It follows allegations of abuse by members of the Catholic church.

However, the New Zealand government has no plans to follow suit, with Social Development Minister Paula Bennett saying enough is already being done.

"I think the fact that we have been addressing historical abuse cases in this country, we have been doing it faster than it's ever been done, we've been fronting up to some of the liability around that and settling a number of cases," Ms Bennett said.

That includes the confidential listening and assistance service, through which people can raise allegations of abuse or neglect, or who have concerns relating to their time in state care before 1992.

"I think we've got other things in place that are addressing what, without a doubt, is cases of historical abuse."

Source: Channel Nine News
The revelation that the New Zealand Government and the Minister responsible is of the view that they have it sorted frankly left us gobsmacked. What planet is this complete idiot Paula Bennett on when she claims:
"I think the fact that we have been addressing historical abuse cases in this country, we have been doing it faster than it's ever been done, we've been fronting up to some of the liability around that and settling a number of cases,"
We've got news for Minister Bennett, New Zealand's Catholic church is up to its neck in historic child abuse cases and the Government has done bugger all to address the offending, undoubtedly because of the potential financial liability various Government Departments would be facing; the Catholic orphanages and schools were required to have been inspected regularly by various agencies and they weren't.
This is yet another fantastical example of how New Zealand, year in year out, manages to appear corruption free. The Kiwi Pollies simply refuse to see evil and even when they can't avoid seeing it they refuse to acknowledge it, its all about keeping up appearances.
This time however the New Zealand Government and its Catholic church may just find it a little more difficult to continue concealing historic child abuse. When it comes to the Catholic Church there are no borders. The inter-relationship between Australian and New Zealand Catholic churches is huge and it would appear that Ms Bennett knows very little about how the church, in these circumstances, operates.
There's another thing that Ms Bennett has foolishly failed to factor in, the unforeseen by product of the Australian Royal Commission. As Detective Chief Inspector Peter Fox pointed out during one ABC interview many of the pedophile priests that had been committing serial offending involving hundreds of victims, when discovered, were exported to New Zealand.
Now Ms Bennett might like to think she can fool the New Zealand public but she has absolutely no sway on what the Australian Royal commission will unearth and that might just be as a result of New Zealander's who were sexually abused as children by clerics supplying evidence by way of affidavit to the Australian Royal Commission, particularly where it might involve priests that had been transferred to New Zealand.
Bennett's statements are farcical, the scale of the problem has already been exposed in Canada, the USA, Ireland, Germany and now Australia. A leading New Zealand sexual abuse support group, MSSAT, have been lobbying for action for years, but apparently Bennett hasn't been listening:
An investigation into allegations of sexual abuse by Catholic clergy in New Zealand is in the best interests of the church, not the victims, an abuse support group says.

Former police commissioner John Jamieson today said he was investigating five allegations of historic sex abuse against members of the Catholic church.

Source: Historic sex abuse cases investigated (Fairfax)
Relatively recently New Zealand's Catholic Bishops appointed an ex cop to head their so called professional standards unit, not just any ex-cop, they appointed one of New Zealand's most corrupt, ex police commissioner John Jamieson.
During his tenure as Christchurch District Commander and later as the Police Commissioner Jamieson over-saw the cover-up of serious police corruption and misfeasance and he did so without batting an eyelid. The Churches website makes a point of painting  Jamieson as an independent non Catholic. Whilst its true that he is not a Catholic he has nevertheless had a long and very cosy association with the Catholic church, especially the Canterbury diocese.
We would suggest that the appointment of Jamieson to a role that is responsible for investigating historic child sexual abuse cases by the church was a deeply flawed decision.
Many victims of church abuse are deeply scarred, psychologically injured and traumatised, many have over the years committed suicide, many more have had adolescent run-ins with police only to be re-traumatised in the process.  So what was the church thinking when it decided to appoint a man that had a long history of concealing police abuse to the investigating role.
Did the Bishops seriously believe that victims of church sexual abuse would even consider taking their complaints to Jamieson…we very much doubt it. We're of the view that Jamieson was selected in order to minimize the potential for successful allegations and complaints by victims. Interestingly, and perhaps a little telling, the church has managed to keep the cases that Jamieson was allegedly investigating in 2009 under wraps and the Government will have undoubtedly played some part in that.
The New Zealand Government needs to establish its own Royal Commission that runs parallel to and co-operates with the Australian Commissioner. Whats more the behaviour of the New Zealand Catholic Churches professional standards office, in that process, needs to be scrutinized.  If the Government fails to act the New Zealand victims need to look at contacting the Australian commission once the terms of reference have been set. Lauda Finem will be following this issue and regularly posting relevant information.
As the names of the offending priests that were transferred to or from New Zealand become available we will be posting the details. If any of our readers or someone they know are the victims of church abuse now is the time to act
Organisations and victim advocates:
Broken Rites Australia — fighting church sexual abuse since 1993
Survivors Network of those Abused by Priests (SNAP Australia)
Related articles