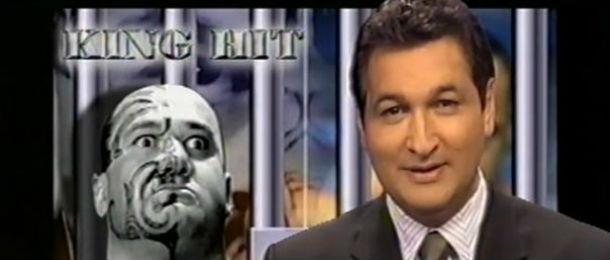 UPDATE: (10:57 hrs (CET), 18th April 2014): Since LF published this piece well over eighteen months ago, in doing so, pointing out the New Zealand p0lice and that countries medias covert methods in smearing victims of injustice and the countries justice advocates, using justice campaigner Dermot Nottingham as an example, the New Zealand Herald has belatededly returned well over 20 stories on Nottingham to their publically available online archive.
Prior to this very recent about turn (LF has been monitoring the NZH website collecting evidence on four separate players, Dermot Nottingham, Garth McVicar, Joe Karam and the lesser known Geoff Levick, since 2010), the Herald had actively engaged in a pasive agressive aproach, concealing all material that accurately reported Nottinghams successes, in freeing innocent persons and exposing corruption for well over a decade.
Lauda Finem, however suspects that the Heralds sudden change of heart was no coincidence, rather that it was brought about by three factors. The realiseation by APN that their journalists had contributed to significant and readily identafiable loses, that litigation relating to a contemporary case playing out in the country's courts was likely inevitable in the coming months and that LF was watching closely. APN's legal minders undoubtedly realised that by reposting the material it would provide the balanced coverage that Nottingham and his clients had been entitled to for years. The question is, will this sudden change be enough to mitigate APN's past behaviour?
Fairfax Media (NZ) learnt the hard way, having settled, out of court, a defamation/damages claim that was about to be brought by Nottingham in 2009, Nottingham having evidenced malice on the part of the organisations journalists. LF will be updating readers on the latest case in future posts.
Note: Despite the fact that the police were eventually unsuccessful in their insane pursuit of Paul Kingi the news articles announcing  the police's capitulation are nowhere to be found online. The only material available would have researchers concluding that the man had ultimately been convicted again. This is yet another example of how New Zealand's media work with a corrupt police force so as to conceal their losses. There are a number of online forums asking the question was he convicted? So we thought that we would post this so as to address the lack accurate information online – Mr Paul Kingi was not convicted and thanks to New Zealand justice campaigner, Dermot Nottingham, is now a free man; living, we believe, somewhere here in Australia.
Kickboxer faces third manslaughter trial

Former professional K1 fighter Paul Takana Kingi was back in court yesterday as his third trial for the manslaughter of his uncle began.

Kingi is charged with the manslaughter of Rangiwananga Kingi, 60, who died from head injuries two days after being felled by a single punch from Kingi on January 6, 2004.

Kingi again pleaded not guilty when the trial began in the High Court at Wellington.

The jury of seven men and five women was told by Justice Simon France that Kingi had faced two previous trials which did not resolve matters, but was told the reasons for that were irrelevant.

"You are the judges now of this charge and that's all that matters," the judge said.

In his opening address, Crown prosecutor Ben Vanderkolk told the jury Mr Kingi was killed by just one blow from his nephew Paul Kingi.

It was "a blow of such force and ferocity and precision" that it lifted Mr Kingi off the ground and propelled him backwards on to the concrete floor of the carport they were in.

Mr Kingi hit his head on the floor and was in a coma before dying two days later.

Mr Vanderkolk said this constituted manslaughter because Mr Kingi was killed by an unlawful act – an assault – by Paul Kingi.
It did not matter for manslaughter that he did not intend to kill his uncle.

"This is a case about a punch that killed a man," he said.

The punch happened during a heated dispute between the deceased and his brother Rongo, Paul Kingi's father, over a bull that one had lent the other and an alleged altercation and assault of a farmworker by Rangiwananga Kingi that day.

At the time of the punch, Paul Kingi was a professional fighter on the international K1 circuit, was 35, weighed 130kg and was 1.92m tall. His uncle was 60, 92kg and 1.78m tall.

Paul Kingi had returned days before from a fight in Japan against a top-15 world-ranked fighter.

Defence lawyer Christopher Stevenson said Paul Kingi had been taken along to help talk to his uncle after the earlier altercation because he got on so well with him. "Paul Kingi and his uncle were mates. They were very close," he said.

Tragically, when he tried to intervene his uncle swung a punch at him and he hit him with "a reactive, defensive blow". Mr Stevenson said it was Mr Kingi hitting his head on the concrete slab that killed him.

He said the case came down to just one question. "Is it possible Paul Kingi, when he struck his uncle, was acting in self-defence?"

Mr Stevenson said his client had been badly damaged during his fight in Japan just days before.

He said the defence would call evidence from a pathologist as to the level of force involved.

Mr Vanderkolk said it was not a matter of self-defence because the force used was plainly excessive.

The trial is expected to last two weeks.

Source: Kickboxer faces third manslaughter trial (NZ Herald)
Related articles