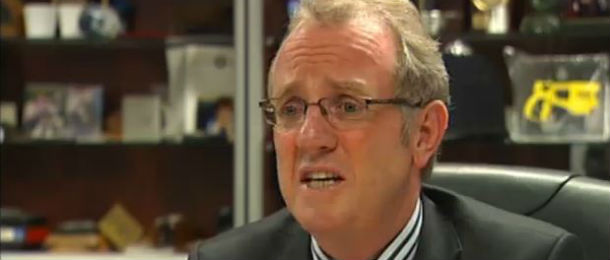 New Zealand Police Association President Greg "pigshit" O'Connor (photo above) obviously really does believe that New Zealander's are as thick as he is with his latest "set your watch" "dump"  being provided by New Zealand's leading tabloid shite sheet the "New Zealand Herald".
If we are talking about criminal offending and fraud, the Police should look at the "Herald" which still, by inference, claims that it is a media force "New Zealand wide".  It should be renamed the "Auckland Herald Brochure" giving that its job seems to be to feed advertorials down the throats of its rapidly dwindling number of readers.
The latest such advertorial was written by Amelia Wade, whose previous claim to mediocrity  was a series of alterative health articles including "greek leech" therapy.
We can only imagine how such therapy would have helped Amelia deal with the likes of New Zealand Police Association's sociopath Greg O'Connor.  Being a New Zealand Police Officer of the "thick blue line", O'Connor would think that such therapy was "greek" for "leeches".  Hopefully Amelia did not suffer like Louise Nicholas did when meeting with "friendly" New Zealand Police Officers.
Wades story "Cops on the wrong side of the law" is clearly that; a "story"; a regurgitation of complete fabrication which O'Connor hopes will be accepted by New Zealander's as indicating that the Police Force is not a bed of corruption and other forms of criminal offending, and is in fact on the way back to having virtually no corruption in its ranks.
Unfortunately for the sociopath Mr Gregory O'Connor most New Zealander's that have never ever been on the receiving end of the New Zealand Police Service are now aware that the Police Services corruption is systematically covered up by the equally corrupt IPCA.
Lauda Finem will bring our readership overwhelming evidence that the New Zealand Police Service is far more corrupt than even Mr O'Connor knows it is; that being exceptionally fucking corrupt.   The evidence, which as always, is irrefutably accurate, and proves that the New Zealand Police Service and its protector, the IPCA, rank as amongst the most corrupt entities in the Second World, soon to be Third World if things don't get better through the establishment of an anti corruption organization that is beyond Government control.
The most important aspect of any anti corruption organization is its terms of reference which should be to "hunt and kill" corruption by any means that are lawful.
Looking at the content of Ms Wades story one only has to have done high school level statistics to formulate that the 2012 figures are not likely representative of the truth for the very reason that the decline in 2012 to 10 arrests from the 2011 and 2010 offending figures of 28 and 29 arrests respectively is so dramatic that it presents as probably impossible.
This phenomenal drop can be easily explained by the lack of effort rather than greater effort to stamp out corruption.  This explanation is in line with the level of complaint that is coming into us from ordinary New Zealander's that have come into contact with their corrupt Police Service for the first time.   The type of offending that led to arrests has also undergone a massive diminishing in seriousness.
In 2010 and 2011 the arrests were for "obstructing the course of justice", "criminal breach of trust", "participation in an organized criminal group" and "accessing computer systems for dishonest purposes", whereas apparently the Police Service's efforts paid rewards with, in 2012, to be mainly driving offending and assaults.  Therefore one should conclude that the remaining Police Officers in the service are all honest.
We have also been contacted by Police informants who advise us that morale in the Service is at the lowest in its history with Police Officers leaving in droves, and those that leave are coming to Australia to work in our police forces which they see as offering much better prospects as well as better pay and life style.
It is obvious that it will be the good officers that are leaving the Service, which will axiomatically leave the scumbags first up for promotion.   We also suspect that it will be the brighter cops that will be leaving meaning that the "thick blue line" will rapidly become the "thick blue sludge" that dwells at the bottom of a putrid barrel.
What is amusing is that Wades number's don't even add up when you of course compere her account  of the alleged offenders as against the alleged arrests.  In 2012 Ms Wade alleges that there were 10 arrests when there appears to be nine offenders, but there are also five charges that were subject to suppression orders, which could impact to make the final figure 14 offenders in 2012.  How the fuck can you have 10 arrests when there are 14 offenders silly sycophant girl.
Incidentally can any of our readers shed any light on what Greg O'Connor means by his claim that there's a difference between police staff and employees?:
And he wanted to reiterate that not all of those arrested were police employees but were police staff.

"But even one is too many," Mr O'Connor said.

Source: http://www.nzherald.co.nz/nz/news/article.cfm?c_id=1&objectid=10857609
We suspect that poor old Greg (or in fact perhaps the reporter, Ms Wade) neglected to include the term "sworn" but lets not quibble over semantics, but then again why not. We should perhaps take a closer look at Ms Wades manipulation of language and fact.
In 2011 Ms Wade alleges 28 arrests, but cites 24 offenders, but then cites 38 offences with "unlawful connection with a female over 16" and "theft by person in a special relationship" proving popular amongst the criminal cops.
In 2010 Wade does no better with 29 arrests but allegedly 25 offenders.  But again the numbers are unreliable as she cites 38 separate offences with "dealing" and "possessing" LSD and "indecently assaulting female over 16" proving most popular with the criminal cops.
We suggest that Wade sticks to reporting on less important matters, which is why she was probably hand picked by the Police Association as she was like O'Connor and the rest of his corrupt cabal, "thick as pig shit".
From the numbers and type of offending it would appear that O'Connors boys like to rape, steal, and pervert the course of justice and we must say that this at least appears to reflect what we know that we can prove to be true about New Zealand's boys in blue.
However we must preclude female police officers on the rape count (perhaps not, there are undoubtedly lesbian and bisexual officers within the force…is that fact non PC), but they do perhaps like to steal cars and pervert the course of justice, but that's a story for later this year.
Our dream here at laudafinem.com is to make a difference to all New Zealander's, at least for the citizens that are not involved in corruption, and to bring those that are involved in corruption to justice.  Of course the obvious becomes apparent; with a corrupt police force, judiciary, and parliament, how the fuck will that be achieved?.
Well readers might like to follow our journey, and they dare become a part of it; remember you can make a difference……it is of course your choice! After all we are a far cry from being the first to challenge the integrity of New Zealand's police force:
laudafinem@bigpond.com
Related articles