The most recent arrival on the www.accforum.org scene is the none other than Warren Arthur Wilson, regular readers will of course be familiar with Wilson as he was tied up with the 50 Million Dollar Fraudster Malcolm Meyer and his cohort.
Warren like the rest of his cyber-terrorist mates at www.accforum.org have become obsessed with the notion that Lauda Finem is controlled by Wilson's legal adversary justice crusader  Nottingham. In fact Wilson was so obsessed with this misguided notion that not so long ago he attempted to take Nottingham to task using this deluded allegation and a few other defamatory tit-bits that he had managed to find at the bottom of the www.accforum.org barrel using the REAA's complaints process. Of course this was in our humble opinion a thinly veiled attempt to damage Nottingham's credibility with the misguided belief that it might somehow assist Malcolm Duncan Mayer who was at the time standing trial.
After months of legal wrangling Wilson was finally cornered by Nottingham and forced to withdraw the vexatious REAA complaint at the 11th hour. Of course Nottingham was not alone in being targeted by Wilson. Warren Arthur Wilson, Malcolm Mayer's friendly liquidator, was no recent convert to employing the legal tactic of making false and vexatious allegations using the courts. There had of course been a whole raft of false and vexatious complaints filed by Wilson with the courts over the years , all of which designed to be obfuscatory, and all of which failed dismally. On more than one occasion judges hearing these cases were given ample cause to caution Wilson:
Wilson like so many others before him, the likes of Fairfax Journalist Fiona Rotherham, had relied heavily on the defamatory tripe that www.accforum.org (s) members had been posting over the years. In fact Wilson had, in early 2012, become so convinced by the material that he had found on www.accforum.org that he decided to go it alone, setting up the WordPress blog www.nottinghamfiles.wordpress.com where he engaged in a spot of online stalking. Unfortunately for Wilson however the site was spotted by WordPress admin and quickly removed.
Following his defeat at the hands of justice and consumer rights crusader Nottingham Wilson went on to have another crack at attacking Nottingham, again using WordPress. This second attempt was with a blog remarkably similar to laudafinem.com, www.laudafinem2.wordpress.com. We suspect that Wilson had probably reasoned that he would grab just a little of our Google limelight.
Again, however, that site was quickly pulled down as it breached Lauda Finem's copyright and was immediately recognisable as a hate site designed to attack Nottingham alone. One can only imagine Wilson's frustration when confronted with the WordPress message:
www.laudafinem2.wordpress.com is no longer available.
This blog has been archived or suspended for a violation of our Terms of Service.
For more information and to contact us please read this support document.
Actually one does not have to try that hard to imagine Wilson's reaction. Almost immediately he jumped on line (26 February 2013) and again joined forces with www.accforum.org, having just brain stormed the hilarious new moniker "Duhmot.Nottingspam" , and with those fat little fingers began thumping away at the keyboard rallying the www.accforum.org cyber-cunt troops with little dittys like this one:

Source: http://accforum.org/forums/index.php?/topic/14657-take-hate-site-lauda-finem-down/ (retrieved March 11, 2013, 21:00 hrs AEDST)
Update: Accforum, new thread, yet another Warren Wilson moniker, a defamation tort clincher.

Source: http://accforum.org/forums/index.php?/topic/14700-laudafinemcom/page__view__findpost__p__154812 (retrieved March 17, 2013, 23:31 hrs AEDST)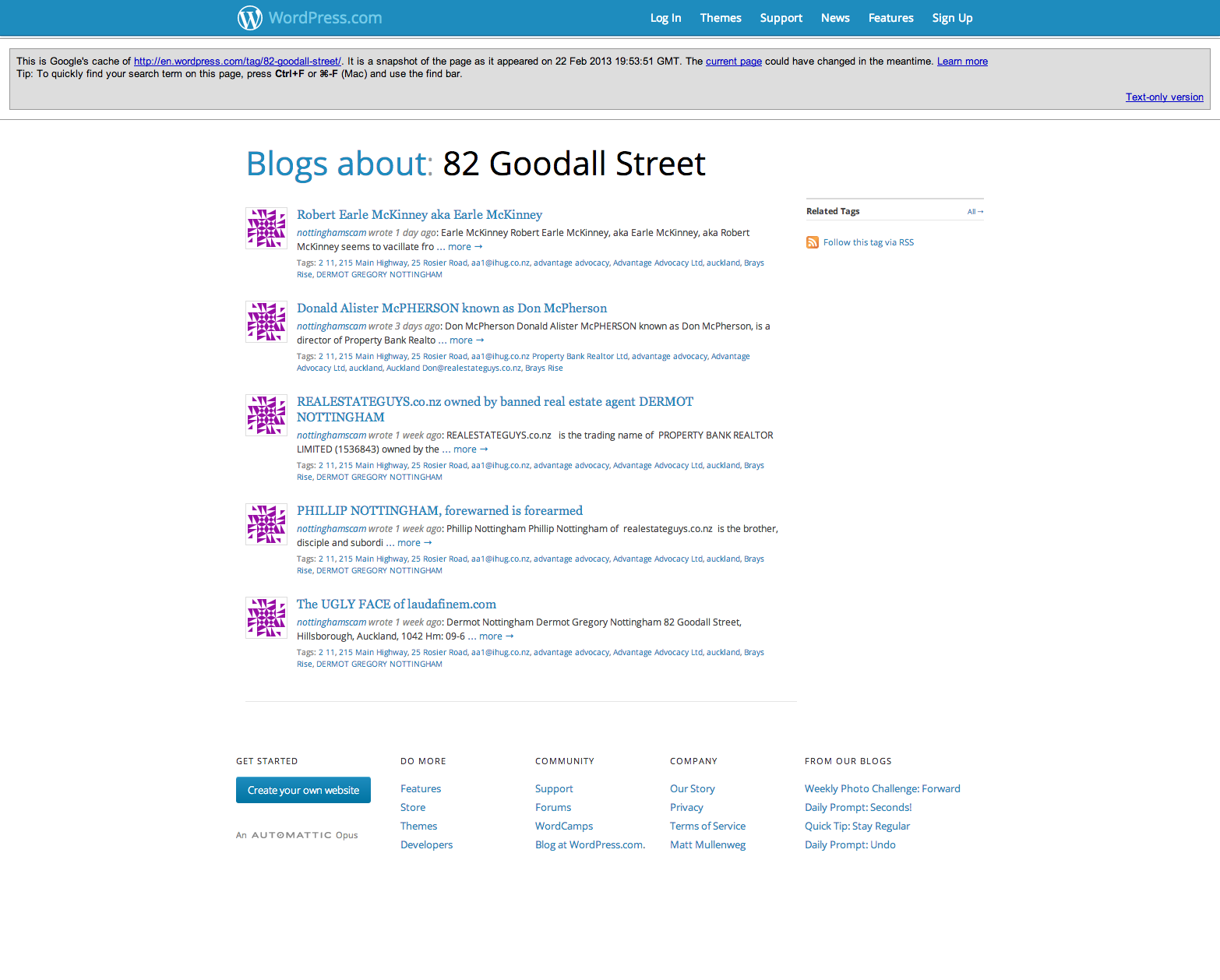 Source: Google cache (retrieved March 16, 2013, 20:00 hrs AEDST).
Wilson's moniker "Nottingscam" (image above) as it appeared on www.laudafinem2.wordpress.com, the defamatory blog that wordpress removed late last month. 
When we looked through Lauda Finem's extensive archives we managed to locate material that had been posted by Wilson in February 2012 on his www.thenotinghamfiles.wordpress.com site, the writing style, the content and the language employed matched, perfectly, the work of yet another party that had recently started posting crude homophobic comments on Lauda Finem, a character using the moniker "Brother Timothy" who, just like Warren Arthur Wilson, had a proclivity for employing this sort of homophobic rant:

Source: Brother Timothy (comments)
Warren Arthur Wilson, however, has not given up entirely on WordPress. He has recently created yet another wordpress site www.skyandflower.wordpress.com. To date that particular site has only been populated with "nicked" photographs of flowers and of course the #tag "72 upper queen street";

Obviously our readers will understand thats its probably yet another crude attempt by www.accforum.org member Warren Arthur Wilson to alter the "google ranking" of a piece that we here at Lauda Finem published in June 2012:
NZ Bankrupt Businessmen's Association: Warren Arthur Wilson joins his mates Richie, Clode, Cooper and Mayer
Wilson's "Plan B" (Lauda Finem have today been sent a few of Wilson's most recent emails to Nottingham),  the rallying of www.accforum.org cyber-bullying troops into attacking www.laudafinem.org, which obviously comes from Warren Arthur Wilsons deluded belief that these idiots own the internet and can at their whim decide whether or not a blog or website survives.
This of course is further evidence of just how insane these fuck-tards, including their latest recruit Warren Arthur Wilson, are.
Prima Facie it appears, to us at least. that www.accforum.org has very little to do with accident compensation corporation claimants and their genuine complaints, the agenda of its very small membership has now become far more nefarious in its objectives and in Wilson's case, having read the material below, being used as nothing more than an attack vehicle with the sole aim of stopping Lauda Finem from exposing the truth. Unfortunately, however, for Arrin Wislang's friend and the www.accforum.org fraudster "Noshit" we here at Lauda Finem can't wait for these issues to be put before the courts in a planned tort action soon to be filed by those who have been defamed using www.accforum.org as their cyber soap-box.
Reference/Bibliograpy
Malcolm Duncan Mayer : Case No 1735 (Serious Fraud Office)
Warren Arthur Wilson
[1]  WILSON V AUCKLAND CITY COUNCIL HC AK CRI 2006-404-000126 5 April 2007 
[2]  WILSON V AUCKLAND CITY COUNCIL AND ANOR HC AK CIV 2004-404-003303 5 April 2007 
[3]  WILSON V AUCKLAND CITY COUNCIL AND ANOR HC AK CIV 2004-404-003303 10 May 2007 
[4]  WILSON V AUCKLAND CITY COUNCIL HC AK CRI 2006-404-000126 24 May 2007 
[5]  WILSON V AUCKLAND CITY COUNCIL CA CA277/07 23 October 2007 
[6]  WILSON V AUCKLAND CITY COUNCIL AND ANOR HC AK CIV 2009-404-1292 28 September 2009 
[7]  WILSON V AUCKLAND CITY COUNCIL AND ANOR HC AK CIV 2009-404-1292 16 November 2009 
[8]  WILSON V ANZ NATIONAL BANK LTD HC AK CIV-2010-404-5025 23 March 2012 
[9]   Conviction for illegal building work – Auckland City
[10] Conviction for illegal building work | Scoop News
[11] Shark Patrol; Bankrupcy notifications 18 May 2012
[12] Case Number: 2148 WARREN WILSON AGAINST NATIONAL BUSINESS REVIEW
Malcolm Duncan Mayer
[1]  BANK OF NEW ZEALAND V MAYER AND ANOR HC AK CIV-2009-404-7828 3 December 2009 
[2]  MALCOLM DUNCAN MAYER V TRUSTEES EXECUTORS LIMITED HC AK CIV 2010-404-000902 26 April 2010 
[3]  WESTPAC NEW ZEALAND LIMITED V SAGECORP LIMITED AND ANOR HC AK CIV 2010-404-001171 3 August 2010 
[4]  RICE CRAIG SOLICITORS NOMINEE CO LTD V M D MAYER AND ANOR HC AK CIV-2010-404-004099 10 August 2010 
[5]  TRUSTEES EXECUTORS LTD V EDEN HOLDINGS (2010) LTD HC WANG CIV-2010-483-000101 12 August 2010 
[6]  MALCOLM DUNCAN MAYER V SERIOUS FRAUD OFFICE CA695/2010 12 November 2010 
[7]  TRUSTEES EXECUTORS LIMITED V EDEN HOLDINGS 2010 LIMITED CA CA526/2010 20 December 2010 
[8]  MALCOLM DUNCAN MAYER V R COA CA829/2010 25 February 2011 
Brent Clode
[1]  RAISER DEVELOPMENTS LTD V TREFOIL PROPERTIES LTD & ANOR HC AK CIV 2005-404-5883 16 November 2006 
[2]  GUARDIAN PROPERTY MANAGEMENT LIMITED AND ORS V ANZ NATIONAL BANK LIMITED, FORMERLY ANZ BANKING GROUP (NEW ZEALAND) LIMITED HC AK CIV-2005-404-004205 5 December 2006 
[3]  JIREH CUSTOMS LTD V GRAFTON ROAD BUILDING LTD AND ORS HC AK CIV 2007-404-007586 18 December 2007 
[4]  JIREH CUSTOMS LIMITED V CLODE HC AK CIV2007-404-3106 28 October 2008 
[5]  FERN LIMITED V FINANCIAL TRUST LIMITED AND ANOR HC AK CIV-2009-404-4055 23 September 2009 
[6]  FISHER INTERNATIONAL TRUSTEES LTD AND ANOR V WATERLOO BUILDINGS LTD (IN LIQUIDATION) AND ORS HC AK CIV-2009-404-006640 12 November 2009 
[7]  FERN LIMITED V FINANCIAL TRUST LIMITED AND ANOR HC AK CIV-2009-404-4055 7 May 2010 
[8]  TRUSTEES EXECUTORS LIMITED V EDEN HOLDINGS 2010 LIMITED CA CA526/2010 20 December 2010 
[9]  FINANCIAL TRUST LIMITED V WANGANELLA TRUSTEE LIMITED HC AK CIV-2010-404-3928 1 August 2011 
William (Bill) Alexander Ritchie
[1]  THE AVENUE BUILDERS LIMITED (IN LIQUIDATION) V 11 THE AVENUE LIMITED HC AK CIV-2005-404-1096 23 December 2005 
[2]  W.A.RITCHIE V BANK OF NEW ZEALAND HC HAM CIV-2010-419-687 15 March 2011 
[3]  BANGERTER, AND ANOR V RETAIL ON MAIN LIMITED HC AK CIV2005-404-4403 12 September 2005 
Lance Gilbertson
[1]  JIREH CUSTOMS LIMITED V GRAFTON ROAD BUILDING LIMITED AND ORS HC AK CIV-2007-404-7586 5 December 2007 
[2]  JIREH CUSTOMS LTD V GRAFTON ROAD BUILDING LTD AND ORS HC AK CIV 2007-404-007586 18 December 2007 
[3]  TRUSTEES EXECUTORS LTD V EDEN HOLDINGS (2010) LTD HC WANG CIV-2010-483-000101 12 August 2010 
[4]  TRUSTEES EXECUTORS LIMITED V EDEN HOLDINGS 2010 LIMITED CA CA526/2010 20 December 2010 
[5]  FINANCIAL TRUST LIMITED V WANGANELLA TRUSTEE LIMITED HC AK CIV-2010-404-3928 1 August 2011 
[6]  TRUSTEES EXECUTORS LIMITED V EDEN HOLDINGS 2010 LIMITED (IN LIQ) HC WANG CIV-2010-483-406 2 December 2011 
Champion Apartments
[1]  TRUSTEES EXECUTORS LTD V EDEN HOLDINGS (2010) LTD HC WANG CIV-2010-483-000101 12 August 2010 
[2]  TRUSTEES EXECUTORS LIMITED V EDEN HOLDINGS 2010 LIMITED CA CA526/2010 20 December 2010 
[3]  WOODROFFE V COLEMAN AND COLEMAN HC AK CIV-2011-404-4391 11 November 2011 
Further Reading:
http://www.sfo.govt.nz/case/malcolm-duncan-mayer-1735
Fraud accused 'tried to be invisible'
Witness in Malcom Mayer trial accused of bias
$130,000 cash deposit 'unusual'
Developer faces $50m fraud trial
Property developer accused of $50 million fraud
http://storify.com/SolvencyMatters/malcolm-duncan-mayer
Related articles