Despite our volunteers efforts to get the Peter Ellis political corruption story out there we here at Lauda Finem have again been sidetracked by yet more defamatory, false and misleading material being posted on www.accforum.org.
Yet another group has emerged within the forum, a cabal, that has apparently decided, for their own personal reasons, that they'd attempt to humiliate yet another ACC client advocate; a man by the name of Mr Michael Gibson LLB.
Now whilst we are, as a group, of the view that Mr Gibson may well have backed the wrong horse when he accepted the brief to represent ACCForum members Bruce Van Essen aka "Huggy" and his partner in crime Jason Patterson aka "Jocko" with their conspiracy to destroy the lives, reputations and incomes of ex-cops turned magnum PI's Peter Gibbons and Graeme Scott (and remember readers we are not big fans of bent coppers) we are also "keen to help" when it comes to injustice in any form. Our interest was prompted by this one post: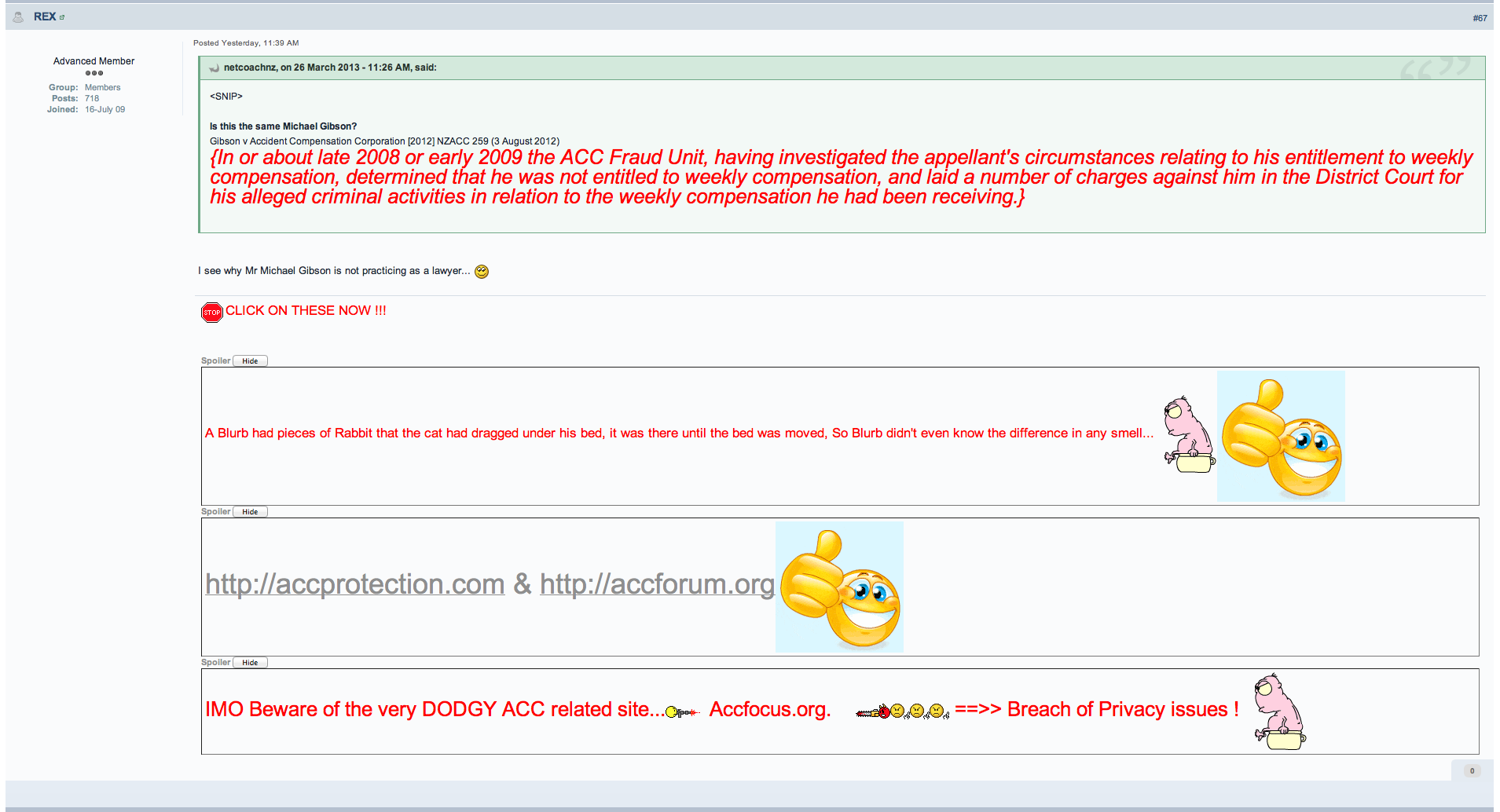 Of course the allegation in the post on www.accforum.org is a complete falsehood, but it will undoubtedly cause a great deal of damage as was obviously intended.
Mr Michael Gibson LLB of Invercargill NZ is not one in the same man that was convicted of fraud in 2009, any simple Google search would have revealed that.
The convicted fraudster was in fact Mr Mike Gibson of Kaikoura, New Zealand, a man who resides almost 700 miles away, but this sort of false information is par for the course with absolutely anything that is posted on www.accforum.org, www.accfocus.org and of course the latest Van Helmond fraudster venture  www.accprotection.com….most of the members of these sites are allegedly brain damaged; although we here at Lauda Finem are beginning to suspect that this claim, just as with Henk van Helmond's  plea, at his criminal trial, are also a complete falsehood. So who is the man that was truly guilty of a serious fraud:
A Kaikoura man caught on video lifting boulders when he was claiming Accident Compensation Corporation payments for a back injury has pleaded guilty to fraud.

Michael James Gibson, 53, was the subject of a long-running ACC investigation in which video footage was obtained of him lifting boulders, cutting hedges, launching his boat and doing building work. At the same time he claimed about $100,000 for a back injury that he said prevented him from working.

Much of the evidence came from his neighbours, who filmed him over the fence.

In the Kaikoura District Court yesterday Gibson admitted six charges of making false statements to ACC and others with the objective of receiving payments and other entitlements.

Gibson was to appear in court for a depositions hearing on 37 charges, but instead pleaded guilty to six new representative charges.

During a very brief court appearance the Christchurch-based lawyer for ACC, Heather Kerr, withdrew the 37 charges and entered the six new charges of fraudulently receiving ACC payments from 2003 to 2008.

Gibson's lawyer, Paul McMenamin, entered six guilty pleas on his client's behalf.

Mr McMenamin told Christchurch Justice of the Peaces Nick Aitkens and Bruce Dawson he had "relieved the need to embark on a hearing".

Investigators established Gibson had engaged in activities contrary to statements he had made to his GP and case managers.

Last year ACC came under fire from ACT leader Rodney Hide for its lack of action over a prosecution in Gibson's case.

Gibson's deception first came to light in 2006 and at one point private investigators hired by ACC stayed in a "cash-only" bed and breakfast run at his Hapuku home, north of Kaikoura.

Tens of thousands of dollars were spent gathering the evidence to bring him to trial, and ACC received numerous complaints about Gibson, also known as "Milky," from members of the public.

ACC chief executive Jan White said yesterday the organisation had a zero-tolerance policy on fraud.

"We manage public money and so take fraud very seriously. ACC levies are intended to help injured people, not fraudsters, and we don't apologise for ensuring that happens. It's not a victimless crime," she said.

Gibson was remanded on bail and is due to be sentenced on December 18.

Gibson said he did not wish to comment when approached by The Marlborough Express this morning.

Source: http://www.stuff.co.nz/marlborough-express/news/3095952/Guilty-of-ACC-fraud
Related articles