The New Zealand finance and insurance business has taken a beating with the recent conviction of some of its biggest names for fraud and theft.
The lesson to be learnt here punters is:- don't invest in either of these industries in New Zealand.  You like tens of thousands of hard working Kiwi's will lose your life's savings to criminal conspiracies to defraud.
The government watchdogs that have been sending these gentlemen, and the odd women, to the corporate naughty kids corner is the Serious Fraud Office (SFO) and the Financial Markets Authority (FMA).
But when the watchdogs allegedly do their job the criminal judiciary of New Zealand comes into play to protect the criminals from facing serious jail time.
The FMA has been the more successful at clobbering these criminal clowns.
What can the FMA's successes be attributed to, the good old plea bargain, kiwi style.
To quote the statements of agreed facts;
 "the accused acted honestly at all times" 
What sort of double talking bullshit is that statement supposed to impart? If they acted honestly they would have been acquitted, or the Court would have granted a 347 application that was filed.
How can the judges sentence these fucktard's to any meaningful deterrent if that statement of agreed facts is the starting point, and if they are found to have done nothing really wrong, [when obviously they were guilty of serious multi million dollar fraud], what fucking message is that going to send to copy cat offending?.
Further, these corporate criminal clowns pleaded guilty, only after denying the allegations, squirming, twisting, and lying, to put off facing the music. Section 347 [no case to answer] applications made only days before the guilty pleas.
Lets look at the two justices involved and LF feels that our readership will comprehend that the "justice" arm of New Zealand is completely corrupt.
Firstly, there is Justice Lang,  a complete fucking scumbag from the east coast of New Zealand which we have obviously profiled before.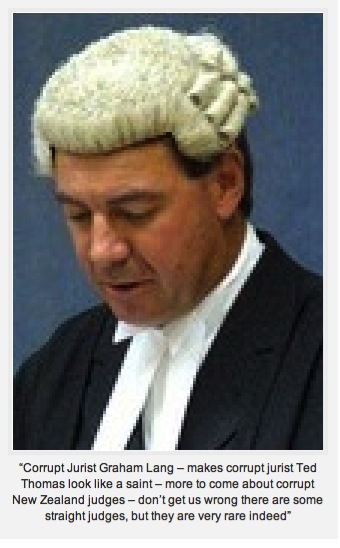 Then there is Justice Sarah Katz, a gravy trainer if there was ever one.
We suspect 400 hours community work at the most with the mitigation that they committed the $13m swindle honestly…really?  Fuck how thick does this bitch think Kiwis are?.  Oh that's right she is a huge brain – not!
Well let's have a look at the criminal individuals involved in the Dominion Finance scams.
Head honcho in this cowboy cabal was former chairman of one of New Zealand's top law firms Kensington Swan, past chairman of the Racing Industry Board and TAB, Mr Richard "I'll bet on anything" Bettle.   Bettle is a personal friend of both Justice Lang,  Justice Katz, and John Key.
This numb nuts Bettle was also a director of lines company
Powerco
and listed software company
Diligent
.
The offending involving the huge amount (NZ standards) of $13.57 million spondoollies, [is there such a word? – well there is now!!!].
Joining Bettle were Paul Forsyth convicted of 5 charges, Vance Arkinstall 7 charges, Robert Whale, Ann Butler, Robert Barry and CEO of Dominion , Paul "I'm in the crap" Cropp.
Cropp earning the distinction of being convicted on four charges of theft under the Crimes Act 1961 and given two years seven months in the big house (prison).
Seems the SFO had the integrity at the very least not to buy into the FMA's little settlement scam.
Adam Feely despite his penchant for a tipple of someone else's champagne, (theft) did have the cahones to go after these blue tie wearing National party good old boys.
For that we, at LF, raise our glasses to the CEO of the Queenstown Hedonists, Champagne Guzzlers Association ….To Adam Feeley, Cheers!
Vance Arkinstall stepped down before he was sacked as CEO of the Investment Savings and Insurance Association.
This industry body represents Insurance and finance companies in New Zealand.
Despite the substantial amount of money involved in the offending only Mr Cropp received a jail term….amazing really given the District Courts propensity to jail young black dudes for J-walking and not paying speeding tickets.
Related articles