Comedian and fucktard John Archibald "Bullshit" Banks has been sent to trial…. Mr Banks using his well known predilection for talking in the third person stated;
"We are not worried"…."Nothing to see here, nothing to see"….."Not worried….. We are not worried".
Banksie was quoted by the New Zealand Herald at the first call of the criminal proceeding as believing;
"it was not the end but the end is in sight".
John Banks also admitted to the media that he belonged to a family of serious hard-arsed criminals who did some serious jail time.  Banksie was reminiscing visiting his mummy and daddy on visitors day, and we hope that his children, and his sister, who by the way hate his guts, can get to see him go down.
Banksie, a tear forming in his little lying toad like eyes, choked back a crocodile tear when recounting how his mum and dad were sent down for some serious jail time when the poor little fellow was only 17years old, and a bed wetter.
Banksie always wanted to follow in their "chained" footsteps, and we here at LF hope he gets his wish.
We have it on good authority that the prison service are having the family cells warmed up by Bubba, depending on whether Banksie gets sentenced to a male prison, or for his protection, to his mum's old cell.
Banksie decided on David "dipshit" Jones as his legal eagle to argue the High Court judicial review. Not the best decision in the world as Jones has been handed a few bitch slappings by lay litigants over the years, and charges like a wounded bull.
How the fuck did David "dipshit" Jones become a Queens Counsel.  Oh that's right he put his own name forward.  This is what David "dipshit" Jones said to the throng of reporters at the previous call at the District Court several months ago;
"The charges are fundamentally flawed"

"Mr McCready's intentions are misguided at best".

"There has been no impropriety of any kind and Mr McCready is simply attempting to use the law to his own advantage … There is no substance whatsoever to any of his allegations."

"The allegations are complete and utter rubbish".
LF is not saying that "Dipshit" Jones QC got it wrong.  Justice Heath is.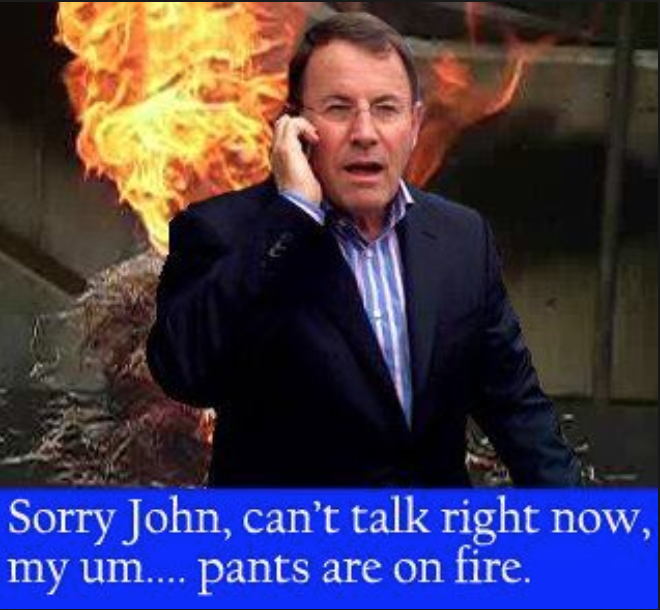 No doubt Banksie thought that when the Police decided not to prosecute that it was at an end.
Unfortunately for Banksie the corrupt constabulary of New Zealand has no credibility at all, and therefore it was upon a retired accountant Graeme McCready, and Kim Dotcom, the man that paid the $50,000 in donations,  to insure that Banksie faced trial.
LF has read the decision of Heath J dated 3 December 2013. We believe it was a dispassionate, and adroit assessment of the facts, and law, to be applied in such circumstances; specifically in the application on the law surrounding a committal hearing where no decisions are reached or can be reached on trial issues such as credibility, admissibility of evidence, or findings of facts as to guilt.
A committal is merely a finding on uncontested statements and evidence that there is enough to commit the defendant to trial.
Admissibility of evidence is handled by interlocutory applications under an application pursuant to s344a of the Crimes Act 1961.  The findings of fact are left to the finders of fact; the jury, or a judge alone, depending on election of who is to be the finder of fact at trial.
An application unders s 347 of the Crimes Act 1961 may be made at the closing of the prosecution case or at anytime during the trial where it becomes abundantly clear that, based on the evidence adduced, no reasonable finder of fact would convict.
Having looked at the admissions of Banksie, and the statements of witnesses that is not going to happen, well that's if Banksie gets a fair hearing. If Banksie gets a fair hearing he's going down.
How can a jury ignore the evidence of Kim Dotcom, when that evidence has been given against Dotcoms own interests, as after all Kim Dotcom was a co-conspirator in providing two cheques of $25,000 in order that each donation came under the maximum for anonymous donations.
On the matter of a fair hearing Jones QC spewed a whole lot of shite about Banksies reputation….or Banksies perception of it.
Jones submissions to Heath J being that his client deserved to be treated differently from anyone else.
Justice Heath slapped Jones in the gob and told him to pull the other one.
Acting like it really exists, and acting as if it is a real party and acting like its got credibility, the clowns at ACT's head office announced the resignation of John Banks at the election next year.
LF got hold of John Banks for comment but he said he was just soaking up the last financial drops of his time on the gravy train. Sorry Banksie wanted to ensure;
'We' provide the public with the full value of our years in Parliament….I still have so much more to give my Bank manager…. I want to spend Christmas counting my holiday pay and cashing the cheques.… I was an ex minister of the crown…I …..sorry 'we' are a top guy…honorable…We have spent our life servicing the public…lying cheating laughing at them…cashing their cheques.  What about my Knighthood…John "boy" Key you promised we'd do a deal.
Meanwhile, Banksies nemesis, Mr Graham McCready; the man John Banks has called a criminal is considering further charges against John Banks in relation to making false statements as a promoter in the Heljich Wealth Management investigation.
Heljich was found guilty, so hang on to your hat, and designer glasses, John Banks, the ride might soon be getting a little bumpy.
Related articles