On the other allegations that Matthew Blomfield has levelled at Cameron Slater is that he has been using his position and the material handed to Slater to defame Blomfield. Slater has rightly pointed out that the documents he has evidence that his website did not defame Blomfield as the allegations he'd made were the truth.
In our last post on Blomfield we evidenced that he had likely either colluded with journalists or in the alternative mislead journalists. Having had a little time to review a fraction of the material we, like Slater, received recently it seems to us that not only had Blomfield made a habit of using the media he has also made a habit of supplying the media with emails intended to be confidential. For Blomfield to now be using the courts in the same way that he has the media is of course a far more risky endeavour.
In this post we are going to deal with just one of Blomfield's forays into con-artistry, litigation and fraud and how he uses the media as his own personal attack dog when it suits. The vehicle Blomfield used on this occasion was the state owned broadcaster TVNZ's Sunday programme and its frontman John Hudson.
Now using Hudson to advance a conspiracy to defraud is extraordinary in itself and probably criminal if the allegation can be proven to the required standard. There is however no such ambiguity surrounding Blomfield's use of the High Court and Justice Tony Randerson to pervert the course of justice. Misleading a journalist is one thing but its in a very different league when one sets out to wilfully mislead a High Court judge.
Kiwi readers who are following our posts will no doubt realise that Blomfield used John Hudson to advance his agenda in 2012 when he had Hudson run a story on the Hell Pizza melt down. The truth is that Blomfield had historically made a very bad habit of using his contacts in the media to smear opponents or anyone standing in his way.
Evidence of Blomfield's behaviour is to be found as far back as 2008 when emails support the fact that he had again enlisted TVNZ's  John Hudson to assist in the financial destruction of a Northland couple that Blomfield had threatened to destroy as part of a conspiracy to seize control of land parcels in collusion with the holder of the second mortgage, a Mr Trevor Neil Perry.
This case went to the High Court and was presided over by none other than Justice Anthony Penrose Randerson. Unfortunately for Blomfield's victims they were not successful at that time in evidencing a relationship between Matthew Blomfield and Trevor Perry and the alleged collusion between the pair and their lawyers.
In a judgment by Randerson J dated 5th June 2008 the judge concluded:
Factual Conclusions

[39] Although some of the critical evidence is disputed, it may be that Mr Blomfield's conduct is open to criticism on the basis that he took advantage of Ruawai Developments to make a profit for himself on the purchase of the Ruawai blocks. There is no doubt that he had been involved in discussions with Mr Boris Yelcich and the mortgagees relating to the Mangawhai land in particular. Various proposals to develop the land had been discussed between the parties given the mortgagors' inability to meet the interest commitments, the absence of any viable refinancing proposal and the need to subdivide the land in order to clear the very substantial debt involved. However, none of these proposals ever came to fruition and the evidence falls well short of establishing any kind of joint venture between the Blomfield and Perry interests.

[40] Nor am I persuaded there is any evidence of collusion between Mr Blomfield and the Odin mortgagees over the purchase of the Ruawai blocks. In this respect, a central plank of Ruawai Properties' case is that Mr Blomfield knew about the prospect of a sale of the farm block to Mr Stanaway and that he bought the Ruawai blocks to put pressure on the Ruawai shareholders to come to a deal on the more valuable Mangawhai and Matakohe blocks. Mr Blomfield strongly disputes these contentions but, whatever his knowledge and intentions were, there is scant, if any, evidence that he communicated that knowledge to Mr Perry and the Odin mortgagees or that they shared that knowledge or intentions. Nor is there any evidence that the Blomfield and Perry interests colluded over the sale to take advantage of Ruawai Properties as contended.

[41] As earlier indicated, there is prima facie evidence that the Ruawai blocks were sold at an undervalue. Whether the mortgagees should have taken further steps to advertise the property with a view to obtaining a better price is open to debate. Given the willingness of Mr Stanaway to purchase the farm block, it may be that a higher price could have been obtained. On the other hand, the mortgagees had
received an offer of $1.1 million from Ladene Hunter (without any knowledge that she was related to Mr and Mrs Yelcich) and Mr Blomfield's offer through Black Developments was for a greater sum. Given the fact that the sale was under mortgagee sale conditions, the difference between the sale price and the 2007 valuations may not have been considered to be great.

[42] Whatever the position may be regarding the mortgagees and the duties owed by them to take reasonable care to obtain the best price reasonably available, those duties did not extend to Mr Blomfield and his company. In the absence of any reasonably arguable case to link his actions with those of the mortgagees or to conclude that Mr Blomfield's knowledge and intentions were shared by the mortgagees, the application by Ruawai Properties must be regarded as very weak for the purposes of interim relief. The evidence does not indicate any more than that Mr Blomfield saw an opportunity to purchase the blocks from the Odin mortgagees and took advantage of that opportunity to make a profit for himself.
Now at the time Mr Boris Yelcich had presented a tape recording of a conversation between himself, his son Regan and Blomfield that did in part concern the judge but they lacked the evidence necessary to prove that any relationship existed between Matthew Blomfield and Trevor Perry other than that of vendor and purchaser. Randerson J at paragraph [17], of his judgement, speaks to the allegations that the yelcich's or Ruawai properties had advanced:
[17] Ruawai Properties relies on several items of evidence to establish a business relationship between Mr Blomfield and Mr Perry. First, in or about October 2007, Mr Blomfield made an offer to the mortgagor companies to purchase all the properties (other than the Ruawai farm block) for $13.14 million. The offer was conditional upon Mr Blomfield obtaining the consent of the existing mortgagees to the transfer of the existing mortgages. It was also proposed as a term of sale that Mr Blomfield would procure a company named Infrastructure New Zealand Limited to carry out subdivision works on the property. Infrastructure New Zealand Limited is a company owned by Mr Blomfield and a Mr Paul Claydon which carries out property development work. There is no evidence that Mr Perry or anyone else connected with the Odin mortgagees has any interest in this company.
Unfortuanateley for the Yelcich family they, at the time, did not have vital evidence that would have arguably caused Randerson J to reach a very different conclusion.
Trevor Perry did in fact have a business relationship with Matthew Blomfield and Paul Claydon. They were all shareholders in a company that Blomfield and Claydon via their jointly owned company, Infrastructure NZ Limited, had instructed their solicitor to register.
That company, Stabilisation New Zealand Limited was finally registered on the 14th February 2008. Blomfield and Claydon holding 800 shares via Infrastructure NZ Limited and Trevor Perry holding the remaining 400 shares.
This is a very good example, from what we can see, of how Blomfield has concealed his duplicitous hand over the years. The Yelcich's were tantalisingly  close when they thought there was a connection between infrastructure NZ Limited and Trevor Perry, likely because that Company name had been dropped by Blomfield, who later sought to modify his little business arrangements structure just a smidgeon so as to conceal his joint venture with the 2nd Mortgage holder Trevor Perry – we've seen this stunt before…always helps when you know what to look for.
This new evidence of collusion, and a possible conspiracy, raises a number of other serious issues. During this proceeding Blomfield filed an affidavit. In what appears to be his second he clearly purjers himself on a number of occasions, we'll deal with but one such occasion;
This affidavit was filed between the 4th  April 2008 and 18th April 2008, some three months after Blomfield and Perry had formalised their agreed partnership by registering the aforementioned Stabilisation New Zealand Limited. Again with a slight of hand Matthew Blomfield fails to mention the relationship he had with Trevor Perry.
There is yet further damning evidence that Blomfield and Perry had in fact conspired to fuck over the yelcich family that Justice Randerson did not get to see. In November 2007 Trevor Perry responded to an email enquiry he had made of an Australian firm that specialised in soil stabilising treatments, used in road building. Now what on earth, excuse the pun, would a simple mortgagee, who was, as has been claimed, only interested securing their loan, be doing making enquiries of this type of "road building" business?
Well it might just be prima-facie that Mr Boris Yelcichs allegations were, after all, again not that far of the mark:
"It was also proposed as a term of sale that Mr Blomfield would procure a company named Infrastructure New Zealand Limited to carry out subdivision works on the property"
Whilst Blomfield already owned Infrastructure NZ Limited, which was first registered in 2005, as aforesaid Blomfield's change of plan around January 22nd 2008 meant that it would not ultimately be Infrastructure NZ Limited but its little sister, the 60% owned subsidiary Stabilisation NZ Limited, that Trevor Perry would, he thought, benefit from and arguably had in mind when he made this enquiry of an Australian road building supplies Company; referring the response on to Matthew Blomfield, for his and fellow business partner Paul Claydon's consideration.
There are additional email exchanges that add irrefutable evidence to the argument that there had in fact been a conspiracy between the second mortgagee Odin ( Trevor Perry) and Matthew Blomfield, for now, LF does not intend publishing them all, but of particular interest for the sake of this post there are two email exchanges between Trevor Perry, Stephen Davies (davieslaw.co.nz, now redirected to conveyancing.co.nz) and Matthew Blomfield on the 19th October 2007 and the 16th June 2008.
Blomfield was certainly right when he advised Blackie DCJ that the contents of the "hard drive" might well embarrass his mates. Team LF believe that the term "embarrass" may just have been a little euphemistic, given that these particular Blomfield "mates", otherwise known as arsehole's, could well deserve nothing less than a prison term:
In the email of the 16th June 2008, sent by Trevor Perry, he sets out the proposed structure for one version of the conspiracy that he and Blomfield had obviously jointly come up with, to fuck over the Yelcich family; then, somewhat optimistically, declares:
"I believe we could be marketing by spring"
Marketing what exactly? A much sought after new rural property boom subdivision with "clear sea views" perhaps? In saying that we are now taking readers to another, on the face of it unrelated, court proceeding involving Matthew Blomfield and Craig Rolls (the defendant):
[6] In August 2005 Mr Blomfield visited the defendant at the defendant's office in Hamilton. The visit was in relation to the defendant's occupation as a finance advisor, but in the course of the visit Mr Blomfield told him about the Lake View Estate subdivision. Mr Blomfield, in his evidence, said that he himself was excited about the subdivision, believing that there was money to be made, and it is evident that he passed on that excitement to the defendant. The defendant's evidence, corroborated by Mr Blomfield and not contradicted by other evidence, is that Mr Blomfield told the defendant that the subdivision was to be a high quality lifestyle subdivision of larger sized sections with ― clear sea views, expansive lake views and in close proximity to the town and beach at Mangawhai. The defendant expressed himself to be interested in acquiring one of the sections.

Source: Mangawhai Developments Ltd (in rec) v Rolls HC Auckland CIV-2009-404-4253 [2011] NZHC 1503 (10 November 2011)
More on LF's observations in posts yet to come, however, interestingly there have been a number of very recent changes happening in and around Blomfield's companies. It seems that name and shareholding changes have been the order of the day, all of them being processed by Blomfield's bent lawyer Bruce Johnson, formally of Corban Revell. Name changes by design, we suspect, to conceal shareholdings: and it would seem quite a few assets that Mr Blomfield has wanted to hide from the Official Assignee's office: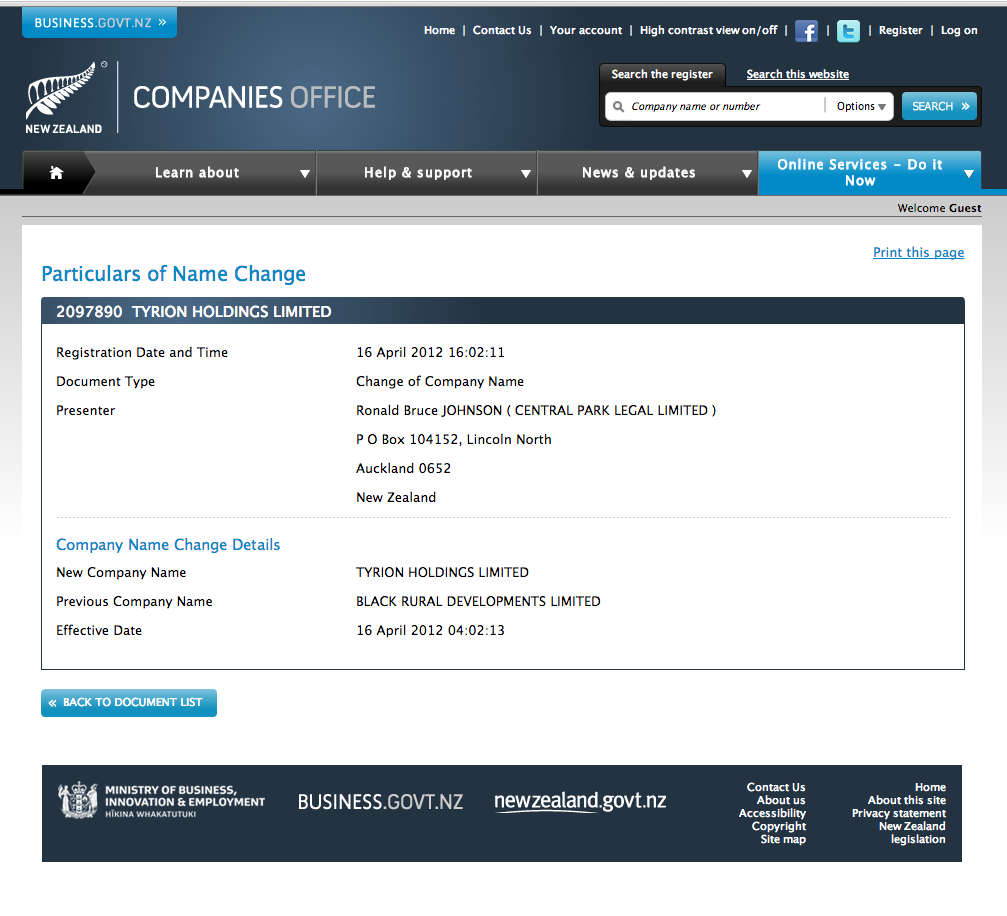 Over the Christmas New Year period (2013 -2014) LF will be bringing our readers a more in-depth analysis of the "Blomfield files" and the how and why we believe that Matthew Blomfield and his dodgy associates, New Zealand lawyers included, have, and continue to be very naughty boys, fraudsters, conmen, bullshit artists, perjurers, cunts, and nasty little fucking bullies. Perhaps Matt, as he obviously prefers to be called, should have, before his half arsed attempt at suing Cameron Slater, looked into what is now pretty much universally known as the "Striesand effect":
The Streisand effect is the phenomenon whereby an attempt to hide, remove, or censor a piece of information has the unintended consequence of publicizing the information more widely, usually facilitated by the Internet.

It is named after American entertainer Barbra Streisand, whose attempt in 2003 to suppress photographs of her residence in Malibu, California, inadvertently generated further publicity. Similar attempts have been made, for example, in cease-and-desist letters, to suppress numbers, files and websites. Instead of being suppressed, the information receives extensive publicity and media extensions such as videos and spoof songs, often being widely mirrored across the Internet or distributed on file-sharing networks.[1][2]

Mike Masnick of Techdirt coined the term after Streisand unsuccessfully sued photographer Kenneth Adelman and Pictopia.com for violation of privacy. The US$50 million lawsuit endeavored to remove an aerial photograph of Streisand's mansion from the publicly available collection of 12,000 California coastline photographs.[1][3][4] Adelman photographed the beachfront property to document coastal erosion as part of the California Coastal Records Project, which was intended to influence government policymakers.[5][6] Before Streisand filed her lawsuit, "Image 3850" had been downloaded from Adelman's website only six times; two of those downloads were by Streisand's attorneys.[7] As a result of the case, public knowledge of the picture increased substantially; more than 420,000 people visited the site over the following month.[8]
Team LF will also be revisiting, as promised, the Russell Byfield case; bringing readers the documents, photographs and court testimony; all with a more in-depth overview of the heart wrenching story of how Mr Russell Byfield, was first seriously assaulted, and then let down by bent New Zealand cops, Crown law prosecutors, the IPCA, and yet again New Zealand's mainstream media (MSM). Its no fucking wonder New Zealander's have turned off to their MSM in the thousands.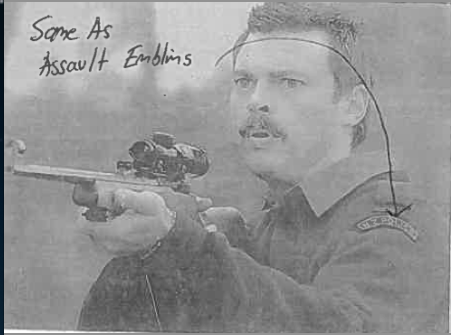 We'll leave readers with the same information that we started this post with, the same email exchange on the 14th November 2008 between Mr Rolls and Matthew Blomfield:
Basecorp Finances lending manager Craig Rolls: "Fantastic. Have a great day and sort the old cunt out once and for all!! …….We'll paint the town red…………….with Boris's blood!! Figuratively speaking Matt, not literally thanks!! lol" (edited)
Theres little wonder why Blomfield sought a half-wit district court judges assistance. Blomfield knows that the contents of that hard drive that LF now has, could well send him to prison.
Now here is the November 2008 email that prompted team LF to look for the CUNT that sent it, and theres more to come in that particular email thread Merry Christmas Mr Blomfield:
Bibliography
Mangawhai Developments Ltd (in rec) v Rolls HC Auckland CIV-2009-404-4253 [2011] NZHC 1503 (10 November 2011)
Mangawhai Developments Limited (in rec) v Mark Robinson Limited HC Auckland CIV-2009-404-005617 [2011] NZHC 144 (16 February 2011)
Ruawai Properties Ltd v Black Developments Ltd HC Auckland CIV 2008-404-001557 [2008] NZHC 837; (2008) 9 NZCPR 483 (5 June 2008) [PDF]
Dud Mangawhai development buyers in court
Davies & Co Solicitors Nominee Company Limited v Yelcich [2013] NZHC 1344 (6 June 2013)
Davies & Co Solicitors Nominee Company Limited v Yelcich [2013] NZHC 2546 (30 September 2013)
Crawford v Odin Enterprises Pty Limited, Roberts, Jenden and Richardson as Trustees of the Jenden Business Trust HC Auckland CRI 2008-404-7860 [2010] NZHC 767 (27 May 2010)
ODIN ENTERPRISES LIMITED & ORS V CRAWFORD & ANOR HC CIV 2008-404-000581 [2008] NZHC 1625 (17 October 2008)
DAVIES & CO SOLICITORS NOMINEE COMPANY LTD V CRAWFORD AND ANOR HC AK CIV 2007-404-7999 [2009] NZHC 19 (23 January 2009)
DAVIES & CO SOLICITORS NOMINEE COMPANY LIMITED V CRAWFORD AND ANOR HC AK CIV 2007-404-7999 [2009] NZHC 18 (23 January 2009)
Crawford v Odin Enterprises Pty Limited, Roberts, Jenden and Richardson as Trustees of the Jenden Business Trust HC Auckland CRI 2008-404-7860 [2010] NZHC 767 (27 May 2010)
RUAWAI PROPERTIES LIMITED AND ORS V DAVIES & CO SOLICITORS NOMINEE COMPANY LIMITED HC AK CIV 2009-404-000454 [2009] NZHC 543 (13 May 2009)
Related articles