Following on from the first instalment in a series investigating the actions of Matthew John Blomfield and his business associates prior to current defamation proceedings that are farcically playing out in Aucklands district court. LF in part one touched briefly on another court proceeding that Matthew Blomfield had been caught up in in 2011. The case related to a contract for sale and purchase of a rural lifestyle block and involved two parties, a Mr Craig Roll's and a company Mangawhai Developments limited (in receivership):
Mangawhai Developments Ltd (in rec) v Rolls HC Auckland CIV-2009-404-4253 [2011] NZHC 1503 (10 November 2011)
Essentially Mangawhai Developments, the plaintiff, was attempting to obtain an order against Craig Rolls for specific performance (alternatively, damages) of a written agreement by which the plaintiff agreed to sell a piece of land (lot 14) to the defendant for $255,000 including GST (if any) in October 2005.
Defending the claim Rolls was relying on the argument that he had had his solicitors rescind the contract in February 2007, Rolls in 2011 alleging that none other than Matthew Blomfield, one of Mangawhai Developments contracted sales agents had provided misleading information in the form of verbal statements and a brochure the Blomfield had himself prepared. Essentially Blomfield had allegedly led Rolls to believe that the property had sea views:
Now there are thee quite extraordinary aspects to this case. The first is that Blomfield Mangawhai Developments sales agent was admitting to having misled Rolls although Blomfield ensured that he had no personal responsibility by claiming that he personally had not viewed the properties and that Mangawhai had signed off on the misleading brochure that he had published. As Justice Tim Brewer notes at para [12] of his judgement:
What representations were made by Mr Blomfield on behalf of the plaintiff?

[12] I find that the representations described in para [6] — that lot 14 had clear sea views, expansive lake views and was close to the town and beach — were representations made by Mr Blomfield as sales agent of the plaintiff. I find that the contents of the brochure, prepared by Mr Blomfield as sales agent of the plaintiff and authorised by the plaintiff for use in marketing the subdivision, are also representations on behalf of the plaintiff.

Were the representations untrue?

[13] Both parties called evidence on this issue. I accept that from lot 14 one can, depending on the weather, catch a ―peep of the sea on the horizon. I find that that is not the same as the property having clear sea views.

[14] The property does have good views of the lake and I find that in context they can reasonably be described as expansive lake views.

[15] The property is some kilometres from the Mangawhai village and Mangawhai Heads beach. It would take perhaps five minutes and 10 minutes respectively to drive there from lot 14.3 I accept the evidence4 that ―close‖ is a relative term and depends upon context. Given that the brochure supplied to the defendant on 30 August 2005 clearly shows that this was a rural subdivision at some distance from the sea, I find that ―close‖ in the context of this subdivision meant a drive of several minutes. The evidence is that the drive times are in the range of five minutes to 10 minutes. Accordingly, I find that this representation, in the round, was true.

[16] It was submitted by the defendant that I should not construe the representations separately. It is their overall effect to which I must refer. I agree with this submission. I find that overall the brochure plus the oral representations conveyed to the defendant that lot 14 was, while not coastal, nevertheless attractively situated so that a purchaser would enjoy good views of the sea and lake and be close enough to the town and beach to be able to drive to them without it being a journey. That overall picture was untrue. While being close enough to the town and beach for the trip to them not to be a journey, and while having good views of the lake, the distant view of the sea did not associate the lot with it. Lot 14 was part of a rural subdivision from which distant views of the sea could be achieved by some of the lots but not by lot 14. Lot 14 had, from part of it, a ―peep‖ of the sea depending on the weather.
The second is that Craig Rolls, who had informed the court that he was a "financial advisor" when his true occupation was that of a "mortgage" loans manager for Basecorp, claimed that he also had not inspected the property prior to signing the contract and paying the $10'000.00 deposit and that he had relied solely on Blomfield's discription of the lot. Somewhat strangely the court made no enquiries as to who had been responsible for the photographs contained in the brochure:
[6] In August 2005 Mr Blomfield visited the defendant at the defendant's office in Hamilton. The visit was in relation to the defendant's occupation as a finance advisor, but in the course of the visit Mr Blomfield told him about the Lake View Estate subdivision. Mr Blomfield, in his evidence, said that he himself was excited about the subdivision, believing that there was money to be made, and it is evident that he passed on that excitement to the defendant. The defendant's evidence, corroborated by Mr Blomfield and not contradicted by other evidence, is that Mr Blomfield told the defendant that the subdivision was to be a high quality lifestyle subdivision of larger sized sections with ―clear sea views, expansive lake views and in close proximity to the town and beach at Mangawhai‖. The defendant expressed himself to be interested in acquiring one of the sections.

[7] On 30 August 2005 Mr Blomfield emailed to the defendant a list of some of the sections for sale with their asking prices. Attached to the email was a sales brochure for the Lake View Estate subdivision which had been prepared by Mr Blomfield and approved by the plaintiff.

[8] The sections listed in the email were sections which Mr Blomfield had secured for himself as being attractive sections. He had a good relationship with the defendant (although not a social relationship) and wanted to focus him on a good quality section. As part of the brochure there was an aerial photograph of the subdivision with the proposed subdivision plan overlaid on it. I am satisfied that the defendant and Mr Blomfield discussed by telephone which of the sections might best suit the defendant before they settled on lot 14. The asking price was $275,000 and Mr Blomfield felt able to advise the defendant that this could be reduced by $20,000 for an early purchase. I am satisfied that the telephone discussion or discussions would have included the amenities of the subdivision and the views available from lot 14.

[9] Significantly, I find that Mr Blomfield made known to the defendant that

Mr Blomfield had not seen the subdivision either.

[10] The defendant agreed to purchase lot 14 for $255,000. The agreement for sale and purchase was prepared and, eventually, signed on 21 October 2005. A payment of a $10,000 deposit was made. The defendant did not view the subdivision before signing the agreement.
The third and perhaps most extraordinary aspect of this case, one that Mangawhai Developments and the court would never get to hear about was that at pretty much the same time as Craig Rolls purports to have cancelled his contract with Mangawhai Developments because of the lack of "sea views"  Craig Rolls appears to have surreptitiously entered into yet another very similar property deal with Blomfield via his employer Basecorp Finance, that of the scam on the Yelcich family's Ruawai property.
A deal that was only briefly touched on by Justice Randerson in his judgement on the Yelcich/Ruawhai application for a caveat, although Rolls name is not mentioned, his employers certainly is, so do we have yet another party to the Ruawhai conspiracy, two conspiracies perhaps?:
[64] A further factor is that on or shortly after the settlement of the purchase of the farm block, Black Developments borrowed nearly $400,000 from a company named Basecorp Finance Limited. A mortgage was granted to Basecorp over the title and was registered on 5 December 2007, shortly after the purchase.

[65] I raised Basecorp's position during the hearing and allowed Black Developments to file an affidavit after the hearing since Basecorp had not been served with the applications. Mr Blomfield has provided evidence that $415,000 remains outstanding under this mortgage, the funds being borrowed for unrelated trading purposes. Basecorp is said to be an unrelated "arm's length" finance company. There is no evidence that its interest in the property was obtained other than in good faith and without notice of the claim for relief by Ruawai Properties.
[66] Finally, it does not appear that the first mortgagee has been served or given an opportunity to appear to present its position. Were this the only factor preventing the grant of relief, however, I would have directed the first mortgagee to be served. 
So Basecorp finance, its lending manager and director Craig Rolls, sign a mortgage deal over the Yelcich's land with "sea Views" with Blomfeild in December 2007. When just a matter of months earlier in February 2007 Craig Rolls allegedly cancelled a contract, signed up by blomfield, with Mangawhai Deveolopments with Blomfield then turning evidence against his employer Mangawhai Developments in 2011. LF suspects yet again we're seeing more smoke and mirrors being employed by Blomfield, his lawyers and the greedy financiers. Of Course Craig Rolls was not a mere "financial advisor", as he had advised the court in the Mangawhai Developments case. Craig Rolls was and still is the lending manager for the Hamilton based mortgage company Basecorp Finance. Craig Rolls personal involvement in the Ruawhai scam is again evidenced by an email exchange between the pair, in November 2008, that discusses proceedings surrounding the eviction of Mr Boris Yelcich and his wife:
Of course the tone of the email suggests that Craig Rolls has some sort of personal financial interest and like Blomfield had been frustrated with Yelcich's refusal to move out of the property. Yelcich clearly knew what these cunts had just got away with and like any normal human being he would have been furious and defiant.
With the above facts now established a further inference can also now be drawn around the 2011 Mangawhai Developments case, in that there was no coincidence that Blomfield had supported Rolls by giving evidence that enabled Craig Rolls to prevail over Mangawhai Developments Limited, as Brewer J puts it in his conclusion:
[41] I am satisfied that the representation as to clear sea views was essential to the defendant and that it was erroneous. In addition, the effect of the misrepresentation was substantially disadvantageous to him. Therefore, the defendant lawfully cancelled the contract in February 2007. The plaintiff's application for specific performance must fail.

[42] That being the case, it is unnecessary for me to determine whether, in addition, Mr Blomfield's representations amounted to misleading and deceptive conduct in trade rendering the agreement void.
Now that was a very tidy result all round really, fucking over Mangawhai developments, freeing up Craig Roll's and his cash to invest elsewhere, whilst also allowing Matthew Blomfield, the conman, to walk away unscathed. If, as Rolls had alleged, Blomfield had deceived him why was he seen still doing business with the man in 2007, 2008. Why was Craig Rolls so interested in Matthew Blomfield "sorting the old cunt out", referring of course to Boris Yelcich.
No' we here at LF believe, as would any reasonable person, that Blomfield and Craig Roll's committed perjury in the Mangawhai Developments case so as void the contractual obligations Roll's had earlier incurred when he signed up to purchase Mangawhai Developments lot 14 -meanwhile Blomfield and his circus clowns rolled on.
Blomfield had certainly been working hard when it came to "sorting the old cunt out" he and Trevor Perry had so far concealed a conspiracy that would ultimately see the Yelcich family ruined financially. They had lied to Justice Randerson in furtherance of that conspiracy.
They had then set in motion a smear campaign alleging that the Yelcichs had gang affiliations and "GUNS" and had used them to threaten Blomfield.
All of which was a complete fabrication dreamt up by wonder boy Matthew Blomfield and a couple of half arsed ex army nobody mates that Blomfield had engaged to stalk and harass Yelcich.
Now these two ex-army Kiwi clowns are in a very similar league to Matthew Blomfield himself (particularly the ring leader McCaulay) in that they are "el supremo" bullshit artists and wankers.
Blomfield had these two numb-nuts write a report on Yelcich that justified their stalking of the family. Doug McCaulay and David Tomoana a pair of clowns that fancied themselves private investigators but aren't anything of the sort. The report they compiled at Matthew Blomfields behest is little more that a joke, obviously the New Zealand police thought so too given that they failed to act on the many complaints Blomfield had made, with the assistance of McCaulay and side kick David Tomoana.
We've provided this pairs so-called report for readers so that everyone has the opportunity to piss themselves laughing, just click on the "confidential" report to view – just like Blomfield himself he's employed two complete fucktards;
Blomfields mate Doug McCauley is obviously not really what he likes others to believe him to be; that much is evident in his online persona and a website that features McCaulay, the Kiwi ex soldier, bullshit artist and Middle East merceniary, in a very unflattering light: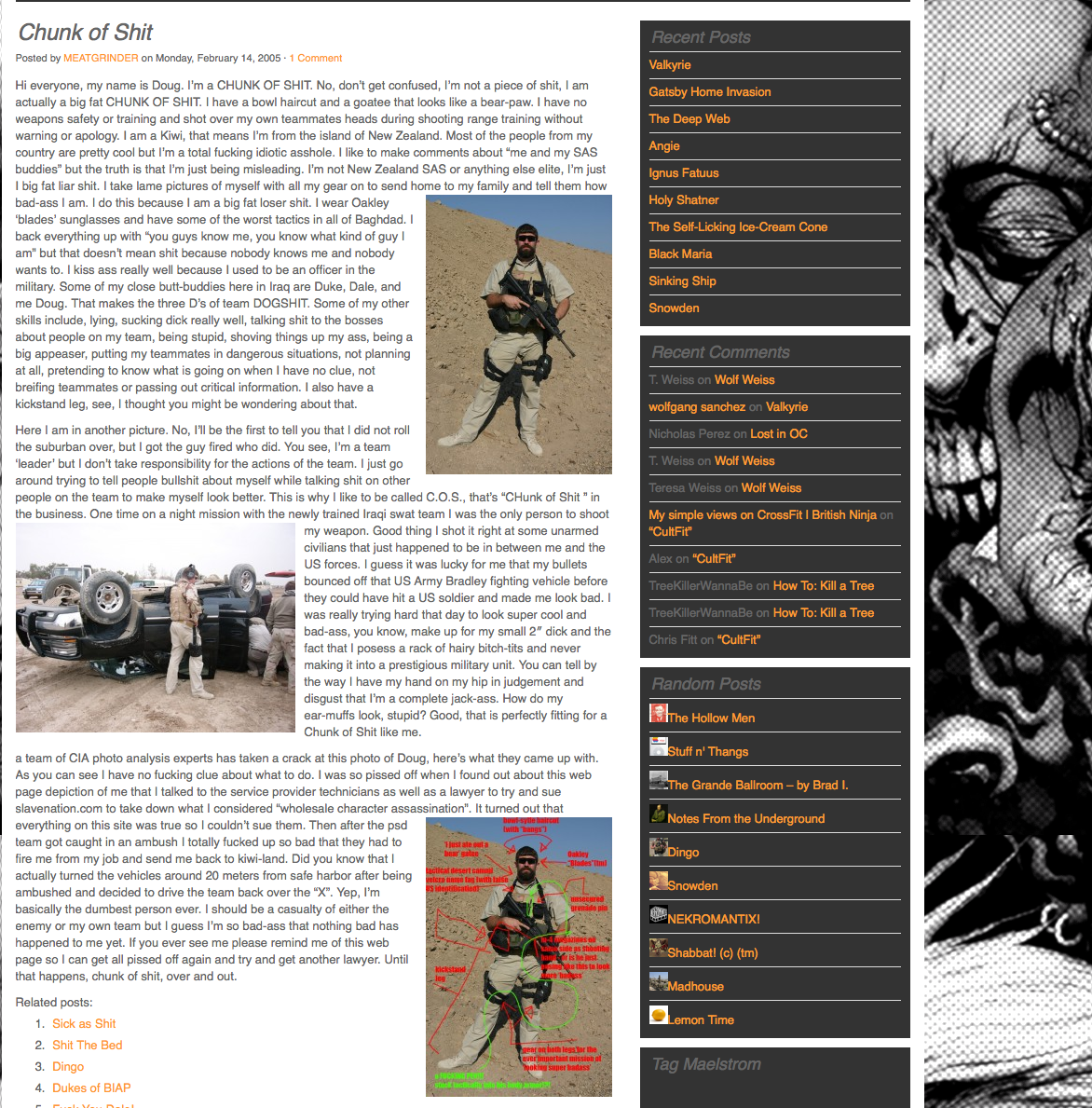 This is the point where Blomfield, frustrated by Yelcich's refusal to role over and say die, decided that he needed to publicly humiliate the Yelcich family, so again he turns to his media contacts, this time TVNZ's John Hudson and the current affairs program "Sunday". The episode in question went to air on Sunday the 16th March 2008. LF will eventually get a copy of this programme, but suffice to say Hudson, following Blomfield's script completely fucked over the Yelcich family, based probably on the unique Kiwi word cluster  "GANG ASSOCIATION" and this one photograph of a "Harley Davidson motorcycle" taken by none other than the "gun for hire" mercenary bullshit artist Doug McCauley (a self proclaimed PI) and his ex cop mate David Tomoana.
The above report is laughable, its certainly not the work of a competent investigator. If it was indeed written by ex Detective Sergeant Dave Tomoana then LF believes that further investigation of Tomoana is required and any possible prior association with Blomfield or his associates should be exposed. Neither McCauley or Tomoana are licenced private investigators. Douglas McCauley is merely a licensed security guard (No: 711226).
We here at Team LF will end this post "Part Two" with just a few of the emails that Blomfield and TVNZ's John Hudson exchanged in early 2008. In McCauley and Tomoana's so-called report they state:
Boris and Jean Yelcich were seen to call into the address and uplifted a baby from the address. The address was 47 Main Road, Ruawai. A Harley Davidson was seen at this address later that afternoon…….

Boris and Jean were seen at 47 Main Road, Riawhai, on the 30th January 2008. Later that afternoon a Harley Davidson motorcycle was seen at that address. The rider was a male Maori, 5'8″ in height with tattoos on his shoulders wearing a singlet and Army style shoulder bag………..

It is highly unlikely that a man such as Boris, who has lost his home in a mortgagee sale, could engage members of an outlaw motorcycle club, such as the tribesmen, to threaten to target the client (Blomfield)

Source: report-re-service1.pdf
Now this so-called report spells it out, although LF believes that it is more likely, than not, that it was Blomfiled who had very subtly  "suggested" the "Tribesmen" or "Gang" angle.
Despite what LF believes was Blomfield's "intervention" there's absolutely no suggestion of "outlaw gang" members, "The Tribesmen" having ever entered or been seen on the Boris and Jean Yelcich's Ruawhai property.
In fact the contemporaneous evidence is to the contrary: there's no evidence whatsoever provided by the unlicensed private dicks, McCauley and Tomoana, that the Harley Davidson riding motorcyclist seen leaving, an unrelated property, 47 Main Road Ruawhai, on the afternoon of the 30th January 2008 was in fact a member of an outlaw motor cycle gang. (which would suggest to LF that Tomoana was not the author of the purported report, after all ex-cops turned PI's, using police contacts, are always able to, and do, check license plate numbers and of course criminal records).
And yet thats exactly what Blomfield falsely alleges when speaking to John Hudson, as is noted in to that call or email response with Hudson's further email of the 29th February 2009 (below).
Obviously Blomfield had ignored the "qualified" opinion supplied by his own two bozo "consultants" when deciding to fabricate a story, a tall tale tailored especially for the ears of TVNZ halfwit and sycophant John Hudson. Blomfield had obviously been working on Hudson for months and eventually his nefarious little scheme worked, when John Hudsons programme went to air on Sunday the 16th March 2008 – much to the delight of Blomfield, his co-conspirators and dodgy associates:
TVNZ's John Hudson is not an investigative journalists arsehole, and frankly he's been caught out failing to do his job in exactly the same way in the past. We here at LF will be publishing an open letter asking John Hudson and his employer TVNZ to come clean on all of the emails and other correspondence they received/sent, to/from Matthew John Blomfileld and/or any of his associates or related companies (no doubt John Hudson will use the media source protection legislation that Cameron Slater has been temporarily stripped of by District Court Judge Blackie):
Theres so much more to come as we have said team LF will be filing reports over the Xmas/New Year period so readers should stay tuned!
Bibliography
Ruawai Properties Ltd v Black Developments Ltd HC Auckland CIV 2008-404-001557 [2008] NZHC 837; (2008) 9 NZCPR 483 (5 June 2008) [PDF]
Mangawhai Developments Ltd (in rec) v Rolls HC Auckland CIV-2009-404-4253 [2011] NZHC 1503 (10 November 2011)
Mangawhai Developments Limited (in rec) v Mark Robinson Limited HC Auckland CIV-2009-404-005617 [2011] NZHC 144 (16 February 2011)
Dud Mangawhai development buyers in court
Davies & Co Solicitors Nominee Company Limited v Yelcich [2013] NZHC 1344 (6 June 2013)
Davies & Co Solicitors Nominee Company Limited v Yelcich [2013] NZHC 2546 (30 September 2013)
Crawford v Odin Enterprises Pty Limited, Roberts, Jenden and Richardson as Trustees of the Jenden Business Trust HC Auckland CRI 2008-404-7860 [2010] NZHC 767 (27 May 2010)
ODIN ENTERPRISES LIMITED & ORS V CRAWFORD & ANOR HC CIV 2008-404-000581 [2008] NZHC 1625 (17 October 2008)
DAVIES & CO SOLICITORS NOMINEE COMPANY LTD V CRAWFORD AND ANOR HC AK CIV 2007-404-7999 [2009] NZHC 19 (23 January 2009)
DAVIES & CO SOLICITORS NOMINEE COMPANY LIMITED V CRAWFORD AND ANOR HC AK CIV 2007-404-7999 [2009] NZHC 18 (23 January 2009)
Crawford v Odin Enterprises Pty Limited, Roberts, Jenden and Richardson as Trustees of the Jenden Business Trust HC Auckland CRI 2008-404-7860 [2010] NZHC 767 (27 May 2010)
RUAWAI PROPERTIES LIMITED AND ORS V DAVIES & CO SOLICITORS NOMINEE COMPANY LIMITED HC AK CIV 2009-404-000454 [2009] NZHC 543 (13 May 2009
Related articles