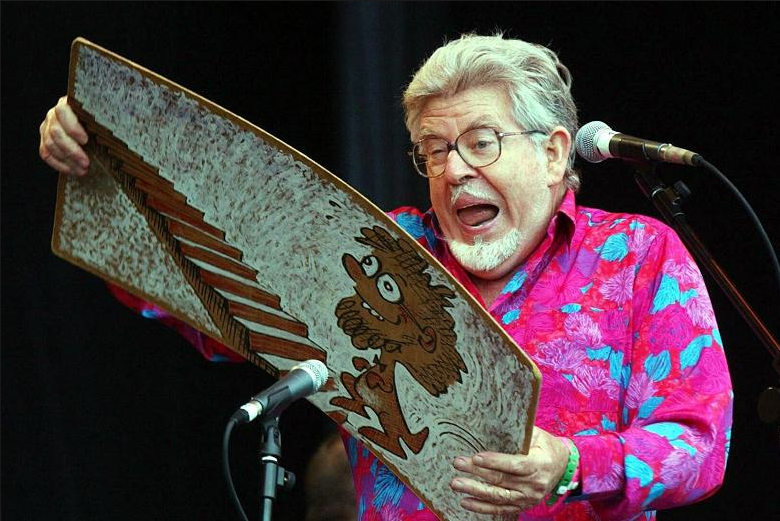 No Christmas lunch with the Queen this year for accused serial sex offender Rolf Harris as UK police charge the old reprobate with 3 more historical sex offences…  bugger us sideways Rolf, you were doing so well. A few more years and you would have died quietly in your overstuffed satin bed and a history of serious sexual offences would have died with you. But fortunately for the victims you have been outed , you and your overactive libido. Thirteen child molestation offences including one last year of making an objectionable picture. The old filth obviously got hold of filthy old Rolfs computer 'hard' drive.
One of our contributors had a granny who left the shores of Australia in the mid fifties and ended up flating down the hall from Rolf Harris in Earls Court London. A very young and amorous Rolf couldn't keep his didgeridoo in his pants and spent his evenings rorting the penny electricity meters and doing unnatural things with his wobble board.
Police are still investigating where Harris got his inspiration for his blockbuster hit 'two little boys had two enormous vascularly rich toys.' Times have moved on and the wooden toys have been replaced by silicon….no longer 'hung like horses' but more your 'black mambo'….ahh memories! Reminds us here at LF of that other Harris Hit 'Jake the peg with his extra leg'. A song and a physical  abnormality that Harris was allways very proud of. Harris was recently overheard in a studio shitter saying…. To someones 14 year old daughter 'have a look at my extra leg girlfriend….no it is real, suck on it and see.'
As the young girl gagged on Harris's turgid tockler, the old Lothario launched into his jewish version of Jake the Peg…..de da ledda lum. The one made famous on the Liberace show. Harris was also internationally known for his ability to paint anatomically correct cartoons on a wall with a full sized house paint brush…..in between shagging young girls up against the shitter wall.
Well its Christmas and it just won't be the same without Rolf on our screens wobbling his board and salivating over his didgeridoo. I seriously amazes us here at LF how many of these recent serious criminals have a totally clean history….not so much as a parking fine…..and a lot of them members of the establishment or just good old boys and girls. Goes to show that the real crim's think they are above the law. A lot of them rolling out the previous unblemished histories to deflect attention. Well Rolf you have had the best the world can offer, no abused under privilged aborigines in your past Mr Harris! We here at LF just hope you live long enough to go down! Maybe you could paint another picture of the Queen but a bit more racy…..come on Rolf you would love to give her one…you know you would.
Prison might not have satin sheets, but there will be endless didgeridoo's to blow on!
Related articles