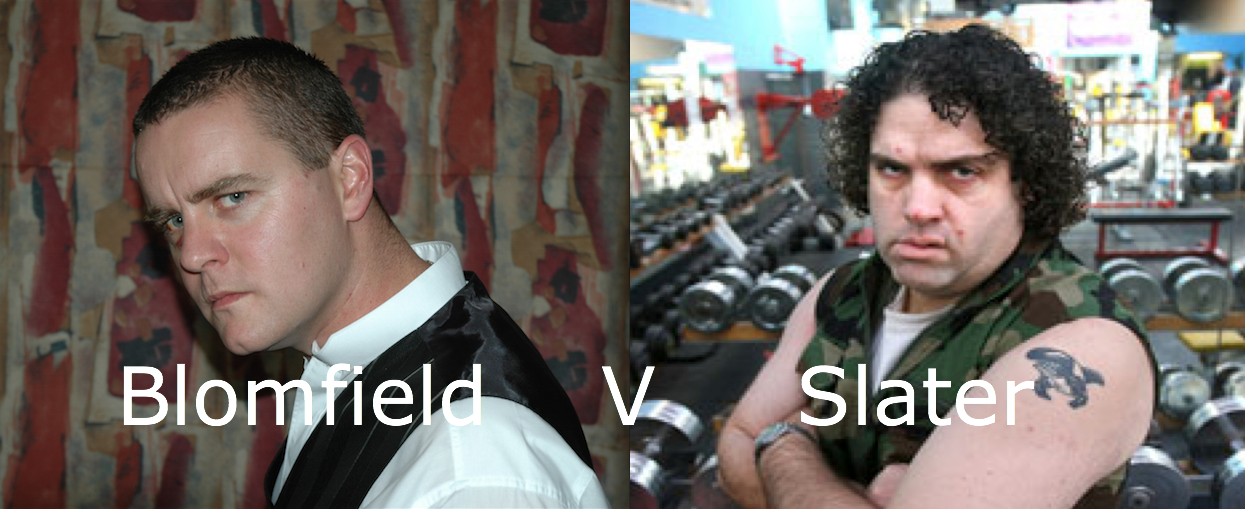 As most of New Zealands media, and those of its citizens who care about their democracy and freedom of the press, know tomorrow is D-Day for investigative journalism, at least investigative journalism that appears on New Zealand's blogosphere. New Zealands most successful blogger (if one is to believe the pundits) Cameron Slater, is due to appear in court in the morning in company with his latest nemesis Matthew John Blomfield.
Matthew Blomfield is the man facing off Slater in what has been described as a defamation tort. We here at LF however have described Blomfield's action as something quite different, everyone here at LF is of the strong opinion that Blomfield and the clowns behind this particular defamation tort set out and continue to use it as little more than a fucking fishing expedition.
Blomfield's motivation is simple enough, he is clearly determined to find out who was behind Slater's publishing of posts back in 2012 and that is the one and only reason in our view that Blomfield is now alleging, LF believes knowingly falsely, that Slater's for all his efforts has achieved little other than to defame him.
At issue, apparently, at least as far as Blomfield is concerned, are a number of posts that Blomfield and his dodgy side-kicks have listed in various court documents filed in support of their claim, LF will be dealing with each and every one of those claims in future posts.
Lauda Finem started following this story over six months ago when news of Blomfield's tort was first reported on by Bevan Hurley of New Zealand's Herald On Sunday. Interestingly, as LF later established in other cases it was Blomfield himself who feed his mate Hurley the details. LF has over the past six months or more reported on Blomfield's modus operandi, especially his use of Bevan Hurley, the New Zealand Herald in particular, and various other journos and media contacts to mount reputation damaging media campaigns against many of those who had fallen victims to his fraudulent scams. Victims who simply put didn't have a snowballs chance in Hell of then having their version of events told, all too complex the media had crowed as the victims, one by one were sent away, tail between legs.
Frustrated and angry at the inequity and the mainstream medias, ignorance and apparent disregard for their plight, the obvious failure to address the lack of balance, in that Blomfield had succeeded in cornering the media market, they eventually in 2012 turned to blogger Cameron Slater and his popular "Whale Oil" blog; fair enough we would have thought?
Somewhat ironically Slater only this year took out a Kiwi media award for best Blogger and in 2013, just before the Herald on Sunday's Beven Hurley announced details of the Blomfield tort, it was revealed that independent research had found that Slater and his Whale Oil blog were more widely read than any other New Zealand blog and if one is to believe the statistics thrown around, likely the New Zealand's mainstream media, at least in terms of the hits on their respective websites.
When the circumstances of this case became public LF took a simple stance. We may not like Slater's opinions, or his particular spin on all things political, but we will defend his right to voice it. We would also defend the work of various international courts, the parliaments of many democratic nations and the hundreds of academics and researchers who had concluded that bloggers were fast becoming credible outlets of news, news media sources that not only needed to be contended with but also respected. The fact is that bloggers and various other forms of online dissemination of "news" have proven to be more reliable and up to the minute than the old media.
With the large body of work finding the work of people (and groups) like Slater and his blog Whale Oil purveyors of "news" how then was it that a somewhat junior and seemingly unqualified Kiwi judge decided to swim against this tide of overwhelming evidence? The Judge was of course Charles Blackie of New Zealand District Court and we suspect that his name will live in infamy for years to come as the judge who lost his grip on reality.
So, as aforesaid, tomorrow is D-Day. It's the day that New Zealands High Court Justice Asher is expected to decide on Slater's appeal of Charles Blackie's inexplicably errant decision. Asher in being charged with hearing the appeal decided on a course of action not often used by High Court judges, he decided to appoint an Amicus Curiae, or friend of the Court, someone who is highly qualified to make submissions on the issues that Asher would be required to base his decision.
Team LF has, ahead of the public release, been supplied with a copy of those submissions, the work of Julian Miles QC, Amicus Curiae, to the Appellate Court in the matter of the defamation case of Blomfield v Slater.   For the record LF's source obtained the submissions from a person not directly involved with the case, but one which had them come across their desk for just a fleeting moment and decided to take a photocopy and forward them on to LF for us to give our opinion, before Justice Asher gives his.
The submissions of Julian Miles, in their entirety, are available HERE
That Appellate Court is the High Court of New Zealand, Auckland Registry. Miles QC's sagacious opinion was sought by Justice Raynor Asher following an appeal filed by Slater against the inferior Courts decision of ex tug boat Commander Charles "chucky" Blackie.
Justice Asher knew that this case could go to the Court of Appeal, so he spent tax payers money on advice from an expert in the evolving area of law revolving around the, as yet, unlegislated blogosphere.
In the lower Court District Court Judge Blackie, who unfortunately did not know that he did not have jurisdiction to decide the matter, as only a High Court Judge can determine a decision of such importance, decided clearly wrongly that Slater was an irrelevancy to public opinion, or importance, and could never ever be considered "news media", and had to reveal his sources to the recidivist fraudster Matthew Blomfield;
"Whaleoil is a blog site. It is not a news medium…..It is not a means of dissemination to the public….of news and observation on news….Neither do I consider that the sources of the material published on the defendants web site would be protected pursuant to Rule 8.46 of the High Court Rules"
Blackie is a Judge who clearly cannot comprehend the plain reading of statute, or society for that matter, or was it that he personally disliked Slater who, when considering Blackie's background, would see Slater as an arrogant, ignorant, sycophantic, peddler of hypocrisy.
Judge Charles S Blackie is an ultra conservative below average Judge who has not (as far as LF's research can find) the real life qualifications to have become a competent Judge in the first place, and it certainly showed in his decision.
Nowhere in Blackie's online history can we source confirmation of a law degree, let alone a degree of ability one would normally expect to find in someone charged with deciding the law. His past is that of an unspectacular New Zealand Naval Officer who wasted far to much diesel fucking around on Auckland's harbor in putt-putts like HMNZS Hinau;
The submissions of Miles QC are extremely well written, in plain English, unpretentious, and seek to explain that any blogger that writes about contemporary news events, which will require "sources" of contentious or inflammatory information that will seek to reveal the possibly unsavory truth of a matter of public importance or interest is both a journalist, and their site, a news medium, and thus both are subject to protection from section 68 of the Evidence Act 2006.
The bloggers sources are safe as long as the matter is otherwise covered by the wide provisions of the section and supporting precedent, excepting the likes of criminal offending when obtaining information against a private individual, which is where recidivist fraudster and perjurer Matthew Blomfield, was going when he lied about the hard drive containing the information, being stolen.
The New Zealand Police have confirmed that the hard drive was NOT STOLEN – as falsely claimed by Mr Blomfield. In fact IPCA Investigator P Roozendaal has called Mr Blomfield's claims about the theft perjury in a letter to Mr Slater dated 13 June 2014;
"You believe that the incident Matthew Blomfield claims to be his report of a burglary was in fact reported by Warren Powell. Your further state that Matthew Blomfield filed an affidavit in the High Court which referred to his reported burglary, and he stated that he laid the complaint. This is an act perjury" said Mr Roozendaal
The MSM was hoping that the establishment, through the Courts often being the victim of virulent attacks by news bloggers, would end hard-core news bloggers rise, and rise, in popularity and credibility.
The old guard has to change its ways and fast, as their arrival at the irrelevancy lounge is drawing nearer with every cop-out that comes along, and the average punter wants someone to report the stuff between the lines, not that which is contained in spin-doctored press releases.
Miles QC points out that the Irish Courts find news bloggers to be "organs of public opinion" and LF agrees. Moreover bloggers can take positions on a subject which often will allow "whistleblowers" to know that their information and identity is safe in that they can simply 'drop' information, and the bloggers will publish it with their particular lean on it, a lean that may be, and often is, quite different to that of the msm.
Bloggers can also spend more time on important stories, and often, like LF, are quite specialized in their respective areas of interest, which leads to a more in-depth, perceptive, and critical evaluation of issues that become important to the public because of the bloggers distinct abilities.
A great example of this argument is the case of fraudster Martin Honey, a Ray White real estate agent that operates from Offices in Royal Oak Auckland New Zealand. LF has been crucial in securing witnesses to his criminal operation and running of a fraudulent RE/MAX web site concealed in his company's Ray White Pure Realty Limited's websites.
Above are the stilled images of a comprehensive video of the fraudulent RE/MAX website working (videos can be viewed in a previous LF post), the video was supplied to the REAA, who then, corruptly, and inexplicably on the instructions of Anna Tierney (formally a forensic accountant responsible for the South Canterbury Finance SFO investigation specializing in computer forensics), the Chair of the Complaints Assessment Committee (CAC), ordered that the REAA's computer forensic expert not look at the video, to enable her to find Mr Honey was innocent of all of the allegations, and that the allegations, and the posting of the video on LF, amounted to harassment of Mr Honey.   Mr Honey in his perjury went as far as falsely asserting that the web pages were cached, and that he was being coerced by the victims with the victims seeking compensation through orders of the REAA.
A significant amount of the information LF received came from an informant inside the REAA, and yet another informant inside Ray White New Zealand's operation. There are many more incriminating revelations yet to come. Now we know that our source is safe from the New Zealand Courts ordering discovery of their identity.
LF also investigated and received information from sources that prove that the New Zealand Real Estate Agents Authority is full of extremely dishonest staff members who had wilfully concealed information from the victims of Mr Honey's offending inclusive of admissions to the existence statements made by Mrs Honey admitting to the existence of the fraudulent website, and a computer forensic expert finding that Mr Honey had in fact been operating the fraudulent website.
But the real breakthrough came when LF had information from a source close to the action that informed the LF Team that we should look at the personal and other connections between Anna Tierney and Ray White, and Martin Honey. The source told us exactly where to look, and of course the source was spot on. Again that source is now safe from ever being identified.
Our investigations established that Anna Tierney was married to Jon Tierney, whose uncle is Ray White Queenstown legend Mike Tierney, who is best mates with Martin Honey and his brother Peter. As if this was not damning enough as against National Party insider Anna Tierney, Mr Honey had initially made his false complaints directly to National politician Jackie Blue MP, and indirectly through Ms Blue to the Minister in charge of the REAA at that time, Nathan Guy.   As stated Anna Tierney was employed by Nathan Guy. We have leaked emails relating to these communications, and again that source is now safe.
LF also investigated and received information from sources that prove that the New Zealand Real Estate Authority is full of very dishonest staff members who had hid information from the victims of Mr Honey's offending inclusive of admissions to the existence statements made by Mrs Honey admitting to the existence of the fraudulent website, and a computer forensic expert finding that Mr Honey had been operating the fraudulent website.
If you know anything about the operation of the fraudulent RE/MAX website by Ray White Pure Realty Limited, and its director Martin Honey, please contact LF and your identity will remain a secret, unless you are happy to be named in which case we will tell the blogosphere what you know.
The socialist, and anti Slater Blog The Standard wrote;
Cameron Slater simply isn't a journalists arsewipe. For him to claim the legal privileges, protections and authority that the journalistic profession holds within our political and economic community makes a travesty of the whole concept of a free and responsible press

Source: http://thestandard.org.nz/i-think-justice-blackie-got-it-right/
Whereas Miles QC felt quite clearly the exact opposite, as how much of an arsewipe anybody is, does not, and cannot, determine a bloggers rights according to the law if the blogger receives information in confidence and writes stories and publishes them on their blog.   There remains the issue that at least one of the identities of the source of information is known. That person being Auckland Businessman Marc Spring who gave an affidavit in support of Slaters cause, stating that Blomfield was dishonest in business, and that he had given information to Slater. Whilst Blomfield has stated that he had known the identity of the other informants, that is only guesswork, and should not of itself have the Court determine that Slater has to name his sources.
The actual case of Blomfield against Slater is a side show as both men in some respects deserve each other. But the important matter, is that by default, the side show has led to the Courts Amicus Curiae concluding;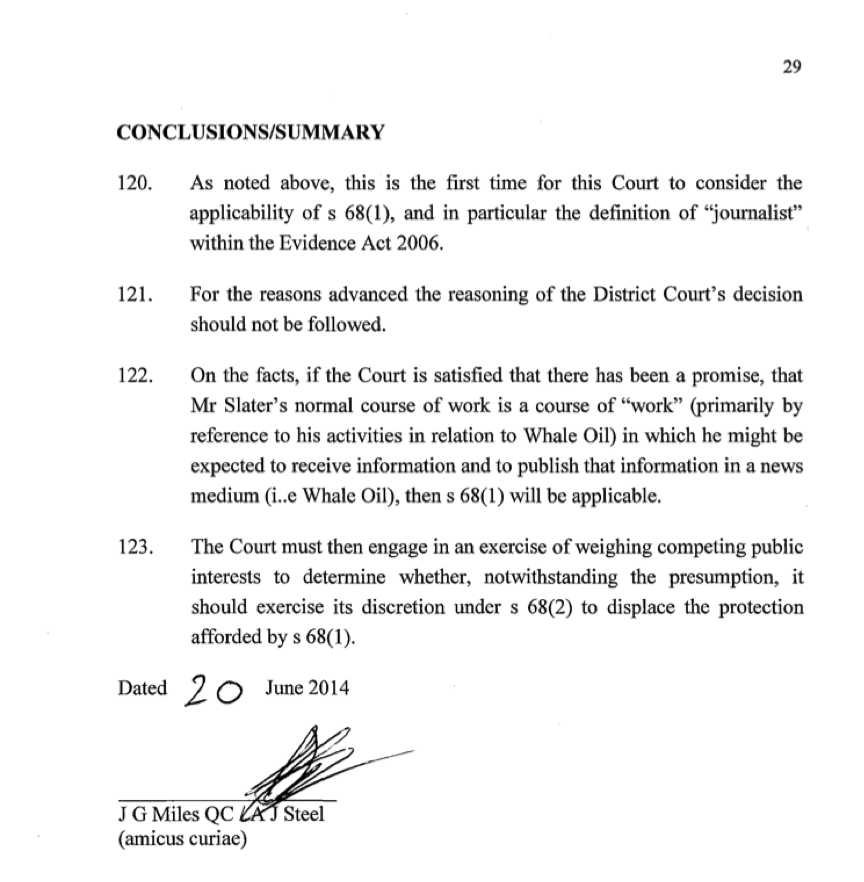 This is the very same conclusion that LF also reached, albeit six months ago. We did so not through any loyalty to Cameron Slater or even a liking of the opinions expressed in his Whale Oil blog. In fact, as we've said many times before, we have no appreciation of Mr Slater's opinions. Our conclusions, like those of Julian Miles QC were reached by looking at the law and the available evidence, inclusive of the wider empirical evidence that Judge Charles Blackie seemed determined to ignore.
Of course Blackie was not alone in his bias. Most of New Zealand's mainstream media and the local blogging community were seen standing on the sidelines heckling Slater, patting Judge Blackie on the back, not because Slater was not media, although some did feign that opinion and others, well they were obviously just pig ignorant pricks unable to distinguish shit from clay even if their lives depended on it.
It had much more to do with their desire to shoot Slater, the messenger, in the hope that he would be prevented or dissuaded from blogging. These fuckwit's, the clowns with "penis envy", given the "size" of Whale Oils readership, that sought short term gain from Slater's predicament, a predicament that anyone of them could have found themselves in, are deserving of ridicule for their distinct lack of comprehension of the larger issues at play that the Blomfield v Slater case had thrown up. Crow they did, now proven to be complete and utter contemptible idiots, they will no doubt be remembered for having abandoned reason and allowing themselves to be a party to what amounted to a politically driven lynch-mob mentality that put democracy and press freedoms at risk…………. fuck the truth, lets hang Slater while we've got the opportunity, because we don't like him, it's a bad Kiwi habit!
Whilst there where many standing in the queue, clubs in hand, waiting to bash Slater whilst he appeared down, the Standards Lynn Prentice was among the worst, followed closely by Martin Bradbury of the Daily Blog.
Lyn Prentice is however notable for his sycophantic sucking up to Blomfield, his utter laziness when it came to checking facts that Blomfield was given license to present as "truth" when Prentice granted Blomfield the soapbox from which to grandstand and spread yet more horse-shit and misinformation;
Matthew Blomfield, the defamation plaintiff against Cameron Slater who has been exciting the journalistic and blogging communities this week asked to make a statement to clear up some issues that have arisen in the blog space.

There was a lot of stupidity and outright bullshit (like allegations that Mr Blomfield was an undischarged bankrupt) in the comments in an earlier post that put this site at a legal risk (including comments from Cameron Slater). So I agreed to do it only if the post was fully moderated. Rational discussion without unsupported assertions of fact will be let through where they do not impede the case currently in front of the courts.
It must have been obvious to Prentice that the only reason Blomfield had even bothered to approach his shyte sheet of a blog was because Bevan Hurley and the New Zealand Herald had since realised that they were fucking sitting ducks for their past association in printing Blomfield's spin doctored crap? Although, somewhat ironically Blomfield in doing so seems to have himself acknowledged the "bloggers are media" reality. Below are a few of Prentice's bullshit posts on the subject:
I think Justice Blackie got it right
Cameron Slater and the protection of journalist sources
It's not stolen I just borrowed it without asking
Prentice may well have thought that "Blackie got it right", but what was his reasoning? Prentice in particular should now be very worried, not because of anything Blomfield was ever capable of doing to him and his blog, rather Prentice's future problems may well be coming from another direction. In focusing on Slater, the dumb-fuck dumb-struck with his hatred of the man, Prentice seemed to forget that the truth actually does matter and that the people that Slater had been a voice for in 2012 may just want to have a piece of Prentice for having muddied the waters of public opinion, that's if they haven't been satiated by the time they've all had a large piece of Bevan Hurly and the Herald on Sunday for the crap they've printed since 2007, at Blomfields behest.
The fact is that if you are determined to get at the truth, and not just push a political ideology at the cost of the truth, such as Prentice does, then you will be seen, over time , as more reliable and frankly relevant. Its a lesson that Prentice and a few other politically aligned bloggers, even Slater himself, may be about to learn.
There's more to come on this saga and its not looking too good for Mr Blomfield's version of the past decades events. The world according to Blomfield, just like Charles Blackie's decision, may yet prove to have been a bad dream, a myth created by a man who is a legend in his own mind. Mr Blomfield's very versatile and fertile criminal imagination may just fail him in the fullness of time – afterall as the addage recalls, the wheels of justice can turn very slowly.
Related articles