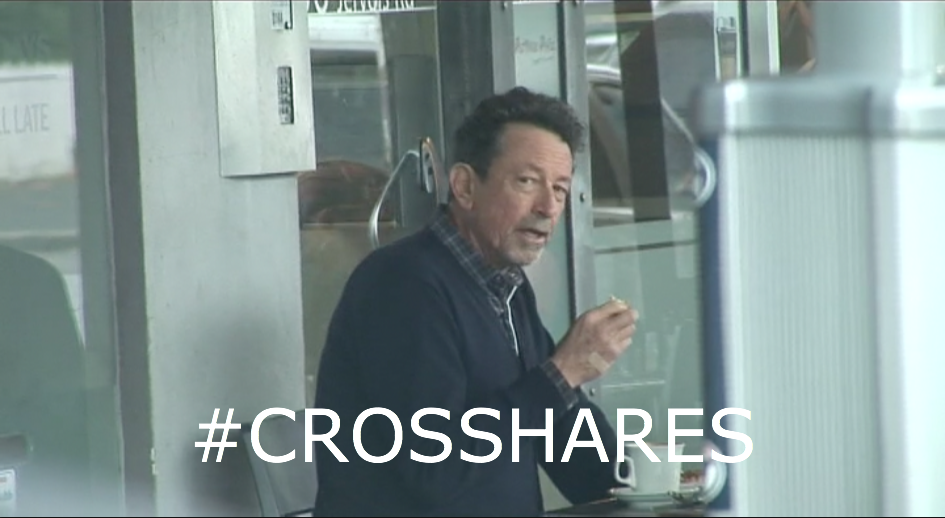 In our last post on serial fraudster, extortionist and swindler Matthew John Blomfield we reported on the fact that Blomfield had joined up with cyber copyright fraudster Martin Honey to lay a false complaint with police accusing justice crusader Dermot Nottingham of sending threatening sms texts to Blomfield's defacto partner Rebecca Blatchford (aka Rebecca Anderson and Rebecca Blomfield). We also advised readers that this pair of criminal charlatans also attempted, with the willing assistance of so-called "private detective" Daniel Toresen (aka Danny Thompson, Daniel Toresen-Thompson and Dan Thompson) and allegedly an American private detective by the name of David L Warkentine to, again knowingly falsely, allege that Nottingham owned and controlled Lauda Finem.
As we also noted in the article that LF was already aware of the existence of some of the documents disclosed in an email sent to one of our sources by Blomfield's recent business partner Mr Graham Hare. In this post however we will not be revealing anymore information with respect to the information LF has received inculcating Blomfield in very recent alleged criminal offending. In this post we want to focus more on one particular aspect of the last court hearing in the defamation case Blomfield v Slater.
That hearing was primarily about two distinct issues. The first being whether renowned Kiwi blogger Cameron Slater and his Whale Oil blog was a journalist as undefined in New Zealand's Evidence Act and whether or not he had the right to protect his sources.
One of the issues raised during the submissions presented to High Court Justice Raynor Asher was whether Slater was right to claim that Matthew John Blomfield presented a real threat to the well-being and welfare of his sources.
A number of other bloggers and the mainstream media, in particular APN's New Zealand Herald, have pooh-poohed the idea that Slaters sources have anything to fear. Of course in doing so they have simply demonstrated their ignorance and gullibility, so much putty in the hands so to speak.
It is LF's experience however, in talking to anyone who has been involved with Blomfield, that he is quick to threaten people with his alleged access to criminal gangs and the implied use of a violent reprisal.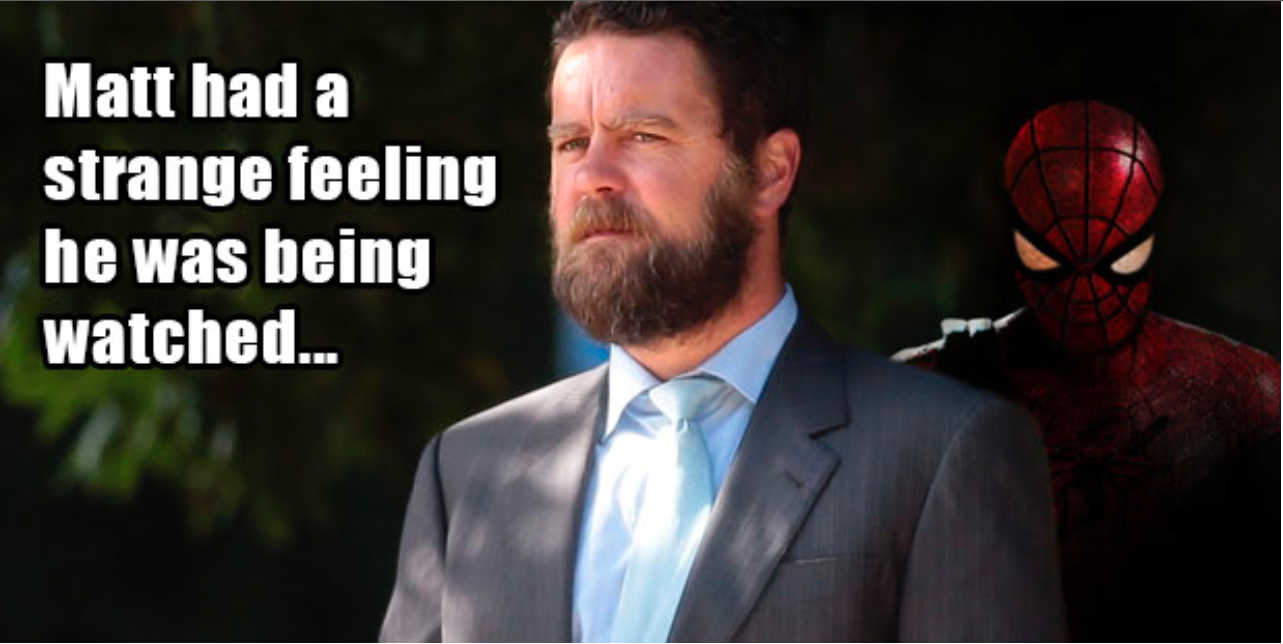 LF in our last post we also touched on the fact that we had managed to obtain many covertly filmed and audio-taped interviews with various parties who had dealt over the years and more recently with Blomfield, all providing evidence of criminal offending that we will be bringing our readers in the near future.
For this post however we would like to focus on the reaction of just one of those people when they thought that they had been covertly photographed talking to one of Cameron Slater's sources, the source having turned LF asset.
LF have made the decision to publish one text message in particular, in isolation. An sms text that was sent to our asset, in the early hours of the morning. We do so simply because it turns on its head the notion that Matthew John Blomfield and his associates are harmless businessmen who pose absolutely no threat and who have somehow been wrongfully maligned by Cameron Slater and his informants – in short, that Slater's informants have nothing to fear from Blomfield and his cronies, should their identities be handed over.
In our last post we evidenced the lengths that Blomfield will go to, including criminal offending, to get what he wants; but this particular sms text, sent by Blomfield's recently departed business partner, a man that ought to be "in the Know", Graham Hare, goes even further;

Now what is extremely important to note is that Graham Charles Hare is also nothing less than a Barrister and Solicitor of New Zealand's High Court.
He is, or at least was, also Matthew John Blomfield's business partner and a trusted consigliere up until very recently, the 12 May 2014 to be precise, when he decided that enough was enough and that he needed to extract himself from his "business" relationship with Blomfield; and quickly, if at all possible.
Graham Hare was advised by others, including LF, to attend his nearest police station and report what he had claimed to have witnessed. At the time however he seemed more concerned with attempting to extract himself and what was left of his cash from the relationship with Blomfield. In fact he believed that the "goods" he held on Blomfield would be enough to leave Blomfield well and truly fucked.
We here at LF pointed out that he could not simply ignore the alleged criminal offending he had claimed to have been a witness too, especially given his obligations, as a solicitor, to the Court.
Following those conversations Hare obviously decided that he would nevertheless take the risk rather than go to the authorities and report Blomfield.
Mr Hare seemed more afraid of what Matthew John Blomfield and his associates would do to him and his wife more than he was with any repercussions he might face under the law he had sworn to uphold, as a Barrister and Solicitor admitted to the Bar.
Mr Hare did again change his mind and his obviously genuinely held fears are clearly expressed in the above sms text message;
"I have lain awake concerned for my wife and my property as a consequence………Very sorry to be texting you at this hour – it's singularly a consequence of the depth of the evil pond in which that (Blomfield) Clan survives."
Needless to say no member of team LF made any arrangement with Graham Hare with respect to confidentiality, nor did our asset who assisted in collecting the evidence LF now holds.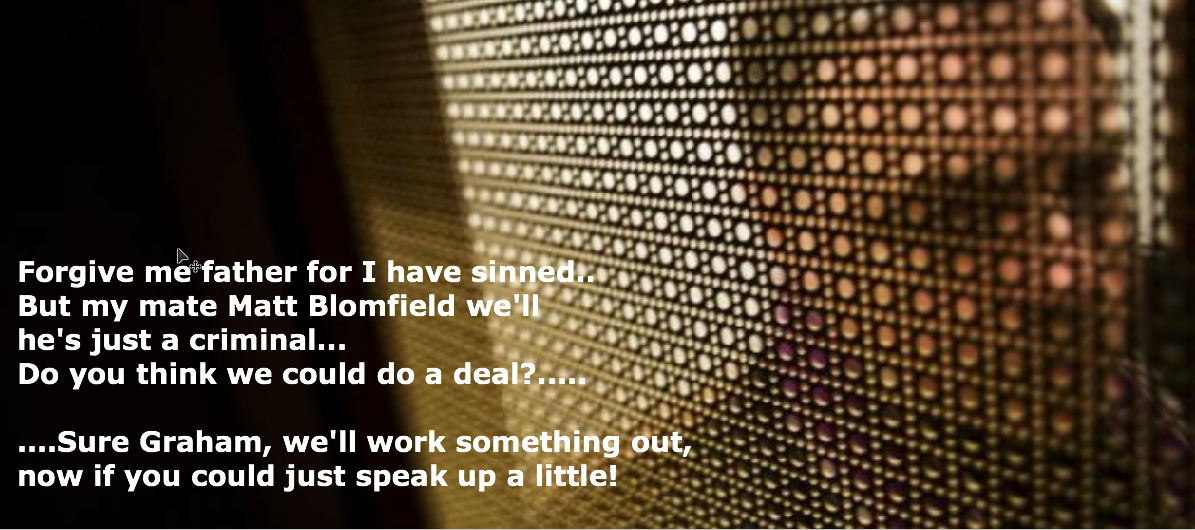 Mr Hare however decided, obviously as an after-though, as any dodgy lawyer would, to insert the almost laughable "disclaimer" in the above text when he eventually realised that he could not be certain whether or not his attentence at LF's high fidelity confessional and his subsequent "Mia Culpa" had been electronically recorded for posterity.
LF had however previously offered to protect Hare, but only if he went public with what he knew voluntarily and reported the criminal offending he had alleged Blomfield had committed to the New Zealand police.
Clearly Mr Hare failed to do the right thing and report Blomfield, so LF has been left with no other option in the circumstances but to go public with what we have obtained covertly in the public interest.
Our reasons for recording the evidence that we had collected is simple enough. Matthew Blomfield has a very long history of threatening physical harm and intimidating witnesses but has so far managed to evade prosecution in a multitude of cases where he ought to have been charged by authorities. Witnesses either have a sudden change of heart or vanish off-shore.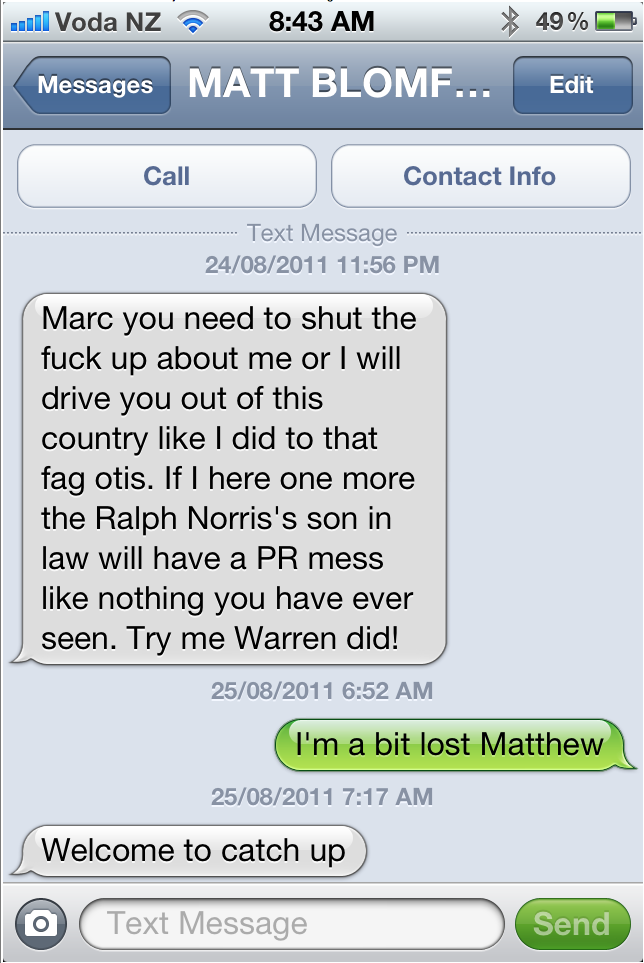 There was another concern that LF held. That being that Mr Hare may have meet with an unfortunate accident in the future and so his testimony needed to be documented for the record. Those concerns were of course valid given the recent incident at Greenhith, Auckland, involving Blomfield, an "unknown" polynesian assailant in a spiderman mask brandishing firearms.
With the aforementioned in mind LF would recommend that Mr Hare immediately attend his nearest police station and report to the police the information he has and the very real concerns he holds for the safety of his family and property.
As aforesaid we here at LF also genuinely believe that Blomfield and his associates pose a very real danger to anyone this cabal decides to target. LF's revelations yesterday of Blomfield's criminal plot to falsely accuse justice crusader Dermot Nottingham, also falsely alleging he was behind LF, are evidence enough of Blomfield's propensity for criminal offending, more about that in future posts.
Now to give the above a little more context, as readers are no doubt now feeling a little sorry for Mr Graham Hare – It was Graham Hare who was almost singularly behind supporting Blomfield's threat to sue the office of the official assignee unless they granted Blomfield the special exemption in and around having been banned as a company director.
It was largely thanks to Mr Hare, and his "lawyerly" efforts, including a number of sworn affidavits, that Matthew John Blomfield, a man who the Office of New Zealand's Official Assignee (AO), the Crown Solicitor and a great many others had described as a serious threat and ongoing danger to the public and commerce to be again let loose on unfortunate and unsuspecting victims.
It was Mr Hare who in fact swore blind that Matthew Blomfield was a true business "genius" that could be rehabilitated under his mentorship. Unfortunately however, Mr Hare, despite being warned and failing to listen to the advice of those who had gone before him, those who'd learnt the hard way, went ahead and had Blomfield released under section 385 of the New Zealand Companies Act 1993.
In short Mr Graham Charles Hare saw Mr Blomfield and his Machiavellian business machinations as an extremely lucrative cash cow that Hare had obviously hoped would enhance his own personal fortune.
It now seems, unfortunately for Mr Hare, that he was conned into believing, like so many before him, that shit is clay and that the Emporor really was wearing new clothes made of the finest cloth.
Note:

Click here to view Meredith Connell, Crown Solicitors, correspondence to Matthew John Blomfield dated 2th June 2012 re "special exemption" under section 385 (8) (b) of the Companies Act 1993.

Click here to view Graham Charles Hare's affidavit dated 6th June 2012 in support of Matthew John Blomfield being granted the Companies Act Section 385 exemption.
It is also interesting to note that Mr Hare and another legal associate, Bruce Johnson LLB were only shown the emails and other documents containing the false allegations that Blomfield had levelled against justice campaigner Dermot Nottingham after Blomfield thought that his little "cabal" had begun to implode; obviously fearing that he had a "Judas Iscariot" amongst the troops, one who was willing to break ranks with the "Blomfield Clan" and spill the beans.
In emailing the criminally false material to both Hare and Johnson Blomfield was using a tactic he has employed many times before, yet again clearly hoping to create "fear" and thus silence them both with a little more of the now infamous Matt Blomfield smoke and mirrors act.
To little to late Mr Blomfield. In fact, far to little and far to fucking late.
As for Blomfield's relationship with the dodgy Kiwi realtor and cyber copyright fraudster Martin Honey, Blomfield's criminal co-conspirator in the plot to falsely accuse Nottingham, LF will be posting the extraordinary story of that particular failed Machiavellian scheme in an up coming post.
Reference/Bibliography
http://www.laudafinem.org/wp-content/uploads/2014/07/meredithconnell_letter_6june2012-2.pdf
http://www.laudafinem.org/wp-content/uploads/2014/07/affidavit_graham_hare.pdf
http://www.legislation.govt.nz/act/public/1993/0105/latest/DLM323259.html
http://www.stuff.co.nz/business/2764365/Dermot-Nottingham
http://www.stuff.co.nz/national/4598131/Alleged-killer-living-like-pauper-in-3m-mansion
http://www.stuff.co.nz/sunday-star-times/features/feature-archive/11902/SPECIAL-INVESTIGATION-Money-for-jobs-immigration-scam
http://www.stuff.co.nz/business/industries/banking-finance/2522736/Finance-report-the-talk-of-the-town
http://www.stuff.co.nz/national/10056552/Police-raid-irks-legal-high-dealer
http://www.stuff.co.nz/nelson-mail/news/809738/Campaign-seeks-to-oust-LDC-receiver
http://www.stuff.co.nz/6458/Cash-for-student-jobs-scam-uncovered
http://www.stuff.co.nz/nelson-mail/news/407785/Finance-firm-investors-to-sue
http://www.stuff.co.nz/nelson-mail/news/3353123/Investors-told-to-wait
http://www.stuff.co.nz/nelson-mail/news/6993899/Court-ruling-will-hurt-unsecured-investors
http://www.stuff.co.nz/national/125965/Money-for-jobs-scam-rolls-on
http://www.stuff.co.nz/business/money/7000254/Investors-wrest-9m-from-PwC
http://www.stuff.co.nz/sunday-star-times/business/3276939/The-choppers-the-finance-firms-and-the-missing-millions
http://www.radiolive.co.nz/LUSHtalks-to-justice-campaigner-Dermot-Nottingham/tabid/506/articleID/6512/Default.aspx
http://laudafinem.com/2013/06/29/justice-campaigner-dermot-nottingham-chats-to-the-new-zealand-spook-agencys-gcsbs-overseer-ex-justice-paul-neazor/
Related articles