The man responsible for supplying documents to Justice Campaigner Dermot Nottingham proving that Matthew John Blomfield, and Private Investigator Daniel Toresen, and lawyer Daniel Grove, were involved in attempting to mislead the New Zealand Police Service, and the Auckland District Court, is now subject to harassment from Daniel Thompson, the founder of the crooked private investigation firm, Thompson and Toresen.
According to someone close to Mr Spring, Mr Toresen Senior was seen driving a blue falcon XR 6 or 8 through the gates of Mr Spring's secret rural property, and then returning to park the Falcon at the gate, awaiting the return of Mr Spring.  According to the witness the middle aged male driver of the vehicle appeared to be drinking from a bottle. This was later confirmed when three Steinlager Pure bottles were recovered from the grass verge where the Falcon had been parked.
Mr Spring apparently recognised the driver as being Mr Daniel Thompson Sr, before driving on past his property and up the long hill. The other person with Mr Spring noticed that the Falcon remained parked in the driveway. Upon Mr Springs return some time later the Falcon had vacated and could not be seen. The passenger has since also confirmed that the male driving the Falcon appeared to be very similar in appearance to pictures that the passenger has now seen of Mr Thompson (below).
Since the story broke on the criminality of Daniel Thompson and his "undercrim" son Daniel Toresen, LF has been receiving at least 5 emails an hour informing of the past criminal antics of the dangerous duo of dumbfucks.
One informant stated that he and Toresen had once been good friends until his acrimonious divorce. Not until Court documents were discovered did he realize that Toresen had gone to his wife, after becoming aware of the split, and sold her on hiring him to "observe" her husband from dawn to well past dusk.
Many thousands of dollars later the informant found out that everything he had been telling Toresen as a friend had been grossly exaggerated to the point of falsehood, before being placed before his former wife, and the Family Court.
The misinformation, and lies led to the man not being able to see his children for a significant period of time until he could prove to his former wife that what had been reported to her by Toresen was false, and known by Toresen to be false. The reporting of this false information in an affidavit to the Family Court is yet another example of how dishonest Daniel Toresen is.
LF is seeking the documents, but the informant has stated that it would be contempt of the New Zealand Family Court legislation to release the documents. LF has asked the man and his former wife to approach the Family Court seeking the release of the documents, but keeping their names, and the names of all others, except Daniel Toresen confidential.
We remind our readership that this is but one of the many stories of deceit, fabrication, and basic fraudulent ambulance chasing that these clowns immerse their pitiful existence's in.
But more concerning to LF is the level of violence and corporate fraud that is now being exposed by LF receiving information from the "target, client/customer, and corporate community" that evidences that these two criminals may have committed such a level of offending that they need to be stopped just like their criminal clients such as Matthew John Blomfield.
We have advised our informant and witness [to the criminal harassment of Mr Spring by Mr Thompson] to tell Mr Spring to not bother phoning the corrupt New Zealand Police Service, and to arrange for private security inclusive of 24 hour electronic surveillance in case Mr Thompson and Mr Toresen return at night with a couple of moonlighting steroid addled police detectives to involve him in a head butting, and limb breaking party. Maybe they might be wearing the now infamous Blomfiled spiderman outfits – as apparently they are currently all the rage, a must have, when planning a home invasion.
The Torensen family business fraudpire is built on lies, those lies are built on pure fabrication, the fabrication is built on complete deception, and the deception built almost completely on bullshit, and bluster.
The number of struck-off companies owned by the Torensen clan of criminals is indisputably more than that of the likes of fraudster Matt Blomfield, and their offending goes as far as claiming to own and operate a company "The Investigators Limited", when in fact that name is reserved by a person that has been subject to false accusation by Blomfield and the Toresen's.  There exists no such company as "The Investigators Limited", as is falsely stated on their website.
Now lets look at the specific Companies Act 1993 breach that has occurred at the hands of these fraudster's;
381 Improper use of ""Limited""

Any person who, not being incorporated with limited liability, whether alone or with other persons, carries on business under a name or title of which ""Limited"" or a contraction or imitation of that word is the last word, commits an offence and is liable on conviction to the penalty set out in section 373(2).
But Daniel Snr and Jnr are not the only "bad cunts" in the Toresen Clan… no, no, there's Aaron Bartholomew Toresen, Nichola May Toresen, and finally but by no means least, Francine Digna Augusta Toresen, who between them have "set up" 26 companies, with 18 being either struck-off, liquidated or currently in liquidation.
And then there are the allegedly limited liability companies that are in fact frauds like "The Investigators Limited". Maybe they had decided not to record their constant failures on the Companies Office records by simply preferring to breach section 381 of the Companies Act 1993.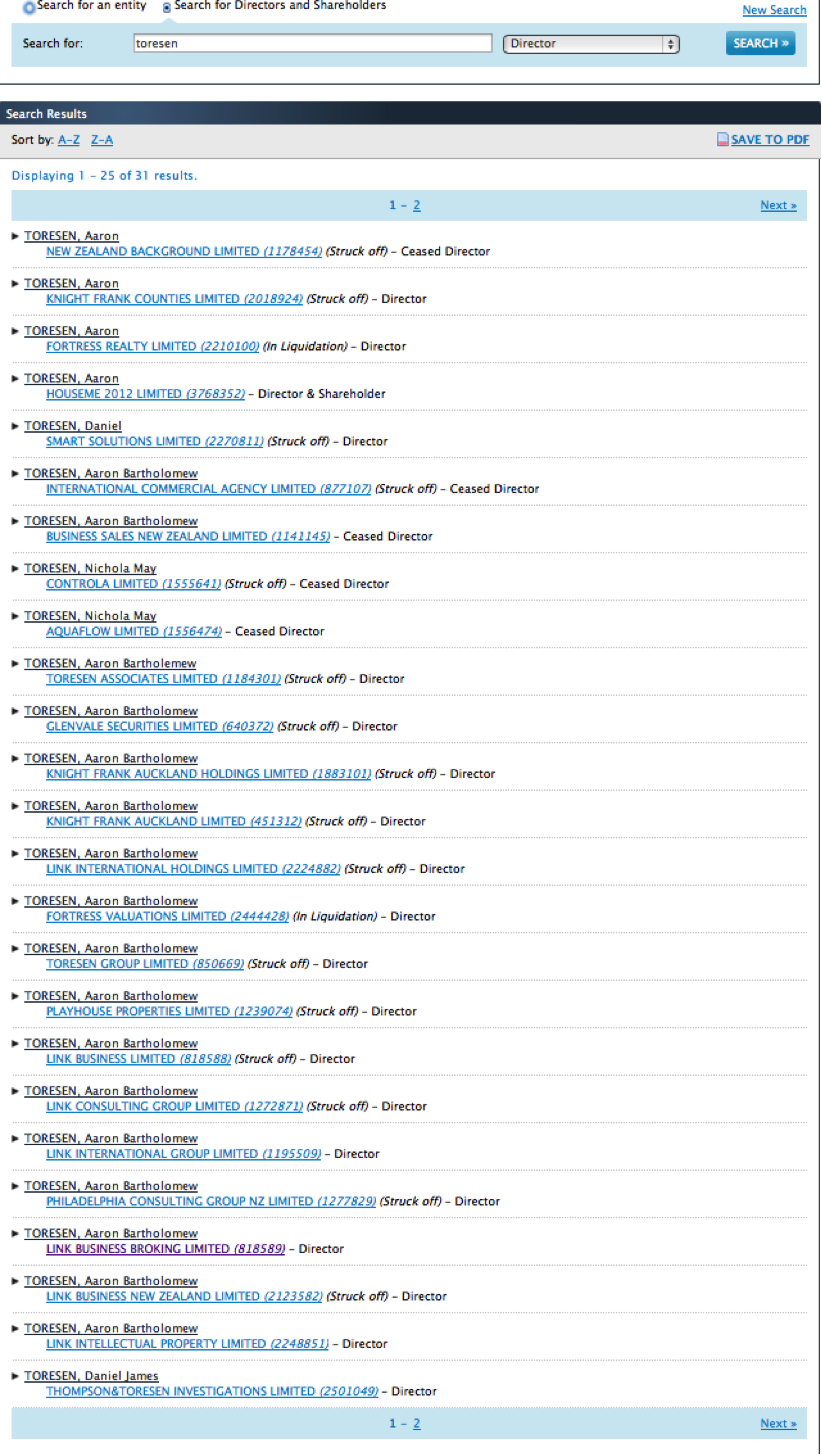 These scumbags make Blomfield look honest – and that is something that they will be famous for when they host the annual World Association of Detectives Conference at Sky City in October this year. It appears to LF that the number of victims involved could lead to picketing.
LF is also currently making inquiries about the yankee doodle dandy David L Warkentine thanks to the suggestions made by a reader, Mr Harry Stottle. According to yet another reader Mr Warkentine's companies are registered in the Channel Isles – another good indicator that the likelihood is that the talented Mr Warkentine is in all probability a complete "invention".
The information is flowing in so fast that we have knick-named the handling of this information the Thompson-Toresen Tsunami, [or 3t's for short], not to be confused with "two tits and a thug" below.
When we call Daniel A Thompson a thug – he is more of a malevolent Myrmidon of those that want dirty work done against those that will be intimidated like the very elderly man assaulted by Daniel Thompson at the District Court. Thompson is complete and utter scum with a capital S.
LF would love Thompson to pop around to Dermot Nottingham's abode, and see what reception he got. LF informed Nottingham of the apparant threat and Nottingham has stated without being specific;
"Any imminent tangible threat to safety will be immediately eliminated, and such actions electronically observed"
The magnitude of the information will not drown LF's inquiry, but it will quite rightly obliterate any trace of credibility from the alleged investigative techniques and integrity of Daniel A Thompson, Daniel J Toresen, and their joint criminal and bogus charade "The Investigators Limited".
Related articles