Fairfax New Zealand ran a piece late this afternoon covering yet another sex offender that has apparently walked away scott free, complete with permanent name suppression thrown in to seal the deal. It would seem that New Zealand's local MSM have lost there balls and are leaving it up to international bloggers to expose these injustices and the Machiavellian behind the scenes plots that New Zealand is fast becoming renowned for.
'I did think "did I actually rape anyone?" I was worried, but it never happened. Sometimes you don't know whether you did actually do it, in the sense of where the line is. But no-one ever, ever complained' – Grahame Thorne
This story also mirrors a spate of recent case's in New Zealand where despite the victim waiving their right to name suppression in the hope that the perpetrator will be named, the courts have still seen fit to grant suppression for the perpetrator alone.
These cases more often than not reek of collusion on the part of the police, crown law and the courts responsible for the decisions. One such recent case involved historic sexual abuse. In that particular case both the offender and the school concerned were, again inexplicably, granted permanent name suppression, despite the victim having waived his legal right to anonymity with the express purpose of having both the school and the offender publicly named, his personal sacrifice to no avail however.
At the time team LF exposed those who we suspected where behind the coverup and the reasons for it – of course that case too likely involved another well-known New Zealander, at least in the country's legal circles, a QC who had only just been appointed to the bench of New Zealand's High Court, the judicial nominee having alone been responsible for writing a rather nasty letter to the victim in his capacity as the chair of the schools board prior to the police prosecuting of the offender. Of course Auckland's Kings College has a history of covering up sexual abuse and hiring teachers who are were suspected peodophiles, a history that is linked to the most recent case.
See: New Zealand Institutional Child Sexual Abuse, The Dixon Case & The School Trustees Association – Was the "Fix" In?

Also see: Kings College and Taylor and Television New Zealand Ltd – 1995-019, 1995-020 (source: http://bsa.govt.nz/decisions/show/157, retrieved June 3rd, 2014)
Whats also interesting about the Grahame Thorne case however is that the police and crown prosecutors involved seem to have used exactly the same modus operandi as that which was used in covering up the murder, last year, of 16 year old Stephen Dudley.
Yet another similarity to the Dudley case exists, Grahame Thorne, just as those responsible for the murder of young Stephen Dudley, were very well-connected in New Zealand's Rugby circles, although Fairfax for obvious reasons were unable to report the fact, as it would likely have risked identifying Thorne.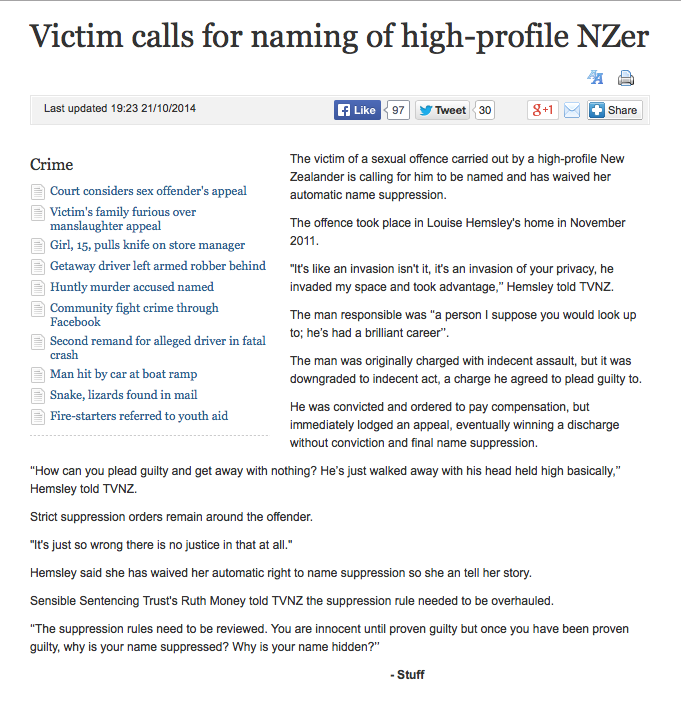 On this occasion it was not too difficult for LF, or anyone else for that matter, to find the identity of the offender on the internet. The victim, Louise Hemsley, is a resident of the Queenstown area, in fact her LinkedIn profile has her working for a firm of monumental stone masons, Central Otago Monumental, whose place of business is listed as 52 Springvale Rd, Clyde, CLYDE, Otago New Zealand.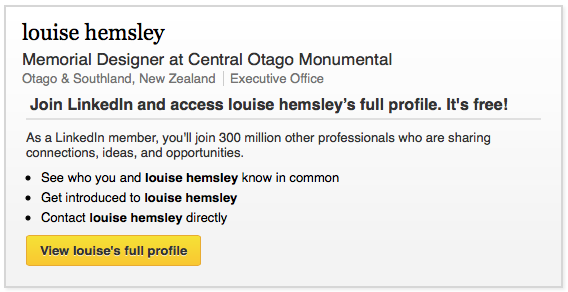 Then as aforesaid there was the significant other australian journo and blogger Derryn Hinch, who just happened to post a little expose back in July this year naming the perpetrator as the aforesaid Grahame Thorne, ex National party MP and well known rugby AllBlack. Unlike Kiwi journo's Derryn Hinch simply does not get things like this wrong. Mores to the point Hinche's article has obviously not been challenged by Grahame Thorne, it's still very much alive and well online. Hinch was born in New Zealand, however despite his unfortunate birth certificate he now undoubtedly identifies as Australian, there's little doubt that he possesses every one of the qualities for which Australian's are renowned – having been imprisoned more than once for breaching court orders where he felt the need existed. In his July article Hinch opined:
All-Black and Grey

Tuesday, 15 July 2014

IN THE ROLF HARRIS slipstream, New Zealand MP Maggie Barry made headlines (along with many other women) by revealing that the now convicted and jailed sex offender had also assaulted her. If Harris had been charged and convicted of that offence in New Zealand it is likely his identity would never have been revealed. In fact, having just been in Auckland for a Stop the Suppression debate, I can say it would be more than just likely. It would be 98% guaranteed. Now, Barry is being challenged to reveal the name of another famous predator. To use parliamentary privilege to get out into the public arena the identity of a very well-known person being quaintly referred to as a 'prominent New Zealander'. Columnist Rodney Hide made the challenge in a Herald on Sunday article under the headline: 'Forget Rolf, Maggie. We have our own sexual predator to name and shame'. Hide goaded:

'Forget, Rolf Harris. He's behind bars. Do the right thing and name this self-confessed offender in Parliament. Do what parliamentary privilege allows: make right what our justice system got wrong. Name this sexual predator under privilege and enable other possible victims to come forward. Some of your colleagues know who he is. Ask them. Or me'.

He is also a former All Black. It would be appropriate for Barry to name this sleazebag in Parliament because he is a former National Party MP. He is also a former All Black. The 'prominent New Zealander' is Grahame Thorne. You weren't meant to know this but in August 2012, Thorne pleaded guilty in the Dunedin District Court to a charge of performing an indecent act intended to insult or offend a woman.He was convicted and ordered to pay $5000 reparation for emotional harm and $1500 in counselling costs.

But last year, his lawyer argued in the Court of Appeal in Wellington that Thorne, in a bid to avoid a public trial, only pleaded guilty on the understanding he would be offered diversion or a discharge without conviction.

The matter was sent back to Dunedin. Now, Thorne has been discharged without conviction and his name has been permanently suppressed in New Zealand.

The victim could barely say the name of the man when he earlier pleaded guilty to the indecency charge.He still got away with it'.

'He is an animal,' she told the Otago Daily Times. 'He is a dirty bastard and people should know'. Her husband was relieved the matter was over 'but it is not really a win, is it? He still got away with it'.

This is what the former All Black got away with, according to the ODT (without Thorne's name).

The woman said Thorne struck up a friendship with her husband. Over a three-year period, he visited their home half a dozen times, but always with someone else.

On the day of the incident, her husband wasn't home and she was about to leave to do some shopping with her daughter. When her daughter went to get the mail from the end of the long drive, Thorne followed her inside and 'he just grabbed hold of me from behind. He was tall and towered over me. I said: "What the hell are you doing?" And he said: "But you are so lovely". It was horrible. His hands were all over me'.

She said:

He kept pushing his tongue in my mouth, pulling my head back and sticking his tongue down into my mouth and I was trying to push him off. His hands were all around my back, his hands down the back of my knickers. I was totally shocked. It took me by surprise. But I wasn't scared because I knew my daughter was about.

'I was trying to push him off and he took my hand and put it on his what's-it and he said to me: "This is what you are doing to me". I pulled my hand off and said: "Leave … just go!"

Her husband then arrived home, and the men started chatting. She said she didn't say anything to her husband about the incident in case he 'overreacted'.

'I just felt sick and walked out of the house'.

absolutely no remorse whatsoever.'

Asked later how the case had affected her, the victim said all she wanted was justice. She said she had never received an apology but before the trial had received a letter offering $5000.

'There is no remorse there; absolutely no remorse whatsoever.'

It's interesting, knowing what we know now, to go back to some of the dual international's public comments when another All Black was accused of sexual misconduct.

In 2010,  former All Black forward Robin Brooke was accused of groping a 15-year-old girl in Fiji on New Year's Eve and assaulting a 17-year-old male who tried to intervene on her behalf. He was not charged but apologised for his behaviour on New Zealand television.

When his name came out, another woman claimed that when she was 18 she awoke to find Brooke having sex with her after a test match against Australia in Christchurch in 1998.

Asked for his comments on that case, Grahame Throne said the revelations about Brooke had made him question his past.

'I did think "did I actually rape anyone?" I was worried, but it never happened. Sometimes you don't know whether you did actually do it, in the sense of where the line is. But no-one ever, ever complained'.

Not until now. But, sadly — and they call this justice — his fellow Kiwis, some of whom hero worship him, cannot know who he is or what Grahame Thorne is capable of.

Source: http://www.humanheadline.com.au/hinch-says/all-black—and-grey

Note: The Otago Daily Times article referred to by Hinch: http://www.odt.co.nz/news/dunedin/293956/what-does-justice-mean. The article Hinch also refers to, penned by Rodney Hide: http://www.nzherald.co.nz/nz/news/article.cfm?c_id=1&objectid=11292524
As we noted earlier, this case has the familiar stench of having been rigged,  interfered with (no pun intended), politically stage managed into the realm of judicial oblivion. Thorne was initially charged with the more serious offence of indecent assault. Then for some inexplicable reason police and the crown prosecutor saw to it that the charge was reduced to the lesser offence of performing an indecent act, to which Thorne then (so we, the gullible public, are led to believe), agreed to plead guilty. With the case apparently done and dusted and under the cover of his name suppression Thorne then immediately appealed the matter and quietly had the conviction quashed.
All this despite Thorne having pled guilty to the lesser charge, and of course Thorne's name suppression continued obviously unchallenged by anyone, including the crown and or the local media; being extended again on appeal, and again on the successful conclusion of that appeal – that order subsequently now numbering amongst the now infamous permanent.
"Forget Rolf, Maggie. We have our own sexual predator to name and shame" – Rodney Hide: 
In this case there is a clear prosecutorial abuse/cover-up parallel to be draw with the police and Auckland crown solicitors handling of the murder of teenager Stephen Dudley, wherein the killers were first charged with manslaughter, which was then inexplicably reduced to the much lesser charge of assault with intent, to which the offenders also pled guilty, they too enjoyed name suppression during the entire process, whilst the victims did not, which just as with Grahame Thorne was finally made permanent, in both cases the convicted offenders have walked away scott free despite having pled guilty to serious criminal offending, both subsequently also enjoying the legal eqivelent of an acquittal – no criminal record.
As always with the New Zealand media, they threw in a little bland reporting, largely the outrage of others, but displayed very little if any themselves, as a democratic pillar such as the "fourth estate" should with such an egregious outcome, the so-called free press in New Zealand has clearly become little more than a rubberstamp for the official party line, corruption, misfeasance and or incompetence.
In both cases the perpetrators were also well-connected within New Zealand's representative rugby circles, Thorne himself an ex all-black and the elder of Stephen Dudley's murderers a very promising upcoming representative rugby player, selected for the Samoan under twenty's team, Grahame Thorne however having the additional extremely beneficial connection to New Zealand's very corrupt National party.
That connection dates back decades to when Grahame Thorne was the National Party Member of Parliament for Onehunga in the 43rd parliament from 1990 to 1993 and following a move to Otago in 2008 he also ran for local body office in the Queenstown Lakes Council elections, the same local southern council that employed ex SFO boss Adam Feeley.
Thorne has never concealed his political aspirations and the connections he has, no need to when you have the courts in your pocket and name suppressions on tap, flowing like beer, or at least that's what the cunt obviously thought at the time. Grahame Thorne however had not counted on the Australians that would later get involved. As aforesaid the first to expose Thorne was Australia's very own Derryn Hinch and we suspect that New Zealand's courts will be fuming with feigned indignation again as their dodgy judicial handy work is yet again further composted by team LF.
New Zealand's political movers and shakers have been very slow to wake up to a new reality, that being that there are now a great many foreign eyes watching their every move, safe from the nasty retaliatory tactics almost always employed by the New Zealand police, their thoroughly corrupt behaviour and the actions of New Zealand's corrupt police force and it's politically active and very obliging bent judiciary.
Foreign based bloggers such as Lauda Finem and a sizable group of interested others, one among them now obviously being Derryn Hinch, won't be letting New Zealand's political movers and shakers, or for that matter their "friendly" politically appointed judges, off the hook. We are certainly not made of the same stuff that is New Zealand's seriously slimy and tainted mainstream media.
Wherever there exists a putrid whiff, the stench of corruption, coverup or a rigged judicial or political process Team LF's trained nose will be sniffing around, determined to expose it and with it the Macchiavellian scumbag's that are behind it!
References/Bibliography
http://laudafinem.com/2014/06/03/new-zealand-institutional-child-sexual-abuse-the-dixon-case-the-school-trustees-association-was-the-fix-in/
http://www.nzherald.co.nz/nz/news/article.cfm?c_id=1&objectid=11292524
http://www.hamills.co.nz/contact.aspx
http://en.wikipedia.org/wiki/Grahame_Thorne
http://en.wikipedia.org/wiki/Derryn_Hinch
http://yournz.org/2014/07/25/cunliffe-and-a-gift-of-wine/
http://www.finda.co.nz/business/listing/1xrn/central-otago-monumental/
http://www.stuff.co.nz/national/crime/10644665/Victim-calls-for-naming-of-high-profile-NZer
http://www.odt.co.nz/news/dunedin/293956/what-does-justice-mean
http://www.odt.co.nz/news/dunedin/293955/prominent-man-avoids-indecency-conviction
http://tvnz.co.nz/sunday-news/october-26-6114133