Arguably one of Mahatma Gandhi's most enduring wisdoms was that civil disobedience demanded that right thinking citizens, true democrats, do their utmost to disobey apparently unshakable laws that are inequitable or just plain evil; bad for justice, bad for democracy, bad for everyone regardless of the spin with which they are often portrayed by the politicians responsible for their existence.
"An unjust law is itself a species of violence. Arrest for its breach is more so." – M K Gandhi (Non Violence in Peace and War; a collection of Gandhiji's speeches 1921-1947 )
Martin Luther King, human rights activist and leader of the 1960's American Civil Rights movement, also a follower of Gandhi's philosophy of Satyagraha, saw the issue in pretty much the same light
"One has not only a legal, but a moral responsibility to obey just laws. Conversely, one has a moral responsibility to disobey unjust laws." M L King Jr (A letter from Birmingham jail, 16th April 1963)
Only creeps, goons and political wide boy's with their own, often nefarious, agenda's will ever be seen to stand by laws that are unjust, inequitable or just plain evil, more often than not within the context of their own efforts to delay the inevitable, attempts to cling to power, pervert justice or maintain the status quo.
New Zealand's courts have become increasingly unjust, some would argue for years, being either blinded by a police force that has also become increasingly corrupt, arguably worse, willfully blinded by their increasingly hapless efforts to maintain public confidence, perhaps better framed as mass delusion.
The discontent of New Zealand's citizenry has however now reached a point that's not to far removed from despair, people are sickened, especially those who number among the victims or have been in anyway connected to someone who has suffered an injustice at the hands of government or the so-called authorities. So what does one do to bring about change, to shake the tree of political apathy, to remove the rotten limbs, to call the police to account? What does one do to bring an end to the constant flow of lies, the deceit, the carefully concealed politically driven cronyism?
Yesterday LF came across another of those unique Kiwi name suppression orders, like the other distasteful example LF has recently featured it involved criminal offending that was sexual in nature.
Why is it that little old New Zealand, or rather it's Courts want to hide the dirty laundry of those who wield any amount of public power, to hide the identities of those responsible for this type of offending?
New Zealander's have for too long now been denied rights that should be present in any true democracy, among those given's, the right to know, the right to open and transparent justice, the right to an equitable stake in their democracy.
Check out LF's article on exactly why the above New Zealand police press release is a load of complete and utter crap: Australian resident's targeted with specious legal claims – Are New Zealand's Halfwit Police Spin Doctors at it again?
Little more than a month ago team LF joined fellow Australian journo Derryn Hinch in naming the so-called well-known New Zealander, Grahame Thorne, who had pleaded guilty to a lesser charge to the crime with which he had actually originally stood accused, to avoid having to face justice; and now apparent, the searing glare of the public eye.
The decision taken by police and a prosecutor without consultation with the victim, only for his highly paid lawyers to then, in fact almost immediately, set about manipulating the justice system and it's courts to obtain an acquittal and permanent name suppression. All arguably with the tacit approval of the local media who verily failed to challenge the courts inexplicable super suppression
Forget his status as a so-called All-Black, that title carries little if any weight, The fact that Thorne was a man who had run for, and ultimately sat in the Parliament of New Zealand, where he numbered amongst the many other hypocritical politicians who have over the years willingly cried "hang the bastard" at the drop of a hat whenever it has suited their own political agenda's, The fact that Thorne numbered among the politicians who were quick to "name and shame", even if only to score political points, benefiting not the public, nor the common good, but rather only to advance their own craven power.
If for no other reason Thorne should now stand, publicly humiliated for his crimes; but he hasn't, instead he and the courts have forced Thorne's victim to jump through the most extraordinary collection of legal hoops whilst attempting to get justice, moreover the victims desire to see others forewarned of Thorne's propensity for sexual offending of the nature of that which he originally stood accused has been completely ignored by the same courts.
For this reason alone LF took the view, as have others, such as Thorne's fellow retired politician Tau Henare (in Henare's case we suspect because he justifiably believed that the failure was damaging others), that Thorne should have been named, as New Zealand's own mainstream media had failed to do so, inline with its fourth estate obligation to democracy, Justice, the people and above all else the woman who had fallen victim to Thorne's sexually violent predilections.
This then brings us to another very recent case; similar for a number of reasons. The first similarity being that it involved offending that was against a female and sexual in nature. The second, that the offending has been admitted to, the third, that the perpetrator was a person who held a position of trust and finally the fourth, that the perpetrator has escaped being named and like Thorne is now seeking to escape the public gaze, and with it any just sanction or punishment.
There is however one more similarity which should actually flag some pretty serious concerns, the offending was also committed in Otago. The most recent advances in this case were reported on last Friday by the Otago daily Times, LF has however placed the perpetrators name where it ought to have been;
'No option' but to remand case

Friday 12th December 2014

A former Central Otago policeman Senior Constable John Barry Clarke, who admitted making an intimate visual recording of a teenager showering, using a police-issued iPhone, will have to wait until next year for his application for a discharge without conviction to be heard.

The man (Senior Constable John Barry Clarke), who has continued interim name suppression, was to have been dealt with in the Alexandra District Court yesterday.

However, Judge Kevin Phillips said he had "no option" but to remand the matter until January for a restorative justice process to be investigated.

Under the Sentencing Amendment Act 2014, that process applies if an offender appears before sentencing; admits guilt; there is at least one victim; and no restorative justice has previously occurred in relation to the offending.

Defence counsel Nic Soper said he believed that applied if a guilty plea was entered after December 6.

The man (Police Senior Constable Clarke), admitted the offending, which occurred in Central Otago on October 14, on November 11.

Judge Phillips said the Act applied to all sentencings after December 6.

Mr Soper said he had been approached by the complainant's mother and told Judge Phillips a restorative justice co-ordinator would endeavour to contact the complainant yesterday.

Judge Phillips said it was not appropriate for Mr Soper to have contact with the complainant or her mother, given he acted for the defendant.

Further, Mr Soper was not one of the "specified people" under the Act to make a decision about restorative justice.

Regardless, Judge Phillips said he intended to adjourn the matter based on other concerns.

"I would want the victim here to be independently spoken to and a detailed victim statement obtained of her independently . . . I am concerned about it all. She is entirely unrepresented here."

Prosecutor Craig Power said there had been attempts made by the police in the past week or so for the complainant to be spoken to and for her to see a clinical psychologist in Dunedin.

"It seems she doesn't want to provide one [a detailed victim impact statement]."

Judge Phillips said he intended to ''follow the law".

"This matter won't be rushed. I do not accept any argument it's just a rubber stamp or there can be immediate inquiries made and answers given [today].

"If restorative justice is appropriate, then it takes place. That's what the law says."

In November, Prosecuting Sergeant Ian Collin said the iPhone had been placed on auto-record by the defendant and placed on a bathroom shelf, partly hidden. When the victim was drying herself after her shower she noticed the phone.

She replayed the video, realised what the recording was and deleted it.

When spoken to by police the defendant had no comment to make.

He was a first offender and had since resigned from the police.

The incident happened when he was off duty.

The matter was remanded to January 21, with the Crown to seek a detailed victim report to be made available to the sentencing judge.

An order for interim name suppression was continued until that date, when arguments will be heard about final name suppression.

Source: http://www.odt.co.nz/regions/central-otago/326923/no-option-remand-case
Now of course regular readers will remember the name Nick Soper. Mr Soper LLB is the very same Kiwi laywer that earlier this year represented the female cop, constable Jenny McNee, that assaulted and racially abused Queenstown taxi driver Ganesh Paramanathan following his demand the McNee and her party pay the $62.00 taxi fare.
McNee was convicted of the offending after denying the charges (despite the existence of a video recording which proved the behaviour the victim had alleged), but her lawyer Nick Soper still thought it worth a crack to apply for what almost all bent cops expect to receive, what's become known as the scott-free plea.
Often in these cases the offending officer has sought a judge alone trial in the hope that the sycophantic cop loving judge will completely acquit and then grant one of those delightful name suppression orders.
Regular readers will also remember the case of Alexandra teenager, 17-year-old Shane Cribb, who was charged in 2005 and later convicted of careless driving causing injury after a court case in February 2006.
Young Mr Cribb's conviction later being overturned when it was proven, following an investigation carried out by a friend of the Cribb family, Steve Potter, that Otago's finest bent cops had lied through their teeth during the original 2005 investigation and then given false evidence during the 2006 trial.
Otago cop's Neil Ford and Dairne Cassidy later convicted of perjury. Cassidy receiving seven months home detention for her part in the conspiracy and Ford sentenced to two years jail.
"This proves if you are dogmatic enough and stick at it, you can achieve justice," Steve Potter said minutes after a Dunedin District Court jury found Senior Constable Neil Ford guilty of perjury and lying about Mr Cribb being at fault when their cars crashed in 2005.

Source: http://www.nzherald.co.nz/nz/news/article.cfm?c_id=1&objectid=10667779
The fact is that the conspiracy was bigger than just Cassidy and Ford. There are in fact allegations that Dairne Cassidy was thrown to the Wolves, used as a scapegoat, in a tactic employed to conceal the fact that senior Otago officers had been actively involved in the conspiracy to hide Ford's culpability by falsely accusing the innocent Shane Cribb.
These are just two cases that have involved the very small policing area of Central Otago. In both cases however the police held out, they attempted to cover-up and then spin the offending, in both cases the cops where still treated as police officers, and not criminals, right up to the last minute, the minute that New Zealand Police National Headquarters realised that their attempts to spin the allegations were doomed, that their strategy was no longer tenable.
This current case is no different. The police trying to conceal the offending until such time as they realise that they are in for a public hiding. This response is stock standard for the New Zealand cops. Its only when their spin doctors strategies start to falter that the police hierarchy start to slowly pull away, in the hope that by using a different type of media spin the wheels won't fall off, that they will somehow manage to isolate the contagion that bent cop's always carry.
With this current case, as reported in the Otago Daily Times, the police are in fact using one of their contagion minimization strategies, evidence of that is to be found in the ODT article and the journalists employing of "A former Central Otago policeman".
Of course at the time the offending occurred the perpetrator was still a serving police officer, in fact the offending involved the use of a police issue iPhone, the police however now preferring that a little doubt be cast on when it was the offender had in fact been a police officer.
In fact even the fact that there is a great deal of abiguity around when offending is alleged to have actually taken place (the typo's in the article above, probably intentional) is suspicious, whats more the arguments being advanced by Soper appear to be semantic, split hairs, designed in an attempt to get yet another cop off scott-free, or as Nick Soper prefers, "discharged without conviction".
In fact LF suspects that Judge Phillips might have himself caught a whiff of the same fishy smell we've detected emanating from Soper's submissions and the background police behaviour. We are also detecting a very strong odour from Soper's application for the continued "interim" name suppression.
From the start the case was dodgy, the police prosecutor responsible for the carriage of this matter has his own closet full of skeletons. Police prosecuting Sergeant Ian Colin was himself charged, back in May 2010, for an offence that tends to indicate he was the type of cop that specialised in bending the rules to suit himself. Perhaps "there but for the grace of god go I" was a factor in Collin's prosecuting skills failing him, to the advantage of constable Clarke:
Top cop caught driving at 149km/h

Friday May 14, 2010

A senior Queenstown police officer is facing a code of conduct inquiry after being caught driving a police car at 149km/h.

Sergeant Ian Collin, who prosecutes in the Queenstown and Alexandra district courts, was issued with an infringement notice and an instant 28-day suspension after being caught speeding in the Kawarau Gorge on April 28, said southern regional manager for prosecutions, Inspector Richard Bruce.

It was understood he was fined $630, and stood down from his job while an internal inquiry was pursued.

Mr Bruce declined to comment about the inquiry and said he did not know when it would be completed.

Mr Collin moved to Queenstown from Auckland.

He was the first prosecutor solely dedicated to the two courts, which had previously been served by rostered prosecutors from Dunedin and Invercargill, the Otago Daily Times reported.

Source: http://www.nzherald.co.nz/nz/news/article.cfm?c_id=1&objectid=10644932
Sergeant Ian Colin was the prosecutor who was also involved in the Paul Currie miscarriage of justice, a case of police malfeasance that remains to this day unresolved. LF suspects that Collin's transfer south, considering it's timing back in late 2009, may have been anything but a promotion. The police hierachy really needs to get to grips with the fact that a simple relocation will not get rid of the smell of corruption, whether its in Auckland or Queenstown the smell of wrongdoing won't go away.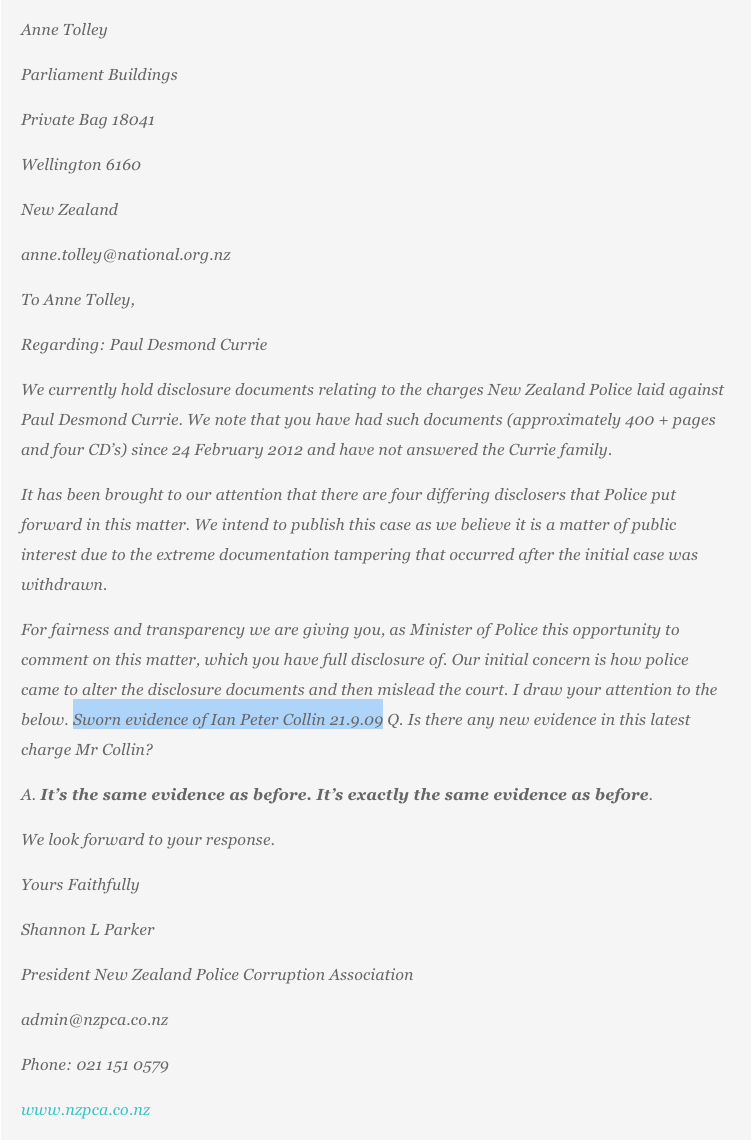 What is also more than obvious is the fact that the police, the prosecutor and the defence in this case were almost certainly angling for a cover-up, they had obviously planned on obtaining permanent name suppression, but only once Constable John Barry Clarke's bent cop loving lawyer Nick Soper had successfully managed to obtain a discharge without conviction.
Much the same strategy really, allowing for variations on the theme, that Grahame Thorne's lawyer used to play the game of judicial chess.
This time however it seems that the Judge, Kevin Phillips, may be on to the cops, afterall team Lauda Finem certainly is and surely it's not the case that every single judge in New Zealand is either completely stupid or bent? Phillips is one of New Zealands longest serving judges, at least on the District Court bench, which may well account for the "frank" exchanges the OTD reported.
Phillips was clearly mindful of the serious and inherent dangers of constable Clarke's lawyer Nick Soper contacting the victim himself, Soper would have known better than to even propose such an approach, so why did Soper make the suggestion….desperation perhaps?:
"Judge Phillips said it was not appropriate for Mr Soper to have contact with the complainant or her mother, given he acted for the defendant.

Further, Mr Soper was not one of the "specified people" under the Act to make a decision about restorative justice."
So that Soper could attempt to cajole the victim into co-operating perhaps, maybe with some sort of offer that she couldn't refuse? Soper was certainly up to no good if he did in fact attempt to solicit the courts approval for such a move.
There's also another strange anomaly, it seems that the police have now enlisted the support of another prosecutor, having dumped sergeant Collin's at some point in favour of the services of Dunedin Barrister and crown law buggery specialist Craig Power who just happens to be the type of lawyer that is normally found defending Government balls-ups.
Craig Power too would most definitely have been aware of the irregularities that had occurred during the hearing, he too was also probably left in no doubt that the Judge was on to slippery Nick Soper.
Powers submission that "there had been attempts made by the police in the past week or so for the complainant to be spoken to and for her to see a clinical psychologist in Dunedin" was frankly piss-weak and also reeks of police collusion. What about the psychological assessment that the cop should have undergone? Surely, given the nature of the offending, that would have been a prerequisite prior to granting a discharge or even begining to decide on a sentence? It certainly has been in most other similar cases we here at LF have reviewed:
Man sentenced for secretly filming in bathroom

Friday Sep 7, 2012

…..The man was also ordered to attend a psychiatric assessment, not to possess a computer, not to associate with people under 16 years, and not to associate with his victims.

Source: http://www.nzherald.co.nz/nz/news/article.cfm?c_id=1&objectid=10832420
The police have had ample time in which to process this case, more than sufficient in which to have obtained a psychologist report and or victim impact statement and with which to offer support and appropriate assistance to the victim if required; but instead they decided to leave it until two weeks before sentencing, if in fact the approach was ever made as police claim….again just why was that?
Again Powers submissions smell very fishy. In fact the stench of police manipulation of events leads us to believe that the victim may have been treated in an appalling fashion by police, that she has probably lost all faith in justice, in particular the police's role in that process, hence her reluctance to have anything to do with the cops. That's a far better fit with Craig Power's very weak "two weeks" explanation.
The judge may have also picked up on that fact. He certainly seems to have picked up on the fact that the Police, Craig Power and Nick Soper had arrived in court believing that if they all collectively presented the right set of submissions then it would only be a matter of the judge "Rubber stamping" the outcome they had all obviously intended to obtain on the day by collusion without the victims knowledge;
'This matter won't be rushed. I do not accept any argument it's just a rubber stamp or there can be immediate inquiries made and answers given" – Kevin Phillips DCJ
In short, the answer to the question "At what point do New Zealand cops become disgraced ex-cops?" is relatively simple.
When the cop has actually been NAMED.
After all, when all is said and done this cops offending was little different to that of a Wellington man convicted in 2012 (also cited above), who seems to have been dealt with very differently:
"The man appeared before Judge Peter Hobbs in Wellington District Court this morning where he was sentenced to six months' home detention, 200 hours' community work and ordered to pay $30,000 in reparation."

source: http://www.nzherald.co.nz/nz/news/article.cfm?c_id=1&objectid=10832420
When the police publicly admit that one of their own is BAD they will still go to quite extraordinary lengths to hide the offending and especially the identity of the police officer/s responsible. They will also go to extraordinary lengths to bury the matter if possible, especially when it's contributing to, or compounding, a public relations nightmare, such as the problem police face with their Central Otago police local command and the integrity of the districts police officers.
Now we can't have that happening any longer can we? Satyagraha demands that we don't allow the skulduggery to continue un-challanged, justice must also be be seen to be done.
Name suppression orders are being abused by New Zealand's police force, its lawyers and the country's Courts, those responsible for the maintainance of law. The name suppression laws were only ever intended to protect the vulnerable victims of crime, or on occasion individuals who stood accused of offences, wherein the police or prosecutions case was perhaps arguably weak.
They where never intended to protect the identities of offenders who had in fact admitted their part in a crime and they were certainly never ever intended to protect the police, or keep the unlawful actions of police officers from close public scrutiny.
Bad law is bad law, the suppression laws undoubtedly started out with the best of intentions, but they have been allowed to spoil, putrified, by the New Zealand police, lawyers and the Courts who have seemingly allowed this abuse, what's more, they have done so with complete impunity.