For years now New Zealand's mainstream media and a few right-wing pro govt bloggers, the likes of Whale Oil blogger Cameron Slater, have vilified a man who has now been the first to step up and file a criminal information against New Zealand Prime Minister John Key.
Graham McCready is proof that our justice system is broken as any Tom, Dick or Graham can … He bullied John Banks and now he is having a go at John Key. – Cameron Slater (Whale Oil)

McCready, the MSM would have their Kiwi reader's believe, is a divisive character just because he uses the law as it was meant to be employed.  More often than not in pursuit of their aim the MSM enjoy labeling McCready a "serial litigant", the mantra's nasty inference being that McCready enjoys wasting the courts time and tax payer's money.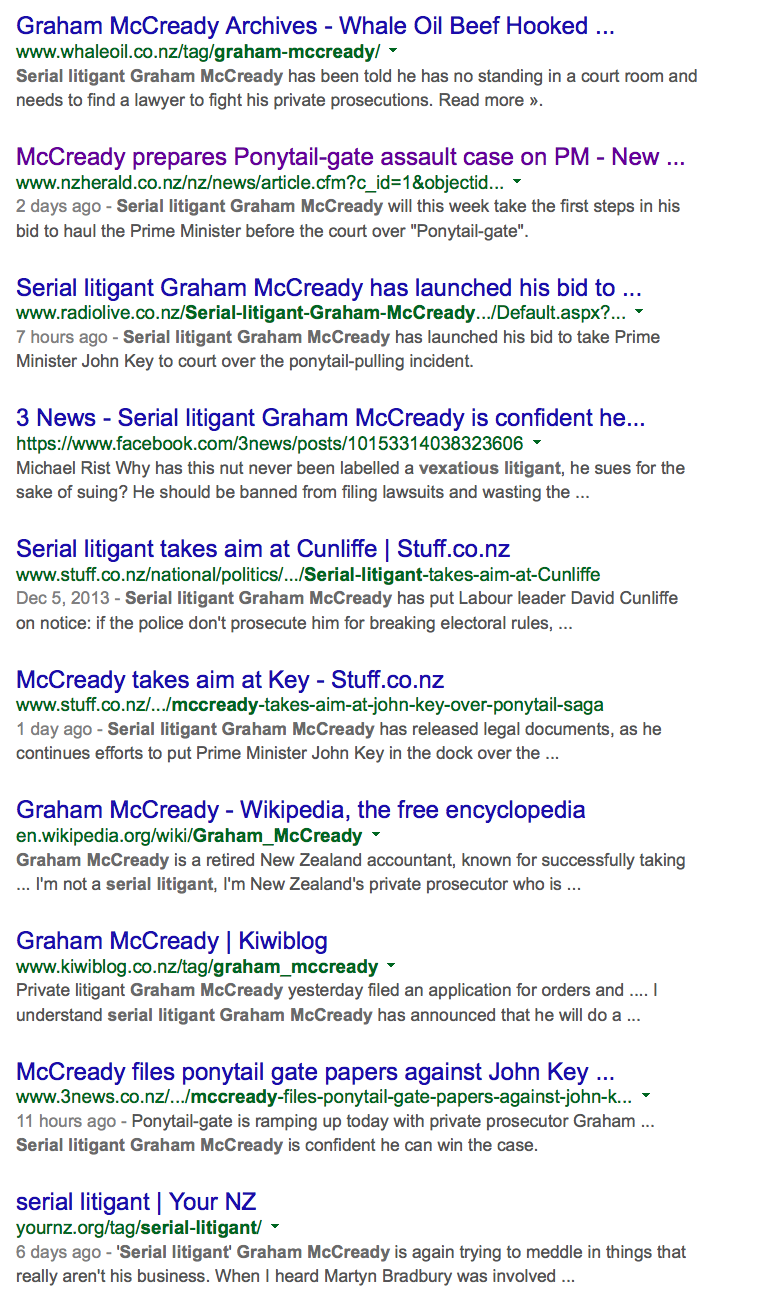 Nothing however could be further from the truth. McCready has been successful in every one of the cases he has managed to get past New Zealand's strange system of depositions to trial. The fact is that New Zealand's media are manifestly wrong, as are the right-wing political con-artists behind the blogs and their disparaging commentary.
Like him or hate him, and those on the right of politics hate him with a passion, McCready is doing little more than performing the role of a public prosecutor, litigating cases that would hold water in any jurisdiction where "One law for all" was the prevailing legal ethos. – Of course it goes without saying that little old New Zealand, "the land of the long white shroud", has never really been on that list of jurisdictions.
One of the many distractions the MSM drag out every time McCready brings a legal action against a Kiwi politician for criminal offending or wrong doing is McCready's own past. They seem to relish in labeling him a bankrupt and a convict, a tactic that in fact fly's in the face of the ethos behind that country's clean slate laws, and frankly has absolutely nothing whatsoever to do with the issue at hand. This media behavior is par for the course in New Zealand, McCready by no means stands alone when it comes to New Zealand's MSM running pro Govt, pro police vitriol designed to destroy the credibility of any publicly expressed opposition or for that matter any valid criticism of the country's institutions, be it the police, courts or its well placed politicians.
Without exception the MSM in New Zealand have a long track record of denigrating and ridiculing whistle-blowers and justice campaigners, often encouraging others, be they groups or individuals, to act in the same fashion. They did so in the Arthur Alan Thomas case, ran interference in the Peter Ellis case, the David Bain case, the Scott Watson case, the list is in fact very long. We here at team LF cannot for the life of us remember a single case of injustice or corruption, perceived or real, where the New Zealand MSM, either Fairfax,  APNZ or any other outlet that have adequately and or truly independently covered issues of importance with the gravity they have deserved (perhaps Campbell live can be excluded from that criticism). The media of course then, also without exception, belatedly, and hurriedly, change tack only when it looks as if they might just wind up on the wrong side of history.
This the latest "ponytail gate" case which has ensnared New Zealand's Prime Minister is little different when it comes to how the New Zealand media are seconded to run the government spin-doctor's twisted press, that is however with one important exception.
This time the New Zealand Herald, thanks largely to the development and intervention of social media, was caught red handed "operating" in a way that at best could be seen as unconscionable conduct, a lack of journalistic integrity and ethics, or at the other end of the scale, behaviour that boarders on criminal and a serious breach of the trust that New Zealand's public have foolishly continued to place in their so-called Fourth Estate.
So who is Graeme McCready? The MSM haven't granted the man any air-time beyond the nasty rhetoric and of course the two-minute news grabs that McCready's victories have garnered – forced too simply to keep up an air of credibility.
The fact is not one MSM news outlet, be it television, radio or print has taken the time to grant Graeme McCready an in-depth interview, this despite the man having accomplished what New Zealand's police and most in the New Zealand media having publicly claimed was the impossible – the prosecuting and convicting of John Banks.
LF have managed to find an interview with Graeme McCready wherein he discusses his motivations, the driving forces behind his prosecutions and just why it is that he has continued to prosecute despite the Kiwi MSM doing their utmost to run tactical defense stories for a series of corrupt politicians and a well-funded government infrastructure that continues to defend the indefensible: