Last evening (CEDST) an LF member was kept moderately busy dealing with various anonymous twitter accounts that seem to have taken exception to our last post on the pumped up scandal swirling around self-style so-called cyber activist Benjamin Stephen Rachinger. The story, apart from Rachinger himself, is largely being promoted by Greg Presland and Lynn Prentice at the Standard and Alasdair Thompson at Scoop.co.nz.
Of course the Standard has its own left-wing political agenda, being the very antithesis of the right-wing Whale Oil blog and of course "Slater Haters" since Adam was a boy.  Scoop's decision to take up the story however we found more than a little baffling, especially given that most other mainstream media have been stearing well clear of it, obviously editorial decisions because it's more than clear that at least one MSN journo, ex Fairfax hack turned Herald Prima Donna, Matt Nippert is chomping at the bit to cover the story.
Nippert, aka @MattNippert, in fact seemed to be amongst Rachinger's rather small fan club, leading his own personal cavalry charge by retweeting very old correspondence attributed to David Fisher and favoriting a series of very unusual tweets that inferred that Cameron Slater owned and controlled Lauda Finem.
This line of thought, later becoming an outright allegation by many of the "anonymous" tweets received from self-identified so-called "activists". In fact these activists attempted to intimidate LF with a series of coded threats, all quite juvenile and to absolutely no avail.
Then to our surprise Scoop.co.nz's editor Alasdair Thompson started tweeting, an obvious attempt to get our attention. Thompson's intro was a little confused, apparently mistaking the @whaleboil account for Slater's own @whaleoil, although we aren't particularly inclined to believe it was mistake, Thompson clearly had ideas of attempting to track our location. Thompson opined;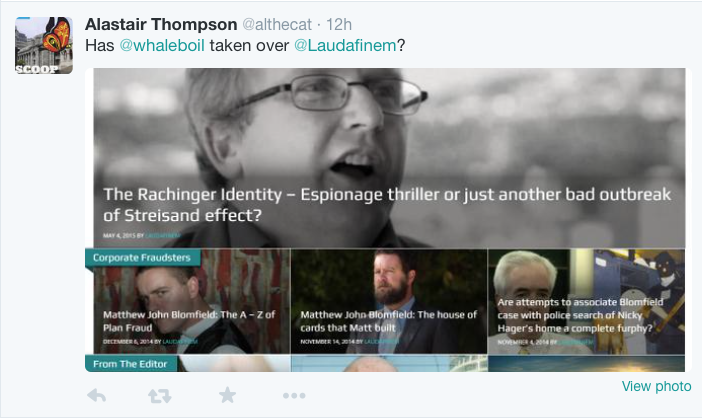 Thompson's poor attempt at sarcasm, complete with a screen grab of LF's front page, started the ball rolling. Unfortunately for Thompson whilst he was not being upfront he was also driving a bus loaded dynamite, oh and a few fluorescent road signs pointing to serial fraudster Matthew John Blomfield.
Sure LFs front page does now feature stories involving Blomfield, that fact is more an indictment on Blomfield as the stories are all separate corruption cases, wherein in the investigation again reveals the involvement of Blomfield and his "business" associates.
Our story on Rachinger, when we looked at the evidence we hold, not all of it as yet in the public domain, yielded the same result – again Blomfield's involvement. Of course this should come as no surprise really. The fact that it is unsurprising is also an indictment on the New Zealand MSM and the authorities who have failed to expose and prosecute Blomfield and his "Business" associates.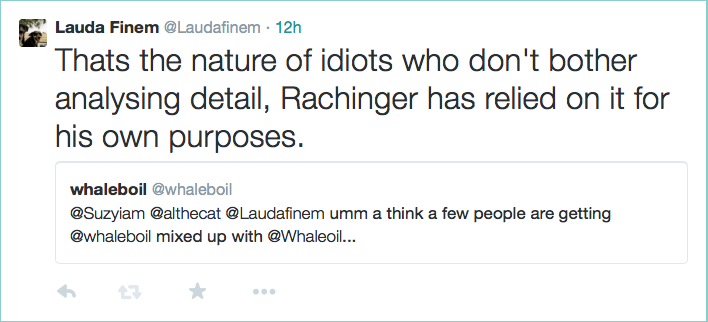 Scoop's Thompson continued his tweets with a line of questioning the we found quite amusing, primarily because it was more than obvious that Thompson had been given something that he believed credible. Whatever it was it had clearly inspired a self confidence and a palpable certainty generally seen in arrogant arseholes, the misguided belief that he actually had the answers to the questions he'd posed.
Of course we here at LF have no way of telling what it was Thompson though he had, but whatever it was it clearly held absolutely no bearing on the truth. The rest of Thompson's twitter exchange unfolded thus: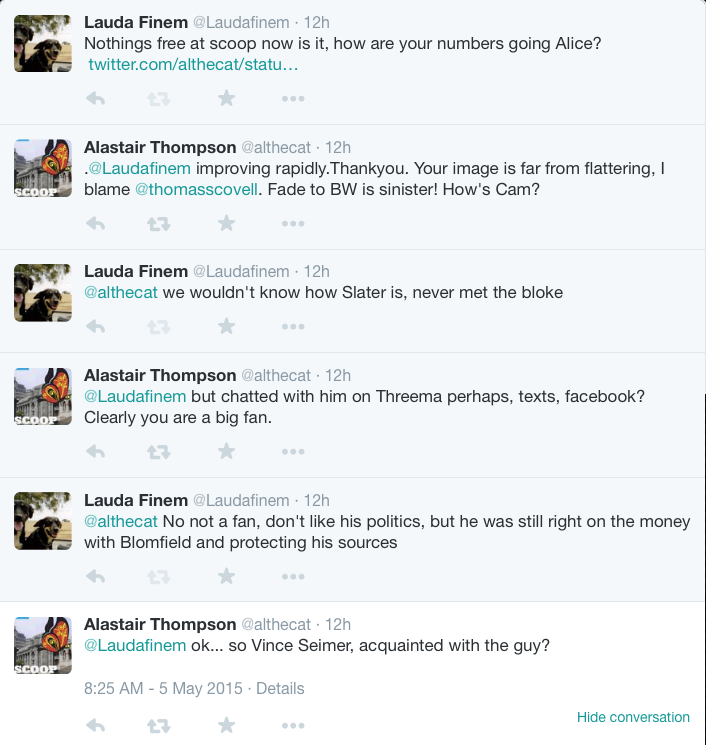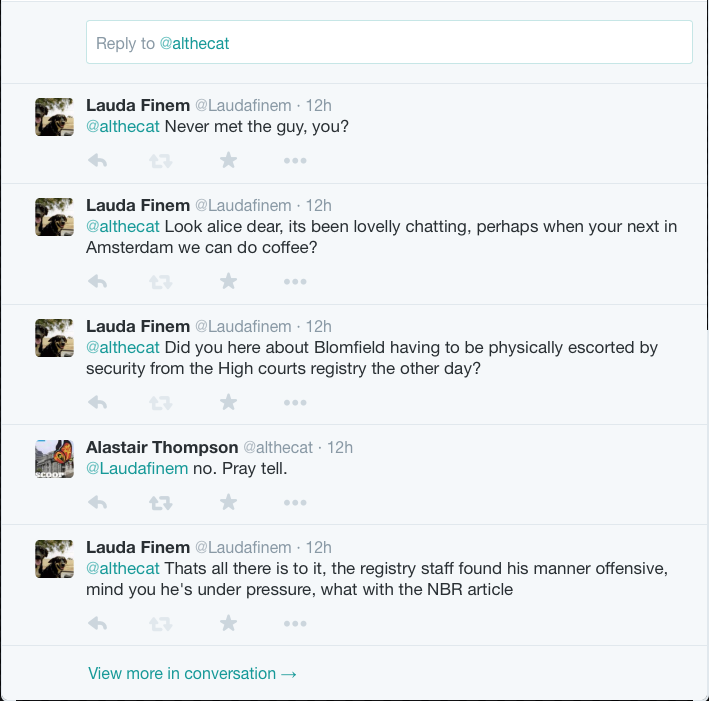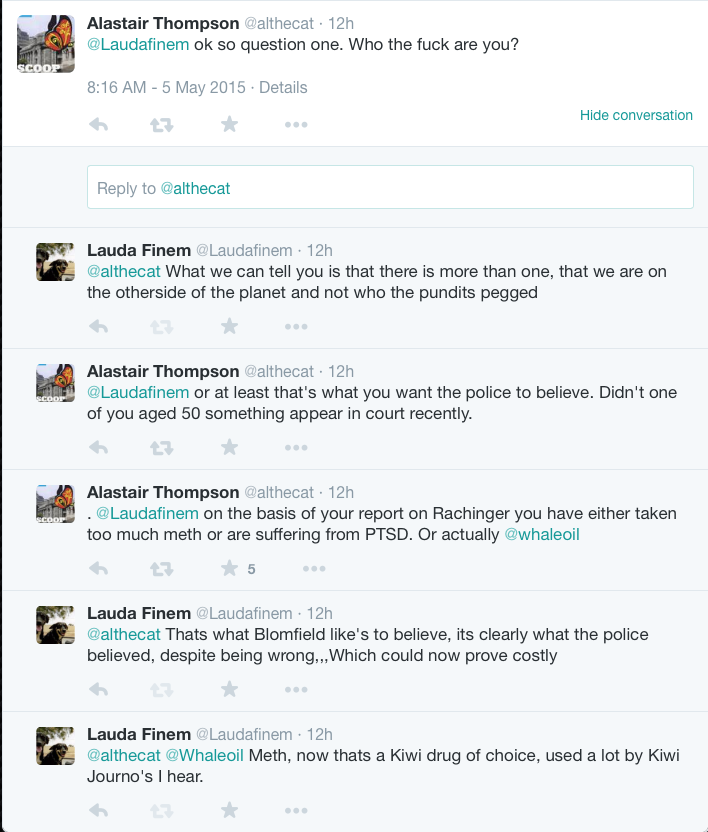 Thompson's effort proved two facts beyond any doubt whatsoever, at least as far as we are concerned. That Matthew Blomfield was involved and likely the ringleader of the group behind Rachinger's attack, not the police force, as is in the "institutional force"– although, having said that we do believe Rachinger's claim that he was approached by someone claiming to be a Detective, a man who then asked to meet at a cafe. The question however is, was that because he wasn't really a police officer, or because they wanted to avoid being captured on CCTV or spotted by other police in the company of Rachinger at the police station.
On that point Rachinger has in fact claimed that the so-called CIB officer gave him a police business card. Of course Rachinger can quite easily establish the truth of that claim by posting an image on twitter, as he has the other documents slagging Slater. Knowing the purported identity of the cop Rachinger is also undoubtedly in a position to publish the name of the very senior officer who he claims to have met on at least one occasion, assuming the "detective inspector" was not also his "Handler" in which case the meetings may have been more extensive. All of which would be very easy, all of which would remove any doubt around those aspects of Rachinger's published account.
We are at this stage prepared to accept that Rachinger may in fact not have been aware of what had gone on in the early stages of Blomfield's scam, but Rachinger would have to have been a complete monkey not to have figured it out at some point. After all he seems to think that he's figured everything else out correctly.
The real issue for Rachinger now is that if what he is saying is true, that he was a police operative when he collected the material he's now publishing then the police are completely culpable for any damage done to Slater or his business interests, and of course any damage done to others, especially given the fact that nothing seems to have resulted from Rachinger's claimed under-cover operation.
There's little doubt that New Zealand's mainstream media would have pounced on it had Slater's house in fact been raided and searched, or Slater arrested and taken in for questioning.
On that score LF in fact suspects that having Slater raided by police is Blomfield's next objective, hence the innuendo he now has his journalist fuck-buddies attempting to "seed" using social media such as twitter – all very nasty and of course only to be expected given the hatred and contempt the aforementioned journalists have for Slater, but never the less a complete waste of time.
So where does that leave Rachinger? Up shit creek unfortunately, perhaps someone will lend him a paddle?
The police have not come forward publicly admitting to having employed Rachinger's service's, nor are they likely to, especially given that it was not likely an operation officially sanctioned by the police, at least that's how the cops will have made it appear on paper. Rachinger, if he was a genuine police informant will have been paid, there will be a paper trail that is required for accounting purposes.
In taking this course of action Rachinger has unwittingly just waived any entitlement to the protections that he may have once relied on to ensure those details remained confidential, if they in fact ever existed…and that's a fucking big if – especially as it would seem that the police aren't in the least interested in a boy who's now crying wolf with bogus claims (Part 12 and 13, which Rachinger it appears has now also deleted) that New Zealand motorcycle gang, the 88's (head Hunters), were coming to get him.
So all of the above leads in our view to Matthew John Blomfield, Daniel Toresen and his dodgy investigation business, a number of others, including at least one sworn police officer, who we won't be naming just yet.
There is no doubt whatsoever that Rachinger has formed very strong opinions on Slater, with that we actually have very little problem. It's the opinions that Rachinger has clearly formed around the Blomfield v Slater defamation case that are of concern to us, for reasons that will no doubt soon become apparent.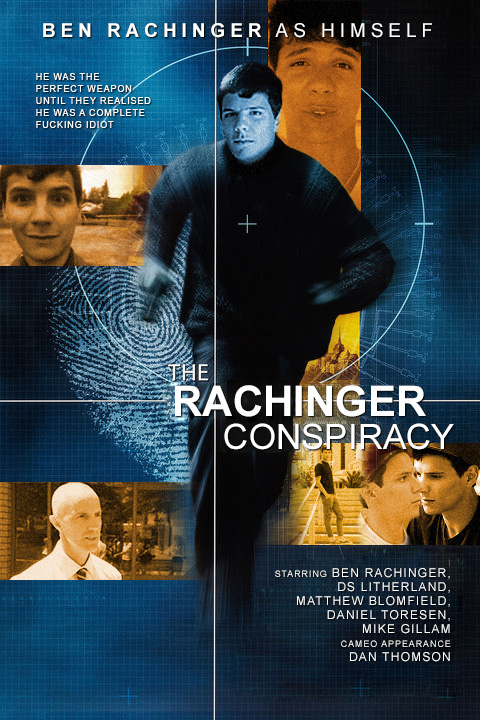 The opinions that now seem to be forming among the mainstream media players, more especially those that either despise Slater or simply envious of his strange success, are also indicative of Blomfield's hand, oh and of course the hand of  charlatan private investigator, media darling and journalist fuck-buddy Daniel Thompson, a man that thought that by changing his name to Toresen he would appear less common.
Now lets take a look at a bit more chronology, some of it, as in it relates to certain legal proceedings not in the public domain yet. Regular long term readers will be familiar with most of the history surrounding Mr Blomfield and his commercial antics, including of course the Journos that follow LF. For those who are unfamiliar with the story we will at some point provide a bibliography at the base of the post.
Rachinger first went public with his claims last month. He had obviously been in touch with people running blogs on the left of the political field beforehand, those people included Lynn Prentice and Greg Prescott. He had also, by his own admission fed at least one mainstream journo with information. Lynn Prentice posted a piece on his blog the Standard on 20th February confirming that the New Zealand Herald had been in contact with Rachinger and would at some point be publishing a story. The Standards post read;
Interesting story coming up in The Herald

Written By: NOTICES AND FEATURES – Date published: 12:10 am, February 20th, 2015

There will probably be a story soonish in The Herald that will be of particular interest to The Standard community.

We have had nothing to do with the coverage. We've just been watching events unfold on Twitter, and we're happy to see it come out (thanks to a brave individual) via The Herald.

Source: http://thestandard.org.nz/interesting-story-coming-up-in-the-herald/
No one at the Standard however seemed willing to put their name to the article – the fact of the matter is that it was Lynn Prentice. The brave individual, as we all now know, was of course Benjamin Stephen Rachinger.
So how did Lynn Prentice get to know about the story that was to be published via the New Zealand Herald? Well it was because Matthew Blomfield told Lynn Prentice that the New Zealand Herald was working on it. Blomfield had also advised the boys at the Standard, Prentice and Presland, in vague terms, what he and the Herald had planned.
So who at the Herald had responsibility for carriage of Blomfield's latest "rule the world" master plan? Our educated guess is Matt Nippert. Blomfield has plenty of history with a number of journalists at the NZ Herald. Whilst involved with the Hell Pizza franchise at least three Herald journalist ran attack pieces that were designed by Blomfield to harm his adversaries, including Australian food company AFP, the directors, Founder Warren Powell and yes you guessed it even his fellow franchise owners. The most likely candidates, simply because they are the only ones who remain employed by the paper are David Fisher and Matt Nippert, both of whom are exceptionally close to Blomfield personally, both of whom currently have a lot to loose, not least, their credibility. In fact Nippert wrote and published a story to cover for another of Blomfields commercial rorts only this morning (See – Housing developer in liquidation).
Nippert, perhaps somewhat foolishly, lent further support to the likelihood that he was the journalist involved when he decided to tweet LF, and others, with material that he obviously found amusing, nevertheless also designed to discredit LF's previous post. Quite why he bothered is frankly beyond us as he knows full well these issues will not ultimately be decided by his twitter efforts. Nippert has to make money for his employer with what he write's and he lacks the skills and time required for criminal forensic investigations.
So on February 20th 2015 Lynn Prentice gives his readers the heads-up on an up-coming Herald exclusive.  But what is interesting however about Prentice's little intro is his obvious reticence. Normally if Prentice was given the heads-up that the Herald was about to publish a killer story on Cameron Slater Prentice would not have been able to hold back his enthusiasm, arguably the langauge used would have been very different. Prentice's obvious reluctance, almost a nervousness of sorts, is a sign that there was very likely more to the New Zealand Heralds proposed story than just Whale Oil blogger Cameron Slater.
LF believes that it was this secondary factor that was responsible for Prentice's very obvious trepidation. Whats more that secondary factor was also likely responsible for Prentice's, "We have had nothing to do with the coverage" disowning of the Herald's expose. So what was it exactly that Lynn Prentice was afraid of? We have an answer to that question and it has a lot to do with another seemingly unrelated event, the occurrence of the event reducing, for a period, Lynn Prentice and Greg Preslands anxiety levels, that very brief hiatus undoubtedly responsible for the pairs more recent loose tongues and questionable sense of humour.
On exactly the same day, February 20th Bryce Edwards, "NZ Politics Daily, column in New Zealand's National Business Review promoted a series of posts that Pete George was running through his blog, the upshot being that Rachinger himself had gone public using twitter and without the umbrella protection of the NZ Herald and their well paid and heavily insured legal advisors. So if the herald were soon to do a story why the sudden premature ejaculation by Rachinger? This too was an indication of Blomfield's involvement, poor old Matt's drug habit has brought about a serious problem with premature ejaculation, especially when in the presence of a bent journalist, apparently that fetish now extends to corrupt cops as well.
NZ POLITICS DAILY: February 20 2015

DR BRYCE EDWARDS

Rachinger vs Slater

Pete George (Your NZ): Ben Rachinger versus Cameron Slater

Pete George (Your NZ): Rachinger previously

Pete George (Your NZ): More on Rachinger accusations

Source: http://www.nbr.co.nz/opinion/nz-politics-daily-february-20-2015
So what happened next? Well on March 8th the cause of Prentice, Presland and the MSN's anxiety was temporarily removed, that aspect of the plan however developed a few unexpected complications and so unsurprisingly Prentice and Presland returned to their more circumspect behaviour, which had not gone unnoticed by others.
Pete George at YourNZ had certainly noticed the spike in arrogance and the sudden morphing into a more balanced tone, with Prentice in particular. No doubt this independent observation will come in handy for those affected by Prentice's extremely prejudicial behaviour, see; Prentice ignores lawyer advice on suppression
Then on 28th April 2015 another event occurred, on the surface a rather unremarkable event, but one that could well explain the cock-sure arrogance of the two bozo Kiwi journalists LF received tweets from last evening. It may well, by default, also explain just what it was that the New Zealand Police used Rachinger's police statement for.
On April 28th Matthew Blomfield drove from his home in Greenhithe to Aucklands High Court where he proceeded to file whats known as a memorandum in the matter SLATER Cameron John v BLOMFIELD Matthew John CIV-2013-404-5218. Within that document lay one of the most extraordinary lies Matthew Blomfield has ever told. It was a simple lie, but given Blomfield's history and the past allegations of purjury that have been levelled against him, a lie that may have extraordinary consequences for him and his flip-flopping defamation tort.
Blomfield's tactic today is not so much about completing the litigation he initiates, it's about grinding down his targets and their bank accounts and then bankrupting them. In fact speaking of bankruptcies, it appears, on the face of it,  that it's what Blomfield recently did to Kiwi Rugby player Mark Sharkey Robinson. Blomfield caused his financial difficulties and then used a power of attorney to shift responsibility for the losses to Robinson. Then through a series of additional corporate manoeuvres ensured Robinson was declared bankrupt, removing the likelihood of Robinson's return to New Zealand, at least for a while or until the statute of limitations for a criminal prosecution expired – that's our take on how and why.
The National Business Review published a couple of articles in quick succession last month;
Former All Black passes on bankruptcy mystery – Hamish McNicol, 17th April, 2015 NBR (paid content)

Blomfield encouraged former All Black's missed property punt – Hamish McNicol, 30th April 2015 NBR (paid content)
The former All Black halfback Mark "Sharky" Robinson, who recently denied he is bankrupt, put $70,000 into a failed lifestyle property development after former Hell Pizza franchisee Matt Blomfield encouraged him to "buy into it."

NBR ONLINE has reported a Mark Darren Robinson, born in 1975, was in February bankrupted by the High Court at Wellington on sn application by ANZ.

The former All Black, who shares the same full name and year of birth, denies it is him.
Only one Mark Darren Robinson is listed on New Zealand Companies Office
records, which a lawyer confirms is the ex-All Black known as 'Sharky'. – Hamish McNicol, 30th April 2015
It is important to note that his lawyer, Miles baby-face Beresford, the boy normally responsible for filing such documents had wanted nothing to do with it. LF has been advised that Beresford is refusing to respond to a request for information on whether he is still acting solicitor. LF suspects that this is because Beresford refused to file the document, knowing the documents contents to have been a complete and utter fabrication.
At paragraph 11. Blomfield has the clearly drug fucked temerity to falsely declare, effectively on oath;

Blomfield at paragraph 9. had referenced an LF article http://laudafinem.com/2014/11/14/matthew-john-blomfield-the-house-of- cards-that-matt-built/, which Blomfield is now attempting to convince the court is all Slater's work, that Kiwi Blogger Cameron Slater is the true identity of the "person" behind Lauda Finem.
So if Blomfield is now claiming that Cameron Slater owns, operates and or controls Lauda Finem there is one of two things going on. The first is that he's forgotten that he's accused at least two others in court documents, or two, that the case against the last person Blomfield accused of being Lauda Finem has now collapsed and Blomfield now knows that or the third, Blomfield is attempting to create an alibi, one that would distance him from any allegations that Rachinger may make regarding an as yet unmentioned hacking incident.
There is of course another possibility, one that is more than obvious if you actually have access to the truth and for the journalists now conveniently starting to promote the idea that Cameron Slater is actually the blogger Lauda Finem. The circumstance must of course be very strange for the journalists, they have these allegations but no correspondence between Slater and Lauda Finem. No emails, no "threema" texts whatsoever, nothing not even a telephone call? there conclusion? Well it something along the lines of "God, Slater is LF…..we knew it, we just fucking knew it, it had to be that big fat cunt Slater"
Of course it had not crossed their tiny minds that LF has never spoken or corresponded with Slater for very good reason, and that reason is unfolding as we speak, courtesy of Slater himself in fact, his very loose lips and of course the text's he though were being sent to Rachinger – all of course being read by Matthew John Blomfield, whilst posing as Benjamin Stephen Rachinger – just look at the vocabulary and structure, is it really the language Rachinger uses? LF has never had to deal with Slater, the que of business people who Blomfield has harmed is long, as is the legal document trail, all of which of course is on public record and freely available to anyone who cares to spend the time looking.
Just how it is Blomfield plans on convincing a judge that Slater is Lauda Finem, when he is most certainly not, is as yet unknown, but it would be worth being in court when he attempts to.
Two days after filing the memorandum, April 30th, Blomfield was again back at the Auckland High Court registry, this time however something went seriously wrong for Blomfield, he obviously had not got his own way, so he threw a wobbly, the result of which was that he was escorted from the High Court by security guards. So what exactly was it that went so wrong?
Well we are not sure about the court, but were pretty sure that when Rachinger, as an insider, hacked Slater's emails etc, the absence of any emails from Lauda Finem had them stumped. It had not occurred to Blomfield
We had to laugh when one of Rachinger's enthusiastic supporters tweeted, making what he thought might look like plausible statements to other twitter users: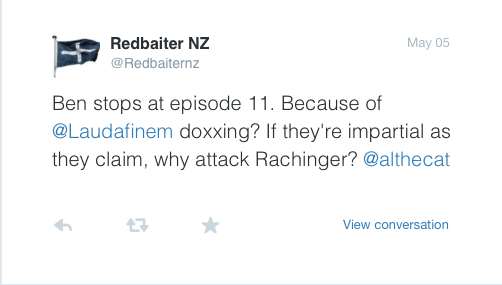 There just one problem with @Redbaternz's (above) analysis and hypothesis – nothing is stopping Rachinger from continuing to tell his story.  We here at LF certainly aren't, it would assist us greatly if he had continued.
The truth is that young Mr Rachinger knows only too well, as do his accomplices, especially Kiwi serial fraudster Matthew John Blomfield, that in continuing they would have dug the hole they're in even deeper.
So @MattCommonSense might like to look at getting some commonsense himself, starting with understanding that nobody really gives a rats arse about his tweets, the grabbing of micro seconds in cyberspace. At the end of the day the only thing that will remain are the opinions of those with evidence, those who actually got it right.
That's in fact probably the reason for Rachinger being told to delete "chapter twelve" of his account. The chapter where he makes allegations against Lauda Finem, complete with links to LF's last post:
No, Rachinger has now been instructed to sing from another of Blomfield's song sheets, the "OMG I'm receiving death threats and the cop's won't help me" aria. What's more Rachinger's singing like a fucking Canary – Staccato!! So where's the fucking Detective Inspector that allegedly encourage Rachinger to become a police undercover operative, nowhere to be seen it would appear??
It's very much an oldie but goodie. There's just one problem with it however, Rachinger's not old or experienced enough to have known this particular song.  It's a tune from the repertoire of a far more accomplished criminal mind – the person who handed Rachinger the score and told him to sing his little heart out, so obviously he's done just as he was told, thats if twitter is anything to go by – yet again we see Rachingers talent for "social engineering".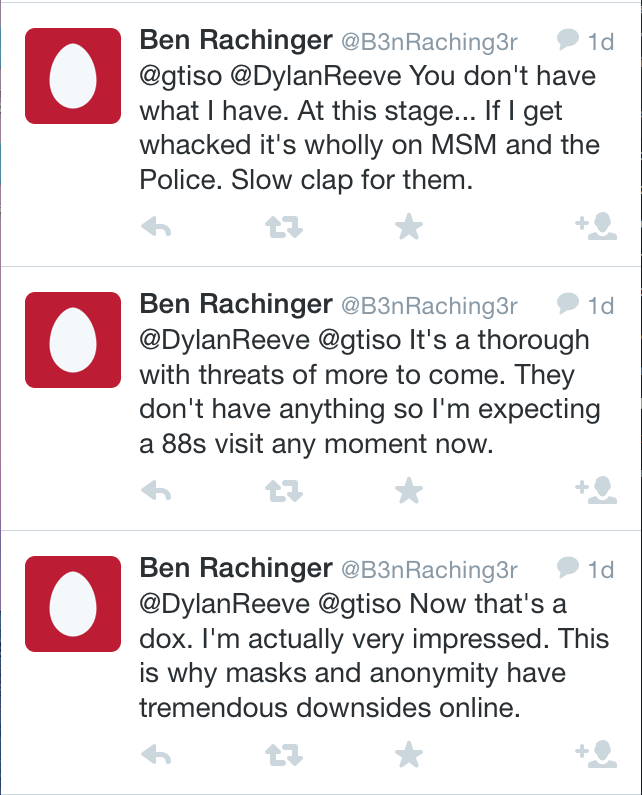 So who still believes that Rachinger was a police operative, an informant recruited by the New Zealand police force, deep under cover, complete with a police handler, absolutely no experience or briefing, all while using an encrypted texting service to communicate? If anyone still does then they are just as big an idiot as Rachinger is.
There is another idiot among the throng queuing up for the fuckwit of the year award, one that we have not really mentioned yet, one that no ones really heard from either for that matter.  Anyone able to guess just who that might be?
That's right, it's Cameron Slater – the man who appears to have taken Rachinger, a self-confessed hacker, at his word. No checks, no balances, just open the door and let Rachinger in, hand him the keys and the run of the house.
Of course if Slater did believe Rachinger to be Rawshark, or in some way connected to that particular hacker, then of course that's something he might do, but so far not a dickie bird from Mr Slater.
The fact is that Rachinger's work had nothing directly to do with Rawshark. Rachinger had been Blomfield's man inside all along, planted by Blomfield, paid for by Blomfield and at least two others and reporting to Blomfield, albeit on occasion working with corrupt cops and at least two thoroughly bent ex-cops, being Dan Thompson and his son Daniel Toresen.
Of course the threats that LF received via twitter after our last post could well have been any one of the aforemention village idiots, probably more likely than not given the references to "Karma", but they are of little concern to us.
We'll just continue on with our work, exposing criminals, fraudsters, dirty civil servants and of course the many corrupt cops that have riddled New Zealand's police force with the disease.
Get some rest Ben, you're looking tired!


Update: It would seem that poor old Ben Rachinger has completely lost his sense of humour, which is understandable. But he's still going hard at it with Blomfields song sheet;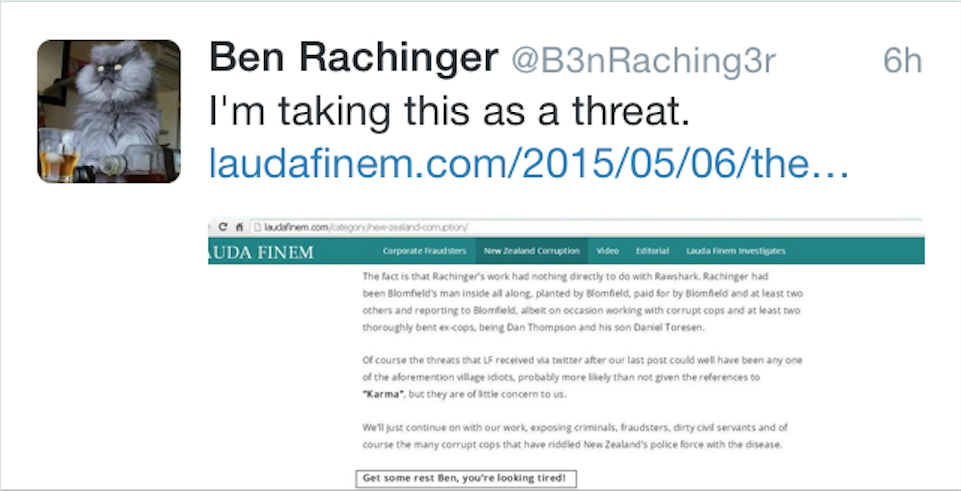 Problem with Ben's singing, oh and his tweets, is that neither seem to have a bearing on reality. We also knew that Ben wouldn't be able to help himself, that's why we threw in a little temptation.
What Ben's tweet also evidences is his complete inability to grasp "CONTEXT", so we thought we'd help him out a little: