Earlier today New Zealand's mainstream media ran one of the most puerile pieces of self serving horse shit that we here at LF have seen for a while. United States vice president Joe "Sunset" Biden has recorded a 4th of July message for the inhabitants of New Zealand.
No sooner than Biden starts into it his speech writer manages to get his facts wrong. Biden boldly proclaims "As the sun sets in Wellington it will rise in Philadelphia" He obviously reckoned that was poetic, forget the fact that it was also complete bullshit.
The sun set in Wellington at 17:02 according to the local tables. When the necessary conversions are calculated it was still the middle of the fucking night in Philadelphia. So much for Biden's license to be accurate:
Wellington (New Zealand) Thursday, 2 July 2015, 17:02:00 NZST UTC+12 hours
Philadelphia (U.S.A. – Pennsylvania) Thursday, 2 July 2015, 01:02:00 EDT UTC-4 hours
Corresponding UTC (GMT) Thursday, 2 July 2015, 05:02:00

Source: World Clock
But it's that creative license that one has to be so careful of when dealing with politicians, particularly American politicians, they are more often than not stuffed to the gunnels with political rhetoric, which they use to avoid telling the truth.
Bidens 4th July speech recorded especially for his new "Kiwi constituents" was loaded with crap, in fact so much so that it appeared devoid of any fact.
So what exactly prompted good old boy Joe Biden to think of little old New Zealand at this time of the year in the American patriotic calendar? It would seem that most of his speech, between the behind the scenes hail to the chief and star-spangled banner flag waiving, was dedicated to the TPP, that nasty little trade pact that's been negotiated in secret without any public consultation whatsoever. Which in itself is strange, especially given Joe Biden's constant references to fucking "democracy". The Fairfax Media groups story below:
US Vice-President Joe Biden sends NZ an Independence Day message
STACEY KIRK
Last updated 20:10, July 2 2015

United States Vice-President Joe Biden has delivered an Independence Day message to New Zealanders highlighting the values on which the two countries are "bound together".

In a video message to "the special people of New Zealand", he said "remarkable progress" had been made on free trade agreement the Trans-Pacific Partnership (TPP).

The message was played during an early Independence Day event hosted by US Ambassador Mark Gilbert and his family in Wellington.

It's the first time a US vice-president has recorded such a message to New Zealand, signalling the personal ties between new ambassador Gilbert and the White House.

Gilbert, a former Major League baseball player, is a major donor to the Democratic Party and a personal friend of US President Barack Obama.

Independence Day in the US is celebrated on July 4 and commemorates the adoption of the Declaration of Independence in 1776.

Biden said the US embassy in New Zealand would "have the honour of celebrating first" on Saturday.

"And as the sun sets in Wellington, it's going to rise in Philadelphia where 239 years ago our nation was founded on the basic self-evident truth that all men and women are created equal.

"And it's a truth that continue to guide every American heart whether living at home or abroad. And it's a value we share in common with the people of New Zealand," he said.

"Our nations – the United States and New Zealand – and our people have always been bound together by the common commitment to the democratic, open and prosperous and secure world."

With the US "re-balance strategy" in the Asia Pacific region, "partners like New Zealand have never been more consequential".

Biden said nowhere was that more clear "than the remarkable progress we've made together on the Trans-Pacific Partnership".

On Monday, Obama secured a major win in the United States Senate when it approved legislation to grant him the power to negotiate trade deals and send them on a fast track through Congress.

The vote was a big step forward and put the prospect of the 12-nation TPP deal into the home straight.

Biden used a quote from Sir Edmund Hillary to describe the progression of the negotiations.

"It was a famous Kiwi explorer Edmund Hillary who said: People do not decide to become extraordinary, they decide to accomplish extraordinary things.

"Our people have accomplished extraordinary things together, and in the coming Pacific century, we'll accomplish even more together.

"So happy fourth of July, I hope you enjoy the day. May God bless you all, and may God protect our troops."

Source: Stuffed.co.nz
In short Biden's effort does not fall short of a seriously sick joke, not one that the American had intended be hilarious of course, but nevertheless an effort that was just asking for a piss-take comedy skit to use.
The problem with American politicians, and those that are supposed to advise them, is that they don't really have a handle on the people down under, never have.
Joe, and his political advisors, would have thought it a wonderful idea to reach out to the Kiwi public, obviously in much the same way they do the American people. There was however just one problem with that idea, what works in the USA does not work down under.
Kiwi's and Australians are obviously a bit smarter than the average American, we also tend to treat gushing accolades and obvious insincerity with a great deal of suspicion, that's why poor old Joe Biden, without realising it, looks like a complete fucking idiot. The needles on our bullshitometers, the mechanisms built-in to most antipodians immediately hit the red zone, and we all started to laugh at Biden's nauseating efforts to ingratiate both himself and his pro Yankee corporation political agenda.
Unlike Americans none of us saw the star-spangled banner, most of us probably didn't even notice Biden or the furniture, instead what we Australasian's were looking at, at least in our minds eye, was the image of a sphincter, something akin to the image below: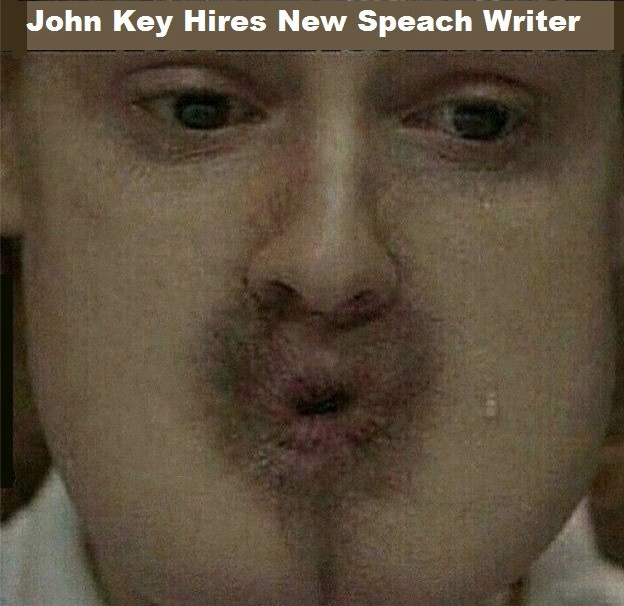 We here at LF would also suggest that Biden has a lot more than the TPP to be grateful to John Key and the New Zealand government for. Biden will also be very grateful to the New Zealand police for their efforts as well, especially around the Hollywood epic raid on Kim Dotcoms home.
Back in 2012 we ran a story setting out the relationship between Joe Biden and Hollywood and how it looked more than likely that Biden and the White House were behind the Dotcom affair.
Somewhat ironically that particular story was actually published on the 4th July 2012, almost exactly two years to the day. It's a post which should be read before believing anything that comes out of this sphincter faced bastards gob;
Dotcom, Hollywood's Whitehouse meets the Dark Isles, a very corrupt business

4t July 2012

Kim Dotcom has come out swinging this morning with allegations that the shutdown of Megaupload was ordered by the White House soon after Hollywood studio movers and shakers met with Obama's political ally and the USA's second in command, Joe Biden.

The meetings are revealed in publicly released White House logs (See below) which evidence the fact that some of the most powerful Hollywood executives and studio bosses met about six months before the January US Navy Seals styled raids on Dotcoms home in New Zealand, which lead to his immediate arrest.
What amused us greatly however was that the bullshitometers of the New Zealanders leaving comments on the Fairfax story appeared to pass muster, their warrant of fitness so to speak, all in excellent working order:
winteriscoming1 hour ago
Oh great, now we're being sold another flavour of militant nationalism
+4

Joseph Public1 hour ago
Who is this guy kidding? This is about as relevant as us telling the U.S. to have a happy Waitangi Day. Reckon they care about that? Nope. It's all about 'Merica, end of; they're all that matters and obviously we should just go along with everything they say and do, because we're all Americans now.

"Democracy", Joe? What democracy would that be? The "democracy" of holding secretive negotiations to bind a bunch of countries into enslavement, disempowerment and financial subservience to U.S. companies? Yeah, sure sounds democratic to me.
+8

Wai-Ora2 hours ago
The American people in general are nice….So lets illuminate them from the equation, simply put it is their government that I have trouble regurgitating, can't stand them …..with a passion!!!
+3

OculusAquilae2 hours ago
Allow me to translate 'Thanks for letting us whip you into going to war along side us, New Zealand. Now just do a few more things that we ask, and the Free Trade Agreement is yours.'
+3

BobbyM2 hours ago
Its ironic that as america celebrate their independence we have surrendered ours.The TPP is not a trade agreement its NZ succeeding our sovereignty and independence to the USA expect their nuclear powered and armed warships into our ports and the r&r for the crews being passed of as tourism,
1 reply+19

Nik02 hours ago
I personally welcome that.
-3

OhDear2 hours ago
American will cause us all sorAmerica will cause us all sorts of problems. I would rather be more involved with China. America's world policing days are over. If we get tied up with America we will be dragged into terrorism.
+4

GlenB2 hours ago
I felt ill but managed to read through. What a bunch of utter drivel. A nation 'founded on the basic self-evident truth that all men and women are created equal'. The guy clearly can't tell the difference between fantasy and fiction – maybe he thinks Disney movies are true. They treated their indigenous people like crap – less than human. I've spent time over there as part of public health work, including on Reservations – that disgusting treatment, inequality, and trampling of the rights of others is still going on. Many times I was left speechless at the way my Native American friends & colleagues were treated – like second class citizens at best, at worst, well, I won't say. If this is what the US thinks is equality, then we'd better be very cautious about being 'equals' with the US.
1 reply+28

Callahan2 hours ago
Must be equal; I mean anyone can be President right? (Bush, Clinton, Bush, Obama, Clinton or Bush)
0

Callahan2 hours ago
New Zealand is 'Piggy in middle' between two super powers.. the heat is being turned up as the global recession deepens. Alliances have to be chosen, war looms in the Pacific.
1 reply+3

farmer ted1 hour ago
Cheer up Callahan.
0

Ladyofscales2 hours ago
USA only makes enemies. They care not for true friendship nor mutual respect or equality of sovereign countries rights. They are quite simple the most evil administration on the planet.
2 replies+7

Consumer102 hours ago
Axis of Evil – USA, Israel, UK.
-1

daholtruth2 hours ago
If it had been for the blood of young american GIs in the Solomon's and US Navy in the Coral sea, NZ would have fallen to the Japanese in WW2, we (NZ) owe the US some respect and gratitude.
-1

FREED0M2 hours ago
tppa is gonna be a living hell for NZ for generations to come. any benefits will be far outweighed by how screwed we get. Why is tppa being hammered out in secret? big corpotations know about it though, its the public who are in the dark
+14

petethegreek2 hours ago
how embarrassing that you actually reported this as a genuine conversation. Nobody in the US gives a damn about NZ or any other minuscule country for that matter, although Kiwi reporters like it when we are mentioned by anyone overseas because then it proves our opinions actually matter when of course, the reality is, that they don't.
+16

stella012 hours ago
Oh lord the guinee pig country gets sucked in again..
+11

nzirish2 hours ago
how the hell did an american citizen become our prime minister
2 replies+9

Consumer102 hours ago
He was blackmailed under the spying programme – Like to know what the Americans have on him.
+3

Don Q1 hour ago
Shonkey decided to share the job with his golf group?
+1

Ladyofscales2 hours ago
US funds & trains terrorists.
+12

tinny2 hours ago
Sounds like a few fools on here tonight you should all imigrate to China god bless USA
-11

billieboi2 hours ago
The TPPA will not benefit the average NZ'er. Joe's pushing his boss's agenda, but it will harm our country.
+11

Ammar2 hours ago
Biden's Independence Day message is that New Zealand is not independent?
+6

Consumer102 hours ago
NZ will never be used or blackmailed by the US. Any NZ politician that succumbs to such will not last long.
1 reply+5

KiwiBlokeDave2 hours ago
Too late.
+2

JPkiwi2 hours ago
Stop making comments out of ignorance. Try reading a bit of history and see how things would have turned out without the help of our allies. "Lest we forget" isn't just something to think about on Anzac Day. How many people had to sacrifice themselves to give you the freedom to make these inane comments. No country is perfect but be grateful for the easy lifestyle won for us with other people's blood and tears.
1 reply+1

Question2 hours ago
Depends how you look at the war JPkiwi. First they sold everyone the war machines (including the NAZIs) up until 1941. They sold huge loans to the battling countries with high interest rates and many countries are still paying that off today. They joined the war when the Japanese bombed the American fleet in Pearl Harbor, December 7, 1941. Up until then they were sitting on the fence making money. In saying that these were different times. But you have to look at it from all perspectives right? even the ones you don't like.
+2

tinny2 hours ago
God on ya Joe
-5

Oscar123 hours ago
America is now irrelevant to New Zealand, the price they pay for treating us like lepers since the 1980's. And as for TPP, you can stick that where the sun don't shine. The price they pay for making it as secretive as they have. When that sort of secrecy is involved, you know it's not good for the likes of us.
+33

Consumer103 hours ago
NZers will never stand by a country whose Dept of Justice is so corrupt that it does not bring its torturers (who have admitted to those vile acts) to justice.
+26

Consumer103 hours ago
The American values of WW1 and WW2 were noble unlike its treacherous and vile values of today.
+18

DadLoCo3 hours ago
I bet the British did some similar buttering up of the NZ inhabitants pre-1840
1 reply+7

marty@wainui2 hours ago
Touche..but it still ain't right!
+2

SimonyDiamond3 hours ago
God bless the United States of murrca
+4

guyon fawkner3 hours ago
God and money. What a stupid mix. both as fake and man made as the other. .. we are doomed by this talk.
+9

Consumer103 hours ago
If NZ does not follow America's orders, it will make public all the MPs sleazy affairs through its clandestine spying programme.
+13

vocalyocal3 hours ago
Got their dates messed up, this was supposed to be the April 1st speech
+24

ShadowNZ3 hours ago
If the god defending the American troops does exist, he must be an evil god because what the Americans are doing to the world is truly evil.
+14

Pluto3 hours ago
The US saved NZ in WW2. Not Britain. Not China. Not Russia. Too many short memories in NZ. We need to stand firm with Australia and USA to defend our freedom. Happy 4th July USA!
4 replies-19

Ladyofscales2 hours ago
20 million Russians alone died in the fight against Hitler and his Nazi's and YOU dare to spit on their graves?
1 reply+7

Rexeh2 hours ago
Don't forget the Russian invasion of Manchuria helped with speeding up the surrender of Japan.
0

sod2 hours ago
Try some real history – it was the Australians in PNG and the region. USA did the Island hopping away from where Japan threatened OS and us.
+2

JosephBaker8541 minutes ago
does that mean we sit idly by and let the USA of today destroy our nation(let alone many others)? just because someone did something nice for you sometime, does not mean you let the do something horrible later on.
+3

Consumer103 hours ago
NZ does not need a country that condones racism, torture and a poor human rights record.
1 reply+30

whackednat2 hours ago
only our goverment does
+2

bogor883 hours ago
Comforting to see commenters who get it, enough of us to have 'we're screwed' party.
Corporate psychopathy, legal lies, parasitic oligarchy… we're in for one hell of a ride!
+20
Analia Fisher3 hours ago
"our nations the united states and new Zealand and our people have always been bound" I started to watch this and within the first 10 sec was completely disgusted but what really did it for me was this comment " Our nations the united states and New Zealand" New Zealand Is not a nation of America in any way. Are Americans running out of things to claim for there own. Maybe they have finally realized that there are some things you just cant buy so now they just go round saying that's mine and that too. Our Nation New Zealand is the same and has the same kind of people as Our Nation America. So insulting.
1 reply+16

SimonG2 hours ago
We're bound like Marcellus Wallace & Butch the boxer in Pulp Fiction are bound to their chairs in that scene where they bring out the gimp.
+4

GTX3 hours ago
I don't want to be aligned with any other country thanks. Lets keep our independence and our sovereignty in tack. This TPPA thing is all about a minority having control over the majority. We will be sucked in to something that we won't even realise until its too late. I suspect there will be a lot of grovelling going on behind closed doors but most of it will be in vain.
+20

farmer ted3 hours ago
I almost think Rolf Harris is less objectionable.
+17

Ladyofscales3 hours ago
creeeeeeeeeep
+9

Malvolio3 hours ago
Remember the NZ pride when Lange said no to the U.S. and their weapons.
No NZ pride now; just greed and gain for the few.
1 reply+31

archfanboy2 hours ago
yeah the only western country to the US the bird.
0

praise christ3 hours ago
America still a better country than new zealand john key has ruined this country
2 replies-16

marty@wainui2 hours ago
America = John Key = NZ (NOT!!); go live in Hawaii, Key!
+2

archfanboy2 hours ago
Nah the states is screwed unless you power and money
+1

the pigman3 hours ago
"Independence" Day – the irony as the Nats bring us ever closer to being a grovelling vassal state of our American corporate masters.
+18

Eugene Booth3 hours ago
Kiwis need to ask themselves…."why am I so suspicious of everyone"?
3 replies-14

Ladyofscales2 hours ago
Probably historical facts and past rack records. Proof in pudding
+4

Rtap2 hours ago
Ask Key that .
0

marty@wainui2 hours ago
Not of everyone, just America and it's Sycophants, and China and it's…..quite happy with most countries…..our REAL friends
+3

SimonG3 hours ago
I'd like to declare my independence from Joe Biden, and the Democratic and Republican parties of the former Constitutional Republic of the United States of America.
+16

Intercept3 hours ago
His other six arms are very well hidden!
+6

WGTNPOM3 hours ago
I wonder if our new flag will just be The Stars and Stripes?.

Now that John Key has sold New Zealand out do we get to vote in the US Elections as we are becoming the 51st State.
2 replies+12

whackednat2 hours ago
nope our newflag is white with red FOR SALE on it
1 reply+4

Consumer102 hours ago
Going once, Going twice, SOLD!
0

Lobster3 hours ago
Bla bla bla … TPP …. bla bla. Really insulting sales technique
+10

hh643 hours ago
Sick, high level politiking.
+14

Jash3 hours ago
Well just remember we have
1 reply+3

marty@wainui2 hours ago
Que?
0

Mr Writer3 hours ago
To all those who think its trendy to jump on the anti-American bandwagon, just remember that if it wasn't for the U.S. we'd have spent the last 70 years speaking Japanese and NZ as we know it would not exist. Never forget that.
7 replies-18

Chchdan2 hours ago
there's nothing wrong with being multi-lingual
+2

farmer ted2 hours ago
Mr Writer.
In those past 70 years, the world has moved on.
How many other countries has America 'helped' since with their military might, and what of those outcomes now?
Japan is a much safer country to visit than the US.
And sushi is way nicer than McDonalds.
There is more to consider around present US trade deals than reminiscing about WW2, important though it once was.
+3

SJH2 hours ago
Really, some might say that thousands less Kiwis would have died in the war if the US had joined the Allies when the war actually started in 1939. Our boys were on the front line for 2 years before our American friends turned up.
+3

nzirish2 hours ago
yeah and we'd be driving japanese and german made cars aye…, yes I'm grateful to the young marines that died for us but not grateful for the american companies such as general electric, ford, coco cola, mgm, gm, standard oil, kodak, chase bank to name but a few that financed the Nazis ..go ahead check it out its all true unfortunately
+2

JPkiwi2 hours ago
Sadly they haven't the sense or knowledge to have forgotten, just blind ignorance it seems.
-2

iliterati2 hours ago
No, we would have spent them speaking English. Japan might have invaded, but they would never have been able to stay. We are too arrogant to let another nation oppress us.
+3

marty@wainui2 hours ago
No way – Russia beat Germany and persuaded Japan to surrender (was the invasion of Manchuria, not the Bombs), so NZ just got lucky – plus we fought on both fronts ourselves. If Japan had not attacked Pearl Harbour and the Phillipines, the USA would have let us go under.
+2

Dubinator3 hours ago
Look at all these people hating on America so much. It's pathetic.
-15

Mike_Oxlong3 hours ago
When I watch the video, I want to punch the screen.

Joe Biden and the TPPA can go take a leap
+23
RobertCunningham3 hours ago
I welcome our future American overlords…
+9

MadManMo3 hours ago
May the One True God, the Flying Spaghetti Monster, bless you too, Mr Biden. Hang on… wait a moment… what's that? Sorry, the One True God, the Flying Spaghetti Monster says "No".
+14

Peter4593 hours ago
Not that it matters but, If you listen to the start of his speech he is talking to the people in the US embassy Wellington not to all the people of NZ. It appears he is reminding the embassy staff to treat Kiwis with respect.
Leave the conspiracy stuff behind – really
1 reply-10

bindy bonk3 hours ago
you should educate your self and read the TPP
+12

Yvea20113 hours ago
Let the Dukes of Hazard ride again and bring back the Confederate flag. What a load of tripe. As already commented the USA don't give a toss about NZ. They kicked us out of ANZUS when we denied access to the nuclear powered ships. Go Kiwiland we don't really need the USA except for a handful of jobs at the US Embassy in Wellington.
+19

Empire Rastafari3 hours ago
Not buying it Joe… your country is falling apart at the seems. ..hang on ..so is ours..because of people like Barack Obama and shonkey selling out to corporations and backroom deals. Your new world us already old.
1 reply+17

mybro2 hours ago
Agree entirely. And now the TPPA is almost a done deal, we will be even more under Big Brother's thumb.
There is no doubt Biden and his mates are laughing all the way to the bank with JK and cronies bowing to their schemes – that are done in back room deals. Democracy!?
+9

Soul3 hours ago
You're all out tonight arent you.
The haters from left of…..
1 reply-16

nettieg32 hours ago
No not haters just real kiwis who care about what happens to OUR country.
+7

Notreal3 hours ago
TPP is not a free trade agreement. only a small part of it relates to trade.
+21

Chchdan4 hours ago
Ha spare it, give us a break Joey. What's the deal here anyway? Using Independence Day to address a Commonwealth country? That's a bit odd right? (Insert conspiracy theory about the US buying NZ from the queen here). 51st state.
+10

marty@wainui4 hours ago
Of course you love NZ, Joe, your administration is indistinguishable from a Republican one and you think the people of NZ will roll over for the "Free Trade" agreement. Don't count on your beloved John Key delivering – little Johnny is about to have a big fall – and see if the voters of NZ really want to take their orders from Washington!
1 reply+9

Club23 hours ago
Marty you sound like you're stuck in a time-warp – this is exactly what the left were saying 12 months ago… then they lost… spectacularly.
-5

rollinginthedeep4 hours ago
We love you so much New Zealand! (p.s make sure you sign our trade deal)
1 reply+22

Ladyofscales3 hours ago
yeah, and don't forget the "or…else" threat
+9

Ragga Nites4 hours ago
Ewwww.
+11

Mr Chuck4 hours ago
And how many sovereign nation states has the USA bombed, invaded and destroyed in the last few decades on the most flimsy excuses? Iraq, Libya, Serbia, Afghanistan etc etc. All in the name of "Democracy"? Or is it all about weapon sales? The fact Biden feels he has say "…and may God protect our troops." is an sad indictment.
2 replies+21

farmer ted3 hours ago
Didn't Mr Bush wade into Iraq to 'win their hearts and minds'?
Are you saying he was making this up and it wasn't true?
1 reply+7

marty@wainui2 hours ago
No..no…that's was their hearts and oil!
+1

JDT4 hours ago
teleprompter much?? wonder who wrote his speech
+6

dantheman094 hours ago
Sorry, couldn't make it to the end. Hard to read text through vomit
+13

Tritex4 hours ago
I would rather the USA anyday. We need to stand with our western allies. What's the alternative? Unthinkable….
3 replies-15

kazzah3 hours ago
How unthinkable is it to think we don't need to stand next to anyone in order to be a sovereign country who makes their own rules?
+10

JPkiwi2 hours ago
How sad that there are so many people who think it's cool to be "anti". You are absolutely correct, the alternative is unthinkable. The alternative would not allow the freedom on a forum like this, an irony totally lost on the "anti" sheep.
+4

marty@wainui2 hours ago
Stand on our own and with all the other truly independent nations on earth. you want to be an American sycophant, go live in America with Johnny Boy and leave this country to New Zealanders.
+2

hmmm4 hours ago
I suspect our future flag will be a gold $ sign on a red white and blue background.
+12

Ken Allan4 hours ago
"I can smell the uranium from here . . . "
+20

Jebidiah4 hours ago
There are countries in Africa, where that country's GDP, is less than the interest they owe on loans to the US Government. Perpetual debt……
1 reply+14

Jebidiah4 hours ago
So the TPP, has the power for Corporations, to sue the NZ government…but get this, the money they are trying to sue for, is paid for by the tax payer. Every single person in NZ who pays tax, is getting taken to court by a company, there argument is that NZs laws stood in the way of profits. If some clever company manages to do this, we fit the bill. This sounds like some crazy get quick rich scheme that only a Wall Street banker could dream up………….
+16

DrPhillis4 hours ago
I actually find this rather insulting.
6 replies+27

marty@wainui4 hours ago
"Rather"? Still – they are American – what do you expect? Intelligence? Knowledge? Respect?
+6

Soul4 hours ago
Pity, I don't. Bigger than that.
-8

gherkinjuice3 hours ago
without america the world would be in ruins……get your facts straight
2 replies-11

Consumer102 hours ago
The world would be a better place without America.
+5

BobbyM2 hours ago
Half of the world is in ruins courtesy of the good old USA, from Vietnam to afghanistan, and the middle east overthrowing govts and leaving these countries in ruins and gifting the world isil.
+3

whackednat1 hour ago
the world would be better of with out american republicans..americans
are ..generally good people
0

macsta4 hours ago
EEEWWWW!
+6

kjnz4 hours ago
Take your pick … U.S. or China.
12 replies+14

dantheman094 hours ago
NZ….then China
2 replies+7

Kainnz3 hours ago
Yeah, China has such a great human rights, and environmental record.
0

Ladyofscales2 hours ago
"Yeah, China has such a great human rights, and environmental record"

And the US has………..?
+5

Mr Chuck4 hours ago
China, their history is not littered with the invasion and destruction of small nations.
3 replies-1

Consumer102 hours ago
They have a better human rights record than the US for sure.
0

Bobby Jones2 hours ago
Best check with the Dalai Lama about that.
+3

Julian2 hours ago
Lol, except Tibet.
+3

marty@wainui4 hours ago
Personally, I pick NZ. Without Johnny and his minions – including "The Genius of Lumsden", who increased NZ's National (no pun) Debt by % in 7 years. Just like I picked NZ over France and the US in the 1980s .
+1

Ladyofscales3 hours ago
Russia thanks
-2

kazzah3 hours ago
NZ
+2

Consumer103 hours ago
China any day. The US has lost its values.
0

ShadowNZ3 hours ago
How many countries around the world has China invaded lately? And America?
+2

Question4 hours ago
Do our values involve us spying on other countries including their allies, Mass surveillance of everyone's phone calls and internet communications, taking advantage of other countries for our own gain. The list could go on… Not my idea of NZ values.
2 replies+24

Ladylass3 hours ago
All countries look to improve outcomes for their people. We do. Why shouldn't America? The "spying" has helped avoid over 8 attacks on Australians by ISIS supporters this year already. Grow up.
1 reply-7

Question2 hours ago
No dearie… not at the expense of others. Just remember where all the anti-west hate comes from, it was generated by the US and now we feel the affects in other "westernised" countries. Grow up… please.. inform yourself.
+2

Jebidiah4 hours ago
My comment was moderated, I think my view on this article is to left and I have been moderated
4 replies+18

Hubble4 hours ago
Good to hear the moderators do their job then
1 reply-12

kazzah3 hours ago
I find that offensive. You know there's a new bill that gives me the right to take you to court for that?
0

marty@wainui4 hours ago
Badge of honour – can't upset Mr Rupert, you scumbag!! ~lol~
+2

bogor883 hours ago
Mine too, we are still free to have an opinion that criticizes the oligarchy, just keep it to ourselves.
Serco haven't unveiled their Thought Police yet have they?..
+2

crame4 hours ago
I wonder if all the TPP partners were serenaded with such romance.

Anyone would think tense negotiations with wide ranging consequences were going on…
1 reply+9

Consumer102 hours ago
Not serenaded – Blackmail through their spy programme.
+3

Anti Neocon4 hours ago
i dream of the day the majority of voters boycott the US election.
7 replies-16

Jebidiah4 hours ago
Bro, research Bernie Sanders, this guy could change the world, he's running for the next election…For the US Presedency
3 replies+13

Anti Neocon3 hours ago
Ok will do. But if he has half the integrity of Ron Paul he's got no of reaching the final hurdle.

To the downvoters -Romney and Obama, two figureheads that of the same machine. Tell me why boycotting the 2012 election would've been unwise?
0

Blair383 hours ago
Sorry to say, people said the same thing about Obama in 2008 – several people in face to face conversations said exactly those words to me. No US President will change the world, or can change the world. They can't even change the United States to any great degree. To be President of the United States means to be a figurehead protecting the status quo, protecting empire, protecting corporate and private wealth, protecting the military industrial complex, all the while giving stirring speeches and saying soothing words that the people want to hear. This is why Obama won Adage Marketer of the Year in 2008. And quite rightly so, considering his track record since.
+4

Club23 hours ago
Isn't that what everyone said about the Obamessiah? How did that work out.
+1

marty@wainui3 hours ago
Mmmmm….most of the recent elections ever held in the US this has happened!
0

GNZ2 hours ago
If as many Democrats voted as Republicans do, we'd have very different decisions from Congress.
1 reply+1

Kiwipass1 hour ago
Ironically that would mean a split house wouldn't it
0

JiFar4 hours ago
I'm so impressed. It is worth selling our sovereignty for a few platitudes from our sometimes mates in the USA. Even Key must be feeling a little uncomfortable; what has he said to the US administration to make them think we are so gullible?
2 replies+17

tinny2 hours ago
We have no sovereignty we are a British colony
1 reply-5

David301 hour ago
Statute of Westminster Adoption Act 1947, Citizenship Act 1977 and Constitution Act 1986 all suggest otherwise.
0

LB104 hours ago
Ugh.
+4

Mr Chuck4 hours ago
Not sure why USA independance day should mean anything to NZ. We are not a vassal state of the USA.
5 replies+23

dantheman094 hours ago
Yet…..
+6

marty@wainui3 hours ago
Nice concept, Chuck – but alas, not true. Still – I can't really think of anyone I know who is actually aware of "Independence Day" – unless they think it is a movie.
+1

kazzah3 hours ago
I'd rather the British take us back than U.S
1 reply+3

Bucko2 hours ago
kazzah i'm with you. The british comedy is far better for a start
+1

mcgooly2 hours ago
oh, are we not? guess who Keys favourite golfing partner is ?
0

Rexeh4 hours ago
"Thank you New Zealand for joining as the 51st state of the United States of America, Happy 4th July, may god bless you all and may god protect our troops."
+12

Revan20154 hours ago
Biden another whitehouse fool reading straight from the teleprompter. Hat tip to the policy nerd who wrote the waffle for Joe
+9

kazzah4 hours ago
I feel sick….
+17

charleyboy4 hours ago
Why is everyone so keen for us to join TPP, the vice president of America probably couldn't find New Zealand on a map, lets not join TPP lets stay as our own Country lets save NZ before its too late
1 reply+26

Ammar2 hours ago
Hurrah! To our own country! And our Monarch!
+2

dan0094 hours ago
The Americans relationship with freedom is a weird one when you compare it to the rest of the developed world. Here they are celebrating beating those "freedom hating" British and yet we here with the union jack on our flag and the queen on our money with all the same values and freedoms.
1 reply+15

Jebidiah4 hours ago
A bit of a Generalisation, but I think you mean well haha.
+3

PaulT4 hours ago
And…. does Joe Biden want to hear what we have to say???
1 reply+17

marty@wainui3 hours ago
Ahhh…do we want to hear what HE has to say? Or, to put it another way…Joe Who?
+5

Peet4 hours ago
I don't know about anyone else, but I couldn't shake a sense of suspicion, perhaps even queasiness, about NZ being talked about in an Independance Day message – a very important day in American culture. It may have been caused by the mention of TPP of which I am deeply suspicious. It may also have been caused by America's extending their jurisprudence boundary outwards from American territory to include NZ's courtrooms and police force in the Dot Com saga (say what you like about Kim Dot Com, but that raid shocked me and proved the power the FBI holds over NZ's jurisprudent institutions). Having said that, I want America on our side. But not at the expense of NZ losing its sovereignty – and Pharmac, ACC, and the flag being lost to our society by virtue of TPP.
+21

Scallywag QC4 hours ago
Thanks for those very kind and thoughtful words that you share the NZ view that all men and woman are created equal. Following on from that we look forward to that ever elusive free trade agreement between US and NZ.
0

SE7EN4 hours ago
Omg. It's coming true. They're after Antarctica btw… It has been written.
1 reply+5

CanterBuryCream4 hours ago
Up in that book of life?
-1

hfb174 hours ago
Best news Ive heard all day…..more control for corporations….brilliant 🙁
1 reply+7

marty@wainui3 hours ago
Shhhh…the commies may get upset! 😉
+1

riki35 hours ago
What a con, all i picked up was trade deal…..When our last asset is sold.
When every public service is outsourced to Serco
When every State House is sold to Australia.
When every farm is owned by China
When every house belongs to someone overseas..
When every school is privately run.
When every New Zealander is required to have private health care.
When Multi-Nationals can use the TPPA to dictate our laws.
What will be the point of having a parliament?
… and what flag should we fly then?.
—Bryan Bruce—
2 replies+23

Mike_Oxlong3 hours ago
Well said, time for an uprising. I have a pitchfork and a bottle of homebrew, actually keen to cause some chaos in the quest for justice!
1 reply+7

riki32 hours ago
lol shine on.
+2

Kiwi in Perth5 hours ago
Under TPP Big Tobacco can force the NZ government to relax cigarette laws via court.. Thats just on aspect. Corporations over humans life. The American way.
Big corporation wants to cut down fiord land. No says the government. OK they will sue.
2 replies+15

Enigma 3 hours ago
No it can't
-1

GNZ2 hours ago
That's not actually clear. The point is that they haven't been open with the text – what's been made public is out of date.
-1

David.H5 hours ago
"Our Nations – the United States and New Zealand – and our people have always been bound together by the common commitment to the democratic, open and prosperous and secure world."

Do us a solid then and get them to leave my Global Mode on Joe so I can easily access the democratic, open, prosperous and secure world of my favourite tv shows.

Cheers mate

+9

Steven Bellview5 hours ago
Are we supposed to feel American? I feel slightly cringey and insulted by bs.
+14

Enigma 5 hours ago
Queue the uneducated conspiracy theorists….
5 replies-21

Soul3 hours ago
Yes I cant believe they actually do seriously believe what they spout. Their are so many advantages to this agreement for NZ and yet they home in on totally improbable and bizarre theory's and believe it !!! Astounding ignorance. I bet they think the world is flat and Elvis is still growing mushrooms in South America with James Dean.
1 reply-9

Joy Green2 hours ago
What exactly are these multiplicitous advantages? I haven't been able to find anything quantified – or quantifiable – in my research, which has been quite extensive, just a few nebulous promises. If you can point me at something concrete that does clearly enumerate the advantages (robust academic or governmental sources preferred) I'd be happy to include it in my investigations.
+4

farmer ted3 hours ago
Queue the gullible fools . . .
+3

SteveSnarky3 hours ago
The proof is in the pudding, spot on mate! 🙂
+1

Enigma 3 hours ago
And there they go….
+1

maw5 hours ago
Give it up.
+8

Clive Sheridan5 hours ago
Best laugh I've had for a while. "And as the sun sets in Wellington, it's going to rise in Philadelphia where 239 years ago our nation was founded on the basic self-evident truth that all men and women are created equal. "And it's a truth that continue to guide every American heart whether living at home or abroad. And it's a value we share in common with the people of New Zealand," he said.
HAHAHAHAHAHAHAHAHAHA oh man for a nano second I almost believed he was serious. Hilarious
2 replies+25

Jebidiah4 hours ago
Yes while our countries have never been closer, thanks to an ex Wall Street banker, being the leader of your country, it would appear from my speech, that I care about every individual in NZ. No, no, no I am looking forward to sueing every single tax paying person in NZ…..and winning
+9

Ladylass3 hours ago
I share those values. Your comments insult this man and his great nation. These are the sort of comments that will cause USA to go back into its shell and defend itself with or without friends around the world. Obama's administration is trying to change the way USA does stuff. They may have realized they need friends rather than just fighting terrorism alone. Go be friends with China and North Korea….USA doesn't need us. We need them- even though we might not like the thought of that.
-6

midnitewomble5 hours ago
what a load of tripe. the us does not give a toss for us as the past few years have shown. so long as we tow the line all is good. dont and you are treated like a pariah.
1 reply+30

GNZ2 hours ago
Toe the line. It's to do with placing your toe on a rope laid on the ground (or some such nautical ritual).

I think it's a bit more complex than you say – we actually have a lot of common ground.
-4

76ecth9825 hours ago
Cringe worthy.