New Zealand Herald yesterday published yet another of those articles penned by their most prolific crime, court and police reporter Rob Kidd. This article was a little different than Kidd's past efforts, this time Kidd took on a High Court Judge, or at least he's attempted to. Rob Kidd opined:
Judge's daughter caught drink driving

Tuesday March 29th, 2016

By Rob Kidd

The daughter of a High Court judge, who overturned the Maori King's son's discharge without conviction for drink driving, was caught driving over the limit.

Amy Elizabeth Woolford, 22, was stopped by police on Great South Rd in the suburb of Greenlane on March 15 where she was found behind the wheel at more than three times the legal breath-alcohol limit.

She is the oldest daughter of Justice Mark Woolford, who has sat in the High Court at Auckland since 2010.

Amy Woolford blew a reading of 817 micrograms of alcohol per litre of breath – the legal limit is 250.

She pleaded guilty to the charge on her first appearance before Auckland District Court last week and was fined $800 by Community Magistrate Janet Holmes.

The magistrate also banned Amy Woolford for driving for six months – the mandatory minimum.

A Ministry of Justice spokeswoman refused to pass on the Herald's questions to the judge and warned that it would be "highly inappropriate" to seek comment at the family's Epsom home.

Amy Woolford did not respond to online messages.

Her father was previously appointed Second Secretary to the New Zealand High Commission in Singapore and in 1985 he was the New Zealand Representative to the Legal Committee of the United Nations General Assembly in New York.

More recently Justice Woolford was a Crown prosecutor and partner at Meredith Connell before being appointed to the bench.He has adjudicated several high-profile cases and was the judge who overturned the Maori King's son's discharge without conviction on a drink-driving charge.

"I am not satisfied that a conviction for drink driving would meaningfully decrease his chances of becoming the next Maori King, or have any other consequence out of all proportion to the gravity of the offence. A drink driving conviction is a black mark, but not an irredeemable one," he said.

Source: http://www.nzherald.co.nz/nz/news/article.cfm?c_id=1&objectid=11613452
Now as said, normally the New Zealand Herald is focused on fucking up fair trials by publishing material that wouldn't get past the judicial gatekeeper in any fair trial, in other words they often do the prosecutions job for them, before the trial even starts.
In the story above it is quite clear that a young woman, aged 22 years, was pulled over, breath tested, found to be over the blood alcohol limit, charged, pleaded guilty and was sentenced.
Now from what we can see of the facts that Rob Kidd has provided nothing in particular seems in anyway out of place.
It certainly does not seem that the Community Magistrate in this case has applied an unreasonable or lenient sentence. In fact it seems to us that Magistrate Janet Holmes has in fact followed the sentencing guidelines to the letter, very rare indeed.
Of course regular readers will know that if we here at LF though something suspect had occurred then we would have been far more aggressive than Rob Kidd in our criticism. But that does not seem to be the case.
In fact, in this case we are going to go after Rob Kidd. Why? Because he has clearly tried to pull a stunt, the intended result of which the New Zealand Herald hopes is the garnering of more kudos for appearing to have played "Hard Ball" – at least that's the overall appearance they had clearly hoped to foster.
The truth, however, is something far removed from a game of "Hard Ball".
Rob Kidd, no doubt under the instruction of his master Shayne Currie, has attempted to link three separate issues, two court cases and a particular judges career path.
Quite what theses three matter's have to do with each other is left to the readers own vivid imaginations, which of course has always been Rob Kidds style, especially when he has set out to achieve a result for a New Zealand Police prosecution service.
The fact is that this young woman's parentage has absolutely nothing whatsoever to do with her own drink driving offenses, although Kidd seems to imply that it does. Mind, its an implication only, not an outright allegation or lie – Kidd as always, simply inviting his readers to connect the dots, even when there aren'y any, and reach the conclusion he's 'helpfully' implied.
On this occasion, however, at least as far as we can see, there are no dots that can, or in fact need to be connected.
At twenty two years the young woman is quite clearly of age, she is an adult and therefore solely responsible for her own behavior. There is no indication, given by either Kidd or the Magistrate, that the offender was a recidivist, having a string of past DUI offenses to her name.
Therefore it follows that this woman's transgression must have been a first offense and thus a fine of $800.00 and a six-month suspension from driving seems entirely appropriate.
Kidd however attempts to be clever, as he is prone to be. He deliberately notes that the suspension was "the mandatory minimum". Of course this was included by Kidd to imply that the young woman was treated leniently. That however, in fact, is not the case. Most first time offenders receive a six month suspension.
So what was Kidd playing at? Well that becomes even clearer when Kidd attempts to link the 2015 case of the Maori King's son, a young man with a fairly extensive criminal past and a bad driving history, a case that is in no way comparable with this young woman's one off offending.
This woman never sought name suppression, she never applied for or was granted, as far as we are aware, any form of preferential sentence or treatment; and importantly she sought to plead guilty to the offending at the very first opportunity; her first appearance, saving the court valuable time, with that act attracting a discount in sentence, if in fact a discount was ever applied.
Rob Kidd however commits to, what we suspect he believes is, the 'coup de grâce' when he dragged in the woman's unfortunate father, who in this case just happens to be a judge.
Now it has to be said that Rob Kidd will have attended more court call-overs than most Kiwi's have had hot breakfasts, that is his job after all.
Kidd will also be fully aware that whilst, as he points out, "the mandatory minimum" sentence was applied in this case, it is also the sentence of choice applied by all Magistrates and District Court Judges for first time offenders, especially where there has been an early admission of guilt.
It is clear then that Rob Kidd had an agenda in writing his piece, particularly in the manner that he has.
Kidd's agenda is all the more obvious because he needlessly drags in the offenders relative, the father, a New Zealand High Court Judge, who just happened to be the judge presiding over a completely unrelated appeal, a case that far from mirrors the events Kidd is reporting on; a judge that presided over this unrelated case on the papers alone, perhaps with submissions from counsel; the judges only job, in any event, to decide whether a subordinate judge had in fact applied the law in sentencing the guilty man.
So what the fuck has that got to do with the price of Fish in Denmark?
The fact is that Rob Kidd would have known that in reality there was absolutely no connection, and if he didn't, then he shouldn't be employed by the New Zealand Herald.
Kidd's true agenda however has become even more transparent by paragraph seven of his piece, even to the laziest of readers;
A Ministry of Justice spokeswoman refused to pass on the Herald's questions to the judge and warned that it would be "highly inappropriate" to seek comment at the family's Epsom home.
Of course Kidd will very likely have been referred to the "ministry of Justice spokeswoman" because Court registrars have now very likely been warned against sharing any information with New Zealand Herald Journalists; in truth they're probably aren't even allowed to have a chat, over a quick smoke, out the back of the court either.
There is also a clue to at least one of the Heralds so-called questions; the clue is actually in the answer Kidd received. Kidd was "warned that it would be "highly inappropriate" to seek comment at the family's Epsom home"
From this we would not be out of order in deducing that Kidd had in fact tried to obtain the Judges home address, or worse threatened to 'doorstep' the family.
Rob Kidd and the New Zealand Herald are currently facing criminal prosecution for exactly this sort of criminal behavior, that and the Herald's extremely tiresome habit of writing articles that clearly suggest readers should draw negative or wholly false conclusions.
Kidd also makes another implied connection, that of Auckland Crown Solicitors and prosecution service provider, Meredith Connell.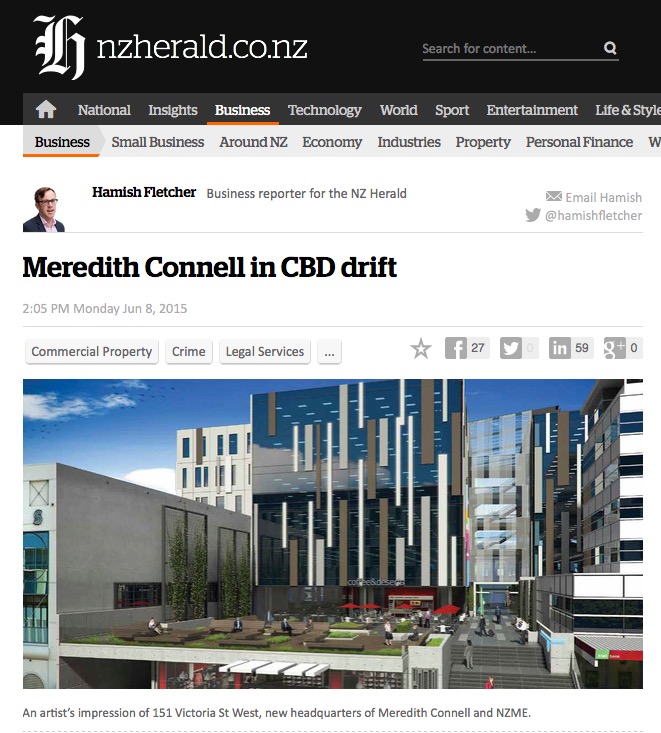 Now many readers will probably not be aware that law firm Meredith Connell and the New Zealand Herald share an address, as well as information, they are in fact both tenants in the same Auckland CBD building; located at 151 Victoria Street. There is evidence suggesting that the extremely close proximity of these two businesses may have had a negative impact on the administration of Justice, a back door, so to speak, which has recently likely been slammed in the face of any Herald hack who has tried using it.
This shyte-sheet tabloid style only grabbed the Herald by the ball's when Shayne Currie was handed the job of managing editor.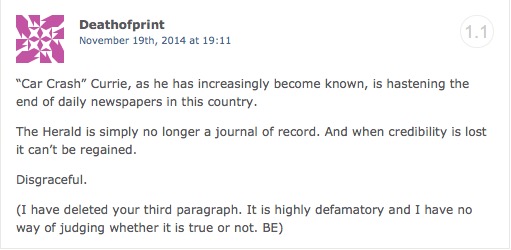 Currie's nickname in the industry is apparently 'Car-Crash Currie', and as the nickname perhaps suggests, he is also apparently seen by many as a bit of a commercial wrecker.
This was certainly the opinion expressed by leading Kiwi media and social commentator Dr Brian Edward's upon Currie's successful landing of the vacancy immediately prior to the departure of Tim Murphy, who was for the most part a respected professional. Back in 2014, when Currie had first joined what is now NZME, before he had become the big cheese, Edwards opined:
"Under the editorship of Shayne Currie the New Zealand Herald has been transformed from a quality newspaper into little better than a trash tabloid." – Source – B.E.M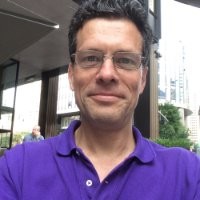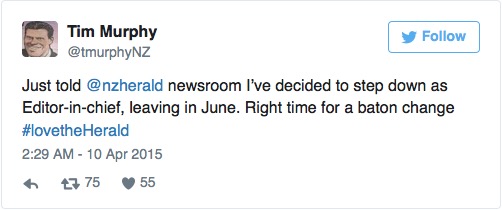 Whatever the Heralds agenda, what is more than evident with Kidd's article is that he has attempted to imply that some sort of conflict of interest had transpired, an implication that is completely false of course.
So what was it all about? Perhaps one of Rob's Crown prosecution mates put him up to it? Maybe one of the many cops that he drinks with? Perhaps Rob Kidd has a problem with passive aggressive behaviour? Perhaps he just does not like being told NO!
To be honest who really knows what was running through this cock-heads brain when he decided it was a good idea to fuck over a judge for no good reason. We can only but smile.
Of course we have based our own assessment entirely on the information supplied by Rob Kidd himself, knowing that had there actually been anything like a smoking gun, or more "damning" evidence available, he would certainly have used it to his advantage. Here at LF our goal is simple enough, it's certainly by no means concealed, we want slime like Rob Kidd out of the business and out of Australasia; in fact we'd love to see him hitching a lift to somewhere that embraces his corrupt style of journalism, we recon Indonesia could be a good fit.
Forgive us if it seems we don't want to leave the job of cleaning up Zealand's dirty media to Nick Hager alone, no offense intended, but Nicky Hager might just be part of the problem; he certainly lost our vote of confidence, and a lot of credibility in the eyes of the public when he failed to name absolutely everybody involved in the backroom deals of New Zealand politics, of course featuring large among those unnamed scumbags are journalists who remain employed by the New Zealand Herald.
Gone are the days in New Zealand when journalism was all about the greater public good, its every man for himself these days! Perhaps that's why Tim Murphy got out – while he still could?
Reference/bibliography
http://www.nzherald.co.nz/business/news/article.cfm?c_id=3&objectid=11461765
http://www.kiwisfirst.com/judge-file-index/high-court-justice-mark-woolford/
http://www.newshub.co.nz/business/nz-herald-editor-in-chief-stepping-down-2015041013#axzz44NgoFfTL
http://www.whaleoil.co.nz/2014/11/good-friend-brian-edwards-passed-judgment-nz-herald/
http://brianedwardsmedia.co.nz/2014/11/the-new-zealand-herald-demise-of-a-quality-publication/