Last month New Zealand's National Business Review (NBR) published a small but extraordinary story covering the arrest of yet another Auckland businessmen accused of gross indecency with minors:
Auckland businessman bailed on sex and drug charges, faces possible 10-year jail term

Chris Keall Friday September 9, 2016

An Auckland businessman won bail in the Auckland District court yesterday afternoon after being arrested on Tuesday on sex and drug offences, then held on remand for two nights.

Read more: https://www.nbr.co.nz/article/auckland-businessman-bailed-sex-and-drug-charges-faces-possible-10-year-jail-term-ck-p
The NBR story is worth reading in full, but the extraordinary thing about this case is that despite its obvious public interest, for a number of very good reasons, no other New Zealand mainstream media outlet has gone anywhere near it.
As regular readers will already be aware the issue of New Zealand media corruption is of particular interest to us here at LF.
In this case there appears, prima facie, to be a great deal of corruption, in that much of the country's small media have deliberately decided to conceal this case from public view.
What's more it's not the first time that the accused and his family have benefited from a determined media bias in either favourable reporting of failing to report all together.
In fact its been alleged that the families connections to journalists and media outlets have ensured a complete media blackout.
The man who now stands accused of serious criminal sexual abuse charges, involving children, which attract up to 10 years in prison, is in fact the son of 1980's Kiwi Television journalist/front man and former MANA party PR advisor Peter Verschaffelt.
Ex journo Peter Verschaffelt and his two sons David Peter Verschaffelt and Paul Gregory Verschaffelt are no strangers to New Zealand's criminal justices system, both brothers having been convicted and imprisoned on Methamphetamine importation and supply charges back in 2002 and their father Peter narrowly escaping remarkably similar charges in 2010
Brothers Sent Behind Bars

1:11 AM Tuesday Jun 25, 2002

The former head of publicity for this year's Volvo Ocean Race stopover in Auckland was sentenced yesterday to two years' imprisonment on drugs charges.

But David Peter Verschaffelt, 27, of St Marys Bay, appearing in the High Court at Auckland, was granted leave to apply for home detention.

The Auckland City Council employed Verschaffelt for 10 months to promote the Volvo stopover, during which time he was paid $86,145.

His brother, 24-year-old office worker Paul Gregory Verschaffelt of Manurewa, was sentenced to four years' jail.

The pair had admitted conspiring to import up to $1 million worth of speed into New Zealand from Japan.

Paul had also admitted supplying heroin and Ecstasy.

David had further admitted to possession of Ecstasy for supply.

Source: http://www.nzherald.co.nz/nz/news/article.cfm?c_id=1&objectid=2048497
Nor is it the first time that an allegation of favoritism and cover-up has been levelled at New Zealand's mainstream news media, in particular the New Zealand Herald, who seem to have a particularly close and secretive relationship with Verschaffelt senior.
The New Zealand Herald has never been backward when it comes to attacking all in sundry, whoever may have had the misfortune of appearing before New Zealand's courts, with the exception, of course, of cases where they have agreed to remain silent as a favour to either New Zealand's police, industry insiders, large advertisers or individuals who might otherwise be seen as close "close friends".
The Verschaffelt mob seem to be one such case in point, all having been given a good coat of the New Zealand Herald's "A grade" black Teflon; otherwise known as slippery-slime.
In fact, almost exactly one year ago to the day, Kiwi blogger Cameron Slater posted a piece critical of both Peter Verschaffelt, alleging that Verschaffelt's media connections seemed to be responsible for his extraordinary degree of media access, favouritism and untouchability, to the extent that Verschaffelt had even been given the green light by a New Zealand major to actually rewrite history.
WhaleOil freelance Journo Stephen Cooke at the time opined:
Media man turned meth cook

by Whaleoil Staff on September 17, 2015 at 5:00pm

In 2010 the former radio and television journalist and producer of the TV programme Made in New Zealand successfully applied for a permanent stay on charges laid four years earlier of being a party to the manufacture of P because of delays in getting the matter to trial.

Following the stay, Verschaffelt – who's now in his mid-60s- had the cheek to claim in media interviews he'd been persecuted by police because his two adult sons had both previously been convicted on P charges. In one interview the now disgraced broadcaster said: "I am proud of my name and I am proud of what I have done… all my life, I have fought against injustice."

In another interview he claimed he had never been involved with drugs.

"Never tried P. Never made it. The P problem – and I have seen it from the other side – is out of control. Drugs create a market for gangs and triads to rule this country," he said.

"I am pleased to be walking free of charges I have always said I was not guilty of. People cannot imagine what it is like to be condemned.   

"Too many people jump to the conclusion of guilt and the concept that one is innocent until proven guilty in this country is just a misnomer."

It was astonishing effrontery from Verschaffelt given the compelling nature of the evidence.

Police had established that Verschaffelt had bought methamphetamine precursor ingredients acetone and a kilo of crystal iodine, claiming the latter was to treat his co-accused's sores.

It was a far-fetched story as events in later years would prove.

It has now been established that Verschaffelt is not the law-abiding virtuous Christian he claims to be.

He is a meth cook and P addict who at the first sign of trouble lies and betrays his friends in order to protect himself. In the criminal world there is no worse offence than ratting on your mates.

Today we can exclusively reveal details of Verschaffelt's latest fall from grace and the gutless measures he employed in an attempt to beat the police charges.

In July 2014 Verschaffelt was found guilty before a jury on one count of manufacturing methamphetamine. He was charged with Peter Francis Atkinson, who at the time was recently out of prison and living with Verschaffelt in rented accommodation in Auckland.

When police raided the property they discovered dozens of syringes in Verschaffelt's bedroom, used to administer methamphetamine. In the house they also discovered equipment used for the manufacture of the drug. Verschaffelt's prints were on a number of the items.

But it was text messages that cemented Verschaffelt's guilt.

In those messages Verschaffelt was either trying to source pure methamphetamine for personal use or locate precursor chemicals for the purposes of manufacturing methamphetamine.

Then there were text messages to various people, many of whom were young drug-addled females, boasting he had quantities of methamphetamine either on his person or at his address.

When Verschaffelt was arrested he sat down with police for what eventually was a three-hour video interview.

In that interview, he told lie after lie.

He claimed he had nothing to do with the drug P – and even offered to provide police with a blood sample there and then to show he was clean.

However, police were wise to the ploy. According to the website, www.treatmentaddiction.com it can take three to five days for methamphetamine to leave your system. When users administer the drug intravenously, all traces can be gone in 72 hours.

The interviewing officer said police did not conduct blood tests for the purposes of a criminal prosecution – but offered Verschaffelt the option of a hair follicle test, which would establish whether the ex-broadcaster had used the drug in the past three months.

Verschaffelt declined the offer.

In one final desperate act, he then put all the blame for what was found at the house on Atkinson, claiming "he had obviously been up to his old tricks|.|

When the case went to trial, the jury didn't believe any of Verschaffelt's lies. He was convicted and sentenced to 10 months home detention and 200 hours community work.

He appealed the decision on the grounds the nature of the Crown's case changed between opening and closing arguments to an extent that prejudiced the defence, and accordingly led to a miscarriage of justice.

The other grounds for appeal was that the court "erred in allowing Atkinson's contribution to extensive text communications, which were produced by the Crown, to be relied upon as an aspect of its case against Verschaffelt".

The appeal was dismissed.

Verschaffelt still maintains his innocence.

Remarkably, details of Verschaffelt's conviction have not been reported by mainstream media outlets who jumped on the bandwagon to support the drug cook and P user four years ago when he was shilling his story of innocence.

Source: http://www.whaleoil.co.nz/2015/09/media-man-turned-meth-cook/
In 2015, with new evidence having surfaced, Stephen Cook was of course referring to an earlier article that had been penned by Carolyne Meng-Yee, published in, you guessed it, the New Zealand Herald five years prior, in April 2010:
Destroyed By Drugs Charges

11th April 2010

Peter Verschaffelt once lived the high life, he says. He dined out at fancy restaurants. He spent more than he earned.

Now, after four years fighting a police charge that he helped manufacture P, the haggard 61-year-old lives alone in Mangere in a ramshackle shed. His relationship with partner Lynne Merrit, a former police officer, is under strain.

He gets about on a 10-speed bike. He has part-time work for Willie Jackson at Radio Waatea, but has applied without success for more than 100 media and publishing jobs.

Yet, still, there is a hint of the flashy TV reporter about him: the day that he gives his first interview since the charges were laid back in 2006, he wears a jacket and tie, and buffed, black leather shoes.

"I think a lot of people get into lifestyles that are obscene, wasteful and negligent," he says. "I did.

"Now, I live a humble, simple life, and I am happier than I have been in my life."Much of that happiness stems from an Auckland District Court judgment, permanently staying the police prosecution because of the delays to his trial.

Verschaffelt – who had earlier spent the night in a 6m-by-3m police holding cell with more than a dozen other inmates – walked free.

The stay of prosecution is not the same as an acquittal – but it's enough for him.

The broadcaster's two adult sons had both previously been convicted on P charges, but Verschaffelt says he was never involved in drugs.

Never tried P. Never made it.

"The P problem – and I have seen it from the other side – is out of control. Drugs create a market for gangs and triads to rule this country."

There were many reasons for the court delays: Verschaffelt had to replace his defence lawyer six times; once he fell from a ladder and was admitted to hospital.

There were clashes in court dates; judges were unavailable; and his alleged co-offender changed his plea from innocent to guilty.

Inexplicably, police lost all copies of a video-taped interview with that co-offender – the "linchpin" witness whose evidence, they say, would have convicted Verschaffelt.

That witness, Gregory Wilesmith, later changed his evidence, so as to more firmly implicate Verschaffelt in setting him up in an Orewa motel with the ingredients to manufacture methamphetamine.

The head of the inquiry says he lost that earlier videotaped interview – in which Wilesmith is said to have been almost incoherent because of his drug use – but it did not matter because he did not need to put him in the witness stand for a depositions hearing.

At some point, though, as other pieces of evidence fell over, Wilesmith's evidence became key.

"The videotape of Mr Wilesmith's evidence became critical once the Crown had decided to call him to give evidence," said Judge David Harvey in his judgment.

"The loss of this particular piece of evidence is important for the defence and has arisen as a result of the delay and the failure of the police to make proper disclosure."

Detective Sergeant Andrew Wong insists police were not to blame for the 38-month delay.

"The only thing I can put my hand up to, on my heart, and say, 'yes, I made a mistake and I misplaced that tape,' which was caused by the delay."

He says two copies of the tape were made. "I have moved offices four times since then," he says. "I don't know, but at the end of the day it's been attached to a file somewhere and it's got lost along the way."

Wong says other evidence was critical: that Verschaffelt bought methamphetamine precursor ingredients acetone and a kilo of crystal iodine, claiming the latter was for Wilesmith's sores.

The broadcaster, however, insists he was persecuted because of his sons' convictions, and because his name was well-known.

"I am proud of my name and I am proud of what I have done … All my life, I have fought against injustice."

Verschaffelt says he will make submissions to the Government and to select committees on how to "correct" problems in the police, the justice system, and Housing NZ, which sacked him after he was charged.

"You certainly find out who your friends are," he muses.

Source: http://www.nzherald.co.nz/nz/news/article.cfm?c_id=1&objectid=10637617
Now we are not really all that interested in the past offending of this father and son trio, what we are however much more interested in is the current criminal charges faced by David Peter Verschaffelt and his wife Kirsten McGowan and the fact that they seem to have been granted a preferential status by both New Zealand's courts and the New Zealand media, with the exception of course of the National Business Review who published the story above.
There is a growing trend whereby wealthy or well-connected sexual abuse and drug offenders receive a home free card and a sickening silence from a complicit media while the courts white wash the offenders, often granting permanent name suppression's.
Of course this behavior is pretty much unique to New Zealand these days, with the United Kingdom having arguably been given a bloody nose by thousands of historic victims of sexual abuse. It is in fact somewhat telling that the UK Home Secretary turned to corrupt Kiwi Judge Lowell Goddard in their attempt to cover-up the extent of the British criminality, that intended white-wash however didn't go quite as planned with the Goddard tart departing in disgrace.
Not Again, Not Another Of New Zealand's Undercover Police Operations
So we have the media silence, skulduggery which is certainly in the public interest, the obvious question being, why is it that people like the Verschaffelt's are given this preferential treatment by New Zealand's courts and the country's thoroughly sick media…the answer is probably self evident.
The second issue here is that the case against David Verschaffelt and his wife involves another of those likely corrupt Kiwi undercover police operations, like the now infamous Red Devils case, which saw senior police officers lying about what had been agreed to by dead Judges, all to coverup their own criminal offending; utterly humiliated by massive bungling and a series of anomalies that would yet again have the New Zealand public tearing out their hair with incredulous angst.
In this case however the police allegations against Verschaffelt include sex involving his partner, who incidentally wasn't granted bail, his partner's underage daughter and his partner's son.
The police summary of evidence is in fact quite mind boggling, sickening, almost unbelievable in fact.
What's more it appears that this case is being managed appallingly; in very similar fashion to the police prosecution of David's father Peter Verschaffelt almost a decade ago, as detailed by Stephen Cook in his piece for Whale Oil, Lawyers resigning left right and centre, police and court incompetence, all of which could possibly bring about the same net result, a permanent stay of proceedings…..as planned?
There is of course more to the case, albeit in a disconnected way, with David Verschaffelt and his IT company also under investigation for serious financial irregularities, preferential payments and possible high dollar fraud;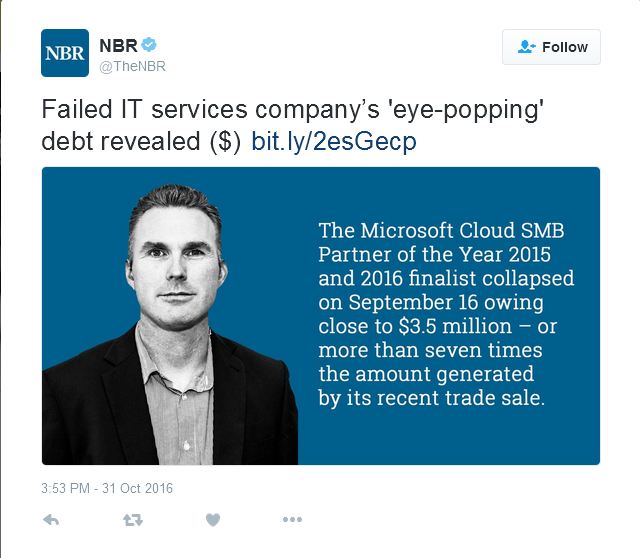 Now all of this is undoubtedly in the public interest and should have been published, but not if one is to rely on either the County's Courts or it's thoroughly corrupt media.
It's hard to work out which is sicker, the police summary of evidence or the court and media's ability to keep the public in the dark, whilst they toy with one of the most important and fundamental principles of any democracy, an open and transparent justice system.
Next up in this category is the strange story of yet another Kiwi sex offender that was NOT reported to the New Zealand police as he should have been.
Instead this case involves a fraudster, a dishonest lawyer, prostitution, dodgy strip joints, extortion and threats of the offending being exposed if payment wasn't made and demands that the offender, Whangarei disc jocky Wayne Edmonds, flee New Zealand for Australia for good, were not met.
Bibliography/References
http://www.nzherald.co.nz/nz/news/article.cfm?c_id=1&objectid=10637617
http://www.whaleoil.co.nz/2015/09/media-man-turned-meth-cook/
http://www.stuff.co.nz/national/3332099/Peter-Verschaffelt-drug-charge-dropped
https://www.nbr.co.nz/article/auckland-businessman-bailed-sex-and-drug-charges-faces-possible-10-year-jail-term-ck-p
http://www.nzherald.co.nz/nz/news/article.cfm?c_id=1&objectid=2048497
https://www.nbr.co.nz/article/auckland-businessman-bailed-sex-and-drug-charges-faces-possible-10-year-jail-term-ck-p