New Zealand Police finally arrest and charge Auckland Indian Billionaire boys club member bogus lawyer, accountant and business guru Anmol Seth.
Late last year New Zealand's Whale Oil blog followed up on a story that LF had started investigating on the exploits of serial fraudster Anmol Seth.
Seth had for years managed to navigate around New Zealand law enforcement agencies, ripping off kiwi/Indian business men and women.
Seth first came to the attention of LF in the early days of our investigation into another kiwi serial fraudster Matthew Blomfield who it seemed to us, on the available evidence, had been deeply involved in at least one of Seth's scams.
Of course Slater also noted the involvement of another Kiwi fraudster, but was prevented from naming Blomfield because of a High Court gag order which Blomfield has managed to extract from the apparently naïve Judge Raynor Asher.
In fact, following the Whale Oil articles, penned by Stephen Cook, Blomfield had the gall to subsequently file another contempt of court application, alleging a breach of this gagging order, the judge again siding with Blomfield.
This has of course been Blomfield's entire strategy over the past three years, since first filing a his defamation tort against Slater, an action that Blomfield seems to be very reluctant to advance to substantive hearing.
In fact, Blomfield has been far too busy intimidating witnesses, obtaining bankruptcies and non-harassment orders in the hope that this legal tactics would finally silence his victims and put an end to the need to go to hearing on the core defamation allegation.
Justice Asher has to date, sadly, bought into Blomfields legal maneuvers but that license may however be about to expire with more evidence of Blomfield's many perjuries and intimidation of witness having surfaced.
Of course Blomfields involvement with Anmol Seth is all but certain given the speed with which he rushed to prevent Slater from publishing anything more on the case that even suggested his involvement, which is of course telling because Stephen Cook has as aforesaid never named Blomfield.
Seth's victims, having taken on-board LF's opinion on the issues, subsequently filed a compliant with New Zealand police, who have somewhat strangely been evading the in-your-face audacity of this fraudster, just one of the many connected to Blomfield and his ever changing criminal cabal.
Following months of pissing around with an investigation of these fraudulent transactions the New Zealand police last week finally moved to arrest Anmol Seth and charge him with the offenses made out in the pages of LF.
Again, somewhat strangely, the police decision to arrest and charge Seth occurred the day after LF published an article calling into question the police delays in the time the so-called police investigation had taken.
No doubt Judge Raynor Asher will now be scratching his head wondering just how it is he is going to be able explain away a number of his glaringly obvious mistakes and serious errors of judgment.
Of course this is not the first time Matthew Blomfield and friends have managed to successfully con a High Court Judge, Justice Fisher has also fallen victim to this ever changing and extremely wily cabals manipulation of the legal system and the legal safe guards that are supposed to have been deployed to protect Kiwi consumers from these ratbags and legal charlatan's.
Now that Seth has been charged the decision highlights a number of serious issues with the police's performance, but not just in this case, or on this occasion.
A number of Blomfield's other victims had at the same time as Shiv Mattu mustered the courage to ignore Blomfield's very subtle but nonetheless effective threats and had also filed significant complaints with the New Zealand police force.
The first very serious concern we hold is the manner in which obvious delays have been employed by police, without adequate explanation, that despite there being a minimum of effort and or police resources required for these complaints to have been investigated.
The allegations had been supplied along with ample evidence, substantial evidence in fact, that had also been provided to various other government agencies including the IRD and SFO, prompting their own investigations and subsequent action.
Of course the allegations and the issues surrounding them have been somewhat complicated, if only by the interference of a number of Kiwi political bloggers and the NZ Herald, who may well be the root cause of the police reluctance.
Heaven forbid that the police could, or would, allow themselves to be in anyway influenced by any form of real or perceived pressure being bought to bear by the MSM or cyber media with an all to obvious and very particular political agenda.
A Law Society Investigation.
It also strikes us as more than a little odd, that whilst these alleged crimes have also now been brought to the attention of the mainstream media, in particular the New Zealand Herald, who in our opinion lead the charge with an attempt to muddy the waters in what was a clearly personal and politically motivated attack on Cameron Slater and his blog, have failed to report in a balanced manner, these matters.
They too share culpability for ensuring that a huge number of very real concerns were lost in the noise created by the publishing of Nicky Hagers book "Dirty Politics".
The victims of these frauds and other alleged crimes had every right to be heard without malice and or prejudice, but that has not been the reality, its very much been made an issue in which Cameron Slater is the devil, an incredibly successful ploy manufactured by Blomfield, but nonetheless wholeheartedly embraced by MSM outlets who undoubtedly saw it as another weapon in their arsenal, a knife to drive into Slater's back.
The issue of Matthew Blomfield and associates, such as Anmol Seth, was never about Slater, Slater did not defame Blomfield, nor has Blomfield, or for that matter anyone of Slater's political adversaries, including the MSM proved that he has.
Blomfield's victims have been given a raw deal!  In fact, we would argue, such a raw deal that the behavior of some uninvited commentators, who dealt only in the political, with absolutely no regard whatsoever to the available evidence of criminal offending, may well be legally actionable. Driven by little more than malice on the part of certain journalists such as David Fisher and Matt Nippertt and bloggers such as Lynn Prentice and Pete George, any damages, should a legal action be considered, could also see exemplary damages sought.
We also note that both the New Zealand Herald and Fairfax ran a series of stories on the death of one of the accused in this particular case, Auckland lawyer Graham Hare, we will deal with that issue a little later in this post.
As we've said the New Zealand police were not the only agency who received complaints from the victim. New Zealand's inland revenue Department were advised of possible offending and are currently investigating a firm of accountants, Grant Thornton, an apparent favourite of Blomfield's, that were also involved in turning a blind eye to a number of the transactions and demanding fees well above the norm for a liquidation.
There have also been complaints laid with New Zealand's law Society, who like the Police stalled any investigation and failed to act in an appropriate fashion; when dealing with a deliberate attempt by a lawyer involved, to withhold trust account details and evidence that was almost certainly proof of their involvement, complicity and guilt in the various alleged frauds committed by Blomfield, Hare and Seth.
The Law society, also somewhat strangely, released its written findings the day after LFs last article after months of stalling, an LF article in which we discussed our serious concerns with the conduct of the police investigations into Blomfield and his former associates.
In what is clearly a case of, by default, blaming a now diseased Graham Hare, without a hearing, this obvious whitewash, produced by a Legal body that has always been more intent on protecting the reputation of an elite social class, rather than administering justice, is further evidence of a decision designed to manipulate the case further. A blatant attempt to pervert justice, shifting the charge of failing to comply with an order of the tribunal to more convenient and separate hearing, where no doubt the outcome of which the victim and other interested New Zealander's won't get to hear off, despite it being very much in the public interest.
We also know that the New Zealand Herald, for reasons known only to managing editor Shayne Currie, are, like the police and Law Society, extremely reluctant to report on anything whatsoever that would show Matthew Blomfield in a negative light.
This sample of emails demonstrate the Heralds strange reluctance, the same sort of reluctance so far demonstrated by both the New Zealand police and the Law Society:
From: Amelia Wade <redacted>
Date: 10/02/2016 4:19 pm (GMT+12:00)
To: shivraj <redacted>
Subject: RE: Re Anmol Seth

That evidence would be great, thanks if you could send it through. We need to make sure we have as much evidence as possible before we can print anything.

And just so you know, I'm looking at doing something for the weekend papers on Anmol and something next week on Graham. Both are very good stories that need to be told.

Do you have any idea when Anmol will be back in NZ?

Also – I'm going to be out of the office tomorrow so you won't be able to get in touch with me. But I'll be back in on Friday.

Thanks,
Amelia

From: Amelia Wade <redacted>
Date: 10/02/2016 11:18 am (GMT+12:00)
To: shivraj <redacted>
Subject: RE: Re Anmol Seth

Great, thanks.

And don't worry, am definitely still working on Graham – but it's a little more tangled because of Matthew's involvement. But I'm really interested in doing something on it too.

Also – do you have the IPCA complaint you made to police about Anmol not being prosecuted the first time?

Thanks,
Amelia
We have our suspicions however, in the case of the New Zealand Herald, suspicions which revolve around the possibly criminal behavior of Blomfield and Herald Staffers colluding to destroy the value of the Hell Pizza master franchise a number of years back, facilitating the businesses disposal at a fire sale, with a substantial loss to Tasman Pacific Foods Ltd, back to former owners and founders Warren Powell, Stu McMullin and Callum Davies'.
http://www.nzherald.co.nz/business/news/article.cfm?c_id=3&objectid=10746463

http://www.nzherald.co.nz/business/news/article.cfm?c_id=3&objectid=10701441

http://www.stuff.co.nz/business/2837986/Hell-spawns-budget-outlets
Of course at the time Matthew Blomfield and his PR business Cinderella, working on behalf of a secret cabal headed up by Powell, had been solely responsible for liaising with a number of corrupt Kiwi journalists, coordinating the release of a number of very damaging newspaper articles, all undoubtedly designed to force down the market value of the Hell Pizza (NZ) master franchise, most of which were also published by the New Zealand Herald.
Unconfirmed reports suggest that Powell was bought out by Stu McMullin and Callum Davies, who allegedly paid 5 million dollars each, 10 million in total, resultant from Warren Powell's falling out with Blomfield and Blomfield's subsequent threats to go public with this a other fraudulent business transaction – Threats that we here at LF also suspect caused Powell to then depart New Zealand permanently.
We are aware that Matthew Blomfield is also likely responsible for the appearance of the posthumous pocket-pissing pieces, extolling the virtues of his ex business partner, lawyer Graham Hare, ignoring the fact that Hare was being investigated by the Law Society for fraud; and that Blomfield and lawyer Bruce Johnson were inveigled in the same series of frauds and that Hare had already been struck off the New Zealand Roll of Barristers and Solicitors for behavior unbecoming.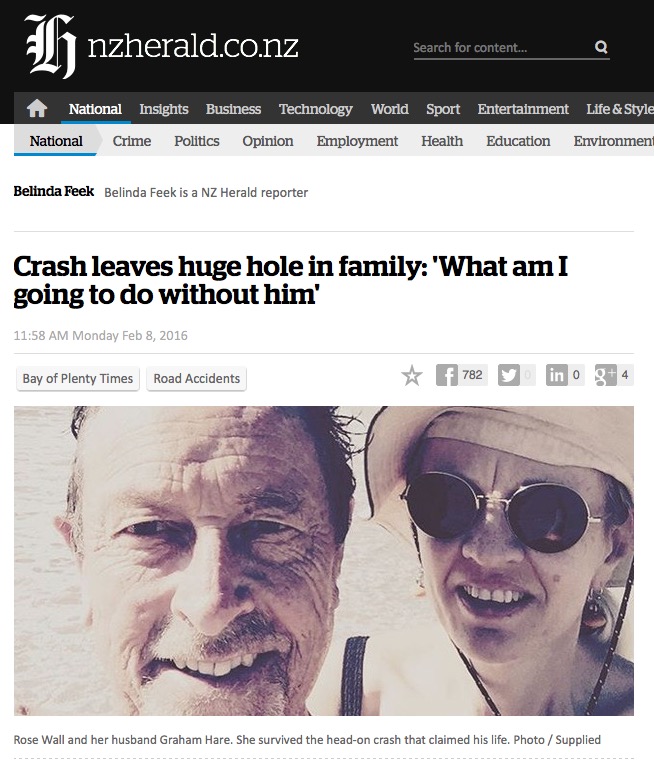 These articles (links above) appeared in the New Zealand Herald, its partner papers and Fairfax (NZ) newspapers at the time of Hares sudden death in a motor vehicle accident on the weekend of February 6th 2012 and all well before any obituary or formal police notice.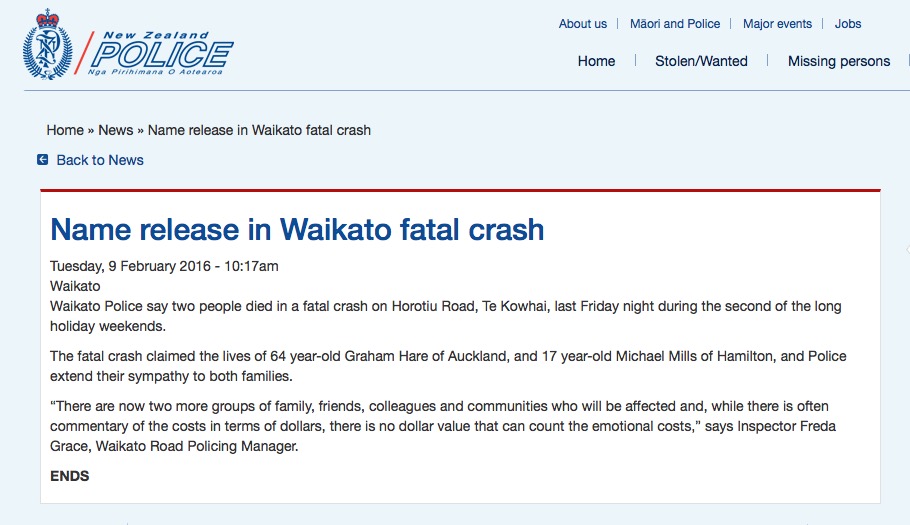 Never fear however, LF have advised the victims of these frauds to file an immediate appeal (review) of the New Zealand Law Society's clearly obstructive result, a construction designed to assist the Society in avoiding the need to conduct a hearing of the case in its entirety and in proper fashion.
LF are also aware that the matter will likely proceed to a High Court review should the Law Society continue to play their legal version of hide the sausage, or for want of a better description, fuck over the victim and hide the bent lawyer.
Important Notice: The New Zealand Herald have repeatedly promised Mr Shiv Mattu that they would publish a story that addresses these frauds and the imbalances of their articles on Hare. The most recent of those promises was made last week, with the guarantee that a story would be published in todays New Zealand Herald, they have failed yet again to deliver on that undertaking.
Reference/Bibliography
Note: LF volunteers will be uploading more historic investigative material to this bibliography over the coming days.
We feel that this action is necessary, thus removing any excuse that bloggers such as Pete George and Lynn Prentice may invent should they continue to produce spurious arguments designed to damage the victims, their right to justice, the evidence.
http://www.laudafinem.org/2015/08/17/new-zealand-ird-the-blomfield-frauds-the-liquidators-the-lawyers-the-police-and-the-media-collaborators/
http://www.nzherald.co.nz/nz/news/article.cfm?c_id=1&objectid=11585960
http://www.stuff.co.nz/national/crime/76662755/Daughter-of-crash-victim-Our-hearts-are-broken-he-was-our-dad
http://notices.nzherald.co.nz/obituaries/nzherald-nz/obituary.aspx?pid=177672309
http://www.sunlive.co.nz/news/119117-hare-dies-our-hearts-broken.html
http://www.police.govt.nz/news/release/name-release-waikato-fatal-crashhttps://www.heavenaddress.com/Graham-Hare/1423278/
http://www.nzherald.co.nz/business/news/article.cfm?c_id=3&objectid=10746463
http://www.nzherald.co.nz/business/news/article.cfm?c_id=3&objectid=10701441
http://www.stuff.co.nz/business/2837986/Hell-spawns-budget-outlets