Whale Oil has again grabbed one of LF's long running stories and run the latest installment in what has been a long ongoing saga between two extremely corrupt private investigators, one a bent ex-cop, force to depart the New Zealand police force via the back door in the early 1980's, The New Zealand police corrupt South Auckland area command and Auckland car dealer John Murphy.
This pair of private dick's are Daniel Toresen (aka Daniel Thompson) and his father, ex bent Kiwi Cop Danny Thompson. Whale Oil's Stephen Cook opines:
HOUNDED, HARASSED, STALKED, ASSAULTED…AND ARRESTED?

by Stephen Cook on September 29, 2015 at 8:00am

DRAMATIC FOOTAGE has emerged of a supermarket car park stoush involving a high-profile Auckland car dealer and a private investigator with strong ties to police.

The footage is likely to be a key piece of evidence in a criminal prosecution, which threatens to expose how bias, nepotism and tunnel vision can taint a police investigation.

Police aren't commenting on the case, but the man charged overt the incident last month has no doubts why they've adopted a position which isn't supported by the evidence.

"When it comes to Daniel Toresen and his father Dan Thompson, the police have blinkers on," Murphy says.

Murphy is facing charges of intentional damage, unlawful intimidation, and wilful damage following a confrontation with Toresen and a colleague in the Countdown Greenlane car park.

What police won't explain is why Toresen's associate has not been charged over the altercation. Video footage of the incident obtained by Whaleoil clearly shows Murphy being assaulted on three separate occasions by Toresen's unidentified associate.

This isn't the first time police have turned a blind eye to alleged criminal offending by members of the Thompson-Toresen clan. In November 2013, Daniel Thompson, a former South Auckland police detective, violently assaulted an elderly man inside the Auckland District Court and despite the incident being captured on CCTV camera, no charges were ever laid.

The recent car park fracas occurred last month when Murphy was confronted at Countdown Greenlane by Toresen who Murphy claims has been following and stalking him for years. Toresen and his father run Thompson-Toresen Investigations. Their clients include TVNZ and KFC.

According to Murphy, Toresen warned him to "keep his mouth shout" about millionaire drug addict Mark Lyon, sentenced earlier this year to 15 years behind bars for a range of drug and sex offences.

Prior to his arrest, Lyon had been renting a property from Murphy at the rear of his Greenlane car business. Murphy claims Lyon owes him $15,000 for damages to the address.

Lyon is also well known to Toresen and his father.

Murphy says when he entered Greenlane Countdown to buy dog food, Toresen was waiting there near the entranceway as if he had been expecting him..

Toresen, he says, was wearing an electronic earpiece, which suggested he was communicating with someone outside the building.

"I am sure he was following me. No one has been able to provide me with any other explanation for why he was there," says Murphy.

From there, the situation escalated.

As Murphy was walking back to his car, Toresen and an associate started filming him from their parked vehicle with a mobile telephone.

Murphy claims it was a deliberately provocative act aimed at inflaming what was already a tense situation.

He says as he was walking across the car park the incident at the Auckland District Court involving Toresen's father was foremost in his mind.

He knew with Toresen and his father, things could quickly escalate into violence as they had that day.

"They were trying to rark me up. What other reason could there be for filming me like that?," he said.

Murphy then approaches the passenger side of Toresen's car and starts filming Toresen and his associate in order to document long-held concerns that Toresen has been stalking him.

Toresen responded aggressively by repetitively yelling at Murphy to "f*** off" and stating "we are not following you John"

In the video you then hear Toresen's colleague ask Toresen whether he should "jump out and film him".

He then asks Toresen for the go-ahead to attack Murphy.

"Should I get him," he says to which Toresen Jnr, replies 'no, he's a fucking weirdo."

But that doesn't stop Toresen's associate, who then clearly assaults Murphy not once, not twice but on three separate occasions using the car door as a dangerous weapon.

What the video footage also shows is a marked increase in intensity – and harm to Murphy – from the first alleged assault to the third.

Murphy doesn't react after the first assault with the car door, even though the edge of the angled door strikes Murphy in the leg causing bruising.

The video shows Murphy, after being struck again, but noticeably with significantly more force, stating "I have got a couple of boys coming over to see you. Just hang around and we will see how fucking good you are then"

Murphy has been charged by police for that remark.

"There were no boys on standby to get them. The remark was made in an attempt to get them to stop," he says.

But it's the third and final blow with the carb door that does most of the damage to Murphy.

Murphy is struck in the hand, and solar plexus. The blow is of sufficient force to bruise his lower chest, injure his hand and knock his mobile phone out of his hand.

Murphy reacts by kicking the car door, the weapon, he says, used to assault him.

Murphy has since been charged with wilful damage.

But there's more drama to come.

Continued tomorrow…

Source: http://www.whaleoil.co.nz/2015/09/hounded-harassed-stalked-assaulted-and-arrested/
LF obtained video footage a while back of the father in this duo, bent ex cop Danny Thompson, assaulting an elderly man outside one of Auckland's District Courts, following a legal proceeding that had not gone so well for Thompson & Toresen.
Thompson was eventually investigated for the assault, but the record has somehow been covered up by Auckland police despite a complaint being made, charges laid to which Danny Thompson (senior) pleaded guilty and the government organisations responsible for overseeing the required licensing then colluding to bury it, enabling Danny Thompson to continue to work as a licensed investigator when regulation would normally have required his license be suspended on character grounds.
This is of course more evidence of Toresen's corrupt connections within the South Auckland police.
Toresen, who changed his name because he thought Thompson far to common, has long courted the New Zealand media, as do most social climbers, and has used those connections to advance his social standing and credibility, where neither are the prevailing reality.
Thompson was also instrumental in at least one of the Matthew Blomfield frauds, when Toresen & Co assisted with the 2010 theft and conversion of a company cheque worth around $100'000.00, which Blomfield then immediately set about converting for his own personal use.
Things are not looking so good for this pair of clowns, who we here at LF are also beginning to suspect may be very closely connected to the now infamous "Rawshark" and their criminal exploits.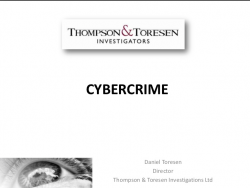 For more info and reference material on this pair of thoroughly corrupt reprobates, both rat cunning and very nasty pieces of work, see the bibliography below. The CCTV footage captures the assault, committed by Danny Thompson senior, at Auckland's District Court;
More links to LF posts exposing corrupt private detectives Daniel Toresen his bent ex-cop father Danny:
References/bibliography
The Blomfield Files – The criminal Thompson-Toresen clan locate Cameron Slater's witness – Marc "Iron" Spring – the criminal harassment continues – An LF Investigation.
The Ace Ventura Pet Detectives Club, featuring serial fraudsters Matthew John Blomfield & Martin Russell Honey
The Blomfield Files – Toresen & Thompson Private Dicks, Who Is Daniel Toresen?
Revealed: Millionaire drug addict Mark Lyon convicted of sex charges (New Zealand Herald)