"Not only must Justice be done; it must also be seen to be done."

 R v Sussex Justices, Ex parte McCarthy ([1924] 1 KB 256, [1923] All ER Rep 233)
As was to be expected the mike Sabin trial was concluded recently with the Kiwi jury returning a verdict of not guilty.
Now whilst we are not going to comment on Sabin guilt or innocence we are going to evaluate the events leading up to the trial and ask the question; was justice served in this case?
On the face of it the answer is a resounding NO!
"If there is an investigation, tell the public. If there's isn't one, tell the public. It's that simple." – NZ Lawyer Kelly Ellis
Lets take a closer look at the events. Police started investigating Mike Sabin after receiving allegations allegedly in August 2014, although we only have the polices word that the complaints had not been received earlier.
Call for Sabin to front up over claims

January 29, 2015

A Whangarei lawyer says the Northland National MP Mike Sabin should either confirm or deny that he is under investigation by the police over a complaint.

Kelly Ellis, who was a Labour candidate in the last election, said the story had been circulating for months, in legal and political circles that Mr Sabin was the subject of a complaint.

She said the Northland MP was the author of a private member's bill that sought to remove a defendant's right to silence, but he's been far from open himself.

"It astonishes me that he would now be availing himself of his undeniable right to keep his trap shut about this, but at the same time is trying to take away that right when it relates to other people.

"There's a whole load confusion over this and it could be easily cleared up by Mr Sabin coming clean."

She said it would be inappropriate for Mr Sabin to continue as chair of the Law and Order Select Committee, if he was under police investigation.

Key called to front up

Labour Party leader Andrew Little said the Prime Minister John Key should come clean and tell the public whether the police are investigating Mr Sabin.

Mr Key refused to comment on media reports the MP was under investigation, dismissing them as rumours.

Mr Key said, as party leader and Prime Minister, he probably would respond to the reports if he was required to and was in a position to do so legally.

Mr Little said the Prime Minister would know if there was an investigation and he should tell the public.

"If there is an investigation, tell the public. If there's isn't one, tell the public. It's that simple."

Mr Key said Mr Sabin remained a fully-functioning member of the National Party caucus and the chair of Parliament's Law and Order Select Committee.

Source: http://www.radionz.co.nz/news/political/264798/call-for-sabin-to-front-up-over-claims

Additional reading: Police tight-lipped about assault allegation and PM dismisses investigation 'rumours'
Initially the police investigations were conducted by the Whangarei local area command, but that was later transferred to Auckland's Waitamata district, the excuse being that Sabin had been a serving police officer in Whangarei and that there was a foreseeable conflict of interest.
"The crime manager for Waitemata police District Detective Inspector Bruce Scott would not confirm or deny that an investigation was underway, or even that a complaint had been made" – Radio New Zealand (21 December 2014)
This in itself was not sufficient reason for the transfer; we here at LF suspect that police national headquarters held deeper concerns following complaints, although the New Zealand public will never really know, as was probably the intention.
Despite police receiving the complaint against Sabin in August we are lead to believe that for some mysterious reason absolutely no one in the National party hierarchy was advised, despite Key having implemented his now renowned "no surprises" policy, which was indeed convenient because had he know about the investigation it would have derailed Nationals plans to have Sabin reelected as the local MP only a matter of two months later, November 2014. What most educated New Zealander's will likely have difficulty with is the fact that this failure of the no surprises policy seems to have been a one off, which makes Key's claim even more suspect (see: Maurice Williamson affair)
In fact the whole issue was kept under wraps until January 30th, when Sabin eventually resigned without explanation, in excess of twelve weeks after Sabin had been re-elected to office, with specific details of the allegations obviously being deliberately withheld from the Kiwi public by police, John Key, Mike Sabin himself and the New Zealand media.
Looking at the chronology and other factors we here at LF are of the view that New Zealand's media not only knew who was involved, but that they were also aware of the specific allegations and likely deliberately fudged the reporting of the case so as to assist the Government.
This is of course not unusual for New Zealand media outlets that have, for decades, been very obliging when politicians have required allegations of criminal offending, corruption, crimes and convictions concealed.
Likewise we believe that Kiwi Prime Minister John Key knew full well that Sabin was under investigation, at the latest in August of 2014.
Arguably one might also be right to also conclude that the withdrawal of Sabin's private members bill, without fanfare, and absolutely no media attention, that the National party and the MSM knew the proposed legislation could no longer stand, so they did a spot of deckchair shuffling.
Irrespective of the inferences that can legitimately be drawn from these events the National party Government and the New Zealand media have both failed to provide a plausible reason for the Sabin private members bills sudden removal; they have in fact remained completely silent on the issue.
The removal of the Bill was noted by Auckland lawyer, Greg Presland, in a piece penned for Labour party rag, The Standard, published on October 10th 2015
What happened to Mike Sabin's bill?

October 10th, 2015

In March of this year National recycled a private member's bill that Mike Sabin originally championed.  The bill if enacted would have permitted a Judge to draw an adverse inference from a defendant facing child sex abuse charges exercising the right to silence.

The bill was in the list of private members bills released on March 19, 2015.  It had been in previous lists released in 2013 and 2014.  But I have checked subsequent bills ballot lists and it has disappeared.  It was not in any of the subsequent five lists including the latest list posted in September.

There are other scary sounding bills such as

the Social Security (Stopping Benefit Payments for Offenders who Repeatedly Fail to Comply with Community Sentences) Amendment Bill
the Births, Deaths, Marriages, and Relationships Registration (Preventing Name Change by Child Sex Offenders) Amendment Bill
the Children, Young Persons, and Their Families (Parent's and Guardian's Responsibility) Amendment Bill

Obviously these bills are designed to feed raw meat to National's base.  Clearly government backbenchers spend their time working out how to attack and marginalise poor people for political advantage.

I am pleased however that Sabin's bill has been dropped.  It was the worst sort of proposal.  It lacked principle and was a crude attempt to engender red neck political support to solve a non existent problem.  The fact the Government was not prepared to put it up as a Government bill shows how bad it was.

But the timing is interesting and I would like to claim a little bit of credit for this occurrence.  My post of March 20, 2015 must have caused National to rethink its support for the bill.  Maybe the strength of the argument made National realize it should ditch the bill …

Source: http://thestandard.org.nz/what-happened-to-mike-sabins-bill/
The National party, in particular John Key's claims to the contrary, the repeated of any prior knowledge, are frankly 'brief, opportunistic and sneaky' and completely fucking implausible.
Thus the National party and its parliamentary leader, John Key, and party President undoubtedly mislead the nation and Parliament, having knowingly allowed Mike Sabin to re-contest his Whangarei seat at the November 2014 election whilst under investigation and facing unavoidable criminal charges, charges, in our opinion that police deliberately delayed so as to facilitate the National party's intentions.
The next matter is of course the extraordinary silence and later suppression orders that surrounded the investigation and the trial. If it was in the public interest to report any case then this certainly ticked all the required boxes, but the media did not report the case accurately, despite clearly having all the facts, prior to Sabin's first court appearance in 2015, by which time it was too later to do so as the judge at that hearing granted suppression. As aforesaid we believe that this was deliberate, as was the media failure to appeal the suppression orders beyond a granting brief lip service by questioning the judges decision. The fact is no appeal was filed.
This contrast significantly with similar cases in jurisdictions other than New Zealand, and other cases of significantly less importance in New Zealand, where the media have gone to great lengths in the appeal endeavour's. All of those points to media complicity.
Press ban in tatters as UK celebrity threesome story spreads online

If you are rich and famous, how can you stop embarrassing stories about your private life from becoming public?

In England, the answer is to obtain an injunction — a court order banning media from publishing private information against your will.

But the days of the privacy injunction, better known to London newspapers as a gagging order, may be numbered after a celebrity's attempt to use one to suppress details of an extra-marital threesome backfired spectacularly.

Britain's Supreme Court will hold a hearing on Thursday at the end of which it will decide whether the ban should remain in place.

The case shows the problems for those seeking to use the law to stop revelations in a world where information travels across jurisdictions at the click of a mouse and attempts to stifle news can have the opposite effect of attracting attention.

The person obtained an injunction in January covering England and Wales and kept a lid on the news story for 11 weeks, but on April 6 a widely read U.S. magazine ran it and within minutes it was all over the Internet.

Online searches for the names of those involved rose, Twitter was abuzz and media in many countries, including Scotland — a separate legal jurisdiction from England and Wales — published the story.

This infuriated the London newspapers, which were still banned from naming the protagonists, even though it was now easy for anyone interested to find out the details online.

"Why the law is an ass!" was the popular Daily Mail's front-page headline on April 7.

The Sun on Sunday tabloid, which obtained the story from two of the people involved in the threesome, went back to the Court of Appeal, which had granted the injunction in January, and persuaded the judges to lift it.

"COMMON KNOWLEDGE"

"It is in my view inappropriate (some may use a stronger term) for the court to ban people from saying that which is common knowledge," Lord Justice Jackson wrote in a ruling handed down on Monday.

But he left the ban in place to allow the celebrity to appeal to the Supreme Court, and for now the protagonists still cannot be named in media that appear in England.

Some lawyers say the celebrity injunction is on its last legs.

"The judgment may be treated as the death of the celebrity privacy injunction," Desmond Browne, the lawyer for one of the people involved, told the Court of Appeal after its ruling to lift the order.

That would be welcomed by critics of such injunctions who say they enable the rich and famous to suppress stories they do not like even if they are true, curbing press freedom and allowing them to create misleading public images of themselves.

In this case, one person involved in the threesome is married to another celebrity and the couple, who have two young children, have said they are committed to each other even though they say they have an open relationship under which extra-marital flings are acceptable.

The Sun on Sunday's lawyers argued the story would show the couple's image of marital commitment was incorrect.

While privacy laws in Britain are not as restrictive as in continental European countries, they were tightened in 2000, when British law absorbed the European Convention on Human Rights which guarantees the right to private life.

The Convention also protects freedom of expression, but judges have to balance that against privacy rights.

In the United States, free speech protections are more powerful than privacy rights and a court order like the threesome injunction would be almost unthinkable.

Mark Stephens, a British media lawyer, said celebrity injunctions were already in decline before this case, partly because some had ended in fiasco.

He cited the case of former Manchester United soccer player Ryan Giggs in which an injunction to stop stories about his extra-marital activities failed when he was named in parliament, allowing the press to name him without fear of sanction.

Stephens said the threesome case was a powerful demonstration of the "Streisand effect", named after singer Barbra Streisand's failed attempt to have an aerial photo of her Malibu villa taken off a website. The lawsuit resulted in more publicity for the image.

Source: Reuters (Editing by Timothy Heritage)
The next issue is the behaviour of the courts, in particular in selecting the location for the trial, the judges who then presided over preliminary matters and ultimately the trial itself and finally the prosecutor.
As we have observed elsewhere in our posts this case mirrors long employed police stratagems for dealing with the prosecution of powerful or influential people in New Zealand, in this case, notably police officers who retain the approval of the police hierarchy and or their peers.
Mike Sabin of course fits into the above criteria. Not only is he an ex police officer, there is every likelihood that he enjoyed the support and approval of both the police and the New Zealand police association.
There is perhaps nowhere better to see this but in legislation Sabin had proposed which would have diluted the rights of defendants, handing a seriously draconian advantage to the police.
Reform targets parents of accused
5:30 AM Monday Jan 13, 2014
Ex-cop MP's bill aims to stop young people re-offending and to make their guardians take responsibility.

The parents or guardians of young people before the courts could have bail conditions imposed on them as well as their children, such as not drinking alcohol and having to reside at a particular address, under a private members' bill in the name of Northland MP Mike Sabin.

Another bill drafted by Mr Sabin would change laws about the right to silence in cases when the victims are children or the mentally impaired.

They are two of four private members' bills developed by Mr Sabin in the members' ballot.

Parliament's rules allow only one bill per MP, so the other three are in the names of colleagues and should one be drawn, he will take it over.

The former police officer and first-term MP says he drafted the bail bill for parents after feedback from Youth Court judges and police.

"One of the challenges that the judges have is that they can put conditions on the children who are in front of the court but they can't do anything with the parents or guardians who ultimately let them down."

Source: http://www.nzherald.co.nz/nz/news/article.cfm?c_id=1&objectid=11185284
That Bill was of course designed to remove the right of a suspect or defendant to remain silent.  Sabin's proposed law change was a departure from what most would view as natural justice, it would also have handed the New Zealand police a significant advantage, an advantage that is not only unhealthy when a police force has no history of corruption, but  that would undoubtedly assist a corrupt officer, as is often found in the Kiwi ranks, in obtaining a wrongful conviction.
Sabin's series of Members bill's were a complete farce in light of the accepted principles of natural justice, but were being considered by various New Zealand right wing political players. The bill also undoubtedly enjoyed the support of the New Zealand police, as did Sabin's candidacy for Parliament. This then raises question around the polices independence, regardless of who was assigned to investigate the allegations against Sabin.
Other than the two victims it appears to us the police had done the minimum required when dealing with these minors. A social worker was apparently called and interviewed the pair. But from what little information is available, from the space media coverage of the trial, it is apparent that at no stage did the police involve a recognized child sexual abuse expert, nor did the prosecution call on an expert to give an opinion at trial.
The location of the trial was also important and the perils completely ignored by the police, the prosecution and the judges involved.
Now whilst the police saw to it, even if only to keep up apperances, that the investigation was conducted by officers outside the district, the obvious infernces would have been available to critics otherwise.
Of concern however is the fact that the matter was returned to Whangarei for trial. This has to have ranked amongst the strangest of the prosecutions decisions.
The New Zealand police have used this strategy before now, and its sole purpose is to ensure that the accused is acquitted.
Sabin was for years a senior police drugs squad officer in an area that has an exceptionally high rate of crime. For that reason he was highly respected in the area, with locals almost certainly willing to turn a blind eye to police behavior providing they got the job done. This attitude is to be found in a number of New Zealand's policing regions.
In fact it can be argued that the only reason Sabin was successful in National party pre-selection was the knowledge that he was so well liked that his would be guaranteed success in the parliamentary elections.
So this then raised the spectre of a polluted jury pool, which we have absolutely no doubt was the case. Social media activity around the Sabin was significant prior to the trial and surprisingly police ignored it, principle we suspect because most comment was pro Sabin.
It is in light of this extremely obvious peril that we are at a loss to understand why the trail was not held in Auckland, or another major New Zealand center.
The obvious and arguably only available conclusion is that police were up to their old tricks, that the trial was rigged.
The next issue is the question of the judge appointed to hear the case. It is indeed very rare that any New Zealander gets to choose which judge will hear their case. So why is it then that in Sabin's case this is exactly what appears to have happened.
A local judge was NOT allocated to the trial; rather the country's highest-ranking judge within the jurisdiction, Justice Geoffrey Venning, was called in; what's more this was arranged very late in the piece.
This fact had not been missed by a number of observers, all of whom thought it extremely odd in the circumstances.
So at the end of the day the who victims worst fears were realized, that it would come down to their word against Sabins, in an area wher Sabin enjoyed remarkable popularity and power, both personally and politically. Again this is evidenced by his subsequent appointment to a high paying job in the hospitality industry when he resigned from parliament; A position that Sabin was not at all qualified for.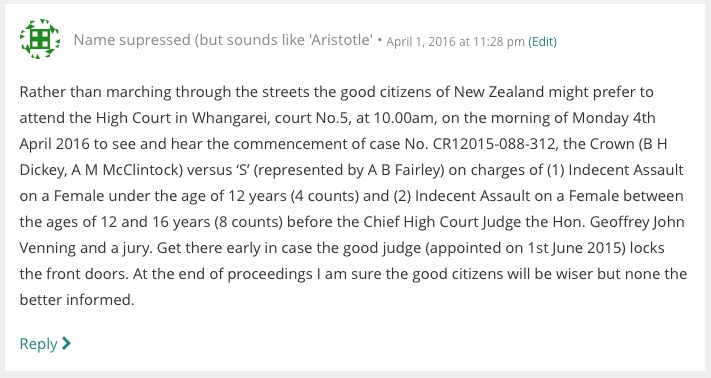 So was it a fair trial? The short answer is NO! The two victims were in our view completely shafted. First by the police, who in the shadow of the roast busters scandal, knowing they would not get away with simply sweeping the allegations under the carpet, did the minimum in the way of investigation, the considerable time taken, likely little more than a delaying tactic at the behest of senior officers and politicians.
Police seemingly failed to have the two victims interviewed by expert medical or psychiatric professionals, this in an age when this sort of forensic detail can make or break a prosecution.
The justice system in any democracy is one of the systems foundations and as with all democratic foundations it only works when complete transparency is maintained. The minute the openness and transparency of any court process is compromised in a systemic fashion then that democracy itself is seriously compromised.
New Zealand democracy has been compromised for a number of years, the Genesis of this erosion within the New Zealand police force. Unchecked this corruption soon spread to the crown prosecution service throughout the country where it has remained for more than three decades.
Occasionally it has become obvious, very public in fact, yet despite this it has been allowed to continue, primarily because New Zealand's media has failed in its duty to call those responsible to account.
Those occasions are the obvious wounds, there are however many more scars that have remained unseen.
Many of the cases are obvious, they have even been brought to the attention of the public on multiple occasions and yet New Zealand, unlike other democracies, excluding the United States of America which has its own issues with a failed justices system, have been addressed with various Royal Commissions and Parliamentary inquiries which were held in very public way.
Australia, Canada, South Africa, even Northern Ireland and now Great Britain have all had commissions of inquiry into police corruption; the only exception to this healthy part of a democracies evolution really being New Zealand.
In fact the closest that New Zealand came to this was the Commission of enquiry headed up by Margeret Bazley, which was flawed from its inception; held behind closed doors, the public denied access, the names of the victims and those who stood accused and their alleged crimes concealed in perpetuity with suppression orders.
In our view the Mike Sabin case goes down in New Zealand history as a complete abuse of the country's justice system. In fact it is, again in our view, right up there with the worst of New Zealand's injustices if only because the people of New Zealand have a right to complete transparency and this was arguably a case where that obligation was brazenly flouted by the police, the executive, the legal fraternity as a whole and the judiciary. It is a case, like so many others in New Zealand's short and more recent history that will in our view return to haunt all of those responsible for its conduct.
The Litmus Test
If in this case it was an ordinary New Zealander who stood charged with these crimes, should we still be concerned with these events, as they have unfolded? The simple answer is yes for what should be very obvious reasons.
The victims in this case did not receive justice, and had it been anyone else standing trial neither would they.
For our system of justice to work, for it to retain the trust as confidence of the people of New Zealand then everything pertaining to criminal trials needs to be completely and unashamedly transparent.
Chief among those responsible for New Zealand's dilemma are the country's media. For far to long the editors of New Zealand's newspapers and various other media outlets have failed in their core responsibility; keeping the bastards honest.
Both of the country's major national dailies an the national broadcaster have for far to long played a subservient role to government, police and the courts; to the point where most subscribers reading he New Zealand Herald are getting little more than government agency press releases, prepared by ex newspaper hacks, who've migrated to the ranks of the civil service and parliamentary services, primarily for reasons of improved remuneration and job security.
The now much touted British sex scandal case is arguably an excellent example which stands to highlight New Zealand's mainstream media's failures.
Despite social media and at least two foreign bloggers, including LF, reporting on the wrongs and serious inconsistencies of the Mike Sabin case the New Zealand media as a whole failed to chase their legal options to the extent that their "fourth Estate" obligations demanded.
Excerpt from one of fellow Australian bloggers Derry Hinch's articles; A Kiwi Conspiracy
'prominent New Zealander'

Sabin appeared in court in February and had his name suppressed. In news reports over there he is referred to euphemistically as a 'prominent New Zealander'. The way the former All Black sex offender Graham Thorne is always protected.

That interim suppression order was due to expire and Sabin would have then been publicly identified but at an urgent Auckland hearing in the High Court ,Justice Raynor Asher continued the suppression until Sabin's trial starts on April 20.

That's despite submissions from NZ Police and media organisations.

Meanwhile Sabin remains free on bail as an unnamed shadow on tomorrow's election.

Makes New South Wales politics, despite ICAC, look pretty tame really.

Source: http://www.humanheadline.com.au/hinch-says/a-kiwi-conspiracy
Remember this is a case where a government also stood to gain, accused of having deliberately rigged an election outcome, knowing that they would likely have lost Sabin's seat of Northland had he retired from politics, as should have been the case, prior to the 2014 election – a reality that was arguably sustained at the 2015 by-election in which New Zealand First party leader Winston Peters ultimately prevailed.
Arguably this was as a direct result of the manner in which John Key and his Government had handled the Sabin affair; one should also be mindful of a law change which had been promised by Peters during that by-election, a bill, which had it become law, would have ensured that Sabin and others like him, be ineligible for injunctive relief in the form of suppression orders.
NZ First to put forward bill stripping paedophile name suppression

March 25, 2015

A new bill to remove name suppression from paedophiles when the victims want their attacker named, is to be introduced to Parliament by NZ First.

Leader Winston Peters, who is in Northland campaigning as for the by-election in which he is a candidate, announced the new policy today.

He said there had been many cases of sexual violence where the offender hid "behind a cloak of secrecy imposed on the basis that secrecy protects the victim".

"In cases where the victim wants exposure of the crime and not secrecy, the sub-judice rule, name suppression and the legal cone of silence will be removed.

"In addition to this measure, we will also introduce a sex offender register, so parents and families can know if one of these offenders is in their community or in their neighbourhood," Peters said.

It's not yet clear what draft form the legislation is in, or whether it would only apply in cases of child abuse or for all cases of sexual abuse.

The members bill was not part of the party's justice policy at last year's election.

Before it can be debated, it will need to be added to the ballot, where it will sit until it's drawn.

Ballot draws only occur when room becomes available for new legislation on the Government's order paper.

Three new bills were drawn last week. They will be replaced in the ballot by three new bills.

That theoretically means Peters' bill could be before Parliament within months, or it could languish in the ballot indefinitely.

Source: http://www.stuff.co.nz/national/politics/67503976/nz-first-to-put-forward-bill-stripping-paedophile-name-suppression
This is also a case that warranted a great deal more scrutiny of the actions of the New Zealand police force, with an investigation that was clearly seriously flawed in the manner of it's conduct and timing, the country's Prime Minister and a major political party, who both seemingly have been trusted to be telling the truth despite all of the warning signs indicating otherwise.
The New Zealand Herald should be singled out for particular derision, primarily for their unique penchant for feigning effort when none whatsoever is ever actually exerted.
Classic among this repertoire of bullshit is the New Zealand mainstream medias often touted claim to challenge name suppression orders. Often later running articles, which, ever so subtly, point to the "apparent" futility of any attempt to challenge New Zealand's Courts.
The truth is that this particular country's "fourth Estate" only ever challenge name suppression when it suits their own, often nefarious, agenda's
Recently Fairfax (NZ) even wagered on the aforementioned UK "threesome" sex scandal injunction appeal failing, thus shoring up the public s view of the New Zealand medias own inaction in the Sabin case – using their projected outcome in that case to "warn" reader's of the risks inherent in breaching court suppression order's; all this apologist crap in an article that could have been penned by the police media liaison office itself, pure propaganda designed to dissuade the masses; attempting to convince Kiwi's that the Newspapers hands had been tied in an unavoidable fait accompli, when nothing could have been further from the truth, as it turned out…..quite the embarrassment.
UK super-injunction ruling could influence New Zealand law

 Laura Walters April 12, 2016

 A UK case involving a celebrity couple, a threesome and a silencing order could influence the development of New Zealand's privacy law.

It's hard to keep identities secret in the internet age but court-ordered silencing orders are there for a reason, a New Zealand law professor says.

An A-list UK couple's silencing order has been labelled a farce by media and politicians after Scottish and US press printed their names despite the injunction.

 An entertainer, identified in court as PSJ, is said to have had an extramarital threesome with another couple.

He won the right to keep his name secret in a British court of appeal because of his children's right to privacy.

The super-injunction only applies in England and Wales, so the Scottish newspaper – which also cannot be named – decided to print the couple's names.

"It is not about the stories they are trying to stop but the absurdity of trying to prevent a free press identifying them when the whole world already knows who they are," the Scottish paper said in an editorial.

"Their big secret is no secret at all. America knows. The internet knows. The whole world knows. So now Scotland knows. And so we should."

While the media is getting up in arms about the court ruling impinging on freedom of speech, they've lost sight of the reason behind most court-ordered suppressions, a New Zealand law professor says.

Victoria University associate law professor Nicole Moreham said it was "really easy" to undermine the effect of a name suppression injunction in the internet age.

Even when media in the country subject to the order follow the rules, outlets in other countries can publish the material and it doesn't take long for names to circulate via social media – as they did in this case.

"Some of the UK newspapers are strongly of the view that that is a good thing in this instance – they are fiercely resistant to injunctions which allow celebrities to keep their bad behaviour under wraps."

There was a view celebrities who profited from their "good guy, family man image" shouldn't be able to complain if that image was revealed to be a sham, Moreham said.

"What sometimes get lost in the debate though is that name suppression usually isn't being used to protect badly-behaved celebrities or other powerful people but to protect victims of crime, children and other vulnerable people.

"It is important to bear that in mind in all this talk of ignoring injunctions."

Moreham said New Zealand's media culture was different to that of the UK, where "kiss-and-tell celebrity stories and political sex scandals" were more commonly reported in the mainstream press.

This means the law around misuse of private information comes into play more often in the UK.

To get this type of injunction a person has to show the court they have a reasonable expectation of privacy in respect of the information in question, which will be undermined if it is disclosed.

That privacy interest then gets weighed against the public's right to know the information.

In New Zealand, name suppressions usually arises in a criminal context, where the person who committed a crime cannot be named – usually to protect the identity of a victim or vulnerable person.

Kiwi courts would be paying close attention to this case as English judgments carried a lot of weight in New Zealand, particularly in an area where there was a lack of precedent, Moreham said.

English courts were increasingly emphasising the effect disclosing someone's identity would have on their children, which could have an influence on the development of New Zealand privacy law, she said.

Source: http://www.stuff.co.nz/national/78838252/uk-superinjunction-ruling-could-influence-new-zealand-law
Of course the propaganda piece above, obviously meant for the eye's of gullible Kiwi's alone, was designed to explain away the Kiwi medias failure to go after a bent government; "to keep the bastards honest".
The case that they have used as an example however subsequently took an unexpected turn; one that the New Zealand media had obviously not anticipated.
The British press went after the Court's farcical super injunction, successfully appealing the decision, a noble strategy that makes the New Zealand media look like the amateur political corruption enablers they actually are.
Whilst the British case is still winding it's way through the UK courts we suspect that it will perhaps inevitably be heard by the privy council and the "public interest" right to publish upheld.
The fact is that Justice was not served in this case, nor was it ever going to be, irrespective of the outcome. As a result, Sabin, guilty or not, the court, the jury and its verdict will continue to be viewed with great suspicion, which is as it should be in the circumstances, an eventuality which the court has brought upon itself.
This fiasco is reminiscent of past corruption, in particular how New Zealand's thoroughly corrupt police force and its compromised justice system have dealt with many previous cases that have involved former well placed police officers and politicians.
The victims have been well and truly shafted, the prosecution having, we suspect, deliberately fudged their efforts, arguably with the intention of allowing doubts which a could be utilised by a compromised jury, selected from a poisoned pool of candidates.
Individuals, in particular politicians, who create a name for themselves, attracting an extraordinary amount of wealth and power, should be held to the highest standards in any democratic society; New Zealand is no exception.
In failing to demand these standards of accountability any society winds up with vile anomalies such as those the UK has recently experienced with the likes of Jimmy Savill and Ralph Harris, two men who, using their so-called "good reputations" alone, had managed to evade prosecution and justice for their victims for decades, whilst continuing to take a toll; racking up a growing toll of new victims.
Ex cop and Member of Parliament Mike Sabin is no different. He courted public affection, notoriety, political power and wealth with an agenda, he's still in fact doing so; his National party mates having handed him a plum job that will enable his clearly sociopathic hunger for power and political ambition to once again rise from the ashes.
New Zealand's Justice sector is undoubtedly completely riddled with the cancer that is systemic corruption, the only question that now remains to be answered; is it terminal? Would a Royal Commission into New Zealand Police Corruption be sufficient?
Bibliography/References:
http://www.humanheadline.com.au/hinch-says/a-kiwi-conspiracy
Prominent Kiwi sex charge case: Not guilty to all charges
Prominent Kiwi sex charge case: Jury struggling to reach unanimous verdict
Jury still out in trial of prominent Kiwi facing sex charges
Crown case 'unravelled' says lawyer of prominent New Zealander
Witnesses claim they had no concern over prominent New Zealander's conduct
Prominent Kiwi says girls are 'liars'
Prominent New Zealander charged with indecent assault keeps name suppression
Prominent New Zealander's indecent acts were 'brief, opportunistic and sneaky', court told
Roast Busters case: 'Where was the respect?' – police
Police alerted Beehive under 'no surprises' policy
http://spy.nzherald.co.nz/celebrity/threats-of-jail-for-naming-celebrity-love-cheat/
http://www.stuff.co.nz/national/78838252/uk-superinjunction-ruling-could-influence-new-zealand-law
http://www.nzherald.co.nz/nz/news/article.cfm?c_id=1&objectid=11185284
http://www.laudafinem.org/2016/04/01/new-zealand-herald-stunt-fails-but-the-fascist-state-rolls-on/
http://www.laudafinem.org/2015/04/22/sabin-sexual-assault-case-the-shroud-of-political-corruption-and-coverup-moves-to-new-zealands-high-court/
http://www.laudafinem.org/2014/12/10/new-zealand-police-odessa-and-just-how-they-look-after-their-own/
http://www.laudafinem.org/2015/04/30/mike-sabin-puts-in-appearance-at-whangarei-high-court/
http://www.laudafinem.org/2016/04/01/new-zealand-herald-stunt-fails-but-the-fascist-state-rolls-on/
http://www.laudafinem.org/2015/04/16/mike-sabin-what-about-the-sexual-assault-charges-who-paid-the-ferryman-and-what-with/