Following on from our last post on Matt Blomfield and the Boys at Hell Pizza we thought it a very good idea to look at some of the almost contemptuous hypocrisy that has been on display, all coming from mainstream media outlets and a group of political Bloggers defense of Matt Blomfield; hypocrits with a very short memory.
NZ Herald Journo David Fisher penned a piece at Blomfields behest that was published in early October 2014, just after Blomfield was bashed on the orders of someone who undoubtedly wanted their stolen information back.
That piece, "Ex-pizza boss Matt Blomfield: Whaleoil and me", very much contrary to the reality, attempted to paint Blomfield in a light that we would call creative, a subdued almost romantic lighting:
"Blomfield had been living in relative obscurity just a few years earlier. As marketing manager for Hell Pizza, he spent his days coming up with clever campaigns to generate media coverage and drive customers to the restaurant.

It was an ordinary job for an ordinary man working for a reasonably ordinary company. Blomfield had ordinary dreams which he drove with an ordinary over-extension of investment that left him bankrupt"

Source: http://www.nzherald.co.nz/nz/news/article.cfm?c_id=1&objectid=11339962
While David Fisher waxes lyrical in the above article, in a manner that is of course little more than an effort to rewrite history, what Fisher isn't telling his readers is that APN, owner of the New Zealand Herald, had received settlement on a huge debt from Blomfield; in the form of preferential payments, in short the New Zealand Heralds owner APN owed Blomfield big-time.
As an unsecured creditor, Blomfield again unlawfully used funds that were not his to dispose of, cash to the tune of circa $100'000; money that APN was certainly NOT entitled to receive. Now of course this was over an above the numerous attack-dog articles that the New Zealand Herald journos' had published on Blomfields behalf over the years.
Fisher's claims, amongst which, was that Blomfield was just "an ordinary man", are fraught with difficulty; they are in short a complete fabrication, as always, employing  complete fictions that could well be described as a "litany of lies".
This is of course a fact known to anyone who is aware of the true nature of the relationship between Blomfield and the MSM; Newspapers, including the NZ Herald, and on occasion Fairfax, that were so obviously rooting from Blomfield's corner in his defamation scrap with Slater and the Hager "Dirty Politics" scam.
As team LF have evidenced repeatedly, Blomfield was exceptionally well connected to many mainstream journo's, most of whom, likely, we believe, received backhanders or some other form of gratuity for publishing material that financially benefited Blomfield and his three Hell Pizza mates, Warren Powell, Stu McMullin and Callum Davies.
David Fishers article above was also undoubtedly penned, at least in part, by Blomfield, the sycophancy is sickening and much more than just a little obvious, but perhaps more than anything else it's Fishers use of one or two cherry picked aspects of Justice Ashers judgment that appall us the most.
One in particular is interesting, for reasons that will soon enough become obvious:
"Some of the exchanges between the alleged informants and Mr Slater show a gleeful attitude towards his shaming Mr Blomfield," said Justice Asher. There was also no interest in "protecting informants intent on pursuing personal vendettas or when conducting personal or commercial attacks". It was a case where "there is a public interest in a full airing of all matters relating to this claim". – David Fisher
Of course it can be proved, we believed to the criminal threshold, that Slater's sources were not conducting personal attacks, nor for that matter commercial attacks, as was believed and set out by Justice Asher in his judgment.
In fact, the unwitting justice Asher went on to grasp at a handful of straws, placing his own misinterpretation on the material, which Fisher then used in his article;
"The depth of feeling is captured in emails held on a file in the Manukau District Court, where Blomfield is suing Slater for defamation. Filed in support of Blomfield's claims, the emails show Easterbook arranging a meeting between herself, Slater, Spring and a liquidator in April 2012 for what was called "Operation Bumslide"." – David Fisher
Of course while Fisher and Blomfield were penning their article little did they know that LF already possessed the email that Warren Powell had intended to send his partners. For those of you who have already read Powells email it will now be apparent why the term "Operation Bumslide" was coined, and the many other seemingly derogatory expressions used in the emails of Spring and others.
The behaviour was in fact merely a piss-take of prior behavior created largely by Blomfield himself and employed by the management at Hell Pizza, in particular Davies and McMullin:
It was during the termination of Hell Kandarlea (where HRL issued a illegal Trespass notice) that Callum Davis was exchanging emails with Matt Blomfield calling the exercise Operation Obortion. Callum latter claimed on TV that he was NOT referring to the yet to be born baby of the Franchisee but that he was referring to the shop as a Obortion. However the facts differ with Callum and Matt referring to the terminateion as Operation Miscarage.

The Obortion / Miscarage comments show the culture in the company at the time. That HRL could act in total disregard to anyone else and simply did not care and joked about terminations. The Franchisees were devastated losing their business and parents house.

Hell Kandarlea was quickly sold to Mia who works for Hell. Mia is doing very well out of it. Operation Obortion was Callums operation and Stuart was Head Demon.

The companies culture is reinforced by passwords set by Head office to access information like Smeghead666 (which means association of seama), Brownwings and the like.

Source: http://www.laudafinem.org/2016/09/25/the-hurley-burley-of-hells-kitchen-cinderella-and-other-fairy-tails/
The obsession with dirty humour was in fact Blomfield's, but he and Fisher had gone out of their way to spin a yarn, bending the truth until unrecognisable.
The fools among New Zealand's political bloggers also jumped on Fisher's article, promoting the fairy tail that Blomfield and Fisher had manufactured; ignoring, at their own peril, the fact that Blomfield had been a professional spin-doctor in one of his many incarnations.
Far from Slaters posts being either a personal or commercial attack Slater and his sources all wanted to warn the public of the danger, and for good reason; Matthew Blomfield was a risk to the public, a reality that was actually identified in 2010 by the Official Assignee's Office in comments they made when banning Blomfield as a director.
Slaters sources wanted it made public so  that the New Zealand authorities responsible would act.
Justice Asher also got it very wrong when deciding that Blomfield did not pose a risk to Slater's sources, Blomfield has subsequently used a whole host of court actions in an ongoing attempt to silence or otherwise tie up his victims…in one case we suspect bankruptcy laws were misused against expat Kiwi rugby player Mark Robinson, in absentia; Robinson having lost his shirt in one of Blomfield's earlier property scams.
For readers who have read our previous post they will also no doubt find some irony in Justice Asher's wise words; where the gullible judge refers to attacks conducted for personal or commercial gain.
Blomfield the Spin-Doctor & His MSM Attack Dogs
Of course this is exactly what Blomfield had spent years doing himself, albeit very covertly and with the aid of mainstream journalists; for both personal and commercial gain.
Blomfields attacks however were not limited to using the media to attack Tasman Pacific Foods, Hell Pizza franchises and later on Warren Powell.
Blomfield during his incarnation as owner of marketing firm "Cinderella" had attacked and threatened all sorts of people and businesses using his mates in the media, and later again on behalf of Hell and no doubt other so-called clients. He did the same with various earlier victims, including Northland farmer Boris Yelcich, a scam that LF has covered in some of our very early post; we made the effort to go through the scams, to the best of our ability and as the evidence enabled, chronologically.
One such example of this predilection occurred in halcyon days of 2009 when Blomfield and the boys at Hell decided that they could make a little extra cash by attacking troubled Auckland financier Mark Hotchin. Of course this scam was again also facilitated by Blomfields mates in the mainstream media;
Hell comes a calling for Hanover boss

23 November 2009

William Mace

Hell Pizza have taken aim at Hanover bosses Mark Hotchin and Eric Watson with craftily positioned billboards headlined 'Greed'.

Hell Pizza is famous for its controversial shock advertising.

They have a portable billboard being driven around Auckland featuring head and shoulder photos of Watson and Hotchin next to the word "Greed".

Greed is the name of one of Hell's pizza topping options.

The cheeky billboard has even parked outside Hotchin's $30m house being built on Auckland's plush Paritai Drive.

Mr Hotchin told Stuff.co.nz: "I wouldn't have minded but I have tried their pizzas and I thought they were rubbish – even the kids wouldn't eat them. I prefer Pizza Hut."

One of New Zealand's largest finance companies, Hanover revealed it was in serious financial difficulties in July 2008 and subsequently froze repayments on some $554 million of investors' money.

The billboard refers to the bad publicity surrounding the respective wealth of the company founders since Hanover announced its nearly 17,000 shareholders would be unlikely to see all their money returned.

Following a year-long moratorium, the announcement of a $102m loss and last week the news of another prospective finance deal to salvage just 78 cents in the dollar, shareholders are outraged at the money still being spent by Hanover's owners.

Hell Pizza's communications manager Matt Blomfield says the idea was struck up over a coffee between founders Warren Powell, Callum Davies and Stu McMullin to try and get some public discussion about the suffering of Hanover shareholders.

"We've been following the papers and the stories around Hanvoer and we think it's unfair that guys like Eric and Mark can have all this money and so many people can be experiencing hardship.

"We're not particularly making a stand one way or the other but what we're doing is putting something out there to get people talking.

"Time will tell whether these guys are greedy or not greedy but what we are saying is let's put it out there and see what people have got to say."

Hanover said it was considering legal action against Hell Pizza.

– BusinessDay

Source: http://www.stuff.co.nz/business/industries/3090184/Hell-comes-a-calling-for-Hanover-boss

Hanover Finance and Chapman Tripp go to Hell

Chapman Trip Go To Hell

November 23rd 2009

Photo: gotcha.co.nz

Hell Pizza love a bit of advertising-related controversy. And it created some more after releasing a couple of mobile billboards headlined 'greed' that featured head and shoulders photos of the founders of Hanover Finance, Mark Hotchin and Eric Watson.

The mobile billboards were driven around Auckland and the one featuring Hotchin's mug was parked outside his new $30 million house on Paritai drive, which is currently under construction.

Hanover finance was contemplating legal action against Hell yesterday and this morning there was a knock at the door with a letter from Chapman Tripp asking for an injunction. Cease and desist by 12pm, the letter said. Or else.

Hell Pizza's communications manager Matt Blomfield said he would take the billboards down if Hotchin agreed to a public debate on greed.

But Hell Pizza's Warren Powell says the company will probably flaunt the greed theme for the next 24 hours or so and is likely to bow to the demands. And while he thinks Hell would be victorious if it came to a legal battle, he says it's not worth the effort because the job of creating discussion around the behaviour of Hanover finance's founders (and engaging in some cheeky, timely marketing) is done."We'd obviously win hands-down if it went to court," he says, "but we'd waste a lot of time and money pursuing it."

And he said in an email: "We are thinking we may allow them to seek the injunction. What a waste of time for them. One would have thought they had other worries than a pizza company, like paying people. Pity they still do not know how to use shareholders' money," he says.

Hotchin displayed glimmers of good sportsmanship yesterday when he told Stuff.co.nz: "I wouldn't have minded but I have tried their pizzas and I thought they were rubbish – even the kids wouldn't eat them. I prefer Pizza Hut."

And Powell says legal action for Hotchin's disparaging remarks may be the only practical response.

"We should've taken him to court for that. Honestly, no-one prefers Pizza Hut," he says.

Blomfield says the management team came up with the idea to link their Greed pizza with Hanover Finance over lunch one day and, in typical Hell pizza style, decided to take a punt. It initially enlisted the services of Oggi to put up two billboards, but Oggi required the three directors to provide personal indemnity. Oggi's managing director Gordon Frykberg says the three directors agreed but then pulled out at the last minute.

When defamation is a possibility, he says it's often the media company that is targeted, so it's not in this company's financial interests to risk significant legal expenses. It's a lose-lose situation if it ends up in court (he's got some experience in the matter after Mark Cooper agreed to personal indemnity and took on Hotchin and Watson), which is why the company requires indemnity.

Source: http://stoppress.co.nz/news/chapman-tripp-go-to-hell
So when David Fisher attempts to paint Matt Blomfield as an innocent, someone that he is just helping out, because, as Fisher alleges, he's a victim, then Fisher is simply lying; in fact, whether it's Fisher, Nippert, or Hurley , they've all been involved with Blomfield – involved in nefarious plans and attacks on the commercial interests of others for their own pecuniary advantage.
We'll leave readers with this from David Fisher;
"you don't have to be famous to become a target of Cameron Slater's Whaleoil blog"
The truth is you also didn't need to be that famous to become a target of Matthew Blomfield either, but it' was a whole lot more likely, especially if you had something he wanted or could make money from; destroying your financial position – just ask Mark Hotchin or the raft of others which David Fisher all to conveniently forgot were lurking in Blomfields and Fishers own newspapers murky history.
Of course Hanover director Mark Hotchin in 2015 finally settled with the FMA, the nature of that settlement confidential. Generally this is indicative of weakness or irregularities in the prosecutions case. The Herald was yet again far from content, running a articles critical of the fact that details of the settlement were to remain confidential
Hotchin himself, prior to the FMA settlement, sued NZ Shareholder Association President and financial regulatory activists The New Zealand Shareholders Association and Bruce Sheppard, a defamation case which Sheppard and the NZSHA settled, again the details of that settlement remain confidential. However many at the time reported that the settlement was a six figure sum.
Hotchin also sued New Zealand Herald publisher APN and its business commentator, NZ Herald columnist and fund manager Brian Gaynor for defamation; resulting from a series of articles that had been published in the NZ Herald. Whilst we could find no mention of the case beyond the fact that Hotchin had file we suspect the Herald settled out of court to save embarrassment
At the time the New Zealand Herald kept very quite about their nasty behaviour and the law suit, leaving it to others to report:
Hotchin and his lawyers claim the six articles, all but one written by Gaynor, individually and cumulatively caused him "to be treated with hatred, contempt and ridicule", seriously damaged his personal and commercial reputation and caused him to lose commercial opportunities both in New Zealand and Australia.

APN, publisher of The New Zealand Herald, and Gaynor had waged a long-standing campaign against their client, Hotchin's lawyers claim, in articles that were "highly damaging, incorrect and misleading".

The New Zealand Herald is accused of acting improperly "and/or with the intention of increasing sales".

They are seeking aggravated and punitive damages against APN and general damages against the company and Gaynor, although the amount is not quantified in the writ.

Neither Gaynor nor Tim Murphy, editor of The New Zealand Herald, could be contacted yesterday for comment.
Miles, a top-ranking Auckland defamation lawyer, is the second QC Hotchin has hired this year to fight his court battles.

Source: http://www.stuff.co.nz/business/money/4966981/Hotchin-sues-Herald-over-column
So is anyone getting the picture yet? The existence of a nest of "White-Ants" that were and still are allowed to operate using the New Zealand Herald. An attack dog for hire, the very allegation that David Fisher has repeatedly leveled at Slater.
Slater too attacked Hotchin and his companies, but strangely there is no evidence of Hotchin threatening or actually issuing proceedings against him, perhaps that's because, unlike the Herald and Hell Pizza, Slater's posts dealt in facts, who knows?
Nevertheless, the fact that Slater did attack Hotchin raises another very serious issue. During the last Blomfield hearing, on the matter of the anonymity of Slater's sources. Justice Asher sought to appoint an Amicus Curiae to assist the court with the allegedly complex issues involved; the net result being Asher's appointment of Mr Julian Miles QC.
Unfortunately for Justice Asher however, in appointing Mr Miles QC he may well have contributed to creating a real, or in the alternative perceived, conflict of interest.
This conflict arose from the fact that Miles QC represented Mark Hotchin in all matters related to his defamation torts against the various parties who it was alleged had defamed Hotchin. Mr Miles would therefore have almost certainly been more than aware of both the Hell Pizza and Whale Oil attacks on his client. Thus a conflict, perceived or otherwise, existed; one that in such a high profile case should not have been permitted.
That issue aside, any reasonable person would have to conclude that there may have been a connection between the Heralds defamatory articles and Hell Pizza's attack effort, you know the one dreamed up by Matthew Blomfield; one that he admitted to, but only while it seemed like a good idea.
Fisher, with his more than transparent effort to paint Blomfield as the "little man", a "battler" and a "victim", always conveniently overlooked the truth that Blomfield was a professional spin-doctor, one that had very close relationships with Herald journalists and others, a man who employed his extensive media network as an extremely aggressive attack dog; used very effectively to threaten, cajole and ultimately maul anyone who didn't heed Blomfields threats, or who otherwise got in his way.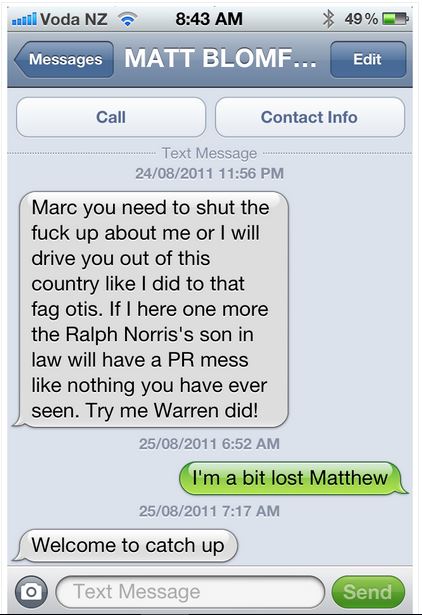 Paydirt: Blomfield Files for Interim Injunction, but was it in the right jurisdiction?
As a matter of interest a group of team LF members monitor New Zealand's court business on a daily basis. Following our last post we became aware that Matthew Blomfield had immediately filed an urgent application in the High Court seeking an interim injunction. The respondent was not named on the High Court daily fixture list, nor was the name of the judge; which generally means that insufficient notice has been given to the court, to allow them to publish the information.
We suspect that Blomfield may have started to shit himself and attempted to obtain an injunction against LF, or some other individual resident in New Zealand who he believes is LF, or connected to LF.
The likely goal? To prevent LF publishing additional evidence that will be damning and will link him and at least two NZH journalists to the now infamous Rawshark – Who knows?

Of course if he has attempted to file in a Kiwi court to prevent LF publishing then he is pushing shit up hill. As we have repeatedly stated, we are NOT located in New Zealand, nor are we subject to that country's laws, nor the decisions of it's Courts or Tribunals.
It is our considered opinion that Slater's sources, especially those that have been mentioned by the NZ Herald should also now make application to the court to be heard, bearing in mind the possibility now of a counter claim against Blomfield, his newspaper co-conspirators and their criminal enterprise.
In other defamation news, New Zealand's media, in particular the NZ Herald, and Collin Craig were, last weekend, smarting – licking their wounds, since last Fridays announcement that politician Collin Craig has just been ordered to pay 1.3 million in damages to Jordan Williams, damages stemming from another counter defamation claim. Of course the NZ Herald, as expected, did a spot of chain rattling on Mr Craig's behalf…… appeals etc etc.
Of course David Fisher was yet again out to do as much damage to Williams and Slater as he could in the lead up to the hearings (Google; Jordan Williams + NZHerald + David Fisher)
Of course the rumour mill has had it for some time that it was Blomfield who put Collin Craig up to threatening to sue Slater & Co in the first place; desirous of bogging blogger Cameron Slater and Williams down with more specious litigation.
The NZ Herald today went so far as to wheel out its favourite spruiker of spurious legal opinion, in truth the only person with a law degree willing to even talk to the media, Canadian Bill Hodge, who jumped through his hoops in what appeared to us to be little more than another NZ Herald fuck-fest of legal hijinks and circus tricks, otherwise known as Hodges legal opinion.
The truth is Hodge likely lowers the ranking of Auckland University's Faculty of Law every time the cunt opens his gob on behalf of David Fisher and the Herald.
Christ, Hodge even gave the Herald an opinion on whether or not Slater was a journo, an opinion that amounted to little more than a bad roll of the dice; a bet that Hodge and the NZ Herald lost their shirts on.
In fact, one is given to wonder, given that the truth is quite a different story, whether or not the New Zealand Herald and a handful of its journos, may soon also loose their shirts if they were to be sued for defamation?
As Justice Asher states, in the judgment that David Fisher loves to cherry pick and crow about:
There is no merit in "protecting informants intent on pursuing personal vendettas or when conducting personal or commercial attacks" – Asher J
Of course Slater wasn't protecting informants who were pursuing personal vendettas or engaging in commercial attacks, he was protecting individuals who had been the victims of just that sort of behavior; attacks masterminded by Blomfield and executed for the most part by APN's New Zealand Herald and it's journo's David Fisher, Matthew Nippert, and Bevan Hurley.
In a somewhat delicious irony, we here at LF posted stories very early on in our existence that also dealt with corrupt Kiwi journos and their involvement with corrupt police. Journalists that engaged in exactly this form of deliberately destructive and obfuscatory conduct, which is in a word is called smear;
In those cases their aim, just like the Herald journo's now, was to assist their accomplices, on those historical occasions the police, with false prosecutions, poisoning jury pools, aiding and abetting in the escape of police rapists and covering their own tracks. In another irony some of those same corrupt journalists went on to mentor the current crop, the likes of David Fisher, Matt Nippert and Bevan Hurley,
In the near future LF will be revisiting some of those stories and analyzing just how events that transpired almost a quarter century ago fit with the behavior of New Zealand Herald's journalists today.
Who knows, perhaps we can give these journalists the lesson they seemingly so desperately need, a lesson that journalist Nicky Hager eluded to, but for some strange reason didn't go anywhere near, whilst penning his book "Dirty Politics".
References/Bibliography
http://www.stuff.co.nz/business/68096943/hanover-finance-boss-mark-hotchin-in-settlement-talks-with-fma
http://www.nbr.co.nz/article/hotchin-sues-shareholders-association-db-106378
http://www.laudafinem.org/2013/12/17/tvnz-john-hudson-matthew-blomfield-and-the-ruawai-property-scam-part-one/
http://www.nzherald.co.nz/nz/news/article.cfm?c_id=1&objectid=11339962
http://www.nzherald.co.nz/nz/news/article.cfm?c_id=1&objectid=11339946
http://www.nzherald.co.nz/nz/news/article.cfm?c_id=1&objectid=11546041
http://www.thepaepae.com/cameron-slaterwhaleoil-is-a-bastard-and-well-do-him-over/35739/
http://thedailyblog.co.nz/2014/10/10/the-things-whaleoil-did-to-matthew-blomfield-why-havent-police-chased-his-stolen-emails-the-way-they-did-for-slater/
http://www.nzherald.co.nz/nz/news/article.cfm?c_id=1&objectid=11339946
http://www.nzherald.co.nz/nz/news/article.cfm?c_id=1&objectid=10529170
http://www.nzherald.co.nz/nz/news/article.cfm?c_id=1&objectid=10529170
http://www.radionz.co.nz/national/programmes/writers/audio/20169748/freedom-of-speech-at-the-2014-word-christchurch-festival
http://www.nzherald.co.nz/nz/news/article.cfm?c_id=1&objectid=11339946
http://www.stuff.co.nz/business/industries/3090184/Hell-comes-a-calling-for-Hanover-boss
http://www.nzherald.co.nz/nz/news/article.cfm?c_id=1&objectid=10805338
http://www.stuff.co.nz/national/politics/10585923/Hager-vows-to-protect-hackers-ID
http://www.nzherald.co.nz/nz/news/article.cfm?c_id=1&objectid=11337913
http://www.nzherald.co.nz/business/news/article.cfm?c_id=3&objectid=11606035
https://uk.linkedin.com/in/williamjmace
http://stoppress.co.nz/news/chapman-tripp-go-to-hell
http://www.nzherald.co.nz/nz/news/article.cfm?c_id=1&objectid=11545016
http://www.nzherald.co.nz/nz/news/article.cfm?c_id=1&objectid=11308726
http://www.laudafinem.org/2014/08/04/the-blomfield-files-the-criminal-thompson-toresen-clan-locate-cameron-slaters-witness-marc-iron-spring-the-criminal-harassment-continues-an-lf-investigation/
http://www.laudafinem.org/2014/12/06/matthew-john-blomfield-the-a-z-of-plan-fraud/
http://www.laudafinem.org/2014/11/04/are-attempts-to-associate-blomfield-case-with-police-search-of-nicky-hagers-home-a-complete-furphy/
http://www.laudafinem.org/2014/09/29/blomdumps-act-iii-blomfields-statement-of-claim-more-holes-than-the-titanic/
http://www.laudafinem.org/2014/09/04/whale-oil-blogger-cameron-slaters-bad-dream-climbs-into-bed-with-arch-nemesis-matthew-blomfield/
http://www.laudafinem.org/2014/08/26/the-blomfield-files-operation-haresay-the-day-jono-did-the-dirty/
http://www.laudafinem.org/2014/08/03/the-blomfield-files-the-thompson-toresen-conspiracy-rapidly-unravels/
http://www.laudafinem.org/2016/03/23/halfwit-bloggers-damning-new-evidence-surfaces/
http://www.laudafinem.org/2015/09/29/whale-oil-runs-with-another-lf-story-dumb-and-dumber-the-pet-detectives-have-been-at-it-again/
http://www.laudafinem.org/2015/07/24/the-standards-lynn-prentice-gifted-sys%C2%B7op-complete-idiot-or-plain-nasty-cyclops/
http://www.laudafinem.org/2014/09/19/blomdumps-act-ii-the-modus-operandi-of-brazen-fraudsters/
http://www.laudafinem.org/2014/09/17/blomdumps-act-i-the-genesis-of-a-defamation-scam/
http://www.laudafinem.org/2014/09/14/nz-high-court-states-the-obvious-whale-oil-blogger-cameron-slater-is-a-journalist-but-theres-a-sting-in-the-tail/
http://www.laudafinem.org/2014/06/22/exclusive-its-official-slaters-a-journo-the-whale-oil-blog-is-media-the-sources-should-be-safe-according-to-top-qc/
http://www.laudafinem.org/2014/05/21/the-gospel-of-matthew-in-the-beginning-there-was-the-word-the-word-was-extortion/
http://www.laudafinem.org/2015/08/17/new-zealand-ird-the-blomfield-frauds-the-liquidators-the-lawyers-the-police-and-the-media-collaborators/
http://www.laudafinem.org/2015/01/21/standard-sucked-into-blomfield-versus-slater-dirt/
http://www.laudafinem.org/2014/09/04/whale-oil-blogger-cameron-slaters-bad-dream-climbs-into-bed-with-arch-nemesis-matthew-blomfield/